Marion Walker was born in August 1873 in Iowa or Missouri, the son of William "Crawford" and Electa (Minard) Walker.
At the age of five, in 1878, Marion and his parents and siblings migrated from Iowa to Mulvane, Sumner County, KS.
When Marion was age 33, in 1906, he married 22-year-old Josephine Bridget Cullen (1884-1950), a native of Missouri, whose parents were emigrants from Ireland. He was 11 years older than his bride. Josephine is believed to have been the daughter of Frank and Margaret (Russell) Cullen.
They had two known children -- Alice F. Moore Jones and Marian J. Walker.
Marion was employed as a railroad brakeman. The federal censuses of 1910 and 1920 show the young family making its residence in Brookfield, Linn County, MO, on West Wood Street.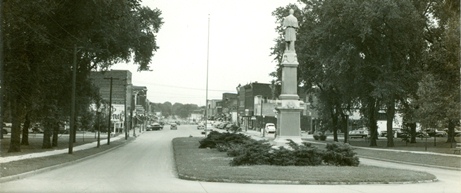 Brookfield's North Main Street, looking south from City Park
By 1930, with the nation in the grasp of the Great Depression, Marion no longer worked for the railroad. Instead, still living in Brookfield, he labored at odd jobs.
Josephine suffered from heart disease, and following a hip fracture, died from this illness at the age of 79 on Sept. 23, 1950. She was laid to rest in the St. Michael Catholic Cemetery in Brookfield.
~ Daughter Alice (Walker) Moore Jones ~
Daughter Alice Walker (1907- ? ) was born in 1907 in Missouri. Little is known of her life.
By 1930, she had married (?) Moore, a native of Indiana, and had a daughter, Margaret I. Moore. That year, the daughter lived with Alice's parents in Brookfield, Linn County, MO.
Later, Alice wed (?) Jones. By 1950, she lived in Kingsville, Johnson County, MO.
~ Daughter Marian J. Walker ~
Daughter Marian J. Walker (1915- ? ) was born in 1915 in Brookfield, Linn County.
Copyright © 2011 Mark A. Miner