Capt. Amos Schrock
(1832-1905)
Amos Schrock was born on Leap Day 1832 in Somerset County, PA, the son of Aaron and Catherine (Meyers) Schrock and stepson of Mary "Polly" (Younkin) Smith.
He was age eight when her mother died and 13 when his father re-married.
Unmarried at the age of 18, in 1850, Amos worked as a clerk and boarded in the household of merchant John R. and Catharine King in Milford Township, Somerset County.
Noted the 1906 History of Bedford and Somerset Counties, Amos "was a manufacturer of and dealer in house furniture in Chicago for the greater part of his life.... He also held two commissions during the Civil war, as an army officer." As an adult, he stood 5 feet, 9 inches tall, with a fair complexion, dark hair and blue eyes, and weighed 136 lbs.
Amos' first wife was Naomi Miller (1835-1861), also a native of Pennsylvania.
The couple produced two known children -- Isabella "Belle" Schrock and William Amos Schrock.
The Schrocks relocated to Chicago sometime between the births of their daughter in 1854 and son in 1858. The family is enumerated in Chicago's 9th Ward in the 1860 federal census, with Amos' occupation marked cryptically as "Conn."
In about 1859, Amos' younger brother William appears to traveled for a visit, and from there, lured by gold fever of the Pike's Peak Gold Rush, embarked on a memorable but failed overland journey toward Colorado. William later wrote about his "Pike's Peak or Bust" experiences in the Meyersdale (PA) Republican newspaper.
Grief cascaded over the young family when Naomi died in Chicago on June 13, 1861.
During the war, Amos joined the Union Army and served in the 133rd Pennsylvania Infantry, Company D, commanded by his brother Edward. When the brother was promoted to major, Amos was named captain. He took part in the bloody battle of Fredericksburg in mid-December 1862, part of the wave after wave of Union troops trying unsuccessfully to gain Marye's Heights. He was struck by a piece of shell on the right arm below the elbow. He was taken to Carver Hospital in Washington DC where the wound was treated and he spent two weeks. He was ordered to return to his regiment two days before Christmas 1862. He never recovered full use of the limb.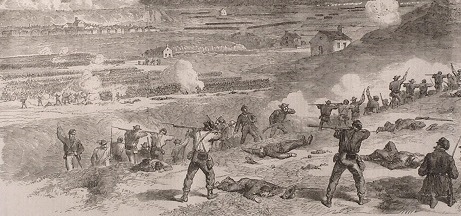 Above: bloody action at Marye's Heights, Fredericksburg, Dec. 1862. Below: Carver Hospital, District of Columbia, where Amos was treated.
Then on a forced march from Falmouth to Chancellorsville, VA in late April 1863 when he contracted a severe case of diarrhea. He attributed the attack to "severe exposure [to bad weather] and fatigue, sleeping on damp ground and fording the Rapidan and heavy forced march." He received medication from the regiment's surgeon. Orderly sergeant Chauncey A. Brant of Shanksville helped him to ford the Rapidan River by helping him onto his horse so he could ride and then leading the horse across. Amos was so exhausted afterward that he had to lay down on the riverbank for relief. He somehow found his strength and took part in the three-day battle at Chancellorsville, although ailing the entire time. He later told physicians that during the fight, "I was on the battle field two days, was not wounded but was sick."
He also became ill with catarrh (excessive mucus of the throat and nose) and bronchial problems, and lost some hearing. Amos was honorably discharged at Harrisburg, PA on May 26, 1863, three-plus weeks after the Chancellorsville battle ended.
After returning home to Somerset County, he dwelled in Shanksville. During that time, he married again, to Annie Schrock (1845- ? ), daughter of (?) Schrock. The wedding was held at New Centerville. Amos was 13 years older than his bride.
Amos and Annie bore three additional children of their own -- Harry Schrock, Minnie Schrock and Burton Schrock.
In July 1868, the Schrocks relocated to Franklin Grove, IL, remaining less than two years until February 1870. They moved to Monroe, Greene County, WI. The United States Census of 1870 lists the family in Monroe, with Amos working as a clerk in a dry goods store and Anna generating income as a milliner.
The family in March 1872 migrated into the city of Chicago, where Amos acquired a furniture upholstery store. Among his employees in the store were Henry C. Green and Frederick Zimmerman. He also saw wholesale baker S.E.W. Martin almost every day.
In August 1879, he was granted a military pension as compensation for his wartime ailments. [Invalid App. #302.502 - Cert. #184.063] When examined by surgeon Henry S. Kimmell, his right hand and forearm were found to be weakened, with the ring finger tendon thick and rigid, drawing the finger toward the arm, causing a deformity. Amos claimed that the pain caused him constant suffering and sleepless nights and prevented him from doing normal manual labor. In fact, he said, his entire right side was relatively useless. He tried to obtain a raise in his pension circa 1897, with Joseph Schrock and S.D. Forquer of Ursina, Somerset County, witnessing his signature on the paperwork.
Amos and Annie made a home in Chicago at 350 West Madison Street and later at 623 West Monroe Street. In early 1891, the husband-and-wife incorporated the Schrock Furniture company, worth $10,000 in capital stock, for the purpose of manufacturing sofa beds and upholstery. The news was announced in the Chicago Tribune.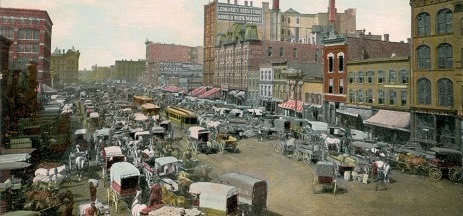 Chicago's busy Haymarket Square
Sadly, Annie died in their Chicago residence on Aug. 1, 1899. A short death notice was printed in the Tribune, and reprinted in the Somerset Herald.
His address in 1901 was 318 West Madison Street, Chicago. That year, he received a check for $6 every month from the U.S. Pension Office. At year-end 1901, he relocated to Oakland, Alameda County, CA, where he shared a home with one of his sons at 1503 12th Street.
In the spring of 1902, he returned to his old home in Somerset County and married for a third time, on April 22, 1902 to Mary Jane (Auman) Hicks ( ? - ? ). Rev. Hiram King officiated. News of their marriage license was published in the Meyersdale (PA) Republic.
The newlyweds apparently relocated to Oakland, reputedly, said the Somerset Daily American, to "escape the severe climate conditions of Somerset." They were expected to come back to Somerset, but "on account of some important changes his son -- who is a wholesale furniture dealer -- was making at his establishment Mr. Schrock remained to assist in the work." In August 1903, he received a U.S. patent for a detachable collapsible couch frame.
The Angel of Death gathered Amos away without warning at the age of 73 on June 10, 1905. His death occurred at the Central Livery Stables, while seated in his buggy, preparing for what the Oakland Tribune called "his customary afternoon drive. One of the employees of the stable noticed that the man did not give any signs for the horse to move, so he went up to the buggy and found that he was dead. The death of Capt. Schrock was a great shock to his family as he was apparently in the best of health." The Alameda County Coroner held an inquisition over the body, with seven other citizens present, and found that death was caused by acute enlargement of the heart.
His remains were shipped to Chicago to rest with his first wife in Graceland Cemetery. [Find-a-Grave] News of his death was announced in the Tribune and Watertown (WI) News. The Tribune listed his other surviving children as Mrs. W.A. Hall and Burton Schrock of Chicago.
Mary applied for, but was not granted, her late husband's pension. [Widow App. #839.029]
A detailed history of the 133rd Pennsylvania, naming Amos and his brother Edward, was printed in the Pittsburgh Dispatch on Feb. 4, 1900 and reprinted in the Meyersdale Republic on Sept. 1, 1932.
~ Daughter Isabella Schrock ~
Daughter Isabella Schrock (1854- ? ) was born in about 1854 in Somerset County, PA.
~ Son William Amos Schrock ~
Son William Amos Schrock (1858-1949?) was born in about 1858 in Chicago.
He wedded Etta Hammer (1870-1940).
The couple bore one daughter, Etta Bancel.
They made a home in East Oakland, CA in 1901-1905 at the address of 1503 12th Street. Continuing in his father's line of business, William owned what the San Francisco Call said was an "extensive furniture plant." Known as the California Furniture Factory, it consisted of several one-story buildings located over the sprawl of five acres in the town of Richmond near Oakland. Reported the San Francisco Chronicle, "The eucalyptus furniture being turned out by the plant is to be used in furnishing the Claremont Hotel when it is opened. The wood, as a coincidence, comes from Berkeley, being the logs from the forest back of Cragmont that is being felled by the Havens interests."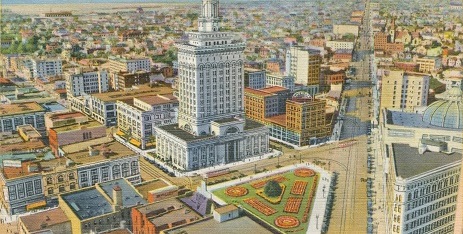 City Hall and memorial plaza in Oakland, California
As his business grew, newspapers reported that he was a "man of considerable means." He also was a longtime member of the Alcatraz Lodge of the Masons.
Etta was a celebrity in her own right, hosting scores of elaborate dances, parties and luncheons over the years, with her name regularly printed in newspaper society columns.
William died in Alameda County, CA at the age of 82 on Aug. 30, 1939. (His grave marker has a death year of "1940.") A death notice was printed in the Oakland Tribune, saying he was a "native of Pennsylvania." Funeral services were held in Truman's Chapel at the corner of Telegraph Avenue and 30th Street in Oakland.
Etta outlived her husband by two decades. She joined him in death in 1960. They repose in Mountain View Cemetery in Oakland.
Daughter Etta Schrock (1892- ? ) was born in about 1892. In her early years, she was considered an "Oakland society girl" with her glamorous photograph portrait often printed in the San Francisco and Oakland newspapers. She attended the University of California for several years and on Jan. 3, 1913 hosted a dance for 300 society guests at the Hotel Oakland. Etta is known to have traveled to visit with New Jersey relatives in September-October 1914, where she met her future husband. In a surprise wedding in April 1915, Etta married Paul Bancel ( ? - ? ), a resident of New York City. Her wedding portrait was published in a large size in the San Francisco Chronicle. Circa 1919, they dwelled in Nutley, NJ and in 1922-1939 in Montclair, NJ. In 1922, she traveled back to Oakland to attend the wedding of a classmate, Elya Ghirardelli and John Welby Dinsmore
~ Son Harry Schrock ~
Son Harry Schrock (1863- ? ) was born in about 1863 in Somerset County, PA.
~ Daughter Minnie Schrock ~

Daughter Minnie Schrock (1864- ? ) was born on Nov. 12, 1864.
~ Son Dr. Burton Schrock ~
Son Dr. Burton Schrock (1871- ? ) was born on July 7, 1871 in Monroe, Greene County, WI.
Circa July 1897, he is known to have served as an usher for the Chicago wedding of Charlotte Sears and Claude Dillie Stephens. He became a dentist and operated a practice on West Lake Street in Chicago circa 1905.
With a residence in the Chicago suburb of Oak Park, he and Mabel Stark ( ? -1965) applied for a marriage license in June 1905, as noted on the pages of the Chicago Inter-Ocean. She was the daughter of Andrew and Susan M. Stark of 2826 Washington Boulevard.
On their honeymoon in July 1905, they stopped in Somerset to see relatives.
Mabel was an officer with the Matheon Club in Oak Park circa 1943.
Mabel passed away at the age of 90 in June 1965, with burial in Forest Home Cemetery. A death notice appeared in the Chicago Tribune.
Copyright © 2016-2019 Mark A. Miner
Research for this page graciously shared by the late Olive (Rowan) Duff and the late Donna (Younkin) Logan.