Pike's Peak or Bust - and
Busted By Thunder, Part 1
Memorable Trip Across the Great Plains in Gold Rush of 1859, as Related by One of the Survivors Sixty-seven Years After the Event - Personal Recollections of the Great Adventure. By William Meyers Schrock
As Published in the Meyersdale (PA) Republican, 1926
See Part 2 - Part 3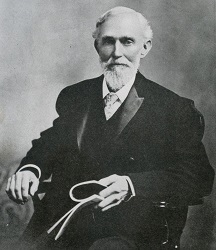 Author William Meyers Schrock
When gold was discovered in Colorado in the vicinity of Pike's Peak in 1858, many thousands of adventurous young Americans left home to seek their fortunes. It appears that at that time, William Meyers Schrock -- son of Aaron Schrock and stepson of Mary "Polly" (Younkin) Schrock of Somerset County, PA -- was in Chicago visiting or living with an older brother Amos. At age 22, William was attracted by the appeal of the adventure and joined a group of 20 men on a voyage of a lifetime, an overland trek in 1859 from Illinois toward the lure of riches in the west. Years later, as an elderly man in 1926, he wrote about the memorable experience in a series of articles in the Meyersdale Republican newspaper in Somerset County, which are republished here in their entirety. William's role as elected "boss" of the "Pike's Peak or Bust" group likely served him well two years later, after the outbreak of the Civil War, when he recruited 80 men to serve in the Union Army, the only time during the war that a unit of fighting men was mustered within the county.
+ + + + + + +
Following is the first installment of the personal recollections of Captain, William M. Schrock of the part he, and a number of companions, including Jonas J. Beachy of Grantsville, Md., took in the Pikes Peak gold rush of 1859. Captain Schrock is now 89 years old, and Mr. Beachy 95. --Editor.
Early in January, 1859, the Chicago daily papers began publishing articles, setting forth that gold had been discovered among the foothills of Pikes Peak, Colorado. Scarcely a day passed but that some of the newspapers contained glowing articles of the wonderful discovery of gold and predicted a rush in the early spring for Pikes Peak. Their predictions were fully verified later.
The excitement was not only local, but extended in all directions throughout the country. Many young men were stricken with the gold fever and by the 10th to 15th of March a number of men of Ogle, Ill., had pledged themselves to be in readiness not later than April 1, 1859, to pull out for Pikes Peak, with two or more ox teams. Several men from Ogle County also declared themselves in readiness, at anytime, to accompany the Ogle people; in all about twenty men held themselves in readiness to move on or about April 1, 1859, or sooner.
~ Boss of Party Elected. ~
Early in the morning of March 24, 1859, people began to gather at Ogle to see the Pikes Peak argonauts off, and to bid them farewell and wish all good luck in the finding of much gold at the Peak." At this point Jonas J. Beachy stepped out, saying: "We are not quite ready yet. All the men belonging to our three teams, come forward. It is quite necessary that we have some rules and regulations, so that there can be no misunderstanding on the way at any time in the future.
"Let us first agree on a leader (or boss) over the men and teams from Ogle and others that may wish to be under this management, as aforesaid."
On taking a vote the writer (Bill Schrock) was unanimously chosen as Boss, so called.
Pike's Peak, the intended destination for Schrock and his group
~ Rules Adopted. ~
The following rules were then adopted unanimously:
Profanity to be strictly forbidden.

Each man to take his turn in driving his respective team, one day at a time, unless otherwise agreed upon and sanctioned by the Boss
Cattle must be treated humanely on all occasions.
Each man to be entitled to two hours' wagon ride, if the trail or road is in-good condition, each day.
If necessity requires, one or all men may be drafted to help others of the company.
Men may exchange places in driving, etc., by permission of the Boss.
Intoxication, at all times, must be avoided under penalty.
~ Personnel of the Party. ~
Following are the names of those who started from Ogle, (now Ashton) Ill., with the two cattle teams and a two-horse team, as nearly as can be remembered: Jonas J. Beachy of Grantsville, Md; Granville Kitterage, from Maine; Germanus Knepper of Grantsville, Md.; James Rutter of Ogle County, Ill.; William M. Schrock, Somerset County, Pa.; David Glenn and Henry Glenn, of Ashton, Ill.; Charles Kirk, Ohio; Peter Carbaugh, Accident, Md., and James Carter, of Ogle, Ill. The two last named drove a two-horse team. Others joined us later at Dixon. Ill.
Jame Oliver of Michigan joined us later, as a boarder.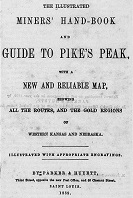 Miner's handbook and guide to Pike's Peak, 1859.

Library of Congress
~ The Argonauts' Outfit. ~
All was now in readiness 'to move, with all necessary 'supplies and equipments for each team and which were about as follows:
Strong old-fashioned covered wagons called prairie schooners. Three to four men to the wagon, which was loaded with provisions to last possibly six months; each man to supply himself with two blankets, two shirts, two heavy strong outside suits of good material, one oil-cloth blanket and good shoes, and each man a good rifle -- no shotguns or revolvers allowed.
Mining tools for each man -- one pick, one grubbing hoe, one shovel, two tin gold washpans (shakers) -- one or two buckets, several tin cups and one large tin coffee boiler to the wagon. The two men with a two-horse wagon to do likewise, or otherwise, if they chose to do so.
Provisions for each man: 75 pounds of flour, 10 pounds of crackers, coffee bacon, dried beef, sugar, salt, pepper, syrup, vinegar and dried fruit -- potatoes too bulky, could buy them until we would strike the plains, after that we relied wholly on our wagon supplies.
~ Lady Bovines Leaders. ~
A yoke of milk cows was hitched in front of one of the teams as leaders find to supply milk for our coffee. etc. The cows for milk were a rousing success. They were not required to do much pulling, only when absolutely necessary.
After the rules and regulations were adopted, the procession quickly formed and at 10 o'clock A. M., with Mr. Beachy's team in the lead, the boss' called out: "All ready! Teams move!" Several called out: "Good-bye! Wish you much luck at the Peak! Goodbye, friends, and lots of gold and to spare!" Some called out: "To Pikes Peak or Bust!" Very soon all were out of sight, and on the way to El Dorado.
~ The First Mishap. ~
The first mishap was one mile east of Franklin Grove' (five miles from Ogle). One of the wagons dropped two wheels into quick sand-foretaste of many little mishaps later. Several single-trees were broken, which were replaced at Franklin Grove, with new ones and better; While the repairs were being made the boys enjoyed their first lunch on the way to the Peak. After several hours' delay, all were off, encamping the first night a short distance from Dixon, Ill.
The following morning all were in fine trim, passing through Dixon shortly before the noon hour. Here the anticipated teams from Ogle County joined us as we had expected. All camped the second night about eight miles west of Dixon. It was still too early to supply the cattle with sufficient pasture; hay had to be fed for some time, before pasture could be relied upon.
~ Across the Mississippi. ~
The following day we made-quite a drive over fine roads, and during the day crossed the Mississippi River. The next day we made only eight miles; roads not quite so good. The fourth day out we encountered rain, mud, sloughs, water, etc. That evening in summing the distance we found we had driven only three miles that day. All were a sorry looking lot. We still had more than 300 miles to drive through Iowa to Omaha. There was not quite as much snap in the boys as on the previous evening. One of the men exclaimed: "I wish I were home." Not many smiles that evening, and I can assure the reader, no one after that had the courage to say: "I wish I were home."
~ Streams Hard to Cross. ~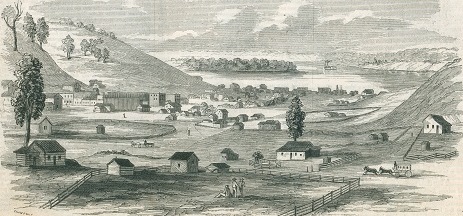 Council Bluffs, Iowa as it appeared in 1857.

Ballou's Pictorial
After this most wonderful day's drive we had good weather and fairly good roads and were making good time towards Council Bluffs when suddenly, we were caught in a heavy rain. A little later we encountered a stream less than 20 feet wide and three to five feet deep. The approaches and top of the bridge were laid with half-round sapling timber with the split side down. We all saw there was trouble ahead, as cattle cannot pull on a slant approach to a bridge, with rise of at least 45 degrees. The causeway was wet and slippery, with a width of less than 12 feet.
The Boss was called on to determine the best way to get across. "Bring up my team," said the Boss, "and get out the heavy rope and attach it to the wagon pole." Here and there were holders attached to the rope, with a man on each side. Then came the command: "All ready! Do not stop on the bridge; if an ox should fall, go right ahead."
One of my oxen fell and was badly bruised and looked somewhat worse for the wear for a few days. Other teams had similar experiences, but it was all that could be done under the conditions, and it was done. A stop might [have] sent team, wagon and drivers into the stream below. The result can be imagined by the reader. This experience for the boys was not very enjoyable, but very exciting.
~ Fresh Fish and Lost Watch. ~
Not many days after this exciting episode, we struck another small stream, 12 or 15 feet wide and 3 or 4 feet deep, with steep banks, making bad fording. The stream ran through a grove of medium-sized white oak with several other varieties of trees. Some one remarked: "Let us camp here, and start earlier in the morning." All were agreed.
Camp had been struck only a short, time when several of the men found that the stream was well stocked with fish, some as large as ten and twelve inches. We had fresh fish for supper and breakfast. All were off early, after some delay, in making the fording.
After driving a mile or two, the writer discovered the loss of his watch. The procession at once halted. Several said: "Go back and find it." The writer remarked: "Some one else may, by this time, have it in his pocket." The answer came quickly: "Move on, the chances are against me. The gold we are after is of far more importance than the watch."
A number of weeks later, on our return, the writer unexpectedly found the watch where he evidently had dropped it, and in almost as good condition as when lost. Though almost covered with mud, it was perfectly dry inside.
~ Prairie Pioneer. ~
The trail we followed in western Iowa was across beautiful rolling prairie lands, with flats, sometimes, for a mile or more. Here and there were one-story buildings or sheds, with one or more persons living in them in the most primitive way, but always in a happy go-lucky mood. They would have a garden, a potato and a corn patch; no fences were required. Ten or fifteen years earlier deer and elk were in possession, but now all, or nearly all, had been killed by hunters for the flesh and hides -- leaving the most beautiful antlers bleaching on the prairie. Some of them were immensely large and symmetrical, as well a beautiful. The elk had disappeared; the deer and wolf were gone, having been annihilated by the cruel and hard-hearted hunters. No mercy was shown and all, yes all, had disappeared almost as if by magic.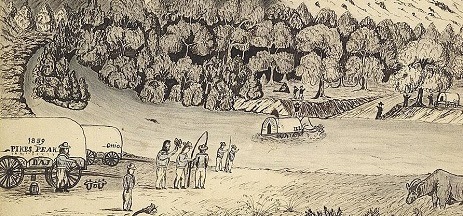 Hazards en route to Pike's Peak gold fields.

Library of Congress
~ "Big Muddy" Reached ~
With fairly good roads and weather, we all, in due time, reached the outskirts of Council Bluffs, on the great Missouri River, opposite Omaha. All were well and the teams were in splendid condition. After resting for three days here and purchasing some needed supplies, in the matter of provisions, etc., we broke camp and moved along a rather poor road down the east side of the Missouri River to a point about twenty miles distant from the Bluff and Omaha. As I remember,' our camp that ·night was a little south of the point where the Platte River empties into the Missouri. It was a hard day's drive, as I now recall. There was considerable timber land along the east bank of the Missouri.
~ Turtle Soup and Venison. ~
The Ogle County men went on a hunt for game, returning in a few hours with a fine young deer. During the same time several of our men had captured a large water-turtle, weighing fifteen or more pounds. As soon as the men came in sight some one called out: "TurtIe Soup." One of the other men retorted: "Venison, venison!" and we surely had an enjoyable time. First course, turtle soup; second course, roast venison, and potatoes, excellent home-made bread, several pies and some cookies contributed by ladies living in the vicinity. Quite a number of visitors from nearby settlements called upon us to see the prepared turtle soup and venison dinner. But all good things, or bad, have an ending; so had our venison and turtle feasting.
~ Crossing the Missouri. ~
Just below our camp lay an old rickety steam ferry boat with deck cleared, ready for our crossing -- two teams at a time. Our men all felt just a little timid, but there was no other way of getting across the great Missouri River, at this place.
The following morning at 7 o'clock, the captain called out: "The deck is clear and ready for two teams at a time, with the wheel oxen only!"
The boys could tell I did not relish the situation. The captain again called out: "Attach ropes to the horns of each ox, which may save you a trip down the river instead of across it." He further said: "Place one man at the head of each ox, with rope in hand from the animal on the opposite side." You will readily see that you can control the timidity of the oxen in this way, and the plan assuredly was a great success. No one took a trip down the river, but easily across. In less than an hour all were safely landed in the suburbs of the town of Plattsmouth, with thanks. The captain called out: "Two fifty for a team of two oxen; no extra charges for men. Wish you a safe journey to the Peak -- and the finding of much gold after landing!"
We at once pulled out and were off, camping a short distance west of the then small town of Plattsmouth. The pasture for cattle was still a little short. The following morning we were on the move at 7 o'clock. Some one called out, as we started: "On the last, but not the shortest, link in the drive to the Peak."
Originally published in the Meyersdale (PA) Republican, Nov. 18, 1926
Page copyright © 2020 Mark A. Miner