Pike's Peak or Bust -
Busted by Heck, Part 3
Memorable Trip Across the Great Plains in Gold Rush of 1859, as Related by One of the Survivors Sixty-seven Years After the Event - Personal Recollections of the Great Adventure. By William Meyers Schrock
See Part 1 - Part 2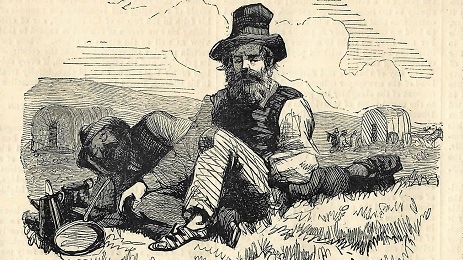 A Pike's Peaker along the trail.

Harper's Weekly, 1859.
Following is the final installment of the personal recollections of Captain William M. Schrock of the part he and a number of companions, including Jonas J. Beachy of Grantsville, Md., took in the Pikes Peak gold rush of 1859. Captain Schrock is now 89 years old, and Mr. Beachy 95. --Editor.
Mr. Beachy Mr. Knepper and Mr. Harbaugh, all from near Grantsville, Md., were very close to the red-whiskered man and made a dive for the rope, exclaiming: "No, no, no; we must not do this; it would be terrible. Let not his blood rest upon us."

After making a pitiful plea for his life the boss gave him a very sharp lecture and made him return the $2.50 to the starved man.

"Now pass on, please, and don't look back. You, sir, are guilty of the most cruel, hard-hearted, contemptible trick that any man could be guilty of. Drive on," commanded the boss. The miscreant drove on without looking back.

After this unpleasant experience was over, we placed the unfortunate man in one of our wagons and conveyed him as far as the Missouri River where we raised a purse in addition to the $2.60, a sufficient amount to take him home to his parents, near Fulton, Ill. He left us with unbounded gratitude, but remarked that the horrors of the first night, when lost with his brother, were terrible beyond description. Before parting he was asked why he did not keep a course of either North or South, which would have landed him at the Platte River or on the trail. His reply: "Why is it that men sometimes are lost in small areas of timber? While lost my thoughts were such I did not think of North, South, East or West. I did not even think of it that the sun could have guided me in the way I should have gone to find a trail."
~ Recrossing of the Missouri. ~
On reaching the Missouri River at Plattsmouth, we again crossed on the same rickety old boat, but we did not feast on venison and turtle-soup as we did when driving for the Peak several
months earlier, in high spirits.

I will note only two or three occurrences on the way home from Plattsmouth. Instead of going via Omaha, we drove more direct, thereby saving several days' time.

We soon found that the route we were taking was the better. Much of the land was under fine cultivation and there were better farm buildings than farther north; but unfortunately, the farmers were hit hard that year by the well known 1859 June frost which occurred just a few weeks earlier. Much of the wheat crop was badly frost-bitten, causing a heavy loss to farmers.

We fared quite well as to provisions through Iowa. In some instances no charges were made, and all charges were moderate, but the bread made from 1859 wheat was dark and a little insipid. We found out later that the frost was also heavy in our home section on the same night, reaching as far as Eastern Pennsylvania. The frost was so heavy that we could write our names on the tent with our fingers.
~ Camp Wrecked by Storm. ~
About a week after leaving the Platte River, we encamped on a rise on the prairie, a low hill. By the time supper was over, we could see heavy banks of clouds coming up in the west. I called: "Boys, stake your cattle well; turn your wagons, facing east; cable tents and wagons; drive the tent-pins well into the ground. A heavy rain-storm is imminent." As I learned later most of the men made light of the stake-driving and the work was not well done. The ground being very hard and dry, it was not an easy job to drive the pins.

The storm struck us about one o'clock at night. The tents were down on us in less time than it takes to write it. Oh! that wait until morning! But we did wait, and a sorry looking set we were. The sun came out soon and by 8 o'clock the tents and wagon covers were pretty well dried, and after a slim breakfast, we were off.

Several of the boys declared they would rather have been at home in a nice warm dry bed than under the soaking wet tent, All, however, endeavored to make light of it and ate heartily at breakfast, such as it was.
~ Stampede of Thirsty Oxen. ~
One more mishap. Some time later water for the cattle was getting a little scarce, and whilst driving along on an elevation about 15 feet high, we could see a pond to the front and right of us, not far ahead, the writer's team being in the lead. Suddenly without notice of intent, my team broke away, and down they went splashing into the muddy water. The other drivers made a rush to their oxen and succeeded in controlling them until water could be supplied.

The problem then was how to get the oxen and wagon out of the pond and up the steep grade. Five or six of the men simply had the pleasure of wading in the slimy mud and water to help at the wheels, whilst others hitched their oxen to ropes attached to the pole of the wagon. Well we got out, of course. Those wading the muddy water were a sight, but we soon struck a small stream and a cleanup followed. The sun being pretty hot, the clothing after being washed soon became dry. Those assisting were excused on the next washday. Cleanliness was one of the essentials and had to be lived up to in our camp at all times and under all conditions.
~ End of Great Adventure. ~
At this time we" were still six or seven days' drive from Ogle. In the last stretch there were only a few incidents worthy of note. With fairly good roads and weather, we reached Ogle (now Ashton) on June 17, 1859, where we were greeted with considerable sympathy and regrets. Some one in the crowd called out: "Pike's Peak or bust -- Busted, by Heck!" Thus ended our three months' drive on the great plains of the then Far West.

The writer very soon disposed of his wagon and contents fora horse, and the horse later for a watch. The oxen were disposed of at a loss, and I left at once for my home in the East. Mr. Beachy remained in Illinois until some time later and then returned to his home near Grantsville, Md. where he still resides on a large farm.

The Glenn brothers went to California where both passed away some years ago. I know of no others of the entire company that left and returned to Ogle, or Ashton, in 1859, except Mr. Beachy and myself, who lived within forty miles of each other for 61 years without knowing of each others' whereabouts.

The writer having read an article written by Leo J. Beachy, a son of Jonas J. Beachy, and published in the Meyersdale Republican, relative to the his Pikes Beak drive made in 1859 in my company with William Schrock from Somerset, was the first intimation the writer had of Mr. Beachy's whereabouts in 61 years.
~ Reunion of Old Comrades. ~
A few days after reading the article above mentioned, I paid Mr. Beachy a visit on his farm where he has resided ever since his return from the West. In the meantime he had married and reared a family, as did the writer, Each year since my first visit to my old comrade we have met at his home and spent several hours in a pleasant way in going over our experiences on the great trip.

Note -- Relative to the prairie wolf. On our trip we saw none, and what I say in this note is from information given at the time of the drive, A prairie wolf does not, or will not, ordinarily leave his lair during a rain storm, and scarcely, if ever, attacks a human being. But three or more, in a troop are dangerous to a man or beast. There is always a leader to make the attack, catching the prey by the throat and downing it; in an instant the entire pack, be it many or few, will be tearing the flesh from the prey. If there is more than enough for one meal, they will return later and finish it up in a second meal, leaving the bones to bleach in the hot sun.

The writer has frequently been asked as to what we ate and how it was prepared, when driving every day on the way out and return. We had plenty of food. The bread rising was placed in small camp kettles and hung on the rear end of the wagon pole. The first thing after halting in the evening, after the tents were put up, was to prepare the dough for baking. It was worked into small loaves and left to rise for an hour or more, as may have been necessary, and baked in a sheet-Iron oven. Sometimes the bread was good, sometimes bad, sometimes indifferent and sometimes any old thing had to do. But hark ye, no one dared utter a complaint -- if there was, that man went on duty in the kitchen department for a week. There was very little trouble of this kind, but there were wry faces when it did occur. WM. M. SCHROCK.

Capt. Schrock's account of the drive on the western plains with ox teams on a trip toward Pike's Peak, in 1859, has been read to me, and is fully approved. JONAS J. BEACHY.
Originally published in the Meyersdale (PA) Republican, Dec. 9, 1926
Page copyright © 2020 Mark A. Miner