Home

Mary 'Polly' (Younkin)
Smith Schrock
(1807-1891)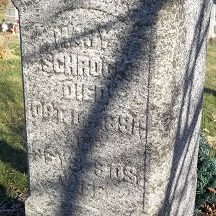 Polly's grave, Mount Union Cemetery
Courtesy Linda Marker
Mary "Polly" (Younkin) Smith Schrock was born in about 1807 in Somerset County, PA, the daughter of Jacob and Hannah (Nicola) Younkin Sr. She was but four years old when her father died. She never learned to read or write.
In 1821, when Polly was age 14, her brother Henry was named as her legal guardian.
Polly was twice married. On Sept. 7, 1826, at about the age of 19, she was united in matrimony with her first husband, Eli Smith ( ? - ? ).
The couple produced a daughter, Mary Elizabeth Smith Kreegar, born in June 1841.
Sadly, Eli died young, of causes unknown, in the early 1840s.
In 1845, Polly was wedded to 40-year-old widower Captain Aaron Schrock (Jan. 30, 1805-1890), son of John Schrock of near Berlin, Somerset County.
Aaron had been married once before, on May 15, 1825, to Catherine Meyers (Oct. 10, 1805-1840), daughter of Christian Meyers of near Meyersdale. She had died at the age of 35 on Dec. 14, 1840, after 15 years of marriage and having borne four children.
Thus Aaron brought four children to the second union, among them Caroline Lynn, Major Edward Morgan Schrock, Capt. Amos Schrock and Capt. William Meyers Schrock. He also raised Polly's daughter as his own.
Polly's marriage to Aaron was the first among several Somerset County marriages between the Younkins and Schrocks in the 19th century.
As a boy, Aaron had attended public school, where his education "was an excellent one, being conducted in both German and English" said the 1906 book, History of Bedford and Somerset Counties. He showed aptitude for the trade of blacksmithing, which was in high demand during that era. On Sept. 1, 1821, living in Brothersvalley Township, he signed an indenture to become apprenticed to Swiss immigrant Joseph Jacob "Axie" Yoder (1788-1863), a veteran axe-maker who also was his brother-in-law. Aaron thus became Yoder's first and favorite apprentice. In the indenture document, Aaron agreed that of his own free will and accord, he would work for the man and:
...learn his art, trade and mystery, and after the manner of an apprentice, to serve him from the day and date thereof, for and during the full end and term of three years next ensuing; during all which term the apprentice his said master faithfully shall serve, his secrets keep, his lawful commands everywhere readily obey. He shall do no damage to his said master, nor see it done by others, without letting or giving notice thereof to his said master. he shall not waste his said master's goods, nor lend them unlawfully to anyone. He shall neither buy nor sell. he shall not absent himself day or night from his said master's service without his leave, nor haunt alehouses, taverns or playhouses, but in all things behave himself as a faithful apprentice ought to do during he same term. And the said master shall use the utmost of his endeavors to teach or cause to be taught or instructed the said apprentice in the trade or mystery of a blacksmith, and procure for him sufficient meat, drink, apparel, lodging and washing, fitting an apprentice, during the same term of three years, and give within the said term one month's schooling, and give him also yearly twelve days free in hay making and harvest time; and when he is free give him two suits of clothing, one good watch, and one good rifle.
A story about the Yoder-Schrock relationship was published more than a century later in the Meyersdale Republic (March 26, 1925). At that time, the document was still in existence. A note on the paper said that Aaron was Yoder's "most obedient and faithful apprentice he ever had as well as the best workman." Other of Yoder's apprentices are known to have been David Frankhauser, John Swartzendruber, Samuel Judy, Gabriel Schrock, Leonard Berkey, John Yowler, Joseph Weimer, George Lichty, Benjamin J. Yoder, Thomas Moore, George Coleman, Michael Koontz, Jerome Bowman and Jeremiah J. Livengood. Over time, until Yoder's retirement in 1857, this group of craftsmen produced some 12,355 axes in addition to thousands of chisels, knives, forks and hatchets. The next-to-last apprentice, Jerome Bowman, lost an arm during the Civil War.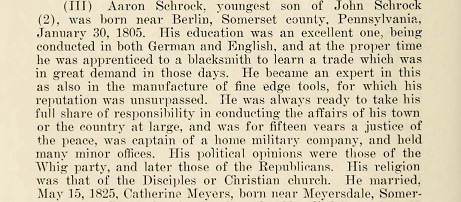 Aaron's profile in the
History of Bedford and Somerset Counties, published 1906
The skills the young Aaron learned through this experience served him well for the rest of his life. Said the History of Bedford and Somerset:
He became an expert in this as also in the manufacture of fine edge tools, for which his reputation was unsurpassed. He was always ready to take his full share of responsibility in conducting the affairs of his town or the country at large, and was for fifteen years a justice of the peace, was captain of a home military company, and held many minor offices. His political opinions were those of the Whig party, and later those of the Republicans. His religion was that of the Disciples or Christian church.
The year of his first marriage, in 1825, Aaron was commissioned as first lieutenant of the 4th Company, 2nd Battalion of the Pennsylvania Militia. Within eight years, he was named captain of the company. He hand-wrote a list of all 76 members' names and later wrote another list containing 74 names. The list was still in the possession of his son William in 1925.
Perhaps after marrying Polly circa 1845, Aaron eventually moved from Brothersvalley to a farm he had purchased in Turkeyfoot Township. He farmed the land and continued his smithing trade, specializing in edge tools. After two decades in Turkeyfoot, they relocated to New Lexington where he farmed, smithed and served for 15 years as justice of the peace.
The Schrocks were early members of the Disciples of Christ Church, established in Somerset County by Polly's brother, Dr. Jonas Younkin. Aaron was so beloved and respected by Polly's family that in July 1845, when a nephew was born to Dr. Jonas and his wife Martha, the infant was named "Aaron Schrock Younkin" (great-great grandfather of Donna [Younkin] Logan, modern founder of the Younkin Reunion East and publisher of the Younkin Family News Bulletin).
Aaron held an account at the John McMillan tannery in Listonville. His entries from the years 1846 to 1848 are recorded in the tannery's business ledger which is preserved today. The entries read as follow:
...a CS [calfskin] at $1.75, May 18, 1846 – a side of SL [shoe leather] per Wm. Vought weight 10½, cost $3.28, May 25, 1846 – a side of harnace weight 8¾ lbs., cost $2.74, per John Miller, Sept. 22, 1846 – a CS at $1.75, Sept. 4, 1848 – a side of SL weight 8¾ the left at [illegible], cost $2.74, Sept. 15, 1848 – a side of Harnace weight 13½ lbs., cost $4.21, Dec. 14, 1848 – "settled accts with Aaron Schrock + balance due Me $7.22. [signed].
Aaron and his brother-in-law Dr. Jonas were named in August 1847 as legal guardians for their orphaned teenage kinsman, Eli Minerd, son of Jacob and Catherine (Younkin) Minerd Jr., who had lived in nearby Hexebarger near Kingwood.
When the federal census was enumerated in 1850, the Schrocks made their home on a farm in Milford Township, Somerset County. Living under their roof that year were 13-year-old William Schrock, 28-year-old Jane Workman, nine-year-old Mary Smith and one-year-old Edward Conley (also spelled "Connelly").
Schrock research notes prepared in the mid-1930s by Otto Roosevelt Younkin, president of the Younkin National Home-coming Reunions.
The census of 1860 shows Polly's 19-year-old daughter "Mary Smith" and 12-year-old Edward Connelly in their Middlecreek Township household, with Mary's occupation listed as "domestic." How young Connelly was connected to the clan is unknown.
After the outbreak of the Civil War, all three of their sons joined the Union Army and took leadership positions. Edward joined the army on Aug. 5, 1862 and was assigned to the 133rd Pennsylvania Infantry, which he later commanded at the rank of major. He also had a meaningful but short interaction with a nurse who later became a famed American author, Louisa May Alcott. Son Amos, also a member of the 133rd Pennsylvania, was wounded at Fredericksburg. Son William recruited his own independent company of volunteer infantry, the only one mustered as a body during the war in Somerset County, and later helped form Company K of the 5th Pennsylvania Artillery.
After the war, all but one of the Schrocks' dispersed to other sections of the nation. Daughter Caroline Lynn and family migrated to Illinois and thence to Iowa, while son Edward relocated to Nebraska and from there to Seattle. Son Amos, who had moved to Chicago before the war, pushed into Wisconsin and back to Chicago and later in life to Oakland, CA.
In 1870, still in Middlecreek, Aaron and Polly lived alone but employed a 19-year-old domestic servant, Catharine Geary.

Polly's obituary, Somerset Herald, Oct. 21, 1891
Census records for 1880 show the couple in Middlecreek, with 15-year-old Anna B. Meyers living under their roof and "keeping house."
Aaron passed away at the age of 85 on Oct. 16, 1890. Burial was in Mount Union Cemetery in Upper Turkeyfoot.
Polly only lived for another year after her husband's demise. She succumbed on Oct. 14, 1891 in Middlecreek Township. The Somerset Herald reported that "Mrs. Aaron Schrock, step-mother of Capt. Wm. M. Schrock of this borough, died at her home in New Lexington, Saturday. She was past 85 years of age." She rests with her second husband at Mount Union. [Find-a-Grave]
Many years later, during the great Younkin re-awakening and national home-coming reunions of the 1930s, Polly's name came up in conversation or in letters between distant cousins researching the ancient family connections. In one example, Minnie (Younkin) Hall of Chicago wrote to Charles Arthur Younkin, publisher of the Younkin Family News Bulletin, stating that her father Dr. Edwin Younkin had a cousin Capt. William M. Schrock, born in 1837 in Pennsylvania, with whom he corresponded. As well, "Dorcas Jake" Younkin often spoke about having had an Aunt "Polly" Schrock.
Copyright © 2016-2020 Mark A. Miner
Research for this page graciously shared by the late Olive (Rowan) Duff and the late Donna (Younkin) Logan.