Jacob C. Younkin
(1828-1894)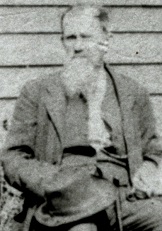 Jacob C. Younkin
Jacob C. Younkin was born on Feb. 19, 1828 near Kingwood, Somerset County, the son of Frederick F. and Mary (Sanner) Younkin. He "lived and died about a mile from the old homestead, where Grandfather [F.F.] Younkin lived," remembered a nephew.
Jacob wed Lucy A. Weimer (1837-1890).
They had four children -- Eleanor Josephine "Ellen" Schrock, Adaline M. Gerhard, Wesley D. Younkin and Etta M. "Ettie" Gerhard.
When the federal census was enumerated in 1880, Jacob and Lucy were listed among a cluster of related neighbor family households -- including his parents, married sister Salome Liston and cousin Ephraim Minerd.
Lucy passed from this earth on July 15, 1890, at the age of 53. In a short obituary, the Somerset Herald reported the following: "YOUNKIN.—At her residence, near Kingwood, July 15, 1890, Lucy Ann, wife of Jacob Younkin aged 53 years, 4 months and 7 days."
On the face of her upright grave marker was inscribed this poem: "We miss thee from our home dear mother. We miss thee from thy place. A Shadow o'er our life is cast. We miss the sunshine of thy face."
Her death also is recorded in Otto Roosevelt Younkin's genealogy research notes from the 1930s.

The Younkin farm circa 1893. Jacob and his children and grandchildren are in view, with son Wesley astride the horse.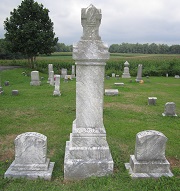 Jacob and Lucy's resting place
Jacob only survived his wife by four years. In the early 1890s, a photographer came to the farm and shot a number of photographs of the Younkin family in front of their house and barn.
He suffered from heart disease for an extended period of time and died from its effects on Feb. 12, 1894. He received a more expansive obituary in the Herald:
In the death of Jacob C. Younkin, who passed away at his home in Upper Turkeyfoot township Monday, Feb. 11th, the south of the county lost one of its most prominent and leading citizens. Mr. Younkin had been in delicate health for several years, suffering from dropsy, but was always uncomplaining and would not admit up until a short time prior to his death that his condition was serious. He had accumulated a moderate sized fortune but had disposed of most of it by gift among his children some years ago. He is survived by four children, three daughters and one son.
They are buried together under a prominent stone in the Lutheran Church cemetery in Kingwood. Many years later, their genealogy was researched by a descendant, with notes deposited in the "Younkin" surname file at the Historical and Genealogical Society of Somerset County.
The photograph of the family posed in front of their house is pictured in the book Down the Road of Our Past published by the Rockwood Area Historical & Genealogical Society.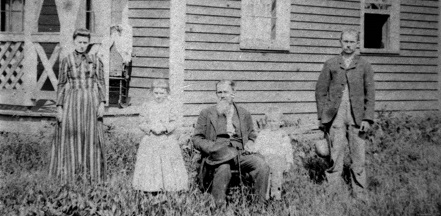 Above: widowed Jacob with son & daughter in law Wesley and Mary & grandchildren, 1890s. Below, the old farmhouse, pictured a century apart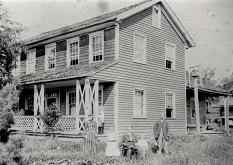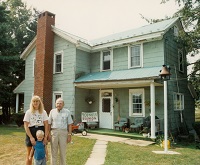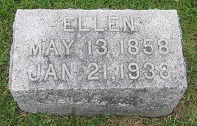 ~ Daughter Eleanor Josephine "Ellen" (Younkin) Schrock ~
Daughter Eleanor Josephine "Ellen" Younkin (1858-1938) was born on May 13, 1858.
She married a cousin, Ephraim Schrock (1852-1920), son of Andrew and Susanna (Younkin) Schrock and grandson of Yankee John and Nancy (Hartzell) Younkin. Click on their link for more of their story.
~ Daughter Adaline M. (Younkin) Gerhard ~
Daughter Adaline M. Younkin (1861-1889) was born on July 10, 1861.
She married Jacob B. Gerhard Jr. (Nov. 17, 1857-1938) (originally spelled "Gerhardt"), son of Jacob B. and Catherine (Brougher) Gerhard Sr.
Their only child was Edna Gerhard, born in 1887.
In the 1870s and '80s, Jacob served as a justice of the peace (also known as "judge" at the time) for Upper Turkeyfoot Township. This allowed him to legally officiate at weddings, and his name often was mentioned in the "Married" section of local newspaper articles. He also affixed his signature over the years to many deeds involving Younkin land transactions.
Adaline died at the untimely age of 27 on April 9, 1889. She was laid to rest in the Lutheran Church Cemetery in Kingwood with her parents.
Jacob lived for another almost half-century, and married his sister in law Ettie Younkin. See Etta's entry elsewhere on this page for more about her.
Daughter Edna Gerhard married M.E. Baughman. Circa 1926, the Baughmans lived in Philadelphia. By 1938, they were back in Somerset.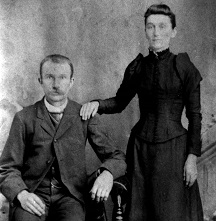 Wesley and Mary (Kreger) Younkin
~ Son Wesley D. Younkin ~
Son Wesley D. Younkin (1864-1943) was born on Feb. 8, 1864.
He married Mary Ann Kreger (1864-1933), daughter of Christopher and Catherine Kreger, on July 3, 1884, when both of them were 20 years of age. Rev. J.W. Bloyd officiated, with Mr. and Mrs. C.H. Kreger and Mr. and Mrs. Joseph Sweitzer serving as witnesses.
They had five children -- Lillian M. "Lillie" Brougher, Jacob Ross "Shorty" Younkin, Clark J. Younkin, Myrtle G. Younkin and Matthew McKinley "Matt" Younkin.
They resided on the old farm of Wesley's parents south of Kingwood, along what today is Route 281. Wesley paid for the farm in $300 installments, from 1896 to 1900.
For many years, as Kingwood did not have its own post office, they received their mail as Markleton R.F.D. (rural free delivery).
In the mid-1910s, a school house was established directly across the Route 281 highway from Wesley's farm. The Meyersdale Republican reported the news on July 15, 1915, saying: Owing to the long distance some of the pupils have to school, the school board will move the one known as the Dwire school to the top of the hill above Markleton, and will build a new one near the home of Ross Younkin, which will likely be called the Younkin school. This will shorten the distance for a large number of pupils." A photograph of Bud James Younkin and Mildred Henry in childhood, seated on the step of the school, was printed in Tbook Down the Road of Our Past published by the Rockwood Area Historical & Genealogical Society.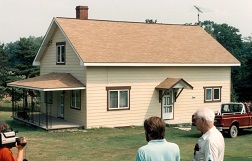 Younkin School, now a private residence
Tragedy rocked this family on June 20, 1892, when 22-month-old son Clark drowned in a spring.
The federal census of 1900 shows the family living near Kingwood, with their near neighbors including Wesley's sister Salome Liston and her family, and step-cousin Lawrence A. Hall and his brood. In 1900, 24-year-old George W. Sanner lived under their roof as a hired laborer on their farm.
When his longtime friend and cousin Jacob Phillippi died in 1914, Wesley and another cousin, Ephraim Schrock, stepped forward to help the widow obtain her husband's Civil War pension payments.
Mary died in 1933 at the age of 69, "following an illness of several months," reported a local newspaper.
Wesley survived his wife by a decade. Despondent as he approached his 80s, he decided to end his life. The Meyersdale Republican reported the grisly details:
Wesley D. Younkin of Kingwood died last Saturday night in the Somerset Hospital, the result of a gunshot wound in the head, believed to have been self-inflicted. Younkin was found in an unconscious condition at his home on March 17 and was removed to the Somerset hospital, where he rallied and appeared to be on the road to recovery. He suffered a relapse, however, last week. The bullet, from a .22 caliber rifle, entered the man's right temple, and passed through his right eye. When the man was discovered by relatives he was on the floor of his bedroom, but there were bloodstains on the kitchen floor. Investigators expressed the belief that Younkin shot himself in the kitchen and walked to his bedroom before he collapsed.

Stenciling inside Jacob and Lucy's barn, reading "J.C. YOUNKIN"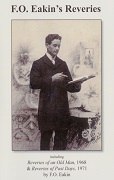 Memoir by Myrtle's pastor in which she's named
Daughter Lillian "Lilly" Younkin (1885-1967) was born on July 5, 1885, near Kingwood. She married a cousin, John Brougher (1885-1942) on March 18, 1906, with Rev. S. Fulmer officiating. John was the son of Samuel and Barbara "Ellen" (Dull) Brougher, grandson of Frederick and Margaret "Peggy" (Faidley) Dull and great-grandson of George and Christina (Younkin) Dull Sr. Their children were Roy Wesley Brougher, Charles Edward Brougher, Hazel Ferne Kreger, Mabel "Florence" Gardner, Thelma Theda Sanner and Mary Ellen Ohler. Sadly, son Charles died in infancy. The Broughers were longtime members of the Kingwood Church of God. Sadly, John died on July 1, 1942, at age 57. At his death, John was survived by a sister, Mrs. J.D. Liphart, and by two half-brothers, Fred Ream and Jesse Ream. Lilly remained in the Kingwood area for the remainder of her years. She died at age 81, on Feb. 6, 1967, in the home of her married daughter Florence in Markleton. She was buried in Kingwood IOOF Cemetery.
Son Jacob "Ross" (or "Shorty") Younkin (1888-1960) was born in 1888. He wed Myrtle Goller (1890-1974), daughter of Ed and Etta (Leslie Collins- Snyder) Goller. Ross was a longtime farmer and lumberman near Kingwood, with Markleton R.F.D. as their post office address. Their children were Evelyn Vera Fisher, James Matthew Younkin and Glenn Ray Younkin. They were members of the Kingwood Church of God, and Myrtle was a charter member of the Rebekah Lodge of the Odd Fellows in Kingwood. Myrtle is mentioned in a memoir written her longtime pastor, entitled F.O. Eakin's Reveries, penned in 1968 and published in 2014. Ross was stricken with lung cancer which spread to his bones. He passed away on Sept. 16, 1960, at age 72, in Kingwood. Myrtle died at the home of their daughter Evelyn Fisher in Beaver Falls, Beaver County, PA at age 83 on June 15, 1974. Her remains were brought back to Somerset County for a funeral led by Rev. Earl Show and Rev. Paul Tobias. Burial was in Somerset County Memorial Park.
Beaver County Times article about Evelyn, 2015

Granddaughter Evelyn Vera Younkin (1913-living) was born in 1913. She was married twice. Her first spouse was (?) McMillen ( ? - ? ). They produced one son, Paul McMillen. The McMillens divorced in February 1948 in Somerset County Court. On June 28, 1949, at the age of 36, wed her second spouse, 36-year-old Edward Weyant Fisher (1913-1985), son of David and Lottie (Weigle) Fisher of Berlin, Somerset County. Rev. I. Hess Wagner officiated at the wedding held in Somerset. At the time of marriage, Edward Fisher was a steelworker and made his home in Mayfield Heights near Beaver Falls, Beaver County, PA. He also had been married and divorced previously. In about 1943, Edward had been hired by Babcock & Wilcox and worked in its Tubular Division. They were members of the First Church of God in New Brighton, and Edward belonged to the Masons and New Castle Consistory. He retired from B&W in 1975 after 32 years of service. Sadly, Edward passed away at the age of 72 at home on Nov. 8, 1985. His remains were returned to his home region for interment in Somerset County Memorial Park, with Rev. Thomas Pauquette preaching the funeral sermon. An obituary was published in the Somerset Daily American. Evelyn has survived her husband by more than four decades, remaining in Beaver Falls. In celebrating her 102nd birthday, the Beaver County Times published her photograph and a feature story on Sept. 4, 2015, headlined "She Doesn't Sit Still."
Grandson Gerald Ross Younkin married Iris Marie Kreger, and their daughter Kay Lynn Younkin has been active with the Junghen-Younkin Reunion-East for more than 20 years.
Son Matthew McKinley Younkin (1896-1980) was born on May 14, 1896 in Upper Turkeyfoot. At age 20, he wed 20-year-old Lucy Ellen Sechler (1897- ? ), daughter of Joshua and Emily (Meyers) Sechler. Their wedding service was held on March 21, 1917 in Kingwood, led by Rev. F.O. Eakin. Their marriage ended, and he wed his second bride, Ruth Berkey. He had one daughter, Mary Emma Vernon, and a step-daughter, Faye Morin. The Younkins were members of the Kingwood Church of God. Matthew variously made a living as a farmer, lumberman and school teacher. Matthew endured the deaths of his wife Ruth and married daughter Mary Vernon. He died at age 83, at Somerset Community Hospital, on Feb. 5, 1980. Entombment was in Somerset County Memorial Park.
~ Daughter Etta M. "Ettie" (Younkin) Gerhard ~
Daughter Etta M. "Ettie" Younkin (1869-1926) was born on May 1, 1869 in Somerset County.
On Sept. 17, 1890, at the age of 21, Etta married her widowed, 32-year-old brother in law Jacob B. Gerhard Jr. (1858- ? ), son of Jacob and Catharine (Brougher) Gerhard Sr. Rev. T. Woods led the wedding service.
Early in adulthood, Jacob was a school teacher "in and about Kingwood and then entered the mercantile business there," said the Younkin Family News Bulletin (Dec. 20, 1938). He was one of two shop keepers in Kingwood, along with Peter Albert Kreger, married to Etta's cousin Ida (Trimpey) Kreger. The store is pictured in the book Down the Road of Our Past published by the Rockwood Area Historical & Genealogical Society.
In the late summer of 1903, a correspondent from the Meyersdale Commercial wrote a piece entitled "The Hills of Somerset" which featured eyewitness observations during a tour of southern Somerset County. He made a stop at Jacob's store in Kingwood, and penned the following:
Leaving Humbert a very rough and hilly portion of Turkeyfoot township is reached, extending towards the little village of Kingwood which has two stores and other small industries, two churches, schools, &c. The proprietors of the stores are J.B. Gerhart and Mr. Kregar; the former gentleman has here one of the most magnificent houses that can be found in any village in the county; the house is large and commodious and most beautifully finished and decorated, besides it is surrounded with flowers and shrubbery that give it almost an oriental magnificence.
After 14 years of married life in Kingwood, the Gerhards moved into the city of Somerset. Jacob was active in local public service, and served as Prothonotary of Somerset County for three years, from 1909 to 1912. He eventually was appointed by Judge J.A. Berkey as a court officer, which he maintained for the rest of his life. They resided on Main Street in Somerset.
Etta suffered from hardening of the arteries and chronic kidney disease. She was stricken by a cerebral hemorrhage and died at home on July 20, 1926. Burial was in Husband Cemetery in Somerset County, and an obituary was published in the Connellsville Weekly Courier.
Jacob survived her by a dozen years. He was "one of the oldest members of the Grace Evangelical Church," said the news bulletin, and "was a charter member of the Baraca Bible Class." He died at the home of his married daughter, at 313 West Main Street in Somerset, on June 27, 1938.
Copyright © 2013-2014, 2017 Mark A. Miner
Research for this page graciously shared by the late Olive (Rowan) Duff, the late Donna (Younkin) Logan and Kay Lynn Younkin.