Home

Jonas H. Younkin
(1825-1855)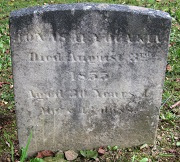 Jonas H. Younkin, died 1855
Jonas H. Younkin (1825-1855) was born on March 21, 1825 near Kingwood, Somerset County, PA, the son of John J. and Mary "Polly" (Hartzell) Younkin.
He married Mary Beal (1830- ? ), daughter of Daniel and Mary Beal. They had one son, Jonas M. Younkin.
When the federal census was enumerated in 1850, Jonas dwelled with his widowed mother and 15-year-old Maria McClintock in Upper Turkeyfoot Township. At the time, he earned a living as a laborer.
Circa 1854, he served as a trustee of the Methodist-Episcopal Church, along with his brother Rev. Harmon Younkin and cousins John Minerd and Jacob Minerd III as well as Samuel McMillen and Daniel N. Beal. The church was named "Mt. Zion" though it's unknown whether a building actually was constructed, although its location is shown on an 1860 map of the township prepared by Edward Walker. Jonas' brother Harmon may have been the preacher of this church.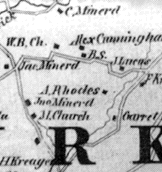 "M. Church" next to the farm
of "Jno. Minerd, 1860
The move to create a church of the Methodist denomination here may have been driven by competition from the new Old Bethel Church of God, which had been constructed about a quarter of a mile away and whose congregants included members of the Younkin and Minerd families.
Tragedy struck the following year, however, when 30-year-old Jonas died on Aug. 3, 1855 in Upper Turkeyfoot. He was laid to rest in his parents' graveyard. At the time of his untimely passing, his wife was expecting, and nearly five months later, she gave birth to their only son.
Appointed as administrator of Jonas' estate were his brother-in-law Levi Leighliter (Lichliter) as well as William H. Postleweight and Thomas King. Levi petitioned the Orphans Court of Somerset County to allow a sale of the deceased's real estate to generate funds to pay debts. Three others, brother in law Garrison N. Smith, cousin by marriage Jonathan Dumbauld (son in law of Christina [Younkin] Dull) and brother Herman Younkin, were selected to appraise the estate's value. At the eventual sale, Jonas' brother Herman purchased the farm for $650, to be paid in three annual installments.
Mary's fate is not yet learned.
~ Son Jonas M. Younkin ~
Son Jonas M. Younkin (1856-1922) was born on Jan. 22, 1856.
He wed a cousin, Josephine "Fina" Younkin (1864-1922), daughter of Frederick J. and Delilah (Faidley) Younkin and granddaughter of Jacob and Salome (Weimer) Younkin Jr.
Their seven children were Laura Belle Younkin, Harry Younkin, Malvina "Mella" Younkin, Emma Younkin, Frank Younkin, Elmer Younkin and Alva Younkin.
In the 1880s, the family lived in Indian Head, Fayette County, and by 1908 were in Moyer near Connellsville, Fayette County.
Sadly, Fina's heart failed and she died suddenly on Nov. 13, 1915, at the age of 52. Her remains were laid to rest in the Younkin Cemetery.
Jonas lived for another nearly seven years. He died near Kingwood on March 24, 1922, at the age of 66. Death was attributed to chronic nephritis and hardening of the arteries. Among those attending the funeral held at Paddytown were Elsie Boyer and Leslie Friend.
Daughter Laura Belle Younkin (1880-1938) was born on March 18, 1880. She never married. In 1930, she lived with her sister in law Blanche (Hutzell) Younkin and unmarried sister Emma Younkin. Later, she was a longtime housekeeper for George King near Confluence. On April 4, 1938, while working alone in King's kitchen, she suffered a severe stroke, collapsed and died. King discovered her body after returning home from a trip.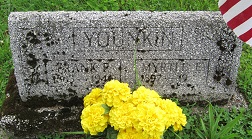 Frank and Myrtle's grave, Maple Summit
Son Frank P. Younkin (1882-1946) was born on Sept. 15, 1882 in Indian Head, Fayette County. He was short and of medium build, with brown eyes and black hair. At the age of 36, he registered for the military draft during World War I, and stated that his occupation was coal mining for Darby Coal Company of Markleton and that his father was his next of kin. He was wedded to Myrtle Daniels (Feb. 17, 1879-1963), daughter of George and Jane (Felton) Daniels. They made their home in Friedens, Somerset County. Frank earned a living over the years as a laborer.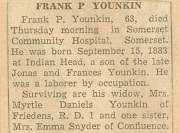 Obituary, 1946
He was stricken in about 1943 with cancer of the prostate gland, which spead throughout his body. He was admitted to Somerset Community Hospital where he succumbed at the age of 63 on Oct. 3, 1946. His remains were transported to the Maple Summit Church cemetery for burial. As a widow, Myrtle relocated to Stewart Township near Mill Run, Fayette County and was near her relative, Mrs. Hattie Daniels. Toward the end of her life, she went to live in the Weimer Nursing Home in Uniontown, Fayette County. She suffered from diabetes, kidney problems and uremia and died there at age 66 on Dec. 4, 1963. Burial was beside her husband in Maple Summit.
Son Harry Younkin (1888-1908) was born on Feb. 20, 1888 in Indian Head, Fayette County. He was an invalid, never married and in his late teens lived in Bullskin Township near Connellsville. Just 10 days before his 20th birthday, and stricken with tuberculosis, he died. Burial was in Hopewell Cemetery in Fayette County.
Daughter Malvina Younkin (1895-1931) was born on Christmas Day 1895. She apparently never married. In her mid 30s, she lived in Markleton, Somerset County but when suffering from tuberculosis was admitted to the Somerset County Home and Hospital. There she died at the age of 35 on Nov. 5, 1931. Henry Wilson, M.D. signed her death certificate. Burial was in the Younkin Cemetery.
Daughter Emma Younkin (1892- ? ) was born in about 1892. She may never have married. In 1930, single at the age of 38, she made her home in Upper Turkeyfoot with her sister in law Blanche (Hutzell) Younkin and unmarried sister Laura Belle Younkin. She disappears from history after that.
Son Alva Younkin (1898-1932) was born on July 31, 1898 in Upper Turkeyfoot. On Aug. 5, 1922, at the age of 24, he married Blanche Lorene Hutzell (1906- ? ), daughter of George and Mary (Engler) Hutzell and a native of Glencoe, PA. The copule spent their lives in Upper Turkeyfoot. They had four children, identities not yet known, but who may have been Roy Younkin, Gwendolyn Younkin and Wilbur Younkin. Oddly, when the federal census was enumerated in 1930, Blanche declared herself a widow at age 24. But tragedy shook this family a few years later when Alva, suffering from "a complication of diseases," died at age 34 on Nov. 11, 1932, said the Daily American. Death occurred in the the Somerset County Home and Hospital. He was buried in the Younkin Cemetery following a funeral in the Kingwood Church of God, officiated by Rev. Tantlinger. A year after Alva's death, Blanche waited a year and then married again, at the age of 27, to her husband's cousin, 53-year-old farmer Charles James Younkin, son of Freeman and Belinda (King) Younkin and grandson of Rev. Herman Younkin. The nuptials were celebrated on Nov. 8, 1933, with the couple uniting themselves in marriage. Blanche and Charles were together for almost two decades. Felled by cardiovascular and kidney disease, he died just five days shy of his 71st birthday on May 29, 1951. Burial was in the Younkin Cemetery.
Copyright © 2013, 2016, 2020 Mark A. Miner
This page is dedicated in the memory of cousin-researchers who graciously shared their findings: the late Donna (Younkin) Logan and the late Olive (Rowan) Duff.