Jonas M. Younkin (1856-1922) and
Josephine 'Fina' Younkin (1864-1915)
Jonas M. Younkin was born on Jan. 22, 1856, the son of Jonas H. and Mary (Beal) Younkin of Hexebarger near Kingwood, Somerset County, PA. His father died several months before Jonas was born.
His wife, Josephine "Fina" Younkin, was born on March 14, 1864 in Hexebarger, the daughter of Frederick J. and Delilah (Faidley) Younkin. Fina was eight years younger than her husband.
Their seven children were Laura Belle Younkin, Malvina "Mella" Younkin, Emma Younkin, Frank Younkin, Harry Younkin, Elmer Younkin and Alva Younkin.
In the 1880s, the family lived in Indian Head, Fayette County, and by 1908 were in Moyer near Connellsville, Fayette County.
Sadly, Fina's heart failed and she died suddenly on Nov. 13, 1915, at the age of 52. Her remains were laid to rest in the Younkin Cemetery.
Jonas lived for another nearly seven years. The federal census enumeration of 1920 shows him heading a household with six adult children in Upper Turkeyfoot Township, Somerset County. That year, he earned a living as a farm laborer, and their home was next door to the family of distant cousin Charles Henry and Hattie (Smith) Rose -- of the family of Levi Rose -- in Paddytown.
He died near Kingwood on March 24, 1922, at the age of 66. Death was attributed to chronic nephritis and hardening of the arteries. Among those attending the funeral held at Paddytown were Elsie Boyer and Leslie Friend.
~ Daughter Laura Belle Younkin ~
Daughter Laura Belle Younkin (1885-1938) was born on March 18, 1885. She never married.
Circa 1920, at the age of 36, she was at home with her widowed father in Paddytown, Upper Turkeyfoot Township, Somerset County.
In 1930, she lived with her sister in law Blanche (Hutzell) Younkin and unmarried sister Emma Younkin. Later, she was a longtime housekeeper for George King near Confluence.
On April 4, 1938, while working alone in King's kitchen, she suffered a severe stroke, collapsed and died. King discovered her body after returning home from a trip. An obituary was published in the Connellsville Daily Courier.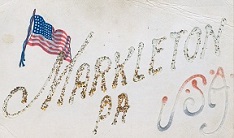 Malvina Younkins's residence, 1920s
~ Daughter Malvina Younkin ~
Daughter Malvina Younkin (1895-1931) was born on Christmas Day 1895.
She apparently never married.
In her mid 30s, Malvina lived in Markleton, Somerset County. When diagnosed with tuberculosis, she was admitted to the Somerset County Home and Hospital.
There she died at the age of 35 on Nov. 5, 1931. Henry Wilson, M.D. signed her death certificate. Burial was in the Younkin Cemetery.
~ Daughter Emma (Younkin) Snyder ~
Daughter Emma Younkin (1892-1967) was born on Feb. 2, 1892 in Somerset County.
In 1930, single at the age of 38, she made her home in Upper Turkeyfoot with her sister in law Blanche (Hutzell) Younkin and unmarried sister Laura Belle Younkin. She eventually was joined in wedlock with a cousin, Wilson Snyder (Nov. 15, 1891-1938), son of Samuel and Amanda (Younkin) Snyder of the family of "Weasel Jake" and Catherine "Katie" (Faidley) Younkin.
The couple bore one daughter, Dorothy Snyder.
When Wilson was age 26, in 1920, he was divorced and lived with his widowed mother and brother, earning a living as a coal miner. In 1933, at the death of his mother, Wilson resided in Markleton and signed the Pennsylvania certificate of death.
After their marriage, Emma and Wilson made their home near Markleton. During the Great Depression, he earned a living for four years as a laborer with the Works Progress Administration.
Sadly, Wilson was burdened with acute alcoholism. Jjust a few weeks before his 47th birthday on Oct. 23, 1938, he collapsed on his front porch and died, the body discovered by a neighbor boy, James Kreger. Reported the Somerset Daily American, "Coroner F.E. Sass blamed excessive alcoholism for the death... Snyder had been drinking heavily. Four empty quart whiskey bottles, several empty pint bottles and a pint bottle half full of whiskey were found in the house."
The widowed Emma relocated to the Borough of Confluence. Emma was plagued with chronic arthritis and hypertension. She suffered a severe heart attack and died within two minutes, at the age of 75, on April 15, 1967. Her brother Frank was the informant for her official Pennsylvania certificate of death. Interment was in the cemetery of the Old Bethel Church of God in Hexebarger near Kingwood, with Rev. Chester Henneman preaching. An obituary was printed in the Meyersdale Republican.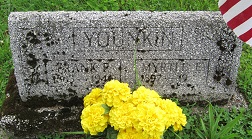 Frank and Myrtle's grave, Maple Summit
~ Son Frank P. Younkin ~
Son Frank P. Younkin (1882-1946) was born on Sept. 15, 1882 in Indian Head, Fayette County.
He was short and of medium build as an adult, with brown eyes and black hair.
When the United States Census was enumerated in 1920, Frank was age 26 and a bachelor, and lived at home with his widowed father in Paddytown, Upper Turkeyfoot Township. His occupation in 1920 was as a farm laborer.
At the age of 36, when required to register for the military draft during World War I, Frank stated that his occupation was coal mining for Darby Coal Company of Markleton and that his father was his next of kin.
He eventually was united in matrimony with Myrtle Daniels (Feb. 17, 1879-1963), daughter of George and Jane (Felton) Daniels.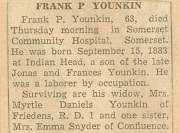 Connellsville Daily Courier, 1946
They made their home in Friedens, Somerset County. Frank earned a living over the years as a laborer. At the grisly death of his brother Elmer in 1928, Frank was working at the Sherrick farm in Pennsville, Fayette County. He was suspicious of the circumstances surrounding the tragedy and hired a lawyer and then sued on the grounds of murder. He remained involved with the case as it went to trial three years later, in 1931.
He was stricken in about 1943 with cancer of the prostate gland, which spead throughout his body. He was admitted to Somerset Community Hospital where he succumbed at the age of 63 on Oct. 3, 1946. His remains were transported to the Maple Summit Church cemetery for burial.
As a widow, Myrtle relocated to Stewart Township near Mill Run, Fayette County and was near her relative, Mrs. Hattie Daniels. Toward the end of her life, she went to live in the Weimer Nursing Home in Uniontown, Fayette County. She suffered from diabetes, kidney problems and uremia and died there at age 66 on Dec. 4, 1963. Burial was beside her husband in Maple Summit.
~ Son Harry Younkin ~
Son Harry Younkin (1888-1908) was born on Feb. 20, 1888 in Indian Head, Fayette County.
He was an invalid, never married and in his late teens lived in Bullskin Township near Connellsville.
Just 10 days before his 20th birthday, on Jan. 30, 1908, he died after having been stricken with tuberculosis. Burial was in Hopewell Cemetery in Fayette County.
~ Son Elmer Younkin ~
Son Elmer Younkin (1891-1928) was born in Feb. 1891 or 1895. He grew up in Saltlick Township, Fayette County.
In adulthood, he stood 5 feet, 7 inches tall and weighed 140 lbs.
Sadly, Elmer lived a troubled life, and was said to have been "a siple-minded young man of a limited education," said an observer, quoted in a newspaper. "Some of us would call him weak-minded." During World War I, he earned a living digging ditches for the Baltimore and Ohio Railroad at Fort Hill, Somerset County. In August 1928, he and his brother Alva, along with Dennis Romesberg and Charles Trimpey, were arrested for breaking into and robbing B&O railcars. The four men were arraigned in Uniontown before a U.S. Commissioner and ordered to face trial in the United States District Court for the Western District of Pennsylvania. The case is believed to have been transferred to Erie.
After the conclusion of the proceeding, Elmer rode back home with B&O Railroad police captain Robert C. Bledsoe. From there, Elmer was put to work for a time at Sam Joseph's slaughterhouse. Bledsoe later removed him from the job. Tragically, a day later, on Nov. 21, 1928, the 36-year-old Elmer was killed when the automobile in which he was parked -- on a railroad track crossing, without its headlines on -- was struck by a locomotive moving at 40 miles per hour. The incident occurred at a crossing of the B&O Railroad near Wheeler-Dunbar Road, on a night described as dark, stormy and misty. The engineer first saw the vehicle from 200 feet away and was only able to stop the locomotive after 350 feet past. What was unusual was that the vehicle belonged to Bledsoe Reported the Meyersdale Republican:
The police captain was not in the car at the time and cannot explain how the car happened to be on the tracks. He was driving Younkin to Confluence, but stopped at Wheeler for a brief time on business. Leaving his passenger in the car which Bledsoe parked about 110 feet from the railroad tracks, with brakes set and engine stopped, and returnign 45 minutes later, the officer found the car a mass of wreckage, after it had been dragged 200 feet. How the car got on the tracks is not known. The police captain believes Younkin endeavored to drive it and stalled on the railroad tracks.
The remains were placed on the train and taken to Uniontown. County coroner S.A. Baltz examined Elmer's corpse and wrote that there was a "complete crush of head & body." The Republican said that "Younkin's relatives in Somerset County were also told of the fatality. He is survived by two brothers and three sisters." Burial took place in Confluence.
The story did not end there, and Elmer's brother Frank was suspicious and hired a lawyer. He wanted to know if Bledsoe had indeed parked the vehicle away from the tracks, or on them. It led to a charge against Bledsoe for murder with insurance money as the motive. In April 1931, a hearing was held before a grand jury in Uniontown. One witness, B&O ticket agent R.E. Shaw, said that he had sold Elmer an insurance policy "covering a period of five days, a few days before he was killed." With Bledsoe present at the time of the sale, Shaw asked who the beneficiary should be, and Elmer replied that it should be his friend, "Captain Bledsoe."
Coroner Baltz testified that Elmer's body was "unrecognizable" and that "it would have been impossible to identify except by some one who knew who was in the car at the time it was struck by the train." Also giving testimony was a distant double-cousin, attorney Frederick Elijah "F.E." Younkin of Connellsville, son of Michael and Hannah Mariah (McClintock) Younkin. Younkin said that the insurance policy paid out $35,000, half to Bledsoe and have to the administrator of Elmer's estate. In his defense, Bledsoe recounted that he and Elmer had first met in Erie, PA when both "were interested in a trial before the Federal Court," reported the Republican. "Later Younkin stayed a short time in Bledsoe's home." It also came to light that just a few days before Elmer's death, he and Bledsoe were riding together in the same vehicle "when it went over a 100-foot embankment."
In the legal proceedings, F.E. Younkin represented the defendant, Bledsoe. He claimed that Bledsoe did not want to the insurance payout but rather a new vehicle to replace the ruined one. All of it was juicy, and the news was published statewide. The grand jury returned an indictment against Bledsoe, with the trial begun in mid-June 1931. Bledsoe testified that the reason he had stopped at the Wheeler crossing was to check on a theft of brass and had asked Elmer to watch the car. He believed Elmer had, said the Uniontown Morning Herald, "monkeyed with the emergency brake during his absence, permitting the car to slip down the hill and on to the railroad track." After many witnesses and many days, the jury delibered for 4.5 hours and ruled to acquit Bledsoe of the charge of murder. The Morning Herald reported the verdict, saying it was "one of the most dramatic June terms of criminal court experienced in Fayette county for years."
~ Son Alva Younkin ~
Son Alva Younkin (1898-1932) was born on July 31, 1898 in Upper Turkeyfoot.
On Aug. 5, 1922, at the age of 24, he married Blanche Lorene Hutzell (1906- ? ), daughter of George and Mary (Engler) Hutzell and a native of Glencoe, PA. The couple spent their lives in Upper Turkeyfoot.
They had four children, identities not yet known, but who may have been Roy Younkin, Gwendolyn Younkin and Wilbur Younkin.
Oddly, when the federal census was enumerated in 1930, Blanche declared herself a widow at age 24. But tragedy shook this family a few years later when Alva, suffering from "a complication of diseases," died at age 34 on Nov. 11, 1932, said the Daily American. Death occurred in the the Somerset County Home and Hospital. He was buried in the Younkin Cemetery following a funeral in the Kingwood Church of God, officiated by Rev. Tantlinger.
A year after Alva's death, Blanche waited a year and then married again, at the age of 27, to her husband's cousin, 53-year-old farmer Charles James Younkin, son of Freeman and Belinda (King) Younkin and grandson of Rev. Herman Younkin. The nuptials were celebrated on Nov. 8, 1933, with the couple uniting themselves in marriage.
Blanche and Charles were together for almost two decades. Felled by cardiovascular and kidney disease, he died just five days shy of his 71st birthday on May 29, 1951. Burial was in the Younkin Cemetery.
Copyright © 2013, 2016, 2020 Mark A. Miner
This page is dedicated in the memory of cousin-researchers who graciously shared their findings: the late Donna (Younkin) Logan and the late Olive (Rowan) Duff.