Michael Younkin (1825-1899) and
Anna Maria McClintock (1834-1904)
Wesley Chapel near Scullton
Michael Younkin and Hannah Mariah ("Anna Maria") McClintock were cousins who married each other.
Michael was born on Christmas Eve 1826, near Kingwood, Somerset County, PA, the son of Frederick F. and Mary (Sanner) Younkin. Despite his many adventures 'round the byways and roadways of midwest America, Michael never lost his command of the German language, even though he spoke English later in life.
Maria was born on Dec. 15, 1834, on her grandfather's farm between Kingwood and Ursina, Somerset County, to an unmarried mother, Susan Younkin. Maria's father is reputed to have been Robert McClintock, and Maria took his surname as a child.
~ Michael's Story~
Michael's story is told in part in the book Genealogical and Personal History of Fayette County, Pennsylvania, authored by James Hadden:
Michael Younkin when fourteen years of age was taken to Terre Haute, Indiana, by his father, but when the latter returned Michael did not accompany him. He lived in Kankakee, Chicago, Iowa, Indian Territory and in Arkansas. He was a stage driver for many years in Iowa and Indian Territory, and passed an adventuresome life in the west and southwest for thirty-five years. A yearning for family and home then overtook him, and he returned to Somerset county. He found his father alive, and was persuaded by the latter to again settle down in his native county and become a farmer.
Headline article about Frederick F. and
son Michael in the Younkin Family News
Bulletin, Aug. 5, 1938
This other account of Michael, written by son Frederick, appeared in the Aug. 5, 1938 edition of the Younkin Family News Bulletin:
When my father was, say eight or ten years old, grandfather, Frederick F. Younkin,... took him to Terre Haute, Indiana, and upon the death of my grandmother, grandfather moved back to Pennsylvania, and my father, Michael Younkin, started wandering, left Terre Haute, and went to Kankakee Illinois, and then wandered over into Iowa, Dubuque, Pela, Oskaloosa, Ottumwa, etc., and began to work for the Western Stage Company, my father driving a Concord Stage for this company for more than eighteen years. At one time father was married at Chillicothe, Missouri, and his first wife died, and after he left Iowa, after working for the Stage Company, he wandered into Kansas, Nebraska, Indian Territory, now Oklahoma, Texas, and went up to Arkansas. Then had the notion to go to Washington Territory on the Pacific Coast, now the State of Washington, and thought that he would come back and see his father near Kingwood, Pennsylvania, before he finally went to the West Coast, he being a man of forty-nine years of age, having wandered and been away from home thirty-five years, being about fourteen years old when he separated from his father at Terre Haute, having refused to go back with grandfather, and hid in a cornfield of a nearby farm until he saw his father turning eastward.
Michael's first wife, whom he apparently married in Missouri, but she died young, not long after the marriage. None of her details is known.
One of Michael's sons recalled that "at one time that my father could not speak a word of English, as he had been brought up to speak Pennsylvania Dutch, but after he wandered through the West for thirty-five years, and I first learned to know him, I never heard him speak Dutch, but my mother, whose mother was a Younkin too, could talk Pennsylvania Dutch up to the time of her death, although her father was a native son of Ireland, McClintock..."
Upon his return to Somerset County as a widower, he married his cousin, widow Hannah (or "Anna") Maria (McClintock) Crossen (1834-1904), daughter of Susan Younkin and granddaughter of John J. and Mary "Polly" Hartzell) Younkin. They were nine years apart in age.
~ Maria's Story ~
Family records indicate Maria's mother died shortly after childbirth, on Feb. 18, 1835. The infant Maria was raised by her widowed grandmother Mary "Polly" (Hartzell) Younkin and uncle Jonas H. Younkin, on the old farm. She is shown in their home in the 1850 federal census.
Maria was first married to farmer Elijah Crosson ( ? -1869) (or "Crossen," also misspelled "Clawson" and "Crossland"), son of David and Susan Crossan. Their nuptials were solemnized on Nov. 27, 1853 in Somerset, with justice of the peace Samuel K. King officiating.
They had three children -- Emma Frantz, George Crossen and Josephine Crossen. Sadly, daughter Josephine died in infancy.
Elijah purchased a 165-acre farm near Scullton in 1856, where the family is believed to have lived.

Elijah Crosson's farm near Scullton, 1860 Atlas of Somerset County
Sadly, Elijah died on March 19, 1869, leaving his wife alone to raise their two children. She petitioned the Somerset County Orphans Court for a guardian for her children, and Hiram Cramer was appointed. Some 14 years later, with Elijah's estate still unsettled, Maria's brother Rev. Herman Younkin served as a trustee for the sale of the family real estate.
By 1870, when the federal census enumeration was made, Maria was a single mother, age 36, raising her son and daughter in Upper Turkeyfoot. That year, 15-year-old Anna Phillippi resided in their dwelling as a domestic servant, helping raise the children as Maria toiled as a farmer to earn a living.
By the early 1870s, at an age in the late 30s, Mariah wed her second spouse, a cousin, Michael Younkin (1825-1899), son of Frederick F. and Maria "Mary" (Sanner) Younkin. They were nine years apart in age.
~ Mariah and Michael's Life Together ~
Mariah and Michael Younkin had two children of their own -- Frederick Elijah "F.E." Younkin and Mary Susan Henry.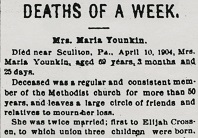 Meyersdale Commercial
When the federal census was enumerated in 1880, Michael and Mariah and all four of their mixed family of children lived together under one roof in Upper Turkeyfoot. Stepson George Crossen (written "Crofsen") was recorded as "works on farm."
In 1888, the Younkins sold the 168-acre tract of farmland to Mariah's daughter Emma E. Crossen, on the eastern side of Sandy Run, as a type of inheritance from her birth father. At the time, she was 21 or 22 years of age.
In January 1896, Michael and Mariah and their nephew John G. Gass were paid $650 by Michael's half brother-in-law Simon Liston to relinquish their inheritance claim to the old home farm of Michael's late father. The quit-claim deed was filed in Somerset County court.
Michael died on the next to last day of 1898. He was laid to rest in the burying ground of the Wesley Chapel Methodist church in Scullton, Somerset County. No obituary has been found in the Meyersdale (PA) Commercial.
Mariah outlived her husband by six years. She wrote a will, stating first that she wished to "commit my Soul into the hands of my Creator who gave it; and my body to the earth to be interred at Westley Chapel Cemetery ... according to the rites and ceremonies of the Methodist Episcopal Church." Under the terms of the document, she bequeathed her 160-acre farm to her children Frederick and Mary Susan, as well as her household and kitchen goods, horses, cattle, sheep, swine, money notes and other assets.
She passed away near Scullton at the age of 69 on April 10, 1904. In an obituary, the Meyersdale Commercial reported that she "was a regular and consistent member of the Methodist church for more than 50 years, and leaves a large circle of friends and relatives to mourn her loss.... Blessed are they that die in the Lord, for they rest from their labors and their works do follow them." Maria's remains were buried beside her husband.
~ Daughter Emma (Crossen) Frantz ~
Daughter Emma Crosson (1866- ? ) was born on Feb. 7, 1866 (or 1862). She was only three years of age when her father died. She made her home with her mother and stepfather in Turkeyfoot Township in 1880.
She gave birth to a daughter Bessie in September 1886, when she was 20 years of age. On Feb. 22, 1888, at the age of 26, with another baby due, Emma wed 25-year-old Thomas J. Frantz (1863- ? ), son of Thomas and Lucinda Frantz. The ceremony was performed in Upper Turkeyfoot by justice of the peace E.P. King. On her marriage license application, she fibbed that her age was only 22.
At the time of marriage, Thomas made a living as a teamster. They had three daughters -- Bessie Frantz, Bertha Frantz and Hattie B. Frantz.
In a tragic turn of events, Thomas died an untimely and young death, sometime between 1890 and 1900. Details of his passing are not known. The federal census of 1900 shows the widowed Emma heading a household with her three daughters, living next door to her mother, and on the other side next door to her cousin Harriet Johnson. When her mother died in 1904, Emma was named in the obituary.
Daughter Bessie Frantz (1886- ? ) was born in September 1886.
Daughter Bertha Frantz (1888- ? ) was born in March 1888.
Daughter Hattie B. Frantz (1891- ? ) was born in March 1891.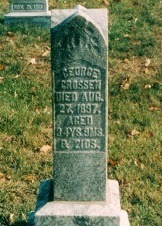 George Crossen's grave,
Wesley Chapel Cemetery
~ Son George W. Crossen ~
Son George W. Crossen (1863-1897) was born in 1863. He was age six at the death of his father.
Circa 1880, he lived with his mother and stepfather in Upper Turkeyfoot Township, where he worked on the family farm. He died at the age of 34 years, nine months on Aug. 27, 1897.
George's remains were laid to rest in the Wesley Chapel Cemetery near Scullton, Somerset County. On the flip side of George's grave marker is an inscription for Lucinda Crossen who died in 1867 -- at age 84 -- connection unknown.
His half-brother Frederick E. Younkin was named administrator of George's estate, and held the deceased's funds pending the closing of the account. Legal advertisements were published in the Somerset Herald throughout the year 1898.
~ Son Frederick Elijah Younkin ~
Son Frederick Elijah "F.E." Younkin (1874-1953) was born in 1874 near Kingwood.
He was a prominent attorney in Connellsville for decades, and at his death the Connellsville Daily Courier noted that he was "one of the city's best-known residents." He attended school at Valparaiso, IN from 1896 to 1900, and received a bachelor's degree. He then taught elementary school in Illinois before returning to teach at Ursina, Somerset County and thence to Connellsville, Fayette County.

Obituary, 1953
He became principal of the Third Ward School and, after leaving public education, served as a law clerk for the firm of Sterling, Higbee, Dumbauld and Brown in Connellsville. He was admitted to practice law in the commonwealth in 1909, and set up his office in the Title and Trust Building, later known as the National Bank & Trust Building. His business grew steadily and put him into contact with myriad Younkin cousins near and far.
On July 26, 1911, at the age of 37, he married one of his former pupils, Maud Elizabeth Scott (1879-1957), daughter of Noah and Margaret (Ferguson) Scott of Ursina. They had no children, and resided at 109 Robbins Street in Connellsville.
He was a member of and lent time to many professional, community and social organizations, among them the Fayette County, Pennsylvania and American Bar Associations; the Commercial Law League of America; the Masons, Syria Temple and Odd Fellows. He also served on the Connellsville school board from 1912 to 1916, including three years as president. As an active member of the First Methodist Church, he was a member of the church's board of trustees and taught its Men's Bible Class.
As a double Younkin by heritage, Frederick was a great supporter of the Younkin National Home-Coming Reunion when it was established n 1934. In fact, he served as vice president of the association for many years, and contributed articles to the Younkin Family News Bulletin newspaper. His article, "Grandfather F.F. Younkin Of The Year 1825," was the top headline in the edition of Aug. 5, 1938.
He died in 1953, at the age of 68, and following a funeral in the family church, officiated by Dr. W. Rufus Hofelt, was laid to rest in Hill Grove Cemetery. Maud outlived her husband by four years. She passed away in 1957.

Neglected graves of Fred and Maud at Connellsville's Hill Grove Cemetery
~ Daughter Mary Susan (Younkin) Henry ~
Daughter Mary Susan Younkin (1877- ? ) was born in 1877.
She wed Jacob C. Henry (1871-1941), a native of Scullton, Somerset County and the son of Marion and Mary (Forespring) Henry. Their wedding took place on Sept. 23, 1900, when she was age 23 and he 29.
They resided in Somerset County before moving in about 1903 to Connellsville, Fayette County. Their home was at 359 East Crawford Avenue, and then had three children -- Ray Younkin Henry, Glenn Henry and Leona Schofield.
At a young age, Jacob had learned the craft of carpentry, and earned a living constructing schoolhouses throughout Lower and Upper Turkeyfoot Townships. After arriving in Connellsville, he became a self-employed contractor and was in charge of the erection of the First Methodist Church, located on South Pittsburgh Street. Perceiving that the booming coal and coke business would be more lucrative, he entered into an entrepreneurial partnership with J.L. Stader, who owned a coal mine near Indian Head, Fayette County. When this opportunity failed to pan out, he then joined Eicher Lumber Mill of Scottdale, Fayette County, as manager. He continued in this leadership role until about 1936, when the firm dissolved while in the grip of the Great Depression.
Active in the community,. he served on the governing board of trustees of the First Methodist Church, along with his brother-in-law Frederick Elijah "F.E." Younkin.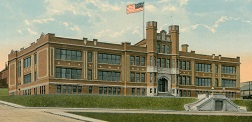 Duquesne High School, where Ray
Younkin Henry was principal circa 1941
Falling into poor health in July 1940, he was treated in Pittsburgh at Shady Side Hospital, and later at the Somerset County Home and Hospital. He died in the Somerset facility on Jan. 18, 1941. His passing was front-page news in the Connellsville Daily Courier.
Mary's fate is not yet learned.
Daughter Leona Henry (1902- ? ) married Floyd Schofield. They made their home in Mount Lebanon, a prominent Pittsburgh suburb, in 1941.
Son Ray Younkin Henry (1904- ? ) was an educator. On April 15, 1927, at the age of 23, he married 26-year-old Alice Weaver (1901- ? ), a native of Windber, Somerset County. They had four known children -- Larry Fred Henry, Ray Rex Henry, Gail Suzanne Werner and Linda Loui Ebertshauser. They dwelled in McKeesport, near Pittsburgh, and circa 1941, he was principal of Duquesne High School.
Son Glenn Henry (1908- ? ) was head of the manual training department of Parsons High School in West Virginia. Nothing further is known.
Copyright © 2013, 2015 Mark A. Miner
Research for this page graciously shared by the late Olive (Rowan) Duff and the late Donna (Younkin) Logan. 1860 Atlas of Somerset County courtesy of the Library of Congress.