Frederick F. Younkin
(1801-1885)

Frederick's portrait
Frederick F. Younkin was born on Nov. 3 1801 in Milford Township, Somerset County, PA, the son of Frederick G. and Catherine (Patton) Younkin. He was christened on April 11, 1802, when he was five months of age.
Among his many first cousins was Catherine (Younkin) Minerd, also of Somerset County.
On April 14, 1822, when Frederick was age 21, he married his first wife, Marie "Mary" Sanner (1806-1839?). She was the daughter of Michael and Catherine (Schneider) Sanner of Black Township, near Rockwood, Somerset County. The ceremony was performed in the Sanner Church. A record of their marriage may be found in the 1968 book The Sanner Family in the United States by Wilmer Mackey Sanner.
They resided near Kingwood, Somerset County and had seven children -- Mary A. Griffiths, Michael Younkin, Jacob C. Younkin, Franklin Younkin, John Gebhart Younkin, Catherine Gass and Agnes Younkin. Several of their offspring did not survive childhood.
More than a century later, in 1934, a local news article referred to Frederick and Mary as "early and respected residents of the Kingwood community." German was spoken almost exclusively in their household, as evidenced by the fact that one of their sons held command of the tongue well into middle age.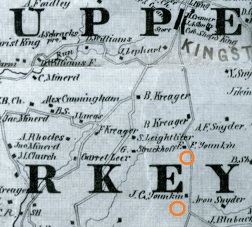 Orange circles on 1860 map show farms of
Frederick and son Jacob near Kingwood
In about 1835, consumed with a need for something new, or perhaps seeking a health remedy, the Younkins migrated westward and settled in Indiana, in the city of Terre Haute.
Sadly, Mary died in Indiana, circa 1839. She is said to have been age 25 at the time (more likely 33). Her place of burial is lost to history.
Frederick, her grieving widower, returned with most of his children to the family farm in Kingwood. His daughter Catherine was taken in by the family of John Gephart, a merchant living in Pittsburgh, likely with Somerset County connections.
However, much to Frederick's consternation, their 14-year-old son Michael chose to remain behind in Indiana, and in the words of a grandson, "hid in a cornfield of a nearby farm until he saw his father turning eastward." The son eventually wandered through Iowa and Kansas and thence to Nebraska, Oklahoma and Arkansas, driving a Concord Stage for 18 years.
In the early 1840s, Frederick wed his second wife, Sarah Faidley (1816-1884), the daughter of John William and Barbara (Kreider) Faidley.
(The Faidley and Younkin clans were close, and Sarah's sister Delilah Faidley wed Frederick's cousin Frederick J. Younkin, and Sarah's sister Susanna Faidley married another of Frederick's cousins, Rev. Herman Younkin.)
Frederick and Sarah went on to have seven children of their own, starting in 1844 -- Susan Snyder, Barbara Jean Swarner, Nancy Trimpey, Salome Liston, Frederick Younkin III, William Henry Younkin and Sarah Younkin.
When Frederick's father died in 1843, leaving a large estate, a sale was made from his farm and personal inventory. Frederick attended the sale and acquired his father's shoemakers tools; scythe, nail & nib; pitch fork; spade shovel; German Bible; whiteface heifer; red cow; culling box; small grindstone; and hand saw.
Top headline article about Frederick F. and his son Michael in the Aug. 5, 1938 edition of the Younkin Family News Bulletin
Starting in 1845, Frederick held an account at the John McMillan tannery in Listonville. Entries from the years 1845 to 1864 are recorded in the tannery's business ledger which is preserved today. The entries read as follow:
Messenger in county, cost 50 cents, Jan. 15, 1845 – half the postage, 19½ cents, Oct. 1, 1845 – side harness weight 12¼ lbs., cost $3.83, Nov. 25, 1848 – a side of up[pers] at $3.00, Dec. 4, 1848 – a side of up at $1.37½, July 9, 1850 – a side of SL [shoe leather] weight 11 lbs., cost $3.43, and a side of upper at $3.37, Oct. 16, 1850 – a side of harnace per Jacob, weight 13½, cost $4.20, Dec. 24, 1850 – to papers postage one year, 52 cents, June 30, 1851 – a side of up at $2.87, Oct. 8, 1851 – 2 sides of harnace weight 21 lbs per Jacob, $6.56, Dec. 26, 1851 – 6 years interest, $4.06, March 1858 – tanning a CS, [no cost given], Nov. 30, 1863 – a side of harnace weight 13 lbs at 40 cents, cost $5.20, Dec. 7, 1863 – boot in dividing CS 50 cents + tan on upper + CS 40 cents, Oct. 3, 1864.
The federal census enumeration of 1850 shows Frederick and Sarah living in Upper Turkeyfoot, with son Jacob (from the first marriage) and the first four children from the second marriage. The whereabouts of the rest of the children from the first marriage are being sorted out.
After a separation of many years, and with an eye toward migrating again, to Washington State, son Michael in about 1857 decided first to return to Pennsylvania to see his aging father. "He found his father alive, and was persuaded by the latter to again settle down in his native County and become a farmer," said the book, Genealogical and Personal History of Fayette County, Pennsylvania, Volume II, by James Hadden.
When the federal census was made in 1860, Fred and Sarah and their brood of six children -- all from the second marriage -- lived together under one roof in Upper Turkeyfoot . Also in their dwelling that year were 60-year-old Jacob Faidley, 58-year-old Adam Faidley and 48-year-old Nancy Younkin, all marked as "Insane." Their next door neighbors included son Jacob C. Younkin and his wife Lucy and children; and cousins John M. and Laura (Minerd) Younkin and their offspring.
Upon the death of his father in 1843, Frederick inherited the large farm which had been in the family since the 1780s. Then in March 1869, he added to his land ownership by buying a 14-acre tract from the estate of the late Moses Nicola.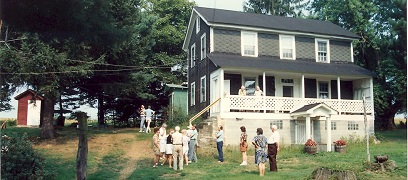 Touring the Frederick F. Younkin farmstead, 1991 reunion, which became the possession of his son in law and daughter, Simon and Salome Liston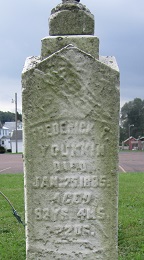 Frederick's grave
By 1870, when the census again was enumerated, daughter Salome and son William "Henry" were the only two remaining in the parents' household. Also living on their farm that year were 16-year-old farm laborer Marcellus Snyder and 68-year-old Adam Faidley, whom the census-taker again recorded as "Insane." Evidence in the census suggests that the Younkins sub-let portions of their farm to tenants.
During the decade of the 1870s, as their youngest children married and left home, Frederick and Sarah took in a young granddaughter, Sarah Swarner. The little girl was listed as age five in the federal census of 1880, in their residence. Their adult children did not go far -- son Jacob and his family, and daughter Saloma Liston and hers' -- lived in adjacent dwellings. Two houses away were their cousins Ephraim and Rosetta (Harbaugh) Minerd and their mixed family of children from two marriages.
Sadly, Sarah passed away at the age of 68 years, eight months and 16 days on June 4, 1884.

Somerset Herald, Feb. 4, 1885
Frederick only survived his wife by seven and a half months. He died on Jan. 23, 1885 at the age of 83. His remains were interred in the burying ground of the Lutheran Church in Kingwood. A one sentence obituary was published in the Somerset Herald (Feb. 4, 1885). Under the terms of his will, once his debts were paid, his assets were to be distributed equally among his children from both marriages. He also bequeathed a horse, saddle, bridle, three cows and 12 sheep to his daughter Salome Liston, and one horse, saddle, bridle, two cows and 12 sheep to son Henry. To his widow, he gave her the home place and 14-acre Nicola tract, sugar kettles, all the grain and hay in both barns and in the ground, one two-horse wagon, one one-horse wagon, one buggy and harness, two head of horses and harnesses, three milch cows, two yearling cattle, two young calves, all potatoes, one plough and one shovel plough, one harness, one windmill, 12 head of sheep, all household and kitchen furniture, one half of the threshing machine and all of the stock of hogs.
Their farm was subdivided into the ownership of his son Jacob C. Younkin and also their son in law and daughter Simon and Salome Liston. Salome's full- and half-blood siblings sold their shares of the inheritance to the Listons. One of the Liston half-nephews, John G. Gass, objected to the sale and filed a lawsuit in Somerset County Court of Common Pleas (156 Feb. Term 1895) to attempt the couple to pay him his fair share.
The farm has remained in the family for many generations. In 1996, great-great grandson Wilbur Henry (of the Liston family) received a plaque from Somerset County Agriculture Commissioner Kenneth Lowery for the property's 200-year continuous family ownership.

Portion of Frederick F. Younkin's farm later owned by his son Jacob
~ Son Franklin Younkin ~
Son Franklin Younkin (1830- ? ) was born on April 4, 1830.
Nothing more is known.
~ Son John Gebhart Younkin ~
Son John Gephart (or "Gebhart") Younkin (1832- ? ) was born on Feb. 16, 1832.
His story is lost in the misty shroud of history.
~ Daughter Agnes Younkin ~
Daughter Agnes Younkin ( ? - ? ) is known only by her name.
~ Daughter Susan (Younkin) Snyder ~
Daughter Susan Younkin (1844- ? ) was born in 1844.
She married William Snyder ( ? - ? ).
Virtually nothing else about Susan is known, other than in notes from the mid-1930s compiled by Younkin National Home-Coming Reunion President Otto Roosevelt "Pete" Younkin. In these notes, he wrote that the Snyders had no children.
~ Daughter Sarah Younkin ~
Daughter Sarah Younkin ( ? - ? ) is known only by her name.
Copyright © 2013

-2015 Mark A. Miner
Research for this page graciously shared by
Kay Lynn Younkin and the late Donna (Younkin) Logan