Frederick Younkin, III
(1854-1862)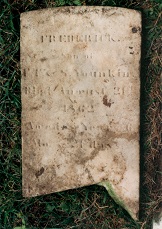 Young Frederick's grave

Frederick Younkin, III was born on or about Feb. 19, 1854, near Kingwood, Somerset County, PA, the son of Frederick F. and Sarah (Faidley) Younkin.
He did not survive childhood, and died at the age of eight, on Aug. 21, 1862.
The boy's remains were placed into gentle rest in the family's private burial ground on his father's farm, later owned by his uncle Jacob and nephew Ross.
A small upright stone was erected on the grave. The inscription reads:
FREDERICK
Son of F.F. & S. Younkin
Died August 21
1862
Aged 8 Years, 6
Mos & 2 Days
The cemetery fell into disrepair, and cows had free rein to graze on and around the stones over the ensuing decades. In the 1930s, laborers with the Works Progress Administration (WPA) recorded the inscriptions but also are believed to have removed some of the markers during the paving of Route 281.
Frederick's stone fortunately remained in place, but broke off at the base, fell flat and was covered over by a layer of earth. It was re-discovered and brought into sunlight again in the 1980s by owner Gerald Younkin and his daughter Kay Lynn and photographed by the founder of this website at a Younkin reunion in the early 1990s. (View a list of burials.)
Notes on Frederick's brief life details were put into writing by Otto Roosevelt Younkin during his research in the mid-1930s.
Copyright © 2013 Mark A. Miner