As an adult, Silas stood 5 feet, 8 inches tall, with blue eyes, light hair and light complexion. In those early years, he was a farmer and resided in Addison Township, and was a member of the Lutheran Church.
During the Civil War, he served in two different regiments. First, Silas enlisted in the 133rd Pennsylvania Volunteer Infantry on Aug. 6, 1862 and was assigned to Company E. Said a newspaper, "This company was a Somerset company, a good number of the members being from the Turkeyfoot region. Among the latter were R.E. Ross, of Addison, [and] the late Isaac Van Sickel, Ursina." On May 5, 1863, in battle action at Chancellorsville, he was wounded in the face by an enemy miniť ball. He was sent to Philadelphia for medical treatment, staying at Lincoln Hospital for three weeks and at Chestnut Hill Hospital for four weeks. He received a discharge in Harrisburg, PA on May 26, 1863.
Early the following year, 1864, he re-enlisted in the Army, and was assigned to the 116th Pennsylvania Infantry, Company E. He arrived at the Philadelphia draft office in late February 1864 and was sent to his regiment the following month. Showing ability, he was promoted to corporal, and to sergeant, and then again to second lieutenant. He and the 116th Pennsylvania saw further action in many well known battles -- Antietam, Wilderness, Petersburg, Deep Bottom, Ream Station, Hatcher's Run, Five Forks and Appomattox Courthouse. He was discharged from the 116th Pennsylvania near Washington, DC on July 16, 1865.
He was twice married. His first bride was Lucinda Hershberger ( ? -1890) of Addison, Somerset County. They were wed on Jan. 11, 1866, when he was age 22.
The couple had these children -- Sallie Younkin, Ella Younkin, Walter C. Younkin, Jasper Younkin, Mary A. Younkin and Frank "Frankie" Younkin.
Immediately after their marriage, Silas and Lucinda left Pennsylvania and moved to Kansas, settling near his older siblings in Wakefield, Clay County. There, he remained for 21 or 24 years. Because there was no Lutheran Church in Wakefield, the Younkins became members of the local Methodist Episcopal Church. Silas was named in an August 1881 edition of the Clay Center Times as an upcoming juror in the District Court for Clay County.
The Younkins' world was filled with grief in April 1888 when their seven-year-old son Frankie died. As reported by "Victoria" in the Times, "Another sad reminder has just occurred in our midst, Frankie Younkin, son of Mr. Silas Younkin, ... will to-morrow, 10th inst add one more mound to the Timber Creek cemetery."
Silas was a stock raiser and apparently always sought to expand his output. In June 1888, he and his nephew by marriage, Henry Alison Elias, traveled to Arkansas "on a tour of inspection," said the Times. "They want more room for their rapidly increasing stock. John Younkin will follow in the fall." They apparently returned safely.
Tragically, Lucinda died in Wakefield on April 9, 1890. Her remains were lowered into repose in Timbercreek Cemetery. Those known to have attended her funeral were her son Walter along with Edward G. Hanna and W.H. Myers, among others.
Later in the year of his wife's death, and suffering from kidney problems and his injured bladder, Silas applied for a military pension. His application, made in Wakefield, was signed by cousin and grand-nephew by marriage Howard Hartzell (of the families of Stephen Decatur Hartzell and Hila [Younkin] Faidley) and nephew Curtin Faidley (son of Hila [Younkin] Faidley). He was a member of Post 88 of the Kansas Department of the Grand Army of the Republic (GAR), a veterans' organization.
Remaining busy as a widower, Silas and his nephew by marriage Henry Alison Elias (of the family of Moses Younkin) were appointed "viewers" in July 1891 to advise county planners whether to build a new road in Grant Township.
After spending nearly a quarter of a century in Wakefield, Silas made the decision to leave and return to his home region in Pennsylvania.The Dec. 3, 1891 issue of the Times reported that he had "bought a farm in Pennsylvania, where he and his family expect to move in the spring." Five of his children chose to remain in Kansas and eventually moved into Kansas City.
On Nov. 6, 1892, at the age of 47, and after more than two years as a widower, Silas married again to 29-year-old widow and dressmaker Zobeida Jane "Betty" (Ream) Colborn (1854-1925). The ceremony was performed at Ursina, Somerset County by Rev. George H. Flinn.
Zobeida and her first husband, John Colborn (1850-1885), resided in Ursina, but he died in mid-December 1885 at the age of 35. Zobeida brought three children to the marriage, Wade Hampton Colborn, Alice Maud Boor and Harry George Colborn.
They resided on a farm near Confluence and had at least two more children of their own, Warren H. Younkin and Beatrice Rush. Zobeida when young joined the Fairview Methodist Episcopal Church, later renamed Johnson's Chapel near Confluence. She eventually switched her membership to the Baptist church in Confluence. Said a newspaper, "She was a woman loved by her neighbors and friends." Silas was a member of a Bible Class in the church, with L.S. Show and W.F. Critchfield among the other participants.
Above: Johnson Chapel -- a.k.a. Fairview Methodist Episcopal Church -- near Confluence, which Zobeida joined when young. Below: the Turkeyfoot Valley Baptist Church in Confluence, to which she transferred her membership.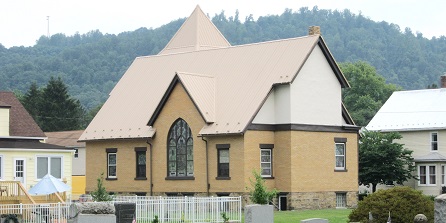 Circa 1904, Silas served in the elected position as commissioner of streets in Confluence. Among his projects with a "gang" of men and horses was widening the street that crossed the bridge spanning Laurel Creek into West Confluence. The Connellsville Courier observed that "He knows what to do and is doing it to a perfection." Another spring task was to grade local streets using a special plow drawn by six horses.
Silas sold his farm in 1905 to Jesse Anderson of Connellsville. During that time, he also earned a living as a carpenter. In May 1905, he built a front porch for his brother-in-law, the famed "Blind Evangelist" Rev. William Grantz, whose home was on Oden Street. Upon its completion, the Courier said he "is ready to build another porch. Mr. Younkin is a good carpenter." That summer, Silas and James Kreger were hired by William Anderson to cultivate a crop of hay, said the Courier, "which is very fine." Then in mid-August, he helped clean up Confluence Park with assistance from Jake Sterner and Joseph McClintock. During the winter of 1905, when Silas would have been age 61, he traveled to North Carolina for two weeks of a combined pleasure and business trip. Reporting in its Confluence column, the Daily Courier said "Mr. Younkin has been seriously thinking of locating in a warmer climate and after studying the habits and customs of Asheville, N.C., thinks it would be a very desirable place to live. Mr. Younkin is a veteran of the Civil War and has seen quite a bit of the Southern States."
The Younkins were among 70 relatives and friends who attended a dinner in September 1906 at Mountain's Grove, as named by the Weekly Courier: Mr. Popey, Mr. Smith, Mr. Pedon of Pittsburgh, Mr. Skinner, Mr. Lowery of Whig Corner, Fred Ream and mother of Casselman, Nelson Gerhard and wife of Somerset, John Ream, F.S. Gerhard, William Grantz, William Ream of Confluence, J.S. Ream of Draketown. Then in September 1909, they traveled to Delaware to see friends, and the following month went to Michigan.
Silas remained involved with fellow Civil War veterans over the years and was a member of the Ross Rush Post of the Grand Army of the Republic. At the 1912 death of old veteran Alfred Newlon Tissue, of the 11th Pennsylvania Reserves, Silas served as a pallbearer. When J.M. Glodfelty dropped dead in July 1913, Silas was an honorary escort at the funeral. He was a pallbearer for the funeral of fellow Sunday School member Joseph Rupert Coder in November 1914.
On Memorial Day 1913, he attended a parade of GAR members to the Casselman Bridge, "and after strewing flowers on the river again formed in line and marched to the park where the exercises took place," reported the Meyersdale Republic. "In the evening there was a campfire at which the following veterans told stories of camp life: Dr. W.S. Mountain, J.B. Jennings, Hiram Frantz, Silas Younkin and others."
Silas traveled to Gettysburg in July 1913 to mark the 50th anniversary of the famed battle, going with, among others, Leroy Forquer and his father-in-law Jacob J. Rush, Jerome B. Jennings, Balaam Younkin and Ephraim Miner.

Confluence Park, which Silas regularly helped to maintain and trim
On Sept. 10, 1913, tragedy visited this family when 19-year-old son Warren, trying to board a moving freight train at Salisbury Junction, Somerset County, fell between the cars and was killed. A story in the Connellsville Daily Courier said that he "was on his way to Meyersdale to attend the fair, and it is supposed that he attempted to get off the train while it was moving and fell under the wheels. The body was identified by John Frankfort, one of the trainmen who formerly resided here." The Meyersdale Republican reported the incident in more detail: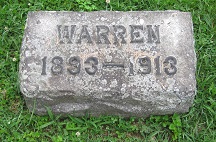 Confluence Baptist cemetery
Younkin and four companions came up from Confluence early Wednesday morning and were taking in the sights of the town during the forenoon. The five boys got separated from one another several times during the day. The others had not seen Younkin for several hours before they were informed of his terrible fate. He had not spoken to his companions about going home, and they were stunned when they heard of his death. The unfortunate youth was about 20 years of age, of good habits and highly esteemed. The remains were brought to Reich's undertaking rooms after the accident where they were kept Wednesday night while the family was communicated with.
A representative of the Republican who was well acquainted with the young man met him several times during the late forenoon and can vouch for the fact that he was sober and to the best of his knowledge he had not been drinking up to that time. His companions also confirmed this, and whatever caused him to decide to start on his trip home on a freight car, is something that cannot ever be found out.
In a story about Warren's funeral, the Republican said that Rev. C.W. Hoover officiated, with burial in the Sterner Cemetery, later known as the Confluence Baptist Church Cemetery. "Mr. and Mrs. Younkin, who are very estimable people," noted the newspaper, "have the sympathy of the whole community in their sad bereavement." They arranged in May 1915 to place what the Republican called "a beautiful monument" at their son's grave.
Two years later, in about 1915, Silas and Betty moved into the town of Confluence. Their home was located at at 347 Fairview Street. In his final years, Silas' mental and physical condition deteriorated to the point where he needed constant oversight. His physician, H.P. Meyers, said that Silas was "wholly incapacitated and it is unsafe to allow him to go out without some one to attend him. He is not confined to the house at all times but his mind is such that he is so forgetful that if allowed alone he wanders from place to place. He is nervous and debilitated."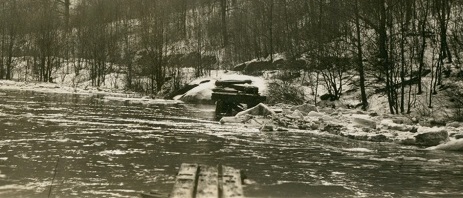 Laurel Hill Creek flooding and railroad bridge washout in Confluence
Silas died on Feb. 2, 1924 at Confluence at the age of 79. His son Walter traveled from Kansas City to attend the funeral. Burial was in the West Side Cemetery in Confluence, today's Confluence Baptist Church Cemetery. [Find-a-Grave]
A lengthy obituary in the Connellsville Weekly Courier lamented that "One more Civil War veteran answered the last roll call ... [which] called a beloved citizen and friend, ... the last member of a family of 13.... His death has removed from the activities of life a man of sterling character, a man beloved by a host of friends and neighbors for his uprightness, his fairness and honesty in all his dealings with mankind."
Later in the month Silas died, Betty Jane applied to receive her husband's pension. It was awarded, and she began receiving $30 per month.
Silas' former Men's Bible Class of the Confluence Methodist Episcopal Church held a memorial service in June 1926 to honor Silas and others. Reported the Republican: The church was appropriately decorated to harmonize with the solemnity of the occasion. There was a five pointed star, each point of which had a light to represent one of the deceased members."
Betty Jane died at the home of her married daughter Beatrice Rush on Oct. 25, 1925 at the age of 72, due to heart and kidney disease as well as hardening of the arteries. Burial was in the Baptist cemetery in Confluence following a service preached by Rev. L.H. Powell. Detailed obituaries were printed in the Republic and Daily Courier. Daughter Beatrice was the informant for her death certificate.
The Younkins' grave was a stop on the 2018 Younkin Reunion tour
Image courtesy Linda Marker
~ Silas' Daughter Sarah "Sally" (Younkin) Morton ~
Daughter Sarah "Sally" Younkin (1867- ? ) was born on Oct. 16, 1867.
She married Isaiah L. Morton (1870- ? ). They bore one son, Francis Morton.
The Mortons initially dwelled in Clay County, KS. In July 1897, the Clay Center Times reported that Sally was contemplating a trip to Pennsylvania within the week. then in January 1899, she and her brother Walter and couisin Charles Faidley (of the family of Hila [Younkin] Faidley) "took advantage of the excursion rates last week to visit relatives near Kansas City, incidentally to take in the sights of the city" said the Times.
For many years, Isaiah owned and operated a furniture story in Kansas City, Wyandotte County, KS at the northeast corner of 18th and Central Avenue, named I.L. Morton Furniture Company. Later, when their son joined the business, the name was adjusted to I.L. Morton & Son, "Everything to Furnish a Home."
In 1920, the U.S. Census-taker recorded the Mortons living in Kansas City, Wyandotte County, KS, in a home on South Valley Street. That year, Sally's unmarried siblings Mary and Jasper lived in their residence. Sister Mary worked as a bookkeeper in the family furniture store.
The Mortons remained in their South Valley Street home during the decade of the 1920s and are shown there on the 1920 census, with Isaiah continuing to operate the store. In 1920, in addition to Sally and Isaiah, six others lived under their roof, among them their son, his wife and son, sister in law, brother in law and roomer.
Son Francis A. Morton (1901- ? ) was born in about 1901. He joined his father's furniture business as a young man. At the age of 21, in 1922, he was united in marriage with 18-year-old Ruth (1912- ? ). They lived in Michigan, where their son Eugene was born in about 1928, but moved back to Kansas City, Wyandotte County. The federal census of 1930 shows them living in his parents' home, with the stated occupation of "aviator."
~ Silas' Daughter Ella Younkin ~
Daughter Ella Younkin (1870- ? ) was born on Jan. 19, 1870. She died prior to 1924.
~ Silas' Son Walter C. Younkin ~
Son Walter C. Younkin (1873- ? ) was born on Jan. 28, 1873. He opted to remain in Kansas when his widowed father returned to Western Pennsylvania.
He resided at Wakefield, Clay County, KS in 1917 and in Riley, KS in 1924.
In 1935, he dwelled in Wakefield but within a few years relocated to Kansas City, Wyandotte County, KS, where he moved into the home of his married sister Sally and her husband Isaiah L. Morton. Also sharing rooms in the Morton home were Walter's unmarried sister Mary and brother Jasper. The 1940 census shows Walter in the Mortons' residence.
More will be added here when learned.
~ Silas' Daughter Mary A. Younkin ~
Daughter Mary A. Younkin (1876- ? ) was born on Oct. 1, 1876. She apparently never married.
Circa 1920, federal census records show her living in the home of her sister and brother-in-law, Sallie and I.L Morton, on South Valley Street in Kansas City, Wyandotte County, KS. That arrangement continued for many years. She appears to have been a member of the Annesley Girls' class of the Central Avenue Methodist Episcopal Church in Kansas City.
In 1930, continuing to make her residence with her married sister, she was a sales lady in her brother-in-law's furniture store. By 1940, she had retired but was still living with the Mortons and her brothers Jasper and Walter, who had moved a few years earlier from his home in Wakefield.
~ Silas' Son Jasper Younkin ~
Son Jasper Younkin (1879- ? ) was born on Dec. 8, 1879 and grew up in Wakefield.
When he was 20 years of age, he contracted scarlet fever and was forced to drop out of school. A story in the Clay Center Times reported that "He will go to work on a farm as soon as he can secure a position." He in fact became a farm laborer and in September 1902 was hired out by his cousin by marriage, Henry Elias (of the family of Moses Younkin).
By 1905, Jasper moved to a new home in Kansas City. He returned to Wakefield from time to time to visit his brother Walter and other friends and kinsmen.
When the United States Census was made in 1920, the 41-year-old unmarried Walter resided with his married sister and brother-in-law, Sallie and I.L. Morton on South Valley Street in Kansas City. Their 43-year-old single sister Mary also lived under the Morton's roof. That arrangement lasted for decades. In 1920, Jasper earned income as a postal letter carrier, and he continued that work through the 1920s and '30s into the '40s.
~ Zobeida's Son Wade Hampton Colborn ~
Stepson Wade Hampton Colborn (1877-1953) was born on Aug. 23, 1877 in Ursina.
During the Spanish-American War, he served as a private in the 1st Ohio Volunteer Infantry, Company M, enlisting May 28, 1898 and receiving his honorable discharge five months later, on Oct. 25, 1898.
Circa 1906, Wade resided in the Duquesne section of Pittsburgh. At the age of 33, in about 1910, Wade married 20-year-old Michigan native Kathryn (1889-1961). They did not reproduce.
The Colborns made their home in 1913-1946 in Chicago. The federal census of 1930 shows the couple living on Drexel Boulevard, with Wade employed as an auditor with a business club, and Kathryn engaged as a welfare worker for a convalescent home..
In August 1946, they traveled back to Confluence for a visit with Wade's sister Beatrice Rush.
The couple retired to Miami, Dade County, FL. There, Wade succumbed on May 31, 1953, at the age of 76. Burial was in Miami City Cemetery. [Find-a-Grave] News of his death was sent to his sister Beatrice Rush in Confluence and published in the Connellsville Daily Courier.
Kathryn survived her husband by eight years. She died in 1961.
~ Zobeida's Daughter Alice "Maud" (Colborn) Boor ~
Stepdaughter Alice "Maud" Colborn (1880-1943) was born on the Fourth of July 1880. She spent all but two years of her life in Confluence and was a school teacher in Confluence as a young adult.
At age 27, on Sept. 23, 1907, she married 29-year-old railroad engineer William Boor (Oct. 9, 1877-1942), also spelled "Boord," son of Henry "Martin" and Amanda (Ware) Boor of West End, Bedford County, PA. Rev. Thomas Charlesworth of the Methodist Episcopal Church officiated. At the time of marriage, he lived in Johnstown, Cambria County, PA and was employed by the Baltimore and Ohio Railroad.

Baltimore and Ohio Railroad in Confluence
The Boors produced two children -- Mira Fuller and J. Roger Boor.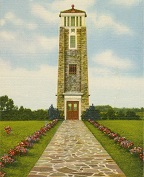 County Memorial Park
The Boors dwelled in Confluence for years. William was employed for four decades as an engineer with the B&O Railroad and was a member of the Brotherhood of Locomotive Engineers and the Somerset lodge of the Masons. Alice was a girls' Sunday School teacher at the Confluence Methodist Church.
William suffered from heart disease and low blood pressure and died of a heart attack at the age of 64 on New Year's Day 1942. Rev. Sherman H. Burson of the family church officiated at the funeral service followed by burial in Somerset County Memorial Park. The Meyersdale Republican printed an obituary.
As a widow, Alice continued to reside in their home at 430 Latrobe Avenue in Confluence. Within a few months of her husband's passing their son Roger was inducted in the U.S. Army in 1943 and was sent to Texas for basic training.
Sadly, Alice was stricken with cancer of the bowel, with a growth located between her sigmoid and rectum. With her son away in the military, Alice died at home at the age of 62 on Jan. 25, 1943. An obituary appeared in the Meyersdale Republican, and burial with her husband.
Daughter Mira Boor wedded D.A. Fuller and in 1943 lived in Wellsville, NY.
Son J. Roger Boor was a teacher in Confluence High School circa 1942. Later that year, he was inducted into the U.S. Army during World War II.
~ Zobeida's Son Harry George Colborn ~
Stepson Harry George Colborn ( ? - ? ) lived in Chicago in 1913-1919 and in New York City in 1919-1927, and in some years dwelled in both.
He is known to have returned to Confluence in May 1920, August 1921 and June 1922 to visit his mother, and in 1927 to see his sisters Alice Boor and Beatrice Rush.
He was deceased by 1943.
~ Silas' and Zobeida's Daughter Beatrice (Younkin) Rush ~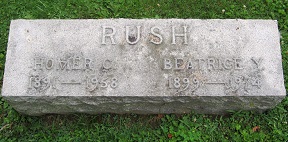 Baptist church cemetery, Confluence
Daughter Beatrice Younkin (1899-1974) was born on July 6, 1899 in Confluence. As a teenager, she attended Irving College.
When she was the age of 24, on Aug. 15, 1923, she eloped to be wedded to a distant Younkin cousin, 31-year-old Homer C. Rush (Sept. 24, 1891-1958), son of Grant and Margaret (Critchfield) Rush of the family of Jacob J. and Sarah (Dull) Rush of Ursina. The nuptials were held in Cumberland, Allegany County, MD, officiated by Dr. Price of the Methodist Episcopal Church.
The couple honeymooned in Atlantic City, Niagara Falls and New York City, with news of their marriage published in the Pittsburgh Daily Post and the Meyersdale Republican.
Beatrice and Homer shared an unusual connection in having lost male relatives in railroad accidents. Homer was but a boy of seven when his father had been killed in a gruesome railroad accident in Baltimore, MD, with an obituary published in German in Baltimore's Der Deutsche Correspondent newspaper.
The Rushes had one son, Dr. Philip B. Rush.
Circa 1925, their home was in Confluence and their address was Oden Street in the 1950s. Homer was a longtime postal delivery man. Beatrice taught in the Turkeyfoot Valley Area Schools and for half a century was the organist for the Confluence United Methodist Church.
Suffering for years from hardening of the arteries, heart disease and hypertension, Homer was felled by a heart attack and passed away on Oct. 14, 1958 at the age of 67 while in Addison Township.
Beatrice survived alone in Confluence for another 16 years. She died in her son's home on March 25, 1974 at the age of 84. Her remains were lowered into eternal repose in the burying ground of the Confluence Baptist Church, with Rev. Arthur Gotjen preaching the funeral service, and an obituary appearing in the Somerset Daily American.
Son Dr. Philip B. Rush (1929-1980) was born in about 1929. During the Korean War, he served with the U.S. Army in Korea. He was a graduate of Washington and Jefferson College followed by the University of Pittsburgh School of Dentistry, and spent a year studying in London. He was united in wedlock with Susie Book ( ? - ? ). The couple produced five children -- Bradley Rush, Kisel Rush, Gretchen Rush, Erika Rush and Molly Rush. In 1959, they resided in Rochester, NY -- in 1960 in Allison Park near Pittsburgh -- and in 1968-1974 in the Pittsburgh suburb of Mount Lebanon. They often returned to Ursina and Confluence to visit family. Philip's specialty was in children's dentistry, and he spent 22 years in practice in Mount Lebanon. He also served a term as president of the South Hills Dental Association. The family belonged to the Southminster Presbyterian Church, and Philip was an active volunteer with youth tennis and hockey. Their address in the 1970s was 170 Main Entrance Drive. Evidence suggests that Philip was burdened with heart problems. At the age of 51, he was stricken and rushed to St. Clair Memorial Hospital, where he died on Dec. 28, 1980. An obituary in the Pittsburgh Press said that a memorial service would be held in the family church, after which time interment would be in Mount Lebanon Cemetery. The family asked that any memorial donations be made to the American Heart Association. Susie married again to Col. Anthony L. Giuliano Jr. (April 14, 1933-1993), retired from the U.S. Air Force. The couple dwelled in Harmony, PA. Anthony died on May 9, 1993, with an obituary appearing in the Pittsburgh Post-Gazette. His remains were lowered into repose in Allegheny County Memorial Park.
Granddaughter Lisel Rush attended Allegheny College, where she lettered as a member of the women's tennis team. She married (?) Edney ( ? - ? ). Their home in 1993 was in the West View section of Pittsburgh.
Granddaughter Gretchen Rush (1964-living) was born in 1964. She married (?) Magers. She was a three-time champion tennis player in high school and was named National College Player of the Year in 1984 and 1985 while at Trinity College in Texas. She went on to compete professionally at Wimbledon (1986, 1989, 1991 and 1992), the French Open (1983) and U.S. Open (1982). She was ranked the no. 22 player in the world in 1990. Gretchen opposed Monica Seles in the mid-1980s when Seles made her professional debut in New Orleans. At Wimbledon in 1989, she advanced to the final eight before being beaten by Martina Navratilova. Among her other opponents have been Chris Evert (1989). She was a member of the United States Olympics team in 1984 when the games were held in Los Angeles. She was the 1985 recipient of the Arthur Ashe Award for Sportsmanship. In 2001, she was inducted into the United States Tennis Association Middle States Hall of Fame. Then in 2010, she was inducted into the Western Pennsylvania Interscholastic Athletic League (WPIAL) Hall of Fame. Over the years, she has been active with the ACSM-Nike Tennis Camp with a sportsmanship award named in her honor. She has made a second career as a scholastic coach with such institutions as San Diego State University (1993-1994), Our Lady of Peace High School (1995-1997), San Diego City College (2008-2013), Claremont-Mudd Scripps (2013-2015) and Trinity College (2015-2020). In June 2020, she joined Hollins University in Roanoke, VA as head tennis coach.
Copyright © 2014-2018, 2020 Mark A. Miner
Research for this page graciously shared by the late Donna (Younkin) Logan and Blair E. "Junior" Younkin Jr.