Home

Jerome B. Jennings
(1844-1923)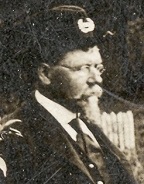 Jerome B. Jennings
Jerome B. Jennings was born on Sept. 24, 1844 in or near Ursina, Somerset County, PA, the son of Thomas and Christina (Ream) Jennings Jr. He was a veteran of the Civil War.
Friend Dr. W.S. Mountain knew Jerome as a young farmer and considered him "a sound young man." He stood 5 feet, 11 inches tall, weighed 150 lbs., and had a dark complexion, with grey eyes and auburn hair.
During the Civil War, Jerome traveled to a military recruiting site in nearby Addison to enlist in the Union Army. He was assigned to the 85th Pennsylvania Volunteer Infantry, Company H. Among others in the regiment were these members of the extended Minerd and Younkin families -- John Devan, Simon Firestone, James Frederick Imel, Isaac F. Minerd, James Minerd Jr., William Minerd, Norman Bruce Ream, James Rowan, Leonard H. Rowan, John Irving White, Harrison K. Younkin, Jacob M. Younkin and John X. Younkin.
Jerome may have been wounded in the Battle of Fair Oaks/Seven Pines, near Richmond, on May 31-June 1, 1862. He was hospitalized in Baltimore in the summer of 1862, but recovered and was released. Then while in battle at Goldsboro near Kingston, NC, on Dec. 14, 1862, he became ill which resulted in an enlargement of his heart. He was not treated, but could no longer endure active military service, and at age 18 was discharged at Camp Peck, Folly Island, SC on July 9, 1863.
Having returned home, when he was age 19, on Aug. 7, 1864, Jerome was united in holy wedlock with 24-year-old Mary Adaline Rhodes (1840-1911), who was five years older, and the daughter of Israel and Susanna (Nicola) Rhodes. Jacob R. McMillan officiated at the nuptials, held in Lower Turkeyfoot Township.
Their four known children were Elmer Ellsworth Jennings, Arabella "Belle" Graver, Susanna Jane Jennings and Emily Elizabeth ("Almay Lizza") Jennings. They named their only son for a member of the Union Army who was the first officer to be killed during the war. Heartache swept over the family when daughters Susanna (Feb. 11, 1870-March 13, 1875) and Emily (July 14-Dec. 1877) both died young, within two-and-a-half years of each other.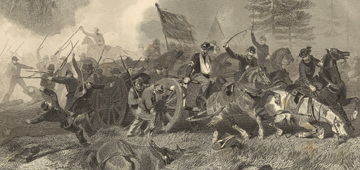 Above: fierce action at Seven Pines/Fair Oaks, VA. Below: Jerome was among Union troops marching by abandoned earthworks en route to Goldsboro, NC.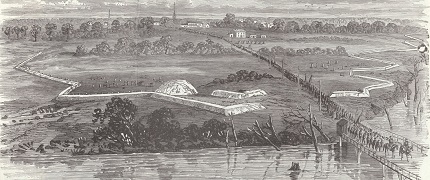 Five years after the war ended, on Jan. 12, 1870, Jerome was awarded a federal military pension as compensation for wartime ailments or injuries. [Invalid App. #151.687 - Cert. #105.933] From then until his death more than half a century later, he received monthly pension payments as compensation for his enlarged heart. He underwent a medical examination in Somerset in May 1867, and Dr. Henry Brubaker noted that "The enlargement has proceeded to such an extent as to cause a perceptible bulging of the left side of the chest -- most violent beat of the heart, and the least excercise folloowed by violent palpation." At that time, he described the location of his home as "near the wagon road from Harnedsville to Somerset about 19 miles from the county seat."
He held an account at the John McMillan tannery in nearby Listonville, and entries from the year 1868 are recorded in the tannery's business ledger which is preserved today. Jerome's entries read as follow: "a piece of up[pers], cost $2.00, a piece of S Leather, cost $2.03, and 1 pair of out soles for boots, cost 50 cents, April 30, 1868 – footing a pair of Boots, cost $1.50, April 30, 1868."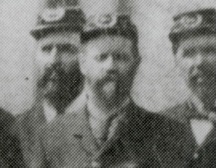 Jerome B. Jennings, center
In 1870, census records show the Jenningses boarding under the roof of Mary's 56-year-old father. Three years later, they relocated to Ursina, and Jerome began the trade of shoemaking. He was profiled in a paragraph in the History of Bedford, Somerset and Fulton Counties, Pennsylvania, which said that "He at first worked for Davis & Coder, and in 1875 bought out the firm.... He has held various borough offices, including those of councilman, school director and burgess." When Mary Adaline's father died circa 1875, Jerome was named administrator of the deceased's estate.
Jerome served in 1880 as the Ursina Borough delegate on the Republican County Committee. As burgess of Ursina, Jerome was faced with a number of important issues, concerns and improvements. In August 1888, borough authorities approved a new ordinance and published a legal notice in the Somerset Herald: "No cow or other horned cattle shall be permitted to run at large within the limits of Ursina Borough between the hours of 8 p.m. and 5½ a.m. during the months of May, June, July, August, September and October. Any owner of such animals, or having them in charge, so offending, shall pay a fine or not exceeding one dollar and costs."
Jerome and many old Civil War veterans were involved in forming the Ross Rush Post of the Grand Army of the Republic in Ursina, a branch of a national organization which promoted veteran pensions, elections of Republican candidates and other issues. Just a few days before Christmas 1890, he was elected quartermaster of the Rush Post, with his name duly inscribed in the minute book. Today the Rush Post ledgers have been preserved and digitized by the Sons of Union Veterans of the Civil War, Mt. Union Church Camp #502.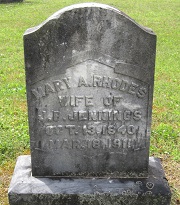 Mary's grave, Ream Cemetery
Among the Rush Post comrades was Dr. W.S. Mountain of Confluence, who once noted that "I lived within four miles of him previous to the war and within two miles since the war and am often in his companh and have plenty of chances to know his [medical] condition." Jerome also received treatment from Dr. Winfield Scott Kuhlman of Ursina, a member of the family of Louisa (Smith) Kuhlman.
By 1907, Jerome was considered an invalid, and in August 1907 he and Mary gave depositions in the case of his widowed sister Sarah (Jennings) Bookman who was attempting to obtain a Civil War pension. In her testimony, Mary recalled having attended the Bookman wedding many years before.
Sadly, at the age of 70, suffering from chronic kidney disease and heart valve insufficiency, Mary died on March 18, 1911. She was interred in the Ream Cemetery, with her husband filling out and signing the death certificate.
Jerome survived his wife by a dozen years. In early August 1912, he put a new roof on his home, and a few days later, his married daughter Belle Graver and granddaughter Irma arrived for a month's stay.
He also stayed active with the Rush Post activities which kept him in constant contact with old friends. On Memorial Day 1913, he attended a parade of GAR members to the Casselman Bridge, "and after strewing flowers on the river again formed in line and marched to the park where the exercises took place," reported the Meyersdale Republic. "In the evening there was a campfire at which the following veterans told stories of camp life: Dr. W.S. Mountain, J.B. Jennings, Hiram Frantz, Silas Younkin and others." He served as a pallbearer in October 1914 for an old Rush Post comrade, Zachariah L. Tannehill of Draketown, formerly of the 29th Pennsylvania Infantry, and was named in the veteran's obituary in the Meyersdale Republican. Then again in December 1915, he bore the pall for his Rush Post friend Andrew J. Cross, of the 3rd Maryland Infantry. He was named part of an official delegation of Rush Post members who attended the funeral of J.M. Glodfelty in Confluence in July 1913, in the role of honorary escorts.

Jerome's town lot in Ursina (circled), near the park and North Fork Creek, 1876. Below, his name in the Grand Army of the Republic records in Ursina.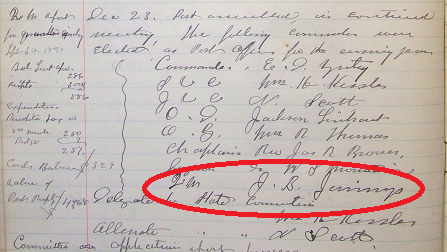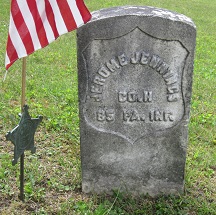 Jerome's grave, Ream Cemetery
Jerome and a number of old soldiers made plans to travel to Gettysburg in July 1913 to attend the 50th annivesary battlefield reunion festivities. As named in the Republican, the othes were A.G. Sellers, Leroy Forquer and his father-in-law Jacob J. Rush, Rev. John C. Cunningham (whose daughter was married to Jackson Grant Rose), William H. Kessler, Balaam Younkin, Adam Nicholson, Ephraim Miner, A.J. Case, Jonah Meyers and Eli Conn. A number of other veterans made the trip as well, among them Silas Younkin of Confluence.
In April 1917, unable to live independently any longer, he moved to McKeesport, near Pittsburgh, to reside with his married daughter Belle Graver at 714 Market Street. In noting the relocation, the Republican said that he "was one of Ursina's oldest residents, a veteran of the Civil War, and a respected and progressive citizen." In October and November 1918, he made his home with married nephew Robert E. Lee Jennings in Newell, Fayette County, PA. In fact, the nephew and his wife witnessed Jerome's petition for an increased pension on Nov. 25, 1918. He also spent time residing with his son Elmer in Brownfield, near Uniontown.
Despite his feebleness, Jerome returned to Ursina for a few days in May 1920 to attend the funeral of his niece, Ida Bell (Rhodes) Coder, daughter of David and Hester (Cunningham) Rhodes, as reported in the Republican's gossip columns. Back in his daughter's home in McKeesport, he wrote in September 1920 that he could not afford to pay $45 a week for "regular personal aid and attendance."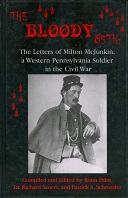 Book listing Jerome
As his health failed even more, and his daughter no longer able to manage his care, Jerome was admitted to the National Military Home in Dayton, Montgomery County, OH. Paperwork shows that this move was made on Feb. 27, 1922, and he spent the final year of his life there.
Burdened with hardening of the arteries, he passed away there at the age of 79 on Feb. 21, 1923. His remains were shipped back to Ursina for burial beside his wife in Ream Cemetery, the ancient family burying ground. Later that year, when a reunion was held of his former mates with the 85th Pennsylvania Infantry, his name was included on a list of members who had died in the past year, prepared by Grand Army of the Republic post secretary John B. Bell, and published in the Canonsburg (PA) Daily Notes.
Jerome is pictured in the book Draketown: Past & Present, posed with fellow members of the Harry Lichty Post of the Ursina American Legion. He also is named in the 1906 book History of Bedford and Somerset Counties, Pennsylvania, by E. Howard Blackburn, William Henry Welfley and William H. Koontz -- and is listed in the 2000 book, The Bloody 85th: The Letters of Milton McJunkin, a Western Pennsylvania Soldier in the Civil War, compiled and edited by Ronn Palm, Dr. Richard Sauers and Patrick A. Schroeder.
~ Son Elmer Ellsworth Jennings ~
Son Elmer Ellsworth Jennings (1865-1938) was born on July 26, 1865 in Somerset County, PA. He was named for the first Union officer killed during the recently concluded Civil War.
He married Sarah (Lewis) Adams (Oct. 16, 1870-1943), daughter of Jonathan and Hester (Dickson) Lewis of Fayette County, PA. The Jenningses resided in Uniontown, the county seat of Fayette County.
They apparently did not have any children.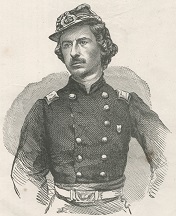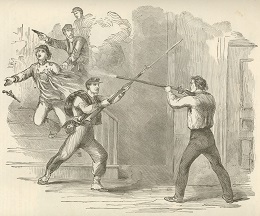 Elmer was named for Ephraim Elmer Ellsworth, the first Union officer to be killed during the Civil War in Alexandria, VA in May 1861.
Elmer was named in the gossip columns of his old hometown newspaper, the Meyersdale Republican, when his parents came to Uniontown for a visit in August 1901. When Elmer came to Ursina to see his widowed fathe rin August 1912, it too was reported in the Republican.
Circa 1938, the Jenningses made their home near the coal mining patch town of Brownfield, near Uniontown, where he earned a living as a laborer.
Burdened with chronic kidney disease, Elmer died at the age of 72 on June 6, 1938. Interment was in White Rock Cemetery near Fairchance. A short obituary appeared in the Uniontown Morning Herald.
Sarah survived her spouse by five years. During that time, she dwelled in rural Fairchance, Georges Township. Herself a victim of chronic kidney problems and lesions on her heart valves, she died at ate 73 on Dec. 13, 1943. Burial was at Oliphant Furnace.
~ Daughter Arabella "Belle" (Jennings) Graver ~
Daughter Arabella "Belle" Jennings (1867-1943) was born on May 3, 1867 in Somerset County.
Circa 1884, when she would have been 17 years of age, Belle was wedded to 25-year-old Arthur Henry Graver (Jan. 1859- ? ), a native of Maryland.
They produced two known daughters, Erma G. Sheppard and Gertrude E. Widdle, and are thought to have lost two other children prior to 1900.
When the federal census enumeration was made in 1900, the Gravers resided in McKeesport near Pittsburgh. At that time, Arthur worked as a street foreman and Belle as a dressmaker.
Census records for 1910 show Arthur now earning a living providing labor for odd jobs.
Belle occasionally traveled to Ursina to visit her aged father. Then, in April 1917, she brought him to her home in McKeesport as his health was failing.
Federal census records in 1920 indicate that Arthur worked as a stable foreman and Belle as a seamstress, working from her home.
The Gravers relocated to Ohio in the early 1920s. Circa March 1923, they dwelled at 467½ Talbot Avenue in East Akron, Summit County, OH, but eventually returned to McKeesport. They moved into the home of their married daughter Erma in Versailles and were there in 1930.
In September 1938, Belle traveled to Ursina to visit with her friends, the Levy girls, and was named in the gossip columns of the Meyersdale Republican. The story noted that she was "a daughter of the late Mr. and Mrs. Jerome Jennings, old residents of Ursina. Mr. Jennings was a descendant of Captain Benjamin Jennings, one of the very early settlers in the Turkeyfoot. Records as far back as 1750 mention the family name of Jennings." When she returned for visits with the Levys in September 1938 and August 1940, she again was named in the Republican. During the 1938 visit, in company with her two married daughters, they visited historical sites around town.
Circa the early 1940s, the Gravers made their home at 1814 Beaver Street in McKeesport.
Having become senile, and suffering cerebral bleeding in 1942, Belle was admitted to the Allegheny County Institutional District Hospital. She spent a year and four days there, and endured heart and kidney failure, in addition to rapid weight loss, and died at the age of 75 on Feb. 13, 1943. Her remains were placed into eternal repose in Richland Cemetery in Dravosburg, near McKeesport.
Arthur's fate is not known.

Faron Shepard's presumed workplace, the National Tube mill in McKeesport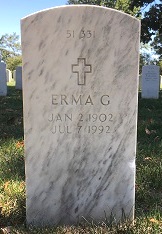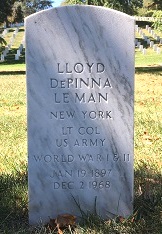 The LeMan graves, Arlington National Cemetery
Daughter Erma G. Graver (1902-1992) was born in on Jan. 2, 1902 in McKeesport. She was twice married. Her first spouse was Faron Mendell Shepard

(1900-1977), a native of West Virginia.

The couple bore a daughter, Betty June Shepard. When the federal census enumeration was made in 1930, the Shepards resided in Versailles, with Faron employed as a laborer in a tube mill, and Erma's parents living under their roof. In September 1938, she accompanied her mother and sister Gertrude on a visit with their Levy friends in Ursina. The 1940 census lists the Shepards in McKeesport, with Faron working as an electrician in the tube mill and Erma as a manager of a photography studio, and her aged parents remaining in the household. The couple divorced, with Faron remaining in McKeesport and Erma moving with their daughter to Ontario Road in the District of Columbia. Then on April 20, 1946, in Dade County, FL, she wedded a second time to World War I veteran Lloyd De Pinna LeMan (Jan. 19, 1897-1968), originally from Manhattan, NY and the son of Charles A. and Blanche (De Pinna) Leman. He was divorced from his first wife. During the First World War, Lloyd had served in an aerial photography capacity for the Army and was overseas from Aug. 30, 1918 to May 30, 1919. Then during World War II, he enlisted the day Pearl Harbor was attacked and served until March 2, 1944, holding the rank of lieutenant colonel. Erma and Lloyd dwelled along 28th Street in Coral Gables. Sadly, Lloyd died in Miami on Dec. 2, 1968, terminating their marriage of 22 years. Erma spent her final two years with or near her daughter in Escondido, a suburb of San Diego, CA. There, she passed away on July 7, 1992. Her funeral was held in the Ludlumn Christian Church in Miami, FL, with an obituary appearing in the Miami Herald. Lloyd and Erma rest together in Arlington National Cemetery. Ex-husband Faron Shepard succumbed to death on Feb. 18, 1977.
Granddaughter Betty June Shepard (1924- ? ) was born in about 1924 in Ohio. She grew up in McKeesport. During the early years of World War II, she moved to Washington, DC to work on the staff of the British Army. On June 19, 1944, she was joined in the bonds of wedlock with Richard A. Buser ( ? - ? ) of Duquesne near Pittsburgh and the son of Raymond A. Buser. The Pittsburgh Press and Pittsburgh Post-Gazette both published her photograph in announcements about her engagement. Their nuptials were held at St. Margaret's Episcopal Church in Washington and a reception following in the Admiral Club. The Press reported that she "wore a blush pink suit with blacck accessories and a corsage of white baby orchids." At the time, Richard was a graduate of Lehigh University and was employed with Carnegie-Illinois Steel Company in Duquesne near Pittsburgh. The pair is believed to have borne two offspring, David Buser and Katherine Buser. She is known to have resided in 1992 in Escondido near San Diego, CA.
Daughter Gertrude E. Graver ( ? - ? ) was born in (?). She wedded (?) Widdle ( ? - ? ). She accompanied her mother and sister Erma on a September 1938 visit with their Levy friends in Ursina, using the opportunity to visit "some of the historic sites around Ursina while here," reported the Meyersdale Republican. Nothing more about her is known.
Copyright © 2014-2017, 2020-2022 Mark A. Miner