He was discharged from the regiment on the Fourth of July 1863. He returned to Somerset County and made his home in Ursina. His lung wound made it difficult to draw a full breath.
Given the serious nature of his wound, he immediately applied for and was awarded a military pension. [Invalid App. #99.745; Cert. #66.847] His wife's relatives William and Catharine Hanna of Harnedsville, former regiment mate Jerome B. Jennings (of the family of Thomas Ream Sr.), Ross R. Sanner, Joseph King, A.J. Burgess and William Hileman provided sworn testimony in writing to support his claims. Aaron Shannon, who had known Harrison his entire life, said that after Harrison's return home, he considered the soldier to be an invalid, unfit for manual labor. Friends Jackson Daniels of Harnedsville and A.C. Daniels of Stauffer, PA worked with and Harrison in the farm fields and felt he could not perform the work of an able-bodied man. Friend Andrew J. Cross suggested that he take Hall's Hygienic Treatment.
Dr. B.A. Fichtner, who examined him, wrote that "He suffers from the affect of a gun shot wound; the ball having passed through the upper portion of the lung, in a manner that would seem as if his recovery was one of those remarkable cases for which Doctors can't well account The location of the wound is such that one would suppose death would have followed almost instantly. In the healing of the wound there have been unnatural adheasions [sic] formed, as well as having left a portion of the lung solidified."

Harrison's farm, Addison Twp., 1876, south of Harnedsville
When a map of Addison Township was published in Beers' 1876 Atlas of Somerset County, Harrison's farm was depicted in the Walkers Mills District, south of Harnedsville. His property was in close proximity to fire clay, limestone, iron ore and coal mines.

Harrison's signature
Harrison was a charter member of the Ross Rush Post No. 361 of he Grand Army of the Republic, founded July 23, 1883. In 1883, the Younkins moved from Addison to Pennsville, north of Connellsville, Fayette County. There, he kept a store of some type along the Southwest Pennsylvania Railroad near Everson.
In August 1889, Harrison barely escaped when his store mysteriously caught fire while he was asleep. Neighbor L.L. Dull also lost his home in the blaze. Damages were estimated at $7,000, according to an article in the Pittsburgh Daily Post. Then in January 1890, the Daily Post reported that "A man named Michaels has been arrested near Scottdale, Pa., as one of those who set fire to the store and dwelling house of Harrison Younkin of Pennsville last August."
After the devastating fire, the couple relocated again to Scottdale, Fayette County. They lived in Scottdale for two years, and in 1891 made yet another move, to nearby Jeannette, Westmoreland County. Their address in Jeannette was 710 Gaskill Avenue.
Sarah suffered some sort of medical problem in about 1892 and was more or less an invalid for the rest of her life.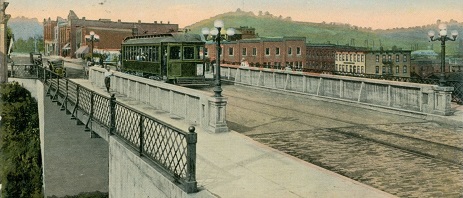 Jeannette, PA, early 1900s
In 1893, Harrison was involved in the lawsuit of Tissue vs. Hanna, in connection with a $250 note made some years earlier between John Hanna and Harvey B. Tissue for which Harrison had guaranteed payment to Hanna. When Hanna transferred the note to Tissue, and it became lost, the matter was taken into litigation. The case was appealed all the way to the Pennsylvania Supreme Court.
He was a longtime janitor and retired from this line of work.
In July 1910, the Pittsburgh Gazette-Times noted in its Jeannette gossip column that "Harrison Younkin and granddaughter, Miss Edna Chalfant, left on a tour of Iowa, Kansas and Colorado. They expect to be absent six weeks."
Circa 1917, at the death of his brother Ross, he was named in the newspaper obituary, and lived in Jeannette.
Their final move, at the end of 1917 or very early 1918, was into the home of their married daughter Ada Jones in Indiana, Indiana County, PA. this may have been the result of a partial stroke suffered on his birthday, June 25, 1917. At Christmas 1917, the Younkins celebrated the holiday with the Joneses and married daughters from St. Louis and Clarksburg, WV.
Afflicted with a lesion on his heart valve, and added to chronic kidney ailments, he died in the Jones home in Indiana at the age of 76 on June 18, 1919. The family name on his Pennsylvania death certificate was "Younkins." Burial was in the Oakland Cemetery in Indiana, following funeral services led by Dr. B.W. Hutchinson. His death was noted in an obituary in the Indiana Evening Gazette and a one-paragraph story in the Connellsville Daily Courier. At his death, his monthly pension payments totaled $38.
Sarah survived for another 20 months and began receiving Harrison's pension benefits on July 19, 1919. She did not know how to read or write, and signed her name with an "X." [Widow App. #1.143.284; Cert. #879.387] She passed into eternal rest in Indiana on Feb. 8, 1921 at the age of 84.
~ Son Ellsworth Younkin ~
Son Ellsworth Younkin (-1865-) was born on Feb. 11, 1865 in Addison, Somerset County. Sadly, he died only 17 days into infancy, on Feb. 28, 1865.
~ Daughter Laura Anna Younkin ~
Daughter Laura Anna Younkin (1866-1904) was born on Sept. 30, 1866 in Addison, Somerset County.
She was gathered in by the Grim Reaper at the age of 37 on Feb. 19, 1904. Details are not yet known.
~ Daughter Mary Catherine "Mollie" (Younkin) Chalfant ~
Daughter Mary Catherine "Mollie" Younkin (1868- ? ) was born on Jan. 22, 1868 in Addison, Somerset County.
At age 21, on Feb. 23, 1889, she wed 21-year-old Dr. John Fowler Chalfant (1868-1894), son of Dr. William B. and Ellen (Fowler) Chalfant of Scottdale. They both resided at Pennsville, Fayette County, PA at the time, and their nuptials were held in Fayette County. News of their marriage license was reported in the Connellsville Courier.
They had two daughters, Edna Leclere and Beulah Edith Cheesman (often misspelled as "Chessman").
John was an 1893 graduate of the Medical Department of Western Reserve University. They resided in Cleveland, OH circa 1892 when their second daughter was born.
Tragically, John died on April 9, 1894, following just five years of marriage. The cause of his untimely death is not yet known.
As a widow, Mollie moved back home to Scottdale, Fayette County, and eventually migrated to Clarksburg, Harrison County, WV, where she shared a home with her married daughter Beulah Cheesman at 141 Forest Avenue. She was a member of the First Methodist Church of Clarksburg and of its chapter of the Women's Society of Christian Service (WSCS).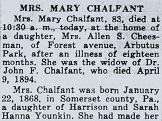 Clarksburg Exponent, 1952
On Aug. 22, 1937, she and Beulah and grandson Nathan Cheesman traveled back to Somerset County to attend the fourth annual Younkin National Home-coming Reunion. They were mentioned by name in the next issue of the Younkin Family News Bulletin.
Suffering from a gastric ulcer which led to unstoppable bleeding, Mollie died at home at the age of 83 on Jan. 17, 1952. Burial was in Clarksburg at the Bridgeport Cemetery. In an obituary, the Clarksburg Exponent said her death occurred "after an illness of eighteen months." Daughter Beulah Cheesman was the informant for her official West Virginia death certificate. In 1936, John and their daughters were named in John Woolf Jordan's book Genealogical and Personal History of Fayette and Greene Counties, Pennsylvania (Vol. II, page 614).
Daughter Edna Pearl Chalfant (1890- ? ) was born on Jan. 18, 1890 in Pennsville. She married Rev. James F. Leclere (or "Lachere") (1881- ? ), a native of Dubuque County, IA but a resident at the time of New Concord, OH. Their wedding took place in Greensburg, Westmoreland County on June 12, 1911. They had one known son, James Arden Leclere. Circa 1916, they lived in St. Louis, where James apparently had a church pastorate. In August 1952, in Gladbrook or Reinbeck, IA, he is believed to been minister at the Amity United Presbyterian Church, four miles east of Lincoln. At that time, he became ill and had to resign the position, making a move to Indiana. James is reputed to have passed away on Sept. 9, 1959 in Winona Lake, Kosciusko County, IN. Edna is believed to have died on Dec. 30, 1977 in Berwyn, Cook County, IL.
Daughter Beulah Edith Chalfant (1892- ? ) was born on Jan. 30, 1892 in Cleveland, OH. On May 20, 1915, she married 23-year-old Allen Smith Chessman (1892- ? ), son of S.N. Chessman, a native of Augusta, GA and employed as a foreman in Jeannette. The wedding ceremony was held in the Jeannette Methodist Episcopal Church, with Rev. Paul Weyand officiating, assisted by Rev. W.L. McClure of the Jeannette Presbyterian Church. The newlywed couple honeymooned with a driving trip to New York City and Washington, DC. They produced one son, Nathan Cheesman. Beulah was admitted to membership in the Daughters of the American Colonists. In preparing her application, she provided documentation of her family back to colonist George Woods, including parents John Fowler and Mary Catherine (Younkin) Chalfant and grandfather William B. Chalfant. Circa 1952, their son Nathan resided in Nixon Plaza.
~ Daughter Ada F. (Younkin) Jones ~
Daughter Ada F. Younkin (1874- ? ) was born on Oct. 10, 1874 in Addison, Somerset County.
Her husband was John R. Jones ( ? - ? ). They made their home in Indiana, Indiana County, PA.
As they aged, Ada's parents came to live in their home, and both died there, the father in 1919 and the mother in 1921. Ada is reputed to have died in 1919 in Indiana, but this is not true. Circa 1952, she made her home in Holtsville, Long Island, NY, and was named in the Clarksburg Exponent obituary of her sister Mary Chalfant.
Copyright © 2014-2017, 2020 Mark A. Miner
Research for this page graciously shared by the late Donna (Younkin) Logan and Blair E. "Junior" Younkin Jr.