William H. Bateson
(1855-1884)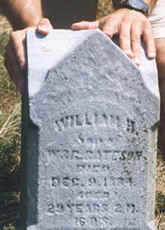 Union Baptist Cemetery

William H. Bateson was born on Sept. 23, 1855 near Millersport in Walnut Township, Fairfield County, OH, the son of William and Rebecca (Miner) Bateson.
William was an outdoorsman and made his living from the bounty of Buckeye Lake near his home near Thornville.
He appears to have never married.
When the federal census enumeration was made in 1880, the 24-year-old William resided under the roof of his parents in Walnut Township. He and his father both earned a living as farmers that year.
Little else is known of William's life except for his tragic drowning in 1884.
In late November of 1884, William failed to return home after a Sunday boat outing on the lake. The Newark Advocate of Thursday, Dec. 11, 1884 reported:
The body of Mr. Wm. Batson, who resides near the reservoir, was found Monday floating in the water near the Lakeside House, about thirty feet from the shore. He had been missing since Sunday, Nov. 30th. On that day he had left home early in the morning, and crossed the reservoir to the old wasteway. From there he went to the Lakeside Hotel, kept by John Webb, where he sold some quail to Henry Minthorn. Not returning home, his friends became alarmed, and made a search for him, which resulted in finding his dead body. His boat was found in the wasteway.... His death is greatly regretted by his numerous friends.
Duck-hunting in Ohio

Obituary, Newark Advocate
At the time of death, William was about 29 years of age, and was not married. The incident was investigated by the Fairfield County coroner, who ruled out foul play and said that the cause of death was due to an accidental drowning. The coroner also established Dec. 9, 1884 as the official date of death.
William's remains were lowered into the sleep of eternity in the Union Baptist Cemetery near Thornville.
His grave marker, still legible, is seen here, steadied by the hands of Minerd-Miner-Minor researcher Eugene Podraza, during a 1994 visit.
Copyright © 2000, 2002, 2018 Mark A. Miner