Anna (Beggs) Mahoney
(1899-2000)

Anna Mahoney

Anna M. (Beggs) Mahoney was born on April 10, 1899 in Uniontown, Fayette County, PA, the daughter of William J. and Mary Belle (Minerd) Beggs Sr. She is one of the few known cousins in our family whose life touched three centuries -- the 1800s, 1900s and 2000s.
On Sept. 30, 1916, Anna married Wilfred Richard Mahoney Sr. (March 27, 1896-1963), a native of Greensburg, PA and the son of Timothy and Ella (McDonald) Mahoney, natives of Northern Ireland. Anna was age 17, and Wilfred 20, at the time of marriage.
They produced one son, Wilfred Richard "Fred" Mahoney Jr. and made their home for many years in Greensburg, Westmoreland County, PA.
The year after marriage, Wilfred registered for the military draft, during World War I. The registrar marked him as short and slender, with brown hair and dark brown eyes. At the time, he and Anna made their home at 138 Franklin Street in Greensburg. The card shows that Wilfred was providing support for his wife and widowed mother, and that he was employed as a baggage clerk for the Pennsylvania Railroad company in Greensburg.
Wilfred later became a machinist. They were members of Our Lady of Grace Church in Greensburg. Nephews and nieces called Anna "Nanny" and Wilbert as "Wo."
The Mahoneys seem to have enjoyed visits with family, as evidenced by the social columns of newspapers over the years. For example, the April 21, 1930 edition of the Uniontown Morning Herald said that "Mrs. W.R. Mahoney of Greensburg returned to her home Saturday afternoon after spending a few days visiting her mother, Mrs. Samuel Walls of Hopwood." In August 1950, the Morning Herald reported that "Mrs. Amelia Bowser of Evans street and Mr. and Mrs. George Beggs of Hopwood road, were weekend guests of Mr. and Mrs. Wilfred Mahoney of Greensburg."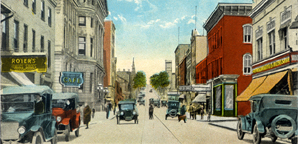 Greensburg's busy Main Street, looking north
When the federal census was taken in 1920, they lived on Franklin Street in Greensburg. Wilfred's widowed mother, Ella Mahoney, made her home with them. Wilfred worked that year as a railroad inspector.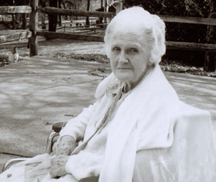 Anna on her 90th birthday, 1989

The Mahoneys took a niece into their home, Ruth Nabors, when the child's parents underwent a difficult time in the 1920s.

The census of 1930 shows Wilfred working as a baggage checkman on the Pennsylvania Railroad in Greensburg. Young niece Ruth Nabors was residing under their roof that year. He continued this work for the rest of his life.

In the 1960s, the family's address was 111½ Talbot Avenue, Greensburg.

Wilfred was afflicted with pulmonary fibrosis and heart disease. He suffered a heart attack and within five minutes passed away on May 20, 1963, at the age of 67.

Anna outlived him by more than 35 years.

She died at age 102 on Sept. 25, 2000 in the Westmoreland Manor, Greensburg. She was laid to eternal rest at the Greensburg Catholic Cemetery.

~ Son Wilfred "Fred" Mahoney Jr. ~

Son Wilfred "Fred" Mahoney Jr. was married.

The couple produced three children -- Daniel Mahoney, Becky Mahoney and Donald Mahoney.

Copyright © 2001, 2005, 2008, 2011, 2019 Mark A. Miner