John Wesley Burgoyne
(1839-1910)
John Wesley Burgoyne was born on Oct. 9, 1839 near Zanesville, Muskingum County, OH, the son of James and Mary (Miner) Burgoyne.
He grew to adulthood in Kokomo, Howard County, IN and as a boy went to school with and was a playmate of his future wife's cousin, David Hawkins.
As an adult, he stood 5 feet, 11½ inches tall, with a light complexion, auburn hair and blue eyes.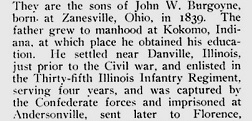 John W. Burgoyne's profile, A History
of the State of Oklahoma, circa 1910

On Jan. 3, 1867, at the age of 27, John married Jane S. "Jennie" Hawkins (Oct. 10, 1843-1917), the daughter of Nathan and Sarah (Wright) Hawkins of Richmond, IN. Rev. J.P. Agenbrad officiated at the nuptials held in Richmond, Wayne County, IN, "in presence of many witnesses," John wrote.

They were the parents of four offspring -- Oliver H. "Ollie" Burgoyne, Don Carlton Burgoyne, Maud Price Booth and May Burgoyne.

In the years before the Civil War, the family relocated to Danville, IL.

After the war erupted, John went to the town of Catlin to join the Union Army on July 3, 1861. He was placed in the 35th Illinois Infantry, Company I with a term of four years. His captain, Joseph Truax, called him "one of the best men in my Co., not given to complain." He is known to have returned home on furlough in November-December 1861. Then in January 1862, while stationed at Rolla, MO, and performing outdoor duties, John contracted a bad cold and the measles. These ailments stuck with him for the rest of his life.

Recalled fellow soldier John W. Newlon, "he was a plucky soldier and as soon as he could returned to duty." He is known to have been present with the regiment in March 1862. His health declined again later that year, and he was sent to an army in Nashville in mid-December 1862, returning to duty the next month. He endured a difficult march from Murfreesboro to Eaglesville, TN in June 1863, with his legs injured under the strain. In May 1864, now at Resaca, GA, he became deaf in one ear.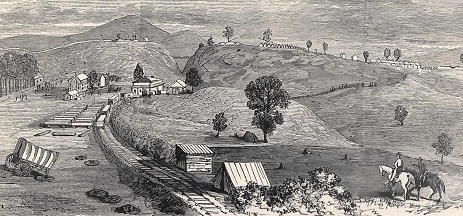 Battlefield at Allatoona, GA, where John was captured in 1864
John was captured at Pickett's Mill/Allatoona Pass in northwest Georgia on June 27, 1864, a month after a battle had been fought there. He was sent to the Confederacy's notorious prison at Andersonville. There, he met up with regiment-mate and neighbor Abel W. Payne and spent time together every day there as POWs. He is said to have left Andersonville for hospital care.
A prisoner for nine months in all, he was transferred to prisons in Florence, SC and Pemberton in Richmond, VA, an old tobacco warehouse. He often tried to escape, and succeeded in getting out three times, only to be hunted down by bloodhouds and returned. During the winter of 1864-1864, he again met up with Payne at Florence. Wrote Payne, "I never expected to see him at home again."
He was paroled (exchanged) at Aikens Landing, VA on Feb. 24, 1865 and was ordered to report to College Green Barracks in Maryland. On the same day that he reported, officials immediately sent him to a hospital in Annapolis, MD along with a 30-day furlough. Once back him regiment, in April 1865, he was sent to Camp Chase, OH, where he was discharged on May 23, 1865. After returning home, he saw his former captain Joseph Truax around that time, with the officer noting that John "was a complete physical wreck."

The crowded, filthy Andersonville Prison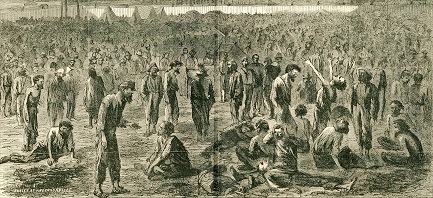 After the war's end, John established a farm in Catlin, IL and eventually moved to Danville. At one point he shared a home with William B. Price. Circa 1880, said Luther B. Hill's 1910 book, A History of the State of Oklahoma, Vol. 1:
...he built a steamboat on the Wabash river, at Perryville, Indiana, and ran it down that river, the Ohio and Mississippi and up the Arkansas and the Verdigris rivers to the head of navigation on the last named stream, and there took the machinery from the boat and used it for power in operating a sawmill which was among if not the first mill of the kind within the Creek Nation. From 1880 to 1892, when he retired from business and was succeeded by his capable sons, ... he was a prominent factor in the hardwood timber industry of the Indian Territory. Here he established a business and a reputation which were both widespread. The consumers of his materials throughout the United States came to know of him and the character and quality of his lumber products. Beign in touch with all the great southwest country, he very naturally drifted into the cattle business. His grazing interests became only second to his timber interests. After he had amassed a handsome competency for himself and family he established a ranch five miles from Tuskahoma, where he may now be found with his herds of blooded cattle and thoroughbred swine, in the supreme enjoyment of the rich proceeds of his long years of effective toil.
Such was the character of John W. Burgoyne that Indians and whites alike regarded him highly. He was a man full of sympathy and true kindness in an early day when men's souls were frequently tried. The brave, self-sacrificing frontiersman never interfered, but stood bravely by all of his measures and industries. If he learned of a stranger over the mountain hungry and without a shelter he made it his business to go after him with food first, and to look after his general comfort. When a case of illness developed in his neighborhood he was first to see that the patient was cared for and that neglect was a thing unknown in his cabin. He loaned to and borrowed from his neighbors from the day he landed on the banks of the Verdigris river to the day when he was retired to the quiet of his home ranch at Tuskahoma.
The Burgoynes relocated for good from Illinois to Oklahoma in about 1880. One friend back in Illinois wrote that John "went to Indian Territory because he could not live in this climate." There, they dwelled in Tushkahoma, Pushmataha County. Neighbor R.D. Francis often was a guest in their home, and John is known to have gone hunting with R.L. O'Farrell.
John suffered in the postwar years from deafness in the right ear and disease of the throat, including chronic bronchitis, cough and excessive mucus. He also was afflicted with heart problems and pain and cramps in his lower limbs. Friend Mason F. Williams, M.D. wrote that he "first met said John W. Burgoyne while he was engaged in the walnut log business - from about 1887 to 1894 - met him over in Ft. Smith about 1890 - I think 2 or 3 days before the Hotel LeGrande burned - he occupied the room next to mine & kept me awake all night with his coughing."
He was awarded a military pension in October 1884 as compensation for his wartime ailments. [Invalid App. #524.421 - Cert. 1.043.147] Among others, brother-in-law William Hawkins provided affidavits in support of his claims, saying that John "was a sound, able bodied young man" prior to the war and was "very weak after geting out of prison for 18 monts [sic]. He mite of made two thirds of hand at comon farming." The amount of his monthly checks circa 1901 was $6.
Circa 1907, John chaired the Republican Committee for Pushmataha County.
John passed away on March 16, 1910.
After his death, Jennie began to receive the monthly pension checks and did so for the remainder of her life. [Widow App. #940.660 - 703.839] She is believed to have relocated to Colorado with her daughter Mae and grandchildren 1912 and to have returned to Hugo for the winter of 1912-1913. She and Mae visited family or friends in Guthrie, OK in September 1915, as recorded in the gossip columns of the Hugo Daily Husonian.
Jennie's home in 1917 was in Marlin County, TX. Suffering from asthma and a high fever, which a physician attributed to the intense summer heat, she was gathered in by the Angel of Death, at the age of 72, on or about July 13, 1917. The body was brought back to Hugo for interment in Mt. Olivet Cemetery, the same grounds which she and her husband had donated to the town decades before.
~ Son Oliver H. "Ollie" Burgoyne ~
Son Oliver H. "Ollie" Burgoyne (1868-1941) was born on Oct. 22, 1868 in Vermilion County, IL.
As a teen in the 1880s, he and his brother Don began working for their father's hardwood timber business in the Indian Territory of Oklahoma. In about 1884, they became partners in the firm and then took over as proprietors when their father retired. Known as Burgoyne Brothers, the business was based in the town of Hugo, Choctaw County.
Oliver was unmarried circa 1910, when he would have been age 42, and was a member of the Elks Club. Said Luther B. Hill's 1910 book, A History of the State of Oklahoma, Vol. 1: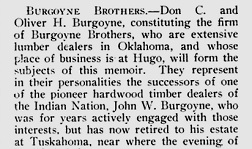 Profile of the Burgoyne brothers in
A History of the State of Oklahoma, 1910
Their business is an outgrowth of that established at the crossing of the Verdigris and the M., K. & T. Railroad, near Eufaula, and a system of mills has sprung up from time to time, one being at Bennington and the others at Boswell, Hugo and Idabel. The output of these various mills finds its market in all parts of the United States and in many foreign lands. Germany, England and other European countries and some of the South American states have been consumers of the walnut and other lumber handled by this firm. Although the father had built up one of the largest business concerns of his times, the sons have extended it and are now second to none in Oklahoma as dealers in hardwood materials. In virgin timber days in this territory their father was known as the king of walnut log men, but of recent years, piling, ties, poles and other heavy timber, in addition to ash lumber and quarter-sawed oak, constitute the chief feature fo their immense stock. The Burgoyne Brothers are also dealers and developers of real estate in and near Hugo. They platted and put upon the market "Burgoyne Brothers' Addition" to the city, and laid out Mt. Olivet cemetery, a mile and a half east of Hugo. They also own a fruit farm near the city, which produces pears and peaches. They also have general farming interests in the Chickasaw Nation.
Oliver dwelled with his married brother Don and sister-in-law Jennie in Hugo as shown in the 1910 federal census enumeration.
In 1920, he and Don and their sisters relocated to Dallas, TX and in 1920 resided under one roof on San Jacinto Street. Oliver's final years were spent in Mt. Vernon, Franklin County, TX.
Having been stricken with a heart attack, he was cut away by the Grim Reaper of Death on Jan. 6, 1941, at the age of 72. Interment was in Hugo, in the old cemetery land his parents had donated to the community.
~ Son Don Carlton Burgoyne ~
Son Don Carlton Burgoyne (1870-1932) was born on March 2, 1870 in Vermilion County, IL.
On June 1, 1907, he was united in holy matrimony with Jennie Barnes (1880-1912), daughter of attorney Martin Barnes of Bonham, TX.
The couple was a decade apart in age and produced two children, John W. Burgoyne II and Jennie Maud Malmquist.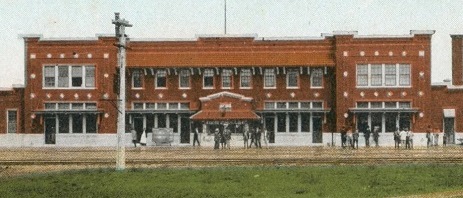 Frisco Railroad station, Hugo, said to be the handsomest in Oklahoma
Don and his brother operated Burgoyne Bros. in Hugo, OK and were Republicans in their politics, and Don belonged to the local lodge of the Masons. Said Luther B. Hill's 1910 book, A History of the State of Oklahoma, Vol. 1, "They are all 'Hoo-Hoos' and have attended the meeting of the National Association of Hardwood Lumbermen." Circa 1912, they are believed to have resided in the town of Hugo, where Don was a real estate agent and acquired an array of properties, including some adjacent to Mount Olivet Cemetery, orignally known as Burgoyne Cemetery. Other of their projects were the town's first electric power plant, named Hugo Light Company located near the Frisco Railroad Station, later owned by Public Service Company. The brothers' lumber company was sited on West Main Street and eventually was acquired by T.H. Rogers Lumber Company.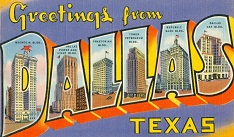 Their home was on Wade Street, where Jennie was considered "among the best known and most popular young matrons of the city, and ... prominent in society circles," said the Hugo Choctaw Herald. But fate intervened, and Jennie became deathly ill in April 1912. She died at home after suffering for three weeks, on May 3, 1912, at the age of 30, leaving behind her spouse and two youngsters.
Don worked in 1915 in Paris, OK, where he assisted in installing an electric light plant. Then in November 1915, the family owned Burgoyne Bros. began erecting a $30,000 plant on a 10-acre site in Dallas for manufacture of hardwood wagons and supplies, promoted by the Dallas Chamber of Commerce. He relocated to Dallas for good by 1917, with an address of 3409 Harvard.
In 1920, U.S. Census records show him heading a household on San Jacinto Street with his two children and three adult siblings under his roof. He spent his final years at 3429 Princeton Street in Highland Park, Dallas County.
Burdened with lobar pneumonia, he succumbed at the age of 62 on Nov. 22, 1932. The body was transported back to Hugo for interment in the Mt. Olivet Cemetery. After his death, his heirs in 1937 deeded 20 more acres of land to the cemetery and 40 acres for use as a park.
Son John W. Burgoyne II (1908- ? ) was born in about 1908 in Hugo, Choctaw County, OK. At the age of 12, in 1920, he was in Dallas with his widowed father.
Daughter Jennie Maud Burgoyne (1910-1981) was born on June 22, 1910 in Hugo, Choctaw County, OK. She was only one year old when her mother died. She grew up in Dallas, TX. She was joined in marriage with Don Malmquist ( ? - ? ). They were the parents of Don Malmquist Jr. Jennie was a longtime teacher in the Dallas County public schools. Her address in the early 1980s was at 908 Old Orchard Street in Garland, TX. Jennie passed away at the age of 70, as a patient in Appletree Nursing Home in Richardson County, TX on March 29, 1981. Her remains were transported back to Oklahoma to rest in Mount Olivet Cemetery.

Lloyd Price Jr.

Courtesy Cindy Mitchell
~ Daughter Maud (Burgoyne) Price Booth ~
Daughter Maud Burgoyne (1872-1942) was born on Aug. 27, 1872 in Vermilion County, IL. She was married at least twice.
Her first husband was Lloyd H. Price (1869-1916). They wed in about 1893 but did not reproduce. Lloyd earned a living as a real estate agent, likely in the employ of Maud's brothers. Their home in 1910 was in Hugo, Choctaw County, OK.
During the fall of 1911, he traveled to Idaho, Nevada and Utah and returned to Hugo praising what he had seen. The Hugo Choctaw Herald said that "to hear him talk you would think that Idaho was a better country than Oklahoma or even Chictaw county -- but Lloyd will stay here -- see if he doesnt." Then in September 1912, he made news again when observing a wolf run along Crockett Street and turn into an alley behind the First Presbyterian Church. He told a Herald correspondent that "This is still a wild and wooly country." Lloyd and U.G. Knox jointly owned two oil producing wells in Hugo and actively developed others. They held a contract with Santa Fe Oil Company to assist them in their search for the precious natural resource, including installation of a 17-mile pipeline.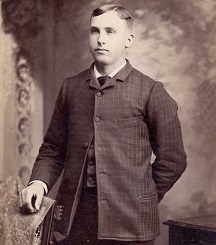 Lloyd Price Jr.
Courtesy Cindy Mitchell
He owned copper mining properties in Twin Falls, ID, under the name "Okla-Vada Mining Company," and spent his summers in the town, with Maud spending that time visiting friends in Colorado Springs. Lloyd also was active with the Choctaw County Fair Association in August 1914, overseeing the display of livestock including horses, mules, cattle, sheep and hogs. In September 1916, he was elected as a delegate to the Republican Convention held in Oklahoma City.
Sadly Lloyd died in Hugo in early October 1916. The cause of his untimely passing is not yet known but is believed to have been sudden. Funeral services were held in the home of Maud's brother Don, with services provided by members of the local lodge of the Masons. The remains then were escorted to Mt. Olivet Cemetery to be placed into rest. An obituary in the Herald said that "A very large crowd of friends attended the last sad rites and followed the body to the grave."
The federal census of 1920 shows her as widowed and sharing a residence in Dallas, TX with her three adult siblings. Circa 1933, she lived in Dallas and is known to have returned to Hugo to visit Dorothy DeWeese.
In May 1933, engaged to Walter Booth ( ? - ? ) of Dallas, the couple won a popularity contest sponsored by the Dallas Dispatch, with the grand prize a honeymoon to Panama. Their May 31 wedding was broadcast live on radio station WRR. Among their other gifts were the bridal suite in the Baker Hotel, two diamond wedding rings from Arthur A. Everts Jewelry company, a bridal bouquet from Lang Floral Company anda $12 pair of shoes from Volks Shoe Store. Reported the Hugo Daily News, "On the trip to Panama they will go by airplane to New Orleans, and then sail to Panama. On their return from Panama the Baker hotel will entertain for them with a dinner dance and they will be the guests of Stoeleigh court for two weeks. The bride was born in Hugo and lived here until the family moved to Dallas some years ago."
Maud appears to have taken back her first married name "Price" later in life. In about 1936, she moved to Mt. Vernon, Franklin County, TX. Suffering from diabetes, she died two days after her 70th birthday on Aug. 29, 1942. Her body was shipped back to Oklahoma for burial in Hugo.
Dallas skyline
~ Daughter May Burgoyne ~
Daughter May Burgoyne (1874-1953) was born on March 8, 1874 in Vermilion County, IL. At about the age of six, circa 1880, she relocated to Hugo, OK with her parents and sister.
She never married.
Circa 1912, she lived in Colorado with her widowed mother. Later in the 1910s, she moved to Texas and in 1920 shared a dwelling with her three adult siblings on San Jacinto Street.
May later made a longtime home in Mt. Vernon, Franklin County, TX.
She died at home in Mt. Vernon on Aug. 1, 1953. A headline story in the Hugo Southeast Oklahoman said she was a "member of a pioneer Hugo family which gave the city the original land which comprises its Mt. Olivet cemetery."
Copyright © 2006, 2019 Mark A. Miner
Cindy Mitchell has researched this family and generously shared her findings.