Sarah (Burgoyne) Stockton
(1828-1890)

John P. Stockton
Sarah (Burgoyne) Stockton was born in 1828 in Ohio, likely in Muskingum County, the daughter of James and Mary (Miner) Burgoyne.
She was joined in holy wedlock with John P. Stockton (1822- ? ), a native of either Pennsylvania or New Jersey.
The couple bore a family of children -- Mary E. Stockton, James "Oscar" Stockton, Anna Stockton, Ella Nora Burroughs and Robert Stockton.
The Stocktons initially made a home in Indiana. Then, sometime between 1852 and 1860, they migrated to Illinois.
Circa 1860-1870, federal census enumeration records indicate that the Stocktons were farmers residing in Catlin, Vermilion County, IL. In 1860, 23-year-old farm hand John Henderson lived in the home.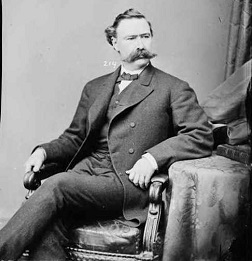 John P. Stockton
Sarah is named in the 1883 book by Luther B. Hill, A History of the State of Oklahoma, Vol. 1.
Sarah reputedly passed away on Oct. 8, 1890. Her remains were interred in Spring Hill Cemetery in Danville. No marker is known to stand at the grave. [Find-a-Grave]
~ Daughter Mary E. Stockton ~
Daughter Mary E. Stockton (1851- ? ) was born in about 1851 in Indiana.
~ Son James "Oscar" Stockton ~
Son James "Oscar" Stockton (1852- ? ) was born in about 1852 in Indiana.
Research by others hints that he died on Jan. 11, 1898, with interment in Spring Hill Cemetery in Danville.
~ Daughter Anna Stockton ~
Daughter Anna Stockton (1861- ? ) was born in about 1861 in Illinois.
~ Daughter Ella "Nora" (Stockton) Burroughs ~
Daughter Ella "Nora" Stockton (1863- ? ) was born on Nov. 20, 1863 in Illinois in Vermilion County.
She was united in holy matrimony with widower Lee Burroughs (1860-1940). He had been married previously to Lucy E. Payne (1864-1887).
At least one daughter was born to Nora and Lee, Fronia Leone Bentley.
Sadly, at the age of 44, death carried Nora away on Feb. 27, 1908, in Catlin, Vermilion County. She rests for eternity in Oakridge Cemetery in Catlin.
Lee outlived his wife by 32 years. He married a third time to Anna B. Carnes (1860-1953).
He succumbed on Jan. 4, 1940, at the age of 79. He is interred beside or near Nora.
Daughter Fronia Leone Stockton (1893-1941) was born on Aug. 21, 1893. She wedded Roy Harrison Bentley (1889-1944). The couple's only known daughter was Leone V. Learnard. Fronia passed into eternity on March 10, 1941 when she was 47 years of age. Roy lived for another four years. He died in 1944.
Granddaughter Leone V. Bentley (1915-2000) was born on July 26, 1915. On March 26, 1934, when she was 18 years of age, she was joined in wedlock with Elmer Learnard (Nov. 18, 1911-2004), a native of West Halifax, Windham County, VT. The son of Ossie and Mabel E. (Learned) Prouty, he was orphaned at a young age, and then adopted and raised by an uncle and aunt, Benjamin and Edna (Clingan) Learnard. Leone and Elmer were longtime farmers and dwelled in Georgetown, IL. The couple produced two sons -- Benjamin Learnard and William Learned. The family were members of Fairview United Methodist Church, In his spare time, Elmer was a member of the Lions Club and local Masons lodge, and was active in agricultural business, world travel, softball and playing euchre. They spent their winter months in Harlington, TX. As a patient at Provena United Samaritans Medical Center in Danville, Vermilion County, she passed into death on Sept. 6, 2000. Elmer survived his bride by four years and went to live in Chrisman, Edgar County, IL. At the age of 92, he was carried away by the Grim Reaper on Feb. 3, 2004. Rev. Ray Price officiated at the funeral service, with an obituary published in the Georgetown Independent News. They rest under the soil of Oakridge Cemetery in Catlin..
Great-grandson William "Bill" Learnard (1937-2019) was born on Sept. 16, 1937. Evidence hints that he was twice-married. He and his first wife wife were the parents of Mark Learnard, Scott Learnard, Clark Learnard, Blaine Bensyl and Elizabeth Dekker. Over the years, Bill was employed by General Electric. He also maintained a farm and raised cattle. For fun, he played fast-pitch softball, bowled and traveled, and belonged to the Olive Branch Lodge of the Masons. Then on April 7, 1984, when he was 47 years of age, he wedded a second time to widow Elizabeth Jane (Butler) Randall (April 8, 1938-2015), a Danville native and daughter of Sidney and Mayme (Crawford) Butler. She brought several children to the second marriage, thought to be Lezlie Kay Randall, Robin Fetters, Herbert Randall and Damon Randall. Their union endured for three-plus decades. Having attended Danville Junior College, Elizabeth enjoyed a career of her own. She was employed as a secretary for Judge James Robinson. When Vermilion County created the position of court administrator, she was tapped for the position. She liked to bowl, garden and travel. The couple were members of the Fairview United Methodist Church. Sadly, Elizabeth died at the age of 77 on July 3, 2015, in Georgetown. Bill endured for another four years of life. On Sept. 2, 2019, at the age of 81, he died in Georgetown, Vermilion County. His remains are in repose in Oakridge Cemetery.
Great-grandson Benjamin Learnard married Karen ( ? - ? ).
~ Son Robert Stockton ~
Son Robert Stockton (1867- ? ) was born in about 1867 in Illinois.
Copyright © 2006, 2019 Mark A. Miner
Cindy Mitchell has researched this family and generously shared her findings.