Florence Opal Bush
(1878-1909)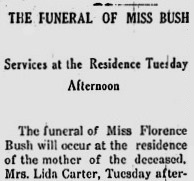 Greenfield Hancock Democrat
Florence Opal Bush was born on Aug. 25, 1878 near Greenfield, IN, the only child of John W. and Julia Ann Eliza 'Lida' (Willett) Bush.
She never married, and died as a young woman.
The Greenfield Hancock Democrat once said she "was one of the well-known young ladies of our city, a member of the Olive Branch class of the Presbyterian Sunday school.
Her father died in 1897, when Florence was 19. He was deeply in debt, so she Florence lent her mother $100 to pay for his medical and funeral expenses.
When her mother remarried, to Charles V. Carter, she resided with them.
At the age of 31, on Oct. 30, 1909, Florence succumbed to "a long illness of typhoid fever and complications arising therefrom."
She was buried beside her father in Greenfield's Park Cemetery, later to be joined there by her mother.
Copyright © 2000, 2019 Mark A. Miner