Minor Bush was born near Zanesville, OH, the son of Christopher and Elizabeth (Miner) Bush. He was one of 5 brothers to serve in the Civil War from Indiana.
Minor was a farmer, and stood six feet tall, with hazel eyes and dark hair.
As a boy, he moved to Indiana with his parents. Before the Civil War broke out, Minor married his first wife, Hannah (last name not known).
They had one son, William Bush (born in the early 1860s).
Hannah's fate is unknown, but she apparently died young.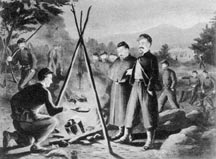 Soldier camp life
During the Civil War, Minor served in the 5th Indiana Cavalry, Company A. He enrolled Aug. 4, 1862, and mustered out nearly three years later, on June 15, 1865. He was with the regiment continuously except in April 1863, when he was scouting; from May through August 1864 when he was detached to serve as an orderly for Major Gen. Howard, and from Oct. 31 to Nov. 10, 1864, when he was on an extended furlough by order of the Secretary of War.
After the war, Minor came back to Indiana.
On Oct. 13, 1867 he married 22-year-old Nettie Caroline Forsee (1845-1927). She was born near Noblesville, IN on Sept. 21, 1845.
They produced at least two children -- Clara Copper and Lydia Fish.
The Bushes lived in or near Pendleton, Green Township, Madison County, IN. Nettie was a member of the Christian Church, having joined at age 18.
Their married life would last a relatively short 13 years. Minor died on July 17, 1880 (or 1879), of causes unknown, in Pendleton, Madison County. His burial place likewise is thought to be in Hurlock Cemetery in Noblesville. A search for his obituary in the Anderson Democrat proved futile, and there are no Madison or Hancock County court records documenting his existence.
After Minor's death, Nettie married farmer, Civil War veteran and twice-widower Henry P. Michael (1842-1916). They were married at Anderson, Madison County, IN on Feb. 16, 1882 by the hand of Rev. Enoch Frey. Henry was a native of Middletown, Frederick County, MD, and was born on Dec. 31, 1842. During the Civil War, he served with the 75th Indiana Volunteer Infantry, Company I. His first wife, Lucinda F. Michael, had died on Sept. 4, 1865, and his second wife, Martha Jane (Shetterly) Michael, had died in Madison County on Feb. 5, 1879.
Nettie and Henry had three more children of their own -- Gertrude V. Freeman, Arthur Dale Michael and Ruby Ratliff. Nettie thus had a grand total of nine children -- a stepson from her first marriage, two daughters from her first marriage, three children from her second marriage, and fouir stepchildren from Henry's previous marriages -- Laura E. Michael, Charles N. Michael and Calvin Henry Michael. (One of Henry's children from a previous marriage, Cora Michael, had died at age 2.)
The Michaels lived in Pendleton. In about 1889 they moved to Concordia, Cloud County, KS. Later, they settled in Barnett and Versailles, Morgan County, MO.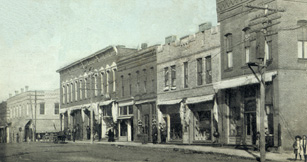 Versailles' north side square, circa 1915
Henry died at home, three miles east of Versailles, on March 5, 1916. Nettie published a notice in the Versailles Statesman, saying: "We wish to thank all of our neighbors and friends for their many deeds of kindness in our last sad days of our husband and father. --Nettie Michael and Children."
Nettie outlived her husband by 11 years. She died at the home of her daughter Ruby on March 4, 1927. Like Henry, her obituary was printed in the Versailles Statesman. They are buried together at the Hopewell Cemetery in Versailles.
~ Son William Bush ~
The fate of son William Bush ( ? - ? ) is unknown.
~ Daughter Clara (Bush) Copper ~
Daughter Clara Bush (1869- ? ) was born in 1869.
She married farmer Frank M. Copper ( ? - ? ) of Lamar, Barton County, MO.
They had a daughter, Gertrude Copper.
~ Daughter Lydia (Bush) Fish ~
Daughter Lydia Bush (1874- ? ) was born in 1874.
She married Edgar C. Fish (1863- ? ) of White House, FL.
In 1920, when the federal census was taken, the Fishes were living in Columbus, Bartholomew County, IN. That year, James C. Fish (born 1899), Lucile Fish (born 1900) and Ray Warner (born 1894) resided in the household.
~ Children of Nettie and Henry Michael ~
Of the three children born to Nettie and Henry Michael, Gertrude Freeman lived in Mahaska, KS; Arthur Dale Michael lived in Sedalia, MO; and Ruby Ratliff lived in Versailles, MO.
Of the stepchildren, most of their fates are unknown. Charles Michael lived in Catlin, IL and attended his father's funeral in 1916.
Copyright © 2000, 2005, 2007 Mark A. Miner. Civil War sketch by Currier & Ives.