Cora Alena (Everly) Calvert
(1869-1954)
Cora Alena (Everly) Calvert was born in 1869 in or near Kingwood, Preston County, WV, the daughter of Absalom and Sarah (Carroll) Everly.
When both she and he were age 22, Cora was joined in wedlock with Enoch Gerald Calvert (April 22, 1869-1942), the son of Josiah and Marjory (Garner) Calvert of the Valley District in Preston County.
They produced a family of four known offspring -- Jessie Calvert, Ray McKinley Calvert, Everly Calvert and Ronald Calvert.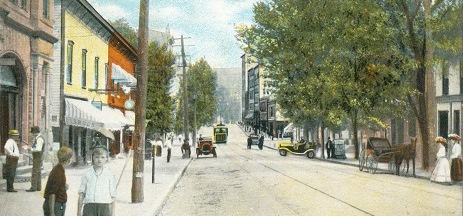 High Street in Morgantown, a busy thoroughfare

Obituary, 1954
Early in the marriage, the Calverts resided in Uniontown, Fayette County, PA, where he was employed with the Baltimore and Ohio Railroad. Circa 1908 or 1916, he was transferred to Morgantown, Monongalia County, WV.
When the census was taken in 1920, the Calverts lived on Jefferson Street, with Enoch's occupation listed as "track foreman - railroad."
The 1930 census shows that Enoch remained employed with the railroad as a foreman.
Their address in the city in 1935-1942 was 46 Maple Avenue.
Enoch retired in 1934 from railroading. He suffered from hypertension, and died at age 72 of a coronary occlusion on June 21, 1942. He was buried at Beverly Hills Cemetery in Morgantown.
Cora outlived him by a dozen years. She passed away of a cerebral hemorrhage at age 84 on July 15, 1954, at Pugh's Nursing Home in Morgantown. She was buried beside her husband. At the time of her death, they were survived by seven grandchildren and three great-grandchildren.
~ Daughter Jessie Margery (Calvert) Andrews ~
Daughter Jessie Margery Calvert (1893-1938) was born in about 1894.
Unmarried at the age of 26, in 1920, she dwelled with her parents in Morgantown, Monongalia County.
She eventually was united in matrimony with Edward Cornelius Andrews (Aug. 6, 1891-1964), a native of Kansas and the son of Richard and Mattie (Love) Andrews.
The couple established their residence in Morgantown. One known daughter born to their union was Jean A. Andrews.
Tragically, in her 30s and early 40s, Jessie was burdened with neuroses and malnutrition. While in the town of Ripley, Jackson County, WV on July 13, 1938, she was felled by a stroke and was dead within 12 hours at the age of 42.
Edward continued to maintain a home in Morgantown. After suffering a cerebral hemorrhage, he succumbed to death in the emergency room of West Virginia University Hospital at the age of 72 on Jan. 23, 1964. The remains were lowered into eternal repose in Beverly Hills Memorial Park in Morgantown.
Daughter Jeanne Avis Andrews (1922-2004) was born on May 30, 1921 in Morgantown. Her young years would have been difficult with the mental illness of her mother. She and her father dwelled together in 1940 in Morgantown. She was thrice-wed. Her first spouse was (?) Smith ( ? - ? ). After a divorce, she maintained a residence at 313 Elmhurst Street in Morgantown and earned a living as an Avon representative. Then at the age of 44, on Oct. 23, 1965, she married a second time to 41-year-old James Russell Kellems (Aug. 19, 1924-1998), son of James S. and Mabel (Anderson) Kellems of Dubois, IN. Their wedding was conducted in Winchester, VA, by the hand of Methodist pastor Rev. Ronald S. Clark. At the time, James dwelled in Wheeling, WV and was employed as a corporate vice president. The Kellemses appear to have divorced, and James died in Louisville, KY on June 15, 1998. Jeanne made her final home in Morgantown and also spent time at 9920 Gatsby Lane in Fort Pierce, Saint Lucie County, FL. By 1975, she wedded a third time to Jack Hines (Oct, 21, 1922-2003), also a Morgantown native and the son of Joseph Edward and Harriett Elizabeth (Tennant) Hines. Jack passed away in Morgantown on July 2, 2003. Jeanne only outlived Jack by nine months. Death carried her away into eternal life in Fort Pierce on April 23, 2004.

Ray Calvert
~ Son Ray McKinley Calvert ~
Son Ray McKinley Calvert (1896-1983) was born on Nov. 21 or 24, 1896 in Uniontown, Fayette County, PA.
Ray was required to register for the military draft during World War I. At that time, he lived on Wood Street in Morgantown, Monongalia County, WV, and worked for the Baltimore and Ohio Railroad. He was of medium height and build, and had blue eyes and light-colored hair, and his right leg was shorter than the left.
On Jan. 13, 1920, in Petersburg, VA, the 22-year-old Ray married Nettie Edith Carpenter (1901-1989).
The pair bore three children together -- Eugene Gerald Calvert, Mary Jane Calvert and Cecil Ray Calvert.
The Calverts made his home in Morgantown for many years, where Ray, like his father, was a longtime railroad employee. He loved to work in his garden, and kept a hand-carved, wooden replica of the Calvert family crest in his home. During the World War II years, their home was in the Flatts section of Morgantown.
When again required to register for the military draft, during World War II, Ray earned a living through employment with Byrum Construction Company of Wheeling. At that time, he appears to have been working on a building project at Suncrest, a residential community in Morgantown.
Ray passed away in Morgantown in Feb. 1983, at the age of 86.
Nettie outlived him by six years. She died in 1989. They sleep side by side in Beverly Hills Memorial Park in Morgantown.
Son Eugene Gerald Calvert (1921-2001) is believed to have been born on Jan. 25, 1921 in Hopewell, VA.He grew up in Buckhannon, Upshur County, WV, where he graduated from high school. He was married and the father of Eugene Lee Calvert. During World War II, Eugene served in the U.S. Army and at one point was captured and held as a prisoner of war. Later he received a Purple Heart and a Bronze Star for his actions. He returned home to West Virginia and joined the Boilermakers Union, working in welding for 23 years. He also was a Morgantown fireman for 15 years and attended the Assembly of God Church. On Jan. 10, 1991, he married Bonnie (Thorn) Seiple (May 28, 1933-2010), daughter of Ray and Euphemia (McCullough) Thorn of Queens, WV. She had been married previously and brought two offspring to the second union, Randy W. Seiple and Jackie A. Bell. The couple made their residence in Warren, Trumbull County, OH. Over the years, Bonnie had earned a living through her work for Trumbull Lamp Corporation and in the restaurant of and sales clerk for Sears Roebuck and Company, from which she retired. Eugene died at Brecksville (OH) Veterans Hospital on Christmas Day 2001. Bonnie outlived Eugene by nine years. She succumbed to death in Warren at the age of 76 on May 17, 2010. Their remains were placed in the soil of Mt. Union Church Cemetery, with Pastor Eddie McDaniels leading the service.
Grandson

Eugene Lee Calvert

has dwelled in Morgantown.
Daughter Mary "Jane" Calvert (1924-1974) was born in 1924. She married Harry Eugene Dean (1924-1995). They bore a daughter, Jane Dean. Harry is said to have served in the U.S. Air Force during World War II and to have been captured and taken prisoner. He was a longtime Air Force mechanic and also saw service during the Korean War and Vietnam War. Death carried her away in 1974. Interment of the remains was in Beverly Hills Memorial Park in Morgantown. Harry lived for another 11 years as a widower and made his final home in Colorado. He passed away at the age of 71 on May 22, 1995. His remains were transported back to Monongalia County to rest beside his bride's.
Son Cecil "Ray" Calvert (1924-1989) was born on Oct. 9, 1924. He was united in wedlock with Frances Joan (1935-1993). The couple is not known to have reproduced. He is believed to have liked to fish and fry green tomatoes. He died in Morgantown on April 14, 1989 and is buried in Davis Cemetery in Morgantown. She endured life as a widow before passing away in 1993.
~ Son Everly Gerald Calvert ~
Son Everly Gerald Calvert (1903-1997) was born in about 1903 in Uniontown, Fayette County, PA.
He studied at West Virginia University and pursued a career as a high school teacher in Morgantown.
At the age of 28, on Dec. 18, 1931, Everly wedded 30-year-old fellow teacher Fern Vale (1901- ? ), a native of Kansas and the daughter of Howard L. Vale of Tampa, FL. Methodist Episcopal Church pastor Rev. Shreidan Watson Bell officiated. News of the marriage appeared in the McCook (NE) Daily Gazette and Park City (KY) Daily News.
Fern formerly had resided in Oberlin, NE. Said the Daily Gazette, "She is a graduate of the Decatur high school and for several years was an active work[er] in the Federated church as well at the Y.W.C.A. After graduating from the University of Colorado, she taught in the commercial department of the high school in Morgantown." The Daily News added that she also was an alumna of Bowling Green Business University.
Together, the couple bore a son, Gerald Everly Calvert.
The federal census enumeration of 1940 shows that Fern and their son had migrated to the District of Columbia. There, she taught shorthand for the U.S. Housing Authority. Everly remained in Morgantown, residing at 46 Maple Avenue.
Son Gerald E. Calvert (1933-2001) was born in about 1933 in Morgantown, Monongalia County, WV. By the age of seven, he had migrated with his mother to the District of Columbia. Gerald wedded (?). He spent his adult years back in Morgantown. He died in the city on Oct. 25, 2001.
~ Son Ronald Calvert ~
Son Ronald Calvert (1908-1972) was born in or about 1908.
He resided in New York City in 1942.
Evidence suggests that he died in 1972.
Copyright © 2002-2008, 2012, 2021 Mark A. Miner