May Elizabeth (Everly) McCreery
(1882-1958)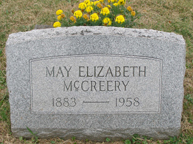 East Oak Grove Cemetery
May Elizabeth (Everly) McCreery was born on Aug. 2, 1882 in or near Herring, Preston County, WV, the daughter of Absalom and Sarah Jane (Carroll) Everly.
Circa 1909, May married John Clark McCreery (April 19, 1887-1963), a native of Pennsylvania and the son of Robert McCreery. She was four years older than her husband.
The McCreerys dwelled in nearby Morgantown, Monongalia County, WV.
Together, the bore a family of four children -- George McCreery, Margaret Keechel, William Glenn McCreery and Jane Carroll Muha.
When the federal census was enumerated in 1910, the McCreerys dwelled next to May's widowed father and single brother Oliver on Webster Avenue in Morgantown, where John was employed as a carpenter.
The 1920 census shows May, marked as married at the age of 28, working as a servant in the home of widower John C. Morris near Morgantown. Her children George, Margaret and William were in the residence at that time.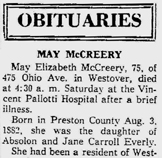 Obituary, 1958
May and John are mentioned in the 1923 History of West Virginia, Old and New which simply states that they lived in Monongalia County.
The couple separated sometime between 1923 and 1930.
By 1930, May earned income providing housework for a private family, and her son George employed by a printing firm and daughter Margaret working in a local dentist's office. She was marked in the census as widowed although her former husband was still alive.
She made their home for more than three decades at 475 Ohio Avenue in the Westover outskirts of Morgantown and belonged to the Riverside Methodist Church.
May died at the age of 75, in the Vincent Pallotti Hospital, on June 28, 1958. She is buried beside her father in East Oak Grove Cemetery. In her obituary, the Morgantown Dominion News said "She had been a resident of Westover for 36 years..."
John remained in Morgantown over the years at 79 Pleasant Street. In later years he was burdened with hardening of the arteries leading to the heart. Death swept him away on April 2, 1963 as a patient in St. Vincent Pallotti Hospital. Interment also was in East Oak Grove Cemetery.
~ Son George E. McCreery ~
Son George E. McCreery (1909-1993) was born in 1909.
At the age of about 20, in 1930, he lived with his single mother and younger siblings in Morgantown. At that time, he was employed as a linotype operator for a local printing office.
He relocated to southwest Ohio.
In August 1943, George was joined in marriage with T. Christine Noe (April 28, 1910-2002), a native of Kentucky. Their union endured for half a century.
The couple produced two children -- Shirley Jones and Evelyn Viola Parker.
Circa 1958, the McCreerys lived in or near Dayton, OH, with an address of 1657 Hillwood Drive. In the 1990s, they were in Kettering, near Dayton.
George was employed for 26 years as a printer with Dayton Newspapers Inc. The family belonged to the Miami Valley Baptist Church for the Deaf.
The pair marked their 50th wedding anniversary in August 1993. The family celebrated with an event at the Miami Valley Baptist Deaf Church on Lillian Avenue. As well, George and Christine were pictured in a related story in the Dayton Daily News.
He died in Kettering Memorial Hospital at the age of 84 on Sept. 2, 1993. Co-officiating his funeral service were Pastor Phillip Easterling and Pastor David Prather. His remains were lowered under the sod of Miami Valley Memory Gardens in Springboro, Warren County, OH.
Christine survived her spouse by nine years. Toward the end, she was admitted to Riverside Methodist Hospital in Columbus, Franklin County, OH. There, she passed away at the age of 92 on Aug. 13, 2002. An obituary appeared in the Daily News.
Daughter Shirley McCreery married Dewey Jones. Their three offspring were Diane Rigney, Chris O'Hanlon and David Jones. The family was in Fairborn in 1993.
Granddaughter

Diane Jones entered into marriage with Bill Rigney

.
Granddaughter

Chris Jones wedded (?) O'Hanlon. Her home in 2002 was in Virginia.
Grandson David Hanson Jones

( ? - ? ) was born in (?). On Dec. 12, 1993, in nuptials held at Grace Lutheran Church in Springfield, he married Gayle Lynn Blickle, daughter of Gordon and Marlene Blickle of Vandalia. The pair was pictured in a related wedding story in the

Dayton Daily News

.
Daughter Evelyn Viola McCreery ( ? - ? ) was born in (?). She was a graduate of Kiser High School. In about November 1957, she was joined in the bonds of wedlock with Phillip Hershel "Hersh" Parker ( ? - ? ), son of Phillip Parker of East Second Street in Dayton. The nuptials were led by Rev. Roy Michell in the North Dayton Baptist Church. In announcing the marriage, the Dayton Journal Herald pictured the couple and said that the bride "wore a floor-length gown of Chantilly lace and tulle. The fitted bodice featured a scalloped Sabrina neckline accented with iridescent sequins. She wore a two-tiered veil of illusion net and carried a white orchid encircled with stephanotis on a white Bible." Five sons born to this marriage were Scott Parker, Brent Parker, Douglas Parker, Steve Parker and Bryan Parker. Their home in 1993 was in Beavercreek, OH.
Grandson

Scott Parker

married Karen.
Grandson Brent Parker

wedded Kathy.
Grandson Douglas Parker

was joined in wedlock with Yvonne.
Grandson Steve Parker

was united in matrimony with Joy.
~ Daughter Margaret (McCreery) Keechel ~
Daughter Margaret Kathleen McCreery (1911- ? ) was born on Sept. 25, 1911 in Morgantown.
In young womanhood, she earned a living in Morgantown as a clerk.
When she was 22 years of age, on Dec. 11, 1933, she wedded 36-year-old barber Edward Keechel (1897- ? ). He was a native of Dayton, OH and the son of Cornelius and Anna (Aston) Keechel. Their wedding ceremony was held in Monongalia County, officiated by Rev. A.C. Young of the Christian Church.
Two known children were born to this union -- Mary Jean Cianfrocco and William Keechel.
The federal census enumeration of 1940 shows the Keechels dwelling in Riverside, Monongalia County. At that time, Edward continued to ply his trade as a barber, and Margaret worked as a chef in a local restaurant.
Margaret dwelled in 1958 at the her mother's home in Westover.
She was gathered in by the spectre of death in Morgantown on Feb. 2, 2007.
Daughter Mary "Jean" Keechel (1934-2015) was born on Oct. 2, 1934 in Monongalia County, WV. She was a 1953 graduate of University High School in Morgantown and grew up rooting for the Pittsburgh Pirates baseball club and West Virginia University Mountaineers sports teams. She entered into marriage with Thomas J. Cianfrocco ( ? - ? ), son of Sebastiano "Sam" and Mary (Sabatini) Cianfrocco. They stayed together for a remarkable 56 years and put down roots in the Westover section of Morgantown. The couple's three children were Kathy Foster, MaryAnn Boczek and Thomas Cianfrocco. As a mother, Jean liked to bake, cook, garden, dress up in costume for Halloween and decorate for the Christmas season. Jean passed away at the age of 80, in Ruby Memorial Hospital on April 10, 2015. Pastor Jim Weber led her funeral service, with burial following in Morgantown's East Oak Grove Cemetery. In an obituary, the family asked that any memorial donations be made to the Rosenbaum Family House or Riverside United Methodist Church.
Granddaughter

Kathy

Cianfrocco

was united in wedlock with Rex Foster

. The couple established a home in Vienna, WV.
Granddaughter MaryAnn

Cianfrocco

married (?) Boczek. She was in Morgantown in 2015.
Grandson Thomas

Cianfrocco

lived in Westover near Morgantown circa 2015.
Son William Keechel ( ? - ? ) married Alice ( ? - ? ).
~ Son William Glenn McCreery ~
Son William Glenn McCreery (1914-1972) was born on Jan. 3, 1914 in Morgantown.
He was united in marriage with Eleanor Grace (Ayers) Wiseman (June 23, 1917-2001), daughter of Tony Lempkin and Mae Emma (Wardrep) Ayers and widow of Albert Jarrell Wiseman (1913-1942).
Eleanor brought a daughter to the second union, Kista Ann (Wiseman) Weller. William loved Kista as his own daughter.
During World War II, William served as a sergeant in the Cannon Company of the 201st Infantry, U.S. Army.
The couple resided in Cumberland, Allegany County, MD in 1958. Their address at the time is believed to have been 15 Glenview Drive in the Braddock Road neighborhood.
William passed away in Hagerstown, MD at the age of 58 on Jan. 30, 1972. His remains were lowered into honored rest in Hillcrest Burial Park in Cumberland.
Eleanor outlived her spouse by almost three decades. She died on May 16, 2001.
Stepdaughter Kista Ann Wiseman (1937-2019) was born in March 1937. She was head cheerleader and school newspaper and yearbook staffer at Allegany High School. She then received a medical education at the Memorial Hospital School of Nursing in 1957 and was employed in 1958 in the hospital's dispensary. In the fall of 1958, she wedded Lee Clay Weller (1935-2020), son of John Weller of 991 McMullen Highway. Their marriage endured for an extraordinary six decades. Together, they bore two sons -- Jeffrey Weller and Todd Weller. Lee was a graduate of Shepherd College, where he received a bachelor of science in history and played football. In October 1958, he earned a living as head football coach and history teacher at North Caroline High School in Denton, MD. He went on to earn a master's degree in education from West Virginia University. The pair made a home in Easton and Denton, MD. Then in 1964, they relocated to St. Michaels, MD, and stayed planted for good. His next professional post was as teacher and principal at St. Michaels Middle-High School. In retirement he held the position of supervisor with the Talbot County Board of Education. Kista worked as a registered nurse at Easton Memorial Hospital, including 15 years in staff development. After she retired, she then worked for more than a decade at a Talbot's department store. She and the family belonged to Centre Street United Methodist Church in Cumberland, the Miles River Yacht Club and Martingham in St. Michaels. Lee liked to fish, golf and hunt in his free time. The angel of death carried Kista away at the age of 82 on March 20, 2019. Lee survived his bride by less than two years. He succumbed at the age of 85 on Dec. 16, 2020 . They sleep for all time in Hillcreast Burial Park in Cumberland.
Grandson

Jeffrey Weller

was joined in wedlock with Kimberly. They have made their home in Easton, MD.
Grandson Todd Weller

migrated to Cornelius, NC.
~ Daughter Jane Carroll (McCreery) Muha ~
Daughter Jane Carroll McCreery (1923- ? ) was born in about 1923 in Morgantown.
She was joined in marriage with George R. Muha (April 26, 1920-2009).
Together, the couple bore four known children -- Terry Lee Muha, Cindy Workman, Larry Muha and John Muha.
During World War II, George served in the U.S. Army Air Forces, earning the rank of sergeant. For more than half a century, they dwelled in Mercer, Mercer County, PA.
Sadly, George died at the age of 88 on Jan. 12, 2009.
Jane has outlived her spouse and remained in Mercer.
Son Terry Lee Muha (1955-2020) was born on Sept. 18, 1955 in Mercer, Mercer County, PA. He was a member of the 1973 graduating class at Mercer High School. He went on to obtain his bachelor's degree from the Behrend Campus of Penn State University. On May 18, 1981, at the age of 25, he wedded Sandra Urey ( ? - ? ). The couple bore a family of two -- Michael Muha and Lindsay Muha. He was employed in sales at Shenango Honda. The Muhas attended Trinity Presbyterian Church in Mercer, and Terry was a passionate fan of the Pittsburgh Steelers football team. At the age of 64, death enveloped him on Jan. 28, 2020. His remains lie in eternal repose in the Americas Cemetery in Hermitage, Mercer County.
Grandson

Michael Muha

was united in matrimony with Rebecca. They have dwelled in Hermitage.
Grandson Lindsay Muha

relocated to Silver Spring, MD.
Daughter Cindy Muha married Dennis Workman. They have resided in Mercer.
Son Larry Muha has made a residence in Hermitage.
Son John Muha settled in Franklin, PA.
Copyright © 2002-2009, 2019, 2021 Mark A. Miner