William Tecumseh
Sherman Everly
(1866-1941)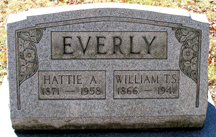 Maplewood Cemetery, Kingwood, WV
William Tecumseh Sherman Everly was born in 1866, most likely in or near Herring, Preston County, WV, the son of Absalom and Sarah (Carroll) Everly.
He was named after famed Maj. Gen. General William Tecumseh Sherman, who was most famous during the Civil War for his "Sherman's march to the sea," brutally cutting through Georgia in late 1864 to help bring an end to the conflict.
On Jan. 3, 1893, when he would have been 26 years of age, William was united in the bonds of holy matrimony with 21-year-old Hattie Ann Calvert (March 28, 1871-1958), also of Preston County and the daughter of Josiah and Margery (Garner) Calvert. Their wedding ceremony was held in the parsonage of the Methodist Episcopal Church in nearby Masontown, WV, officiated by Rev. E.R. Skidmore.
Gen. Sherman, for whom William was named.

Library of Congress
Together, the couple produced a family of four children -- Forrest Vernon "Pete" Everly, Jessie Shaffer, Nell Phelps and Mabel Ruth Spangler.
The Everlys were longtime farmers in the Valley District of Preston County.
Hattie was a member of the Daughters of the American Revolution and the Kingwood Methodist Church.
Later, the Everlys moved to Morgantown, where William "had a dairy across the river from West Virginia University," wrote daughter Jessie in the 1979 book, Preston County West Virginia History, published by the Preston County Historical Society. "At first, he carried milk into Morgantown. I remember the one horse milk wagon for delivery, later a mule team and larger wagon."

Preston County Journal
After some time, William moved the family to a larger dairy on the J. Smith farm in the Dorsey community across town, with the family residing in a "big white house with a porch in front extending around the side."
Later still, on a visit in Preston County, William bought the Joe F. White farm in Long Hollow, and the family relocated there.
In 1916, the Carrolls moved into the county seat of Kingwood, where William obtained employment "as a miller in the Kingwood Mill on Tunnelton Street.
Later he was town sergeant, and a foreman of Preston roads until his retirement." The Preston County Journal said he was a member of the Knights of Pythias and Odd Fellows and the Methodist church."
William died of a cerebral hemorrhage at age 75 on Nov. 17, 1941, and was buried in the Maplewood Cemetery in Kingwood.
Hattie outlived her husband by 17 years and remained in Kingwood. During that time she contracted cancer of the uterus ("endometrium"). She underwent a total hysterectomy in the summer of 1958 at Preston Memorial Hospital. Six weeks after the surgery, she was stricken by heart failure and within the week, at the age of 87, she succumbed to death on Sept. 11, 1958. Her married daughter Mabel Spangler signed the death certificate.
~ Son Forrest Vernon "Pete" Everly ~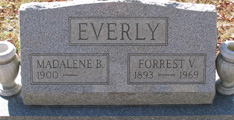 Maplewood Cemetery, Kingwood
Son Forrest Vernon "Pete" Everly (1893-1969) was born on Oct. 7, 1893 in Herring in the Valley District of Preston County, WV.
At the age of 26, on Feb. 26, 1921, he wedded 21-year-old Madalene Adice Braham (April 28, 1900-1992), a Preston County native and the daughter of Thomas and Nancy (Martin) Braham. Presbyterian minister Rev. Edward A. Krapp presided over the nuptials, held in nearby Morgantown, Monongalia County, WV.
They did not reproduce. The couple made their home on Van Voorhis Road in Morgantown.
Pete was a coal miner at the time of marriage. He went on to earn a living as a " mine foreman and operated a grocery store on the Van Voorhis Rd. for several years," said the Morgantown Dominion Post. "He was a member of the Drummond Chapel Methodist Church."
Forrest passed away at the age of 76 on Christmas Day 1969.
As a widow, Madalene endured for another 23 years. The angel of death swept her away into eternity at the age of 2 on Aug. 18, 1992.
He and Madalene are interred at Maplewood Cemetery in a plot near his parents and sisters Jessie Shafer and Mabel Spangler.
~ Daughter Jessie Pearl (Everly) Shafer ~
Daughter Jessie Pearl Everly (1895-1983) was born on New Year's Day 1895 in Masontown, Preston County, WV.
She married Lewis "Starkey" Shafer (Feb. 8, 1896-1962) on Thanksgiving Day 1918, when she was 23 years of age. He was the son of George and Lena (Rumble) Shafer and a native of Gladesville, WV.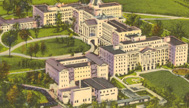 Ashford Hospital/Greenbrier Hotel
Jessie was an early educator in Preston County "even before she attended high school," said the the Preston County Journal. Later, after they both obtained degrees from West Virginia University in 1931, she was a substitute home economics teacher.
"During her years in Gap Mills during World War I, she was a Red Cross volunteer," said the Journal. "She worked at Ashford Hospital [seen here], which was The Greenbrier Hotel at White Sulphur Springs... She was a charter member of the Kingwood Woman's Club and was elected Senior Citizen of the Year for both Kingwood and Preston County Senior Citizens in 1975-76."
Starkey also was a longtime school teacher.
She authored a nearly three-page memoir in the 1979 Preston County history book. There is a memorial plaque honoring Starkey in the school hall of Gap Mills High School in Monroe County, WV, where he taught for many years.
In the early 1960s, the couple dwelled in Independence, Preston County.
Starkey suffered an acue heart attack died at the age of 66 and died on June 7, 1962 as a patient in Preston Memorial Hospital.
A year after his death, Starkey in 1963 was named as one of Monroe County's "17 "Sports Greats" in the five categories of hunting, fishing, conservation, leader and promoter. An entire page was dedicated to him in the Gap Mills High School yearbook of 1963.
Jessie followed her spouse to the grave 21 years later, in 1983. They rest for eternity in Maplewood Cemetery in Kingwood.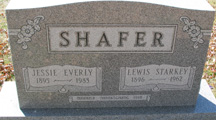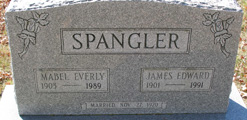 Graves of the Everly sisters and their spouses at Maplewood Cemetery in Kingwood
~ Daughter Nell Virginia (Everly) Field Phelps~
Daughter Nell Virginia (Everly) Field Phelps (1897-1977) was born on June 11, 1897 in Preston County, WV.
She first was joined in matrimony with John Dewey Field (Aug. 27, 1897-1927), son of Jehu Judson and Isabelle Catherine (Herring) Field of Kingwood. John was of medium height and build, with brown hair and blue eyes.
The couple were the parents of William Jay Field, Mabel Louise Clark and Doris Lee Robinson.
The Fieldses first made their home in Kingwood, where in 1918 John labored as a coal miner employed by J.C. Green. John was requried to register for the military draft during World War I in 1918.
Later, they migrated to a farm near Fairmont, Marion County, WV.
Grief cascaded over the family when, suffering from heart issues, John died at the age of 29 on May 27, 1927. His remains were laid to rest in Pleasant Grove Cemetrey in Herring, WV.
Her second spouse was (?) Phelps ( ? - ? ).
Nell Virginia succumbed to death in Oct. 1977. Burial was in Kingwood's Maplewood Cemetery.
Son William Jay Field (1919-1993) was born on Jan. 26, 1919. He served as a sergeant in the U.S. Army during World War II. William wedded Virginia Stover (July 5, 1922-2004), a native of Crellan, MD and the daughter of Russell and Edna (Beckman) Stover. Two children born to this family were Dean Field and Jean Smith. Virginia earned a living as a nurse at one time. She was active as a youth group and Sunday School leader at Chesterville United Methodist Church. He passed away on Aug. 9, 1993, with burial in Sunset Memory Gardens in Parkersburg, Wood County. Virginia lived for another 11 years in Mineral Wells. She joined her husband in eternity at the age of 81 on April 8, 2004 while a patient in Camden-Clark Memorial Hospital. Rev. Bob Summers led the funeral service in Parkersburg, with an obituary published in the Parkersburg News.
Daughter Mabel Louise Field (1922-2001) was born on April 18, 1922. She entered into marriage with Stanley G. Clark (April 9, 1921-2018). Stanley was a sergeant in the U.S. Army during World War II. The couple's home in 1994 was in Tavares, FL. Mabel Louise died two days before Christmas 2001 at the age of 79. Interment of the remains was in Florida National Cemetery in Bushnell, Sumter County. Stanley outlived his bride by 17 years. Death swept him away at the age of 97 on Oct. 16, 2018.
Daughter Doris Lee Field (1924-2007) was born on April 12, 1924 in Kingwood. She was united in the bonds of wedlock with Richard L. Robinson (1923-1999), son of Ray C. and Mary Jane (Bolyard) Robinson of Kingwood. The three children produced by this union were John C. Robinson, Toby L. Robinson and Karen R. Teets. Richard was a World War II veteran of the U.S. Army Air Forces, having attained the rank of first lieutenant. They spent their lives in Preston County and Washington, DC and belonged to Kingwood's Wesley United Methodist Church. Richard spent his career in banking, beginning as a teller for Albright National Bank. He then accepted a position working under the Comptroller of the Currency of the United States. In time he became a bank examiner for the Federal Deposit Insurance Corporation (FDIC), the independent agency created by the Congress to maintain stability and public confidence in the nation's financial system. Upon retirement and return to Kingwood he provided consulting to Albright National Bank. Sadly, Richard passed away on June 5, 1999. His obituary was printed in the Preston County Journal. Doris survived as a widow for eight years. She surrendered to death at the age of 83, in Kingwood, on June 1, 2007. They sleep for all time in Maplewood Cemetery in Kingwood.
Grandson

John C. Robinson

relocated to Waterloo, IA.
Grandson Toby L. Robinson

made his home in 1999 in Sterling, Va.
Granddaughter Karen R. Robinson was united in matrimony with (?) Teets

. She dwelled in 1999 in Arthurdale, Preston County.
~ Daughter Mabel Ruth (Everly) Spangler ~
Daughter Mabel Ruth Everly (1903-1989) was born on March 9, 1903 in Kingwood, Preston County, WV.
On Nov. 27, 1920, she married James Edward Spangler (1901-1991), the son of Bart and Fanny J. (Hawley) Spangler.
Together, they bore two children -- Robert Kenneth Spangler and Jane Ann Wade.

Obituary, 1989
The Spanglers lived in Morgantown. Said the Preston County Journal, James "was a retired coal miner, a member of the United Mine Workers of America and was later employed by the Harmon Brothers Construction Company of Grafton until age 72."
They were members of the Wesley United Methodist Church, and Mabel was a member of Wesley's Church Circle No. 3 and the Alpha Phi Mothers' Group. Mabel and James celebrated their 50th wedding anniversary in 1970, and were married for a total of 69 years.
Mabel died at the age of 86 on March 7, 1989.
James outlived her by one year, and passed away at the age of 90 in 1991. They were survived by seven grandchildren and four great-grandchildren.
Mabel and James are buried in Maplewood Cemetery in Kingwood.
Son Robert Kenneth Spangler (1923- ? ) was born on Aug. 8, 1923 in Kingwood. In young adulthood he resided in Morgantown. When he was the age of 26, on Sept. 3, 1949, he was united in matrimony with 22-year-old Ruth Ann McGinnis (Dec. 20, 1926-2020), daughter of Henry and Anna (Ebersberger) McGinnis of Monongahela and Latrobe, PA. Rev. Joseph W. Wanstreet, priest of the Catholic church in Morgantown, was the officiant. Their union endured for 50 years. A year before marriage, Ruth received her bachelor's degree in political science from West Virginia University. Their five children were John Spangler, Robert Spangler, Anne Spangler, Thomas Spangler and Gregory Spangler. Sadly, their son John died in infancy. Robert devoted his professional career to the American Red Cross. Over that time, his assignments took the family to Indiana, Ohio, Oklahoma, Kentucky and Georgia. Ruth Ann had employed in a bank in young adulthood before raising their family. She also volunteered her time for important causes and for 14 years served as American Red Cross volunteer at DeKalb General Hospital in Decatur, GA. She also gave of her time at the McCormick Rehab and Health Center in South Carolina. Ruth Ann actively rooted for the University of Georgia Bulldogs football team, Atlanta Braves baseball team and professional golf. They also followed the fortunes of college football teams coached by their son Thomas. The couple retired in 1990 and settled in Savannah Lakes Village in McCormick, GA. Among their pleasures was playing bridge and golf and attending practice rounds of the Masters Golf Tournament in Augusta. In September 1999, the couple celebrated their golden wedding anniversary. Five months later, Robert passed away on Feb. 9, 2000 in McCormick, McCormick County, SC. Ruth Ann survived him by two decades, making her residence in Snellville, GA. The spectre of death carried her away at the age of 93 on June 1, 2020. In an obituary, the Atlanta Journal-Constitution said that "She will be treasured for her grace, honesty, tolerance, compassion, humor, and genuine goodness. She was the fun-loving aunt who could be counted on to share memorable family stories and important dates." The family asked that any memorial donations be made to the Crohn's & Colitis Foundation or the American Red Cross.
Grandson Thomas "Tom" Spangler was joined in wedlock with Kim. A college football coach, his resume includes Georgia Southern (1987-1996), Presbyterian College (1997-2000 and 2013-2021) and Louisiana Tech (2007-2012). While at Georgia Southern, he helping guide the team to two Division I-AA national titles. He went on to be head coach for the Presbyterian Blue Hose from 2017 to 2021, during which time his son Pierce was an assistant coach. Among his awards have been 1993 SoCon Defensive Coach of the Year, 2005 SAC Coach of the Year, 2005 AFCA Region 2 Coach of the Year and 2011 Broyles Award nominee. The Spanglers lived in 2020 in Clinton, SC.
Grandson Gregory "Greg" Spangler was united in matrimony with Wendy. Circa 2020, they were in Brookhaven, GA.
Daughter Jane Ann Spangler (1926- ? ) was born on June 4, 1926 in Masontown, Preston County. On Aug. 29, 1948, at the age of 22, she entered into marriage with 24-year-old Thomas D. Wade (Aug. 26, 1924- ? ), son of Jesse F. and Ruby B. (Barnes) Wade Sr. Rev. Joseph C. Gluck, of the Northern Baptist Church in Morgantown, presided over the nuptials. Thomas was a native of Clarksburg and at the time of marriage was residing in Maidsville, WV. He attended West Virginia University and received a master's degree from the University in Pittsburgh. For more than three decades, he served in the U.S. Air Force, with involvement in World War II and the Korean and Vietnam Wars. Among his accomplishments was teaching history for seven years on the faculty at the Air Force Academy with the additional role as the Dean's administrator, and writing Air Force history while in Vietnam. Upon retirement, he was tapped to be executive vice president of Randolph-Brooks Federal Credit Union in San Antonio, TX. The couple appears to have divorced. Thomas married again to Shirley ( ? - ? ). He died in Manitou Springs, El Paso County, CO on May 25, 2007. Nothing more about Jane is known.
Copyright © 2002-2008, 2013, 2019, 1921 Mark A. Miner