Clinton Theodore Farabee
(1881-1952)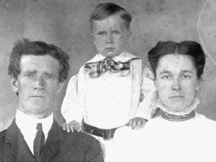 Clint, Ocie and son Don Farabee
Clinton Theodore Farabee was born on Nov. 26, 1881 at Jollytown, Greene County, PA, the son of Spencer and Nancy (Minor) Farabee.
A newspaper once called him a "widely known farmer and poultry raiser of Washington and Greene Counties."
On June 4, 1905, at Waynesburg, the 24-year-old Clint married 18-year-old Ocie Elizabeth Barnes (May 29, 1886-1923), the daughter of Thomas J. and Alice (Lapping) Barnes, at Waynesburg.
The Farabees produced four sons – Lee Barnes "Barney" Farabee, Charles Clinton Farabee, Donnus "Don" Franklin Farabee and Thomas Oliver Farabee.
Clint was an industrial laborer as a young adult. In 1905, at the time of their marriage, he was working in a local tin mill.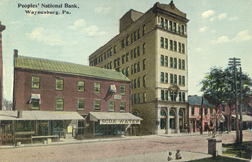 Downtown Waynesburg, ca. 1915
On the Fourth of July 1902, Clint took part in the county's Independence Day celebration in the park in Waynesburg. In front of a crowd of 900 spectators, he entered a mule race to be run on a quarter-mile track. The History of Greene County reports that "Clinton Farabee's mule won the race."
Seen here is a rare old photographic postcard of downtown Waynesburg, circa 1915.
In the early 1910s, Clint's elderly uncle Ephraim Miner traveled from his home near Kingwood, Somerset County, PA, to visit with the Farabees in Waynesburg. While quite deaf, the old man would regale the Farabees' young Don with stories about the Civil War. The boy listened closely as the aged man told of swimming in creeks with enemy Confederate soldiers while their commanding officers were away. Later, the two sides would resume their picket duty, but rather than fire upon each other, would aim their guns up in the air when shooting, knowing the sound of the guns were sufficient to keep the officers satisfied. As an old man himself, Don later told these stories to family members in great detail.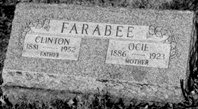 Oakmont Cemetery
In describing Clint, a newspaper once said:
Before moving to Amity, he lived near Waynesburg and operated a local coal mine with his brother, Cleve, as a partner. He also was engaged in farming in Greene County, specializing for a time in raising swine. [He] had resided near Amity since 1918 and engaged in poultry raising on a large scale and farming. His flocks at times numbered 8,000 to 10,000 birds.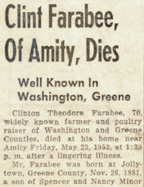 Obituary, 1952
During the early 1920s, the Farabees made their home in Morris Township, Washington County.
Tragically, in late October, Ocie sustaind a cut on her finger, and it developed into a septic infection. Her system went into shock, and at the age of 37, Ocie died on Nov. 2, 1923, at the age of 37. She was laid to rest at Oakmont Cemetery near Waynesburg, and her father signed the official certificate of death.
Clint outlived her by nearly three decades and continued to work as a farmer. He dwelled in rural Amity in Morris Township and held a membership in the Morrisville Methodist Church of Waynesburg. He enjoyed deer hunting trips in Potter and McKean Counties with his son Don and relatives/friends Ross Swart, Reed Miller, Keith Miller, William Mankey and Lloyd Wiley.
Stricken with cancer of the left lung, Clint suffered for about 10 months before death at home on May 23, 1952, at the age of 70. He was buried beside his wife. At the time of his passing, he was survived by 10 grandchildren and three great-grandchildren.
~ Son Donnus Franklin Farabee ~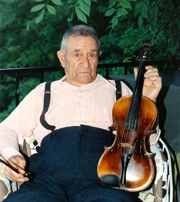 Don Farabee, July 4, 1988
Son Donnus Franklin Farabee (1906-1910) was born in 1906.
He was owner of D.F. and D.R. Farabee Construction Co., from 1948 to 1972, specializing in construction of bridges and roads. He also was a charter member of the Amwell Township Volunteer Fire Department, a life member of the Anawana Hunting and Fishing Club, and a good fiddler.
Don first entered into marriage with Dorothy Miller (July 4, 1908-1961), daughter of Herbert and Myrtle (Closser) Miller.
Don and Dorothy bore a brood of five children -- Margaret "Peg" Gaus, Ruth Farabee, Donald "Reed" Farabee, William Roger Farabee and Michael Miller Farabee.
The Farabees dwelled in Amity, Washington County.
Stricken by a brain tumor known as "astrocytoma," which led to increasing pressure within the cranium, Dorothy was admitted to Pittsburgh's Mercy Hospital. There, she passed away at the age of 52 on April 3, 1961. Interment of the remains was in Lower Ten Mile Cemetery in Amity.
Sadness was compounded when son Michael, born with muscular dystrophy, died at the age of 12 on July 2, 1961, just three months after his mother.
Don married twice more and outlived both -- Flossie (Moore) Farabee (died 1975) and Margaret Mae Farabee (died 1980).
On the Fourth of July 1988, he visited with Minerd.com founder Mark A. Miner in Amity, and told many stories of his boyhood and of his beloved grandparents.
Don passed away three days after Christmas in 1990 in Palms Pasadena Hospital in St. Petersburg, FL.
Don is mentioned, and his parents pictured, in a 2011 book about the grand-uncle he knew as a boy -- entitled Well At This Time: the Civil War Diaries and Army Convalescence Saga of Farmboy Ephraim Miner. The book is authored by the founder of this website. [More]

William and Martha's grave
Son William Roger Farabee (1929-1991) was employed as a welder at Jessop Steel Company in Washington, PA from 1964 to 1991. He also served with the US Army's First Division in occupied Germany after World War II. He was a life member of the Anawanna Hunting and Fishing Club, and raced stock cars locally in the 1950s and '60s. He married Martha Schilling (1926-2004) of Maxhutte, Germany in 1949, and brought her in 1953 to the United States. They had two children -- Daniel William Farabee and Dorothy Smith. William died at the age of 62 on Dec. 6, 1991. Martha outlived him by 13 years, and passed away at age 77 on May 22, 2005.
Daughter Dorothy Farabee (1951-1988) was born in Germany. She married Charles E. Smith Jr. and was employed as a nurse's aide at the Rouse-Warren County Home. She died at the age of 37 on June 30, 1988. She is buried in the Riversville Cemetery, Pittsville.
Son Daniel Farabee (1954-2008) was a utility serviceman for Pennsylvania American Water Company for 32 years," said the Observer Reporter. He "was a devoted family man, an avid outdoorsman, an automobile enthusiast and a member of several civic organizations and clubs. Daniel passed away at the age of 53 on July 28, 2008, and was laid to rest in the Lower Ten Mile Presbyterian Church Cemetery in Amity.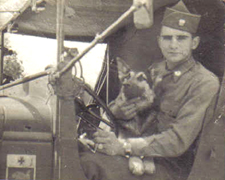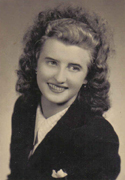 William Roger Farabee and his German war bride beauty, Martha (Schilling) Farabee
Son Donald "Reed" Farabee married Margaret "Maggie" Bricker. He and his father worked together in the contracting business. Interested in genealogy, Maggie authored an article about her husband's great-grand-uncle, Chance Minor, in "Civil War Medal Claimed," in the April 1986 edition of the Keyhole newsletter of the Genealogical Society of Southwestern PA. She taught physical education at Trinity High School in Washington, Washington County, PA, and retired in 1996 after more than 34 years of service. She was pictured in the Washington Observer-Reporter (June 23, 2005) for her work as vice president of a reunion of graduates of Washington Seminary.
Daughter Peg Farabee (1925-2004) was born in 1925. On Aug. 17, 1945, when she was 20 years of age, she married World War II veteran Raymond K. "Bus" Gaus (1923-2014), son of Troal C. and Kathryn (Wiley) Gaus of Amith. They produced two daughters -- Dawn "Dee" Lindsay and Peggy Hickman. Peg was a Grand-American champion in target shooting in 1963. Later, she worked for more than 12 years in Weber National Sporting Goods Store, Washington, PA, and also for Vance's Greenhouse, Washington. Bud had to leave high school for military service during World War II, and did not receive his diploma until 2002 at a graduation ceremony held for World War II veterans. Said the Washington Observer Reporter, Bud "served in the U.S. Army Air Corps from 1942-1945, as a ball turret gunner aboard a B-17 bomber. He was shot down over Krems, Austria, on his 13th mission and subsequently held as a prisoner of war for 13 months at Stalag Luft 13B. He was honorably discharged at a rank of staff sergeant and awarded the Purple Heart, POW medal, American Campaign Medal, Good Conduct Medal, Air Medal with one oak Leaf Cluster and the European African Middle Eastern Campaign Medal. Mr. Gaus worked for Carter Auto Parts for 20 years and as mail carrier for the U.S. Postal Service, for 37 years, retiring in 1986. He was a member of Amity Methodist Church, Shriners, Sunset Lodge 623, American Ex-Prisoners of War, Amateur Trap Shooting Association, Washington Sportsmen Club, Anawana Hunting and Fishing Club, Amwell Township Volunteer Fire Deptartment and Amwell Township Historical Society." Having been afflicted with cancer for many years, Peg passed away on Valentine's Day 2004.
Granddaughter Dawn "Dee" Gaus (1946-2004) was born on Sept. 24, 1946. She married Donald Lindsay ( ? - ? ) and lived in Claysville. Sadly, she died on Sept. 27, 2004, at the age of 58.
~ Son Lee Barnes "Barney" Farabee ~
Son Lee Barnes "Barney" Farabee (1911-1982) was born in about 1911.
He apparently was married twice, first to (?) and second in 1948 to Evelyn Mae Shrum ( ? - ? ).
Barney and his first wife lived in Amity and are believed to have had two children -- Elizabeth "Betty" Pettit and Kenneth Farabee.
Barney was employed as a foreman at Duncan Miller Glass Company and later as a machinist for National Annealing Box Company in Washington, PA, retiring in 1974.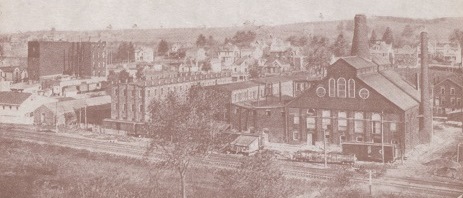 Duncan Miller Glass factory in Washington, PA
Evelyn brought a daughter to the marriage, Claramae Barton. Evelyn was employed as an inspector-packer at Duncan Miller for four decades. She also was an accomplished oil painter who shared her creations with family and friends. She died at the age of 92, in the Kade Nursing Home and Rehabilitation Center, on April 5, 2012. At her death, Evelyn was survived by 11 great-grandchildren, four great-great grandchildren, two step-grandsons and four step great-grandchildren.
Daughter Elizabeth "Betty" Farabee (1932-1998) married Austin "Gene" Pettit. They lived in Washington, where she was a registered nurse. They had two sons, Kent Pettit and Karl Pettit. Elizabeth and Gene retired and in about 1986 moved to Lynn Haven, FL. There, she was a member of the American Legion Auxiliary of Fort Walton Beach. She also was active in the Laureate Epsilon Alpha Chapter of Beta Sigma Phi, an international women's friendship network, holding offices and honored as Valentine Ball Queen and Woman of the Year. Betty passed away at the age of 66 at Bay Medical Center in Panama City, FL on Dec. 3, 1998. Son Karl and his wife Lois (Matullo) Pettit made news in the Washington Observer-Reporter in 2003 when they celebrated their 25th wedding anniversary.
Son Kenneth B. Farabee (1935-2002) was born on Sept. 20, 1935. He resided in Denver, CO circa 1989. Kenneth died on Aug. 24, 2002.
~ Son Charles Clinton Farabee ~
Son Charles Clinton Farabee (1914-2002) was born on July 21, 1914 in Waynesburg.
At the age of 19, in 1933, he was united in holy wedlock with Marion F. Stuler ( ? - ? ). Their two sons were Thomas F. Farabee and Daniel C. Farabee.
Said the Washington (PA) Observer-Reporter, Charles "owned and operated Farabee Roofing and Sheet Metal in St. Petersburg, Fla., for 48 years. He was a former board member and honorary life member of Florida Roofing and Sheetmetalmen Association."
He married again, to Wahneta Holden ( ? - ? ). At some point they relocated to Brooksville, Hernando County, FL. Charles was a member of Fifth Avenue Baptist Church in St. Petersburg and First Baptist Church in Brooksville.
Charles passed away in his home in Brooksville on Christmas Eve 2002, at the age of 88. Interment took place in Florida, and an obituary was published in his hometown newspaper, the Observer-Reporter.
Son Thomas F. Farabee made his home in St. Petersburg, FL.
Son Daniel C. Farabee resided in Brooksville, Hernando County.
~ Son Thomas Oliver Farabee ~
Son Thomas Oliver Farabee (1923-2016) was born on Jan. 5, 1923 in Amity, Washington County.
He was twice married. His first bride was Lenore Day (1923-1979), the daughter of Hugh Paul and Anna (Waychoff) Day.
They produced these children -- Thomas B. Farabee, Ralph A. Farabee and Nancy E. Thomas.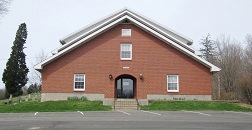 Upper Ten Mile Presbyterian Church
The family were members of the Upper Ten Mile United Presbyterian Church in Prosperity. Thomas owned and operated Farabee's Poultry Farm for many years. In his free time, he enjoyed hunting and travel.
Lenore was a member of the Washington County Farmers Association Ladies Committee. Said a newspaper, "In 1975, she was elected by Region 3, Pennsylvania Farmers Association, as Mrs. Pennsylvania Farmers Association 1975 based on her essay, 'Today's Image of a Pennsylvania Farmers Wife'."
Sadly, Lenore passed away on June 8, 1979, at the age of 56, and is buried in Prosperity Cemetery.
Thomas outlived his first wife by 35-plus years. On May 30, 1998, at the age of 75, he married again, to Karen (Wright) Bamberger ( ? -living), daughter of Elmer and Mildred Wright of East Finley.
She had been married before and brought a son to the marriage, Shelby Bamberger. Sadly, Karen had lost another son, William R. Bamberger, five years earlier, at the age of 22, on March 10, 1994.
At the age of 92, Thomas passed away on Oct. 14, 2015. An obituary in the Washington (PA) Observer-Reporter noted that he was survived by 11 grandchildren and 15 great-grandchildren. Rev. Stuart D. Broberg officiated at the funeral, with burial following in Prosperity Cemetery.
Copyright © 2001, 2003, 2005, 2007-2008, 2012, 2016, 2018, 2021 Mark A. Miner