David A. Fawcett
(1852-1925)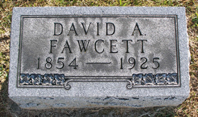 Bluemont Cemetery, Grafton, WV
David A. Fawcett was born on New Year's Eve 1852 in Preston County, WV, the son of William M. and Naomi (Fortney) Fawcett.
David married Sarah Virginia "Jennie" Freeburn (1858-1942), the daughter of Robert and Ellen (Hamilton) Freeburn.
The couple bore two children -- Carrie Fawcett and Guy Hamilton Fawcett.
The Fawcetts first resided in the Lyon District of Preston County, where daughter Carrie was born in 1879. Later, they moved to nearby Grafton, Taylor County, WV, where David worked "in the mercantile business," said the Grafton Sentinel.
The federal census of 1900 shows the family living in Grafton, with David and his brother William "Henry" Harrison Fawcett engaged as dry goods merchants. Among their neighbors were cousins John and Bertie Overfield.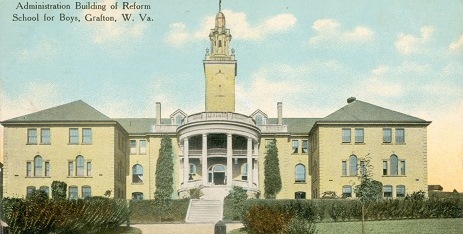 Pruntytown industrial school,

also known as the
r
eform
s
chool for
b
oys
Obituary, 1925
The federal census of 1910 shows David and Virginia residing in Ward 3 of Grafton. Under their roof that year were 29-year-old single daughter Carrie and six-year-old granddaughter Virginia Fawcett. David's occupation was listed as a merchant of a local retail grocery. Living next door was David's brother Henry and family.
In about 1914, the Fawcetts relocated to Pruntytown, near Grafton, where for 15 years he was "employed at the Industrial School for Boys..."
Virginia was "active in the Women's Christian Temperance Union," said the Sentinel.
David's brother Daniel F. Fawcett, a Civil War veteran who was receiving a pension for his wartime disabilities, died in Pennsylvania in 1920. At that time, David signed an affidavit so that Daniel's widow would begin receiving the pension payments. The original signed document is on file today at the National Archives in Washington, DC.

Obituary, 1942
David suffered from kidney problems, or "Bright's disease" as it was then known. At age 72, on Dec. 4, 1925, he died from its effects. He was buried at Bluemont Cemetery in the heights of Grafton, in lot 226 owned by his in-laws, the Freeburn family.
At the time of David's death, daughter Carrie resided at home, and son Guy was living in Florida.
Virginia outlived her husband by almost two decades. After suffering from myocarditis for seven years, added to senility, she died at home at the age of 84 on Aug. 3, 1942. She was laid to rest beside her husband. They rest in the vicinity of Henry's parents, brother Henry, cousins Charles F.W. and Robert Moses Hanshaw, and also Anna Jarvis, the founder of Mother's Day.
At the time of Virginia's death, their grandchildren included Mrs. C. Burl Mason and David Fawcett, both of Pruntytown, and Mrs. Murl Morrison, of Clarksburg, Harrison County, WV.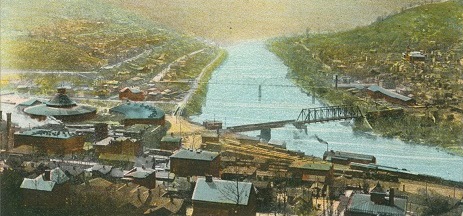 Bird's eye view of Grafton, looking south and west
~ Daughter Carrie Fawcett ~
Daughter Carrie Fawcett (1879-1947) never married.
In 1910, when she was age 29 and lived with her parents in Grafton, she had no occupation.
She moved with her parents to Pruntytown, Taylor County and is known to have been there circa 1942. Later, she made her home at 301 McGraw Avenue in Grafton.
Carrie died of a cerebral hemorrhage at the age of 67 at Grafton Hospital on Feb. 20, 1947, and was buried at Bluemont.
~ Son Guy Hamilton Fawcett Sr. ~
Son Guy Hamilton Fawcett Sr. ( ? - ? ) was born in (?).
He married Lolita Huff (or "Hoff") (1884- ?), the daughter of Clifton M. and Hannah L. Hoff.
They had five known children -- David Allen Fawcett, Carolyn Morrison, Guy Hamilton Fawcett Jr., Virginia Mason and one unknown.
Sadly, Guy Sr. died sometime during the decade between 1900 and 1910, leaving his wife as a young-old widow with five children under the age of 10. The details of his untimely passing are not known. Daughter Virginia was taken in by her paternal grandparents, David and Virginia Fawcett.
When the federal census was taken in 1910, Lolita and children David, Guy Jr. and Caroline (aged three months) lived together on Harlop Street in Grafton, with Lolita having no occupation. Her cousin Bertha Turnley, age 21, resided in the home that year, presumably to help raise the fatherless children.
Lolita's fate is unknown.
When the census again was taken in 1920, daughter Caroline, aged nine, lived with her maternal grandparents, Clifton and Hannah Hoff. That same year, 13-year-old son David resided at the Methodist Childrens Home Farm in Wheeling, Ohio County, WV.
Son David Allen Fawcett (1907-1956) was born in 1907. A professional painter, he died of accidental monoxide gas poisoning in Grafton on Feb. 2, 1956. He was age 49 at the time of death, and had never married.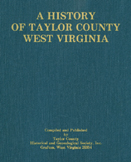 Book in which Virginia
wrote about temperance
Daughter Virginia Fawcett (1904-1993) was born in 1904. She grew up in the home of her grandparents in Grafton after her own father's death. On Dec. 13, 1929, Virginia married C. Burl Mason (1903-1962) at the Pruntytown Methodist Episcopal Church. Together, the couple produced two sons -- C. Lowell Mason and Thomas N. Mason. Virginia "served as co-chair of the original drive to make Grafton Andrews Methodist Church the Mother's Day Church, an international shrine," said a Grafton newspaper. The church held the first Mother's Day service, in 1908, founded by local woman Anna Jarvis in memory of her own and all mothers. A graduate of Fairmont State Teachers College in 1923, she taught in Taylor County Schools, first as an elementary educator at Parkview (1923-1934) and later in adult education (1966-1971). Said a local newspaper, "She was associated with her husband in the Mason Coal Co. and the Mason Brothers Coal Co."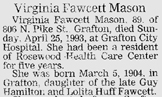 Obituary, 1993
A local newspaper once recounted her many other accomplishments -- serving on the administrative board of the Church of the Good Shepherd, United Methodist, in Grafton for 12 years; past state president of the Women's Christian Temperance Union; helping develop the Youth Temperance Council in Grafton and working with local youth for many years; past president of the Grafton Women's Club; past president of the Grafton BPW Club; serving as secretary-treasurer of the Taylor County Youth Planning Council for 18 years; serving on the Salvation Army Advisory Board; as a 4-H Club leader for 12 years; past president of the Grafton High School Band Boosters; and past president of the Grafton City Hospital Auxiliary. She is known to have authored a chapter on "The Women's Christian Temperance Union in Taylor County" in the 1986 book, A History of Taylor County, West Virginia, published by the Taylor County Historical and Genealogical Society, Inc. In 1967, she was listed in Who's Who of American Women.Virginia passed away at age 89 on April 25, 1993.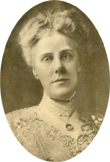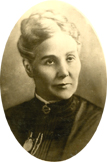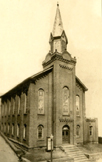 Above: Anna Jarvis (left) and her mother, in whose honor Mother's Day was begun, and Andrew's Methodist Church, in Grafton. Below: sanctuary of the "Mother Church of Mother's Day."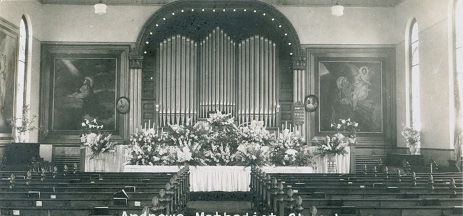 Copyright © 2002, 2004, 2006, 2008, 2010, 2021 Mark A. Miner