Home

Martha Aurilla
(Fawcett) Shomaker
(1871-1924)
Martha Aurilla (Fawcett) Shomaker was born on May 4, 1871 in or near Kingwood, Preston County, WV, the daughter of John Allen and Narcissus (Feather) Fawcett.
Martha married Levi Samuel Shomaker, Jr. (1871-1944), the son of Levi S. and Martha Jane (Pool) Shomaker, and a native of Rock Forge, WV.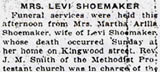 Morgantown Post
The Shomakers bore a brood of four daughters -- Jane Elizabeth Shaffer Watson, Sarah Anna Shackelford, Fanchon Lee Maddon Linger and Mary Lee Shockey.
A list of their descendants was published in the 1980 book, Genealogy of the Jacob and Mary (Connoly) Feather Family, by Edna (Davis) Rogers.
Martha and Levi bought her father's 107-acre "home place" in 1912 in Preston County. Later, they moved to nearby Morgantown, Monongalia County, WV, where they made their home at 221 Kingwood Street.
Levi was a coal miner, and Martha was a housewife.
Sadly, at the age of 53, Martha passed away on Dec. 28, 1924, caused by "pernicious anemia." The Morgantown Post noted that she "had only recently moved here from Masontown ... where she had lived for many years." She was laid to rest in East Oak Grove Cemetery in Morgantown.

Morgantown's University Hill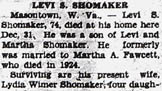 Levi married again to his second bride, Lydia (Goff) Wimer (1883-1965), the widow of W.C. Wimer, and the daughter of Granville S. and Mary Catherine (Simmons) Goff.
They moved to Masontown, Preston County.
He passed away at the age of 73, almost 20 years to the day of his first wife's death, on Dec. 30, 1944, of heart failure caused by high blood pressure. He was buried at East Oak Grove.
Lydia outlived Levi by 21 years. She made her home in Morgantown, and was a member of the Masontown Methodist Church.
She died at the age of 81, at Monongalia General Hospital, on March 10, 1965, "after a long illness," said the Preston County Journal. She was survived by six children to her first marriage, as well as her four adult stepdaughters, all named in the Journal obituary. She was buried at Masontown Methodist Cemetery.
~ Daughter Jane (Shomaker) Shaffer Watson ~
Daughter Jane Shomaker (1899-1982) was born in 1899. She was married twice.
Her first husband was farmer John "Millard" Shaffer Sr. (Feb. 22, 1893-1968), of Newburg, WV, whom she married in 1921 in Oakland, Garrett County, MD. He was a veteran of World War I, and stood 5 feet, 10 inches tall..
They resided in Morgantown and produced three sons -- John Millard Shaffer Jr., William Levi Shaffer and Richard Thomas Shaffer.
The Shaffers eventually relocated to Hyattsville, Prince Georges County, MD. Millard worked at the Post Office Depot in Washington, DC.

Said the Preston County Journal, Jane was a "school teacher who taught in Preston, Monongalia and Anne Arundel, Md., counties. She was a member of the Reedsville United Methodist Church, the United Methodist women, the Masontown VFW Auxiliary No. 1589 and the Retired Teachers Association."
Sadly, Millard passed away at age 75 on Jan. 5, 1968, in Deale, MD, and was buried at Fort Lincoln Cemetery in Brentwood, MD, a suburb of Washington. DC.
Jane wed her second husband, retired banker Harold Elmo Watson (1893- ? ), in 1972 in a ceremony in Harrisonburg, VA. The genealogy of this branch is spelled out in precise detail in the Feather genealogy book. The Watsons made their home in Reedsville, Preston County.
Jane passed away at age 83, in Preston Memorial Hospital, on Oct. 8, 1982. Following a funeral led by Rev. Nolan Turner at Reedsville United Methodist Church, her remains were laid to rest at Fort Lincoln Cemetery with her first husband.
Son John Millard "Jack" Shaffer Jr. (1925-2007) was born on Oct. 18, 1925 in Morgantown. He entered into marital union with Edith Mary Shannon ( ? - ? ). The Shannons lived in Washington, DC in 1982. The pair became the parents of three -- John Millard Shaffer III, James Alan Shaffer and Peggy Ann Livermore. After a divorce, John wed again to Gail Hammond ( ? - ? ). Gail brought a stepdaughter into the union, Sandy Hoag. Sadly, John died on July 5, 2007 in Houston, TX. His funeral was held at the Little Church Chapel at Fort Lincoln Cemetery in Brentwood, MD. An obituary was printed in the Washington Post.
Son William Levi Shaffer ( ? - ? ) made his home in 1982 in Silver Spring, MD.
Son Richard Thomas Shaffer ( ? - ? ) resided in Dunkirk, MD in 1982.
~ Daughter Sarah (Shomaker) Shackelford ~
Daughter Sarah Anna Shomaker (1903- ? ) was born on May 17, 1903 in Kingwood.
When she was 18 years of age, circa 1921, she married Trevor Brown Shackelford (April 18, 1893-1985), a U.S. Army veteran of World War I. They were about a decade apart in age.
The known offspring born to this couple were Brown Leroy Shackelford, Martha J. Beazell, William Trevor Shackelford, Betty B. McBee, Mary Anne Finn Sonier, Levi Samuel Shackelford and Sarah Cordellia Harvey.
Circa 1930, when the United States Census was taken, the family dwelled in Ryans Glade, Garrett County, MD and provided a home for Sarah's 16-year-old sister Mary. Trevor at that time earned a living as a farm laborer.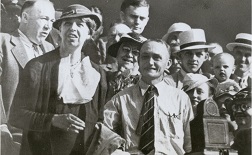 First Lady Eleanor Roosevelt
touring Arthurdale, date unknown
The Shackelfords resided in Arthurdale, Preston County, circa 1944. Arthurdale was an experiment of the federal government during the Great Depression, the first "New Deal" community created under the vision of First Lady Eleanor Roosevelt, to provide ready made homes for the unemployed.
Circa 1982, Sarah resided in Reedsville, near Arthurdale. She succumbed to the spectre of death at age 79, in Kingwood, on Jan. 25, 1983.
Trevor outlived his bride by three years. He passed away at Hopemont, Preston County at age 92 on Sept. 19, 1985.
Son Brown Leroy Shackelford (1922-1999) was born on April 22, 1922 in Brownsmill, south of Arthurdale, WV. He stood 5 feet, 10 inches tall and weighed 139 lbs. Brown was a World War II veteran, serving in the West Virginia National Guard. In a non-battle injury, he fractured a femur during the war and was hospitalized from October 1943 to May 1944. Afterward, he returned to his parents' home in Arthurdale. Brown was married thrice. He was divorced from his first wife. When the 1950 federal census enumeration was made, he lived in Grafton, WV and worked in the office of a car dealership garage. Then, at the age of 32, on April 4, 1955, he wed again to Wanda J. Nicola ( ? - ? ), of Grafton, WV, daughter of Fred and Ethel (Wells) Nicola. Their wedding was held in Winchester, VA, officiated by Corporation Court appointee Norman E. Cooper. His third wife is believed to have been Thelma Willis Massee ( ? - ? ), circa 1979. He died in Lakeland, FL on Nov. 4, 1999.
Daughter Martha J. Shackelford (1924-2005) was born in about 1924 in West Virginia. She was joined in wedlock with Fred J. Beazell (April 15, 1906-1984). The pair relocated across the state line into Pennsylvania and settled in Belle Vernon, PA. Fred died at the age of 78 on May 11, 1984. Martha endured for another two-plus decades. The Grim Reaper swept her away at age 80 on March 14, 2005.
Son William Trevor "Bill" Shackelford (1926-1995) was born on Dec. 4, 1926 in Masontown, Preston County. In 1953, he was joined in the bonds of matrimony with Bonnie Lynette Bryant (April 7, 1935-2015). He is known to have served in the U.S. Army during the Vietnam War. Sadly, William died in Fayetteville, NC at the age of 68 on Sept. 11, 1995. Burial was in Fort Bragg Main Post Cemetery. Bonnie spent another two decades as a widow. She passed away at age 80 on Sept. 25, 2015.
Daughter Bettie B. Shackelford (1929-2022) was born on Sept. 9, 1929 in Steyer, MD. She grew up in Preston County and was a 1947 alumna of Arthurdale High School. She was twice-married in her lifetime. Her first spouse was Earl Clark Hibbs (May 16, 1925-2010), a native of Gladesville, WV. Earl was a World War II veteran, having served in Europe with the 180th Infantry and the 45th Division. He is mentioned as a veteran in the Preston County History. He stood 5 feet, 9 inches tall and weighed 140 lbs. The pair became the parents of three -- William Earl Hibbs, Regina Ann Harris and David Hibbs. The Hibbses lived in the Independence/Newburg section of Preston County, a region with deep ties to Bettie's roots. They later divorced. At some point she moved to Florida and worked for Piper Aircraft in Lakeland, FL. Bettie went on to tie the knot with (?) McBee ( ? - ? ). She liked to raise cats, read and quilt. Her home in 2019 was in Independence. At the end she went to live in Stonerise in Kingwood. There, she died at age 92 on March 18, 2022. Burial of the remains was in Damon Cemetery, with Terry Wilt leading the funeral service. Her obituary was printed in the Preston County News & Journaland Morgantown Dominion Post. Former husband Earl is known to have passed away in Morgantown on Dec. 11, 2010, with interment in West Virginia National Cemetery.
Grandson William Earl Hibbs (1951-2019) was born on Oct. 20, 1951 in Morgantown, WV. He was a 1969 graduate of Newburg High School, performing in the band and playing basketball and baseball. During the Vietnam War, in February 1973, he joined the U.S. Army. He remained in military service until 1976. On July 7, 1973, he entered into marriage with Stephanie Engle ( ? - ? ) in nuptials held at the Independence Baptist Church. Their marriage stood the test of 45 years. Together, they bore two children -- Kimlynn Woods and Clark W. Hibbs. After his Army tenure ended, William earned a living in Morgantown and then in 1982 received an associate degree in business management from West Virginia Career College. He eventually joined Superior Fibers in Reedsville, Preston County, and spent the next 36 years with the company as production manager and information technologist. For more than two decades, he was president of the Damon Cemetery Association, where many branches of his mother's extended family sleep for the ages. At the age of about 64, William contracted squamous cell carcinoma, a common form of skin cancer. He endured the illness over a three-year span and died at age 67 on April 8, 2019. Burial was in Damon Cemetery, with Pastor Carl Trickett officiating the funeral service.

Great-granddaughter Kimlynn Hibbs wed David Woods. The pair lived in Independence circa 2019.

Great-grandson Clark W. Hibbs married Heather. Circa 2019, they were in Grafton.

Granddaughter Regina Ann Hibbs married James Harris. They settled in Newburg.
Grandson David Hibbs was joined in wedlock with Deborah. They have resided in Newburg.
Daughter Mary Anne Shackelford (1933-2010) was born on June 14, 1933 in Preston County. She was twice-wed. Circa 1951, she wed her first husband Donnelly Edward Finn (Feb. 18, 1828-1976), an Ohio native and the son of Myra Simons. Donnelly was "totally disabled during World War II, and in a wheel chair for over 25 years," said the Preston County History. He retired from the U.S. Marine Corps in 1950, and in about 1961 the couple moved to Florida and settled in or near Fort Pierce. Circa 1960, they petitioned the St. Lucie County Chancery Court to officially adopt Timothy Neil Smith and Patrick Finn Smith. The matter was advertised in the St. Lucie News Tribune. In the mid-1960s, their address was 1403 Jersey Avenue and in about 1972 moved to 3032 Forest Brook Drive, Lakeland. Despite his disability, Donnelly remained active as a wheelchair bowler. He belonged to the Paralyzed Veterans Association and was a Boy Scouts troop leader and Little League Baseball coach. Said the News Tribune, he "donated much of his time to the youth of the community." The family held a membership in the First Presbyterian Church of Fort Pierce. He and his son Timothy, age 15, were in the news in June 1966 when the son suffered a "severe brain concussion" in a school beating, reported the News Tribune. He had been pitching dimes with other boys at school but allegedly refused to pay when he lost. Timothy also suffered "internal injuries, a knocked-out tooth, four chipped teeth and both lips were split open." In 1974, Donnelly was appointed to serve on Florida's Human Relations Commission by Gov. Reubin Askew. Sadly, Donnelly died at the age of 48 on May 28, 1976. Interment of the remains was in Hillcrest Memorial Gardens in Fort Pierce, FL, with Rev. August Van der Bauch leading the service. The News Tribune published an obituary. Later, she married (?) Sonier ( ? - ? ). Mary Anne died in Groveland, Lake County, FL at age 77 on Dec. 6, 2010. The body was laid to rest beside her first husband's in Hillcrest Memorial Gardens in Fort Pierce, FL.
Grandson Timothy Neil Smith Finn (1950-2001) was born on July 6, 1950 in Morgantown. He was adopted by the Finns in about1960. Fortunately, he recovered from his schoolhood beating at St. Lucie County Junior High School. During the Vietnam War, from 1967 to 1970, he served in the U.S. Army. Then circa 1976, he made his home in Rockford, IL. Timothy and Susan Vickroy ( ? - ? ) were married in San Jose, CA on Aug. 2, 1977. The couple's two sons were Sean Finn and Eric Finn. Timothy worked as a carpenter and liked to fish and play semi-professional baseball. They moved in about 1996 to the Rogue Valley of Oregon. Timothy passed away at the age of 51, in Ashland, OR on Nov. 22, 2001. In addition to his brother Patrick, two other siblings were named in his obituary -- Michael D'Aguirre and Liz (?).
Grandson Patrick Finn Smith Finn dwelled in Fort Pierce, FL in 1976 and remained in Florida as of 2001.
Son Levi Samuel Shackelford (1936-2022) was born on Dec. 4, 1936 in West Virginia. On Aug. 18, 1961, he was united in matrmony with Peggy Ann Moyers (June 30, 1939-2017), a native of Rockingham County, VA and the daughter of Mary V. Moyers. Their marriage held fast over the span of 55 years. Together they produced a family of five sons and stepsons -- Trevor L. Shackelford, Samuel Eugene Shackelford, Rex Moyers, Harrison Moyers and Keith Moyers. Levi made a living over the years as a self-employed flooring finisher and contractor. In his free time, he liked to hunt and watch NASCAR races and western movies on television. The family was plunged into grief when Peggy died in Harrisonburg at the age of 77 on April 7, 2017. Pastor Merle Fisher and Rev. Glenn Coleman. Levi outlived her by about five years and during that time was in Bridgewater, VA. He died in a hospice surrounding at the age of 85 on April 3, 2022. Funeral services were led by Rev. Jamie Smith, with the remains lowered under the sod of Mossy Creek Presbyterian Church. He and Peggy were pictured in his obituary in the Staunton (VA) Daily News Leader.
Grandson Trevor L. Shackelford entered into marriage with Ellen Kramer. Their home in 2022 was in Bridgewater, VA.
Grandson Samuel "Eugene" Shackelford was decesed by 2022.
Step-grandson Rex S. Moyers wed Martha. They put down roots in Harrisonburg, VA.
Step-grandson Harrison L. Moyers married Marie Rankin. They have dwelled in Staunton, VA.
Step-grandson Keith Moyers was joined in wedlock with Linda. They were in Rockingham, VA in 2022.
Daughter Sarah Cordellia Shackelford (1939-1978) was born on Oct. 20, 1939. She wed (?) Titus ( ? - ? ) and Kenneth V. Harvey Jr. (1954- ? ). Sadly, she died at the age of 38 on June 19, 1978 in Polk County, FL. Burial was in Oak Hill Burial Park in Lakeland, FL.
~ Daughter Fanchon Lee (Shomaker) Madden Linger ~
Daughter Fanchon Lee Shomaker (1908-1998) was born four days before Christmas 1908 in Manown, Preston County, WV.
She was twice-wed during her lifetime. Her first spouse was 31-year-old coal miner William Joseph Madden (May 15, 1899-1969), a native of Buckhannon, Upshur County, WV, and the son of James J. and Susan (Ocheltree) Madden. They tied the knot in Morgantown on June 23, 1930, by the hand of Rev. Frank L. Shaffer of the Methodist Protestant Church.
Their only child James William Madden.
The family made their residence in Morgantown, Monongalia County, WV. William earned a living in the 1930s and 1940s as a sander for a private flooring contractor.
They grieved when their son was killed in a 1973 automobile accident.
William was troubled with bronchial, liver and spleen problems in older age. He was stricken by a heart attack and passed away at the age of 70, in Morgantown, on May 24, 1969, as a patient in West Virginia University Hospital.
Later, Fanchon wed (?) Linger and resided at French Creek (possibly in Upshur County, WV) circa 1982.
Son James William Madden (1948-1973) was born on May 28, 1948 in Kingwood. He joined the U.S. Navy in July 1967, holding the position of seaman apprentice. Aboard the battleship USS New Jersey, he was posted in late 1968 off the coast of Vietnam. He was discharged in mid-December 1970. James entered into marriage with Helen Mayfield ( ? - ? ). They resided at 3204½ Washington Avenue in Newport News, VA, where he found work as a painter for Newport News Shipbuilding and Dry Dock Company. Tragically, he was killed in a hit-and-run automobile accident on U.S. Route 17 in Yorktown, VA at the age of 25 on Aug. 26, 1973. What happened was that James had stopped his vehicle to help another motorist who had run out of gas. Reported the Newport News Daily Press, "Madden went to a service station and brought gas back for the [other] vehicle when he was struck by a car... The impact knocked Madden over the [other] vehicle and for 30 feet and into a roadside ditch.... The vehicle striking Madden did not stop," although the driver later was arrested. He was pronounced dead on arrival at Riverside Hospital. Details are not known. Burial was in Morgantown's East Oak Grove Cemetery.
~ Daughter Mary Lee (Shomaker) Shockey ~
Daughter Mary Lee Shomaker (1913-2002) was born on June 19, 1913 in Preston County.
The federal census of 1930 shows Mary Lee at age 16, boarding with her married sister Sarah Shackelford and family in the home of Waitman Steyer in Ryans Glade, Garrett County, MD. Later in young womanhood, she attended Fairmont State Teachers College.
Mary Lee married Elbert T. Shockey (Oct. 9, 1908-1988).
Four children produced by their union were John Elbert Shockey, David Shockey, Fanchon "Nan" Willliams and Mary Jane Simmers.
They lived in Dayton, Rockingham County, VA circa 1982. Although maintaining a membership in the Kingwood Baptist Church, Mary Lee and family attended the Salvation Army Church in Harrisonburg, VA.
Mary Lee was employed for years as a "psychiatric escort" at the Western State Hospital in Staunton, VA. She also generated income through part-time work at the Harrisonburg Auto Auction. She volunteered through the Salvation Army and liked to fish in her free time.
Sadly, Elbert surrendered to the angel of death at age 79 on March 7, 1988.
As a widow, Mary Lee made her final home in Dayton, VA at 336 High Street. With her health failing, she became a resident of the Bridgewater Home.
She died at the age of 88, on April 30, 2002. Funeral services were held in the local Salvation Army Church, with interment next to her spouse following in Dayton Cemetery. An obituary was printed in the Staunton (VA) Daily News Leader.
Son John Elbert Shockey (1933-2014) was born on Sept. 8, 1933 in Steyer, MD and grew to manhood in Kingwood, WV. He then went on to study at Randolph Macon Academy and Rider College. During the Korean War, he served in the U.S. Army. On Sept. 23, 1956, he was joined in wedlock with Laura Ferrara ( ? - ? ). Their union endured the ups and downs of 57 years. Two offspring borne by the couple were Donna Laiti and John D. Shockey. John spent his professional career as an automobile dealer. He founded Shockey Motors in 1976. Later, he was affiliated with Valley Dodge, a.k.a. the Dodge Store, in Staunton, with his name and/or photograph appearing in 1980s and 1990s dealership advertisements in the Staunton Daily News Leader. Having been nicknamed "Trapper John," he held terms as president of the Dayton-Bridgewater Lions Club and the Virginia Independent Automobile Dealers Association. The Shockeys resided for decades in Dayton near Harrisonburg, VA. Toward the end of his life went went to dwell in Willow Estates Retirement Home in Penn Laird. The family belonged to the Blessed Sacrament Catholic Church. Death swept him away at age 80 on March 15, 2014. A mass of Christian burial was sung at the family church. Interment of the remains was in Dayton Cemetery. In an obituary, the family asked that any memorial donations be made to the Alzheimers Association.
Granddaughter Donna Shockey wed Eric Laiti. Their home in 2014 was in Fairfax, VA.
Grandson John D. Shockey married Cindy. The pair settled in Mount Crawford, VA.
Son David Shockey appears to have been married twice. His first bride was Mary Jane. Both have been educators. His home in 2002 was in Staunton, VA. In time he was united in matrimony with Nancy ( ? - ? ). They were in Staunton circa 2014.
Daughter Fanchon "Nan" Shockey married Rev. Don Williams. She is known to have been in Campbellsville, KY in 2002-2014.
Daughter Mary Jane Shockey first entered into marriiage with (?) Simmers. She dwelled in Dayton, VA in the early 2000s. By 2014, she had entered into marriage with David McCoy and remained in Dayton.
Copyright © 2006, 2009, 2016, 2019, 2022 Mark A. Miner