Martha Aurilla
(Fawcett) Shomaker
(1871-1924)
Martha Aurilla (Fawcett) Shomaker was born on May 4, 1871 in or near Kingwood, Preston County, WV, the daughter of John Allen and Narcissus (Feather) Fawcett.
Martha married Levi Samuel Shomaker, Jr. (1871-1944), the son of Levi S. and Martha Jane (Pool) Shomaker, and a native of Rock Forge, WV.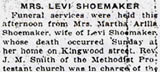 Morgantown Post
The Shomakers had four daughters -- Jane Elizabeth Shaffer Watson, Sarah Anna Shackelford, Fanchion Lee Maddon and Mary Lee Shockey.
A list of their descendants was published in the 1980 book, Genealogy of the Jacob and Mary (Connoly) Feather Family, by Edna (Davis) Rogers.
Martha and Levi bought her father's 107-acre "home place" in 1912 in Preston County. Later, they moved to nearby Morgantown, Monongalia County, WV, where they made their home at 221 Kingwood Street.
Levi was a coal miner, and Martha was a housewife.
Sadly, at the age of 53, Martha passed away on Dec. 28, 1924, of "pernicious anemia." The Morgantown Post noted that she "had only recently moved here from Masontown ... where she had lived for many years." She was laid to rest in East Oak Grove Cemetery in Morgantown.

Morgantown's University Hill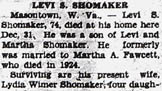 Levi married again to his second bride, Lydia (Goff) Wimer (1883-1965), the widow of W.C. Wimer, and the daughter of Granville S. and Mary Catherine (Simmons) Goff.
They moved to Masontown, Preston County.
He passed away at the age of 73, almost 20 years to the day of his first wife's death, on Dec. 30, 1944, of heart failure caused by high blood pressure. He was buried at East Oak Grove.
Lydia outlived Levi by 21 years. She made her home in Morgantown, and was a member of the Masontown Methodist Church.
She died at the age of 81, at Monongalia General Hospital, on March 10, 1965, "after a long illness," said the Preston County Journal. She was survived by six children to her first marriage, as well as her four adult stepdaughters, all named in the Journal obituary. She was buried at Masontown Methodist Cemetery.
~ Daughter Jane (Shomaker) Shaffer Watson ~
Daughter Jane Shomaker (1899-1982) was born in 1899. She was married twice.
Her first husband was John "Millard" Shaffer Sr. (1893-1968), whom she married in 1921 in Oakland, Garrett County, MD. He was a veteran of World War I. They resided in Morgantown and had three children -- John Millard Shaffer Jr., William Levi Shaffer and Richard Thomas Shaffer. Said the Preston County Journal,

Jane was a "school teacher who taught in Preston, Monongalia and Anne Arundel, Md., counties. She was a member of the Reedsville United Methodist Church, the United Methodist women, the Masontown VFW Auxiliary No. 1589 and the Retired Teachers Association."
Sadly, Millard passed away at age 75 on Jan. 5, 1968, in Deale, MD, and was buried at Fort Lincoln Cemetery in Brentwood, MD, a suburb of Washington. DC.
Jane wed her second husband, retired banker Harold Elmo Watson (1893- ? ), in 1972 in a ceremony in Harrisonburg, VA. The genealogy of this branch is spelled out in precise detail in the Feather genealogy book. The Watsons made their home in Reedsville, Preston County.
Jane passed away at age 83, in Preston Memorial Hospital, on Oct. 8, 1982. Following a funeral led by Rev. Nolan Turner at Reedsville United Methodist Church, her remains were laid to rest at Fort Lincoln Cemetery with her first husband.
Son John Millard Shaffer Jr. lived in Washington, DC in 1982.
Son William Levi Shaffer made his home in 1982 in Silver Spring, MD.
Son Richard T. Shaffer resided in Dunkirk, MD in 1982.
~ Daughter Sarah (Shomaker) Shackelford ~
Daughter Sarah Shomaker (1903- ? ) was born in 1903.
She married Trevor Brown Shackelford ( ? - ? ), a veteran of World War I.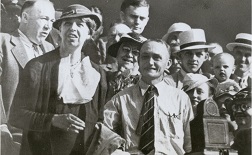 First Lady Eleanor Roosevelt
touring Arthurdale, date unknown
They resided in Arthurdale, Preston County, circa 1944. Arthurdale was an experiment of the federal government during the Great Depression, the first "New Deal" community created under the vision of First Lady Eleanor Roosevelt, to provide ready made homes. (Click here for the website of the Arthurdale Heritage Corporation.)
Circa 1982, Sarah resided in Reedsville, near Arthurdale.
Their son Brown was a World War II veteran; son in law Earl Hibbs was also a World War II veteran; and son in law Donnley Finn was "totally disabled during World War II, and in a wheel chair for over 25 years," said the Preston County History.
~ Daughter Fanchon (Shomaker) Madden Linger ~
Daughter Fanchon M. Shomaker (1908-1998) was born in 1908.
She married William Madden ( ? -1969).
Tragically, their only child James William Madden lost his life at a young age in an automobile accident.
Later, Fanchon wed (?) Linger and resided at French Creek (possibly in Upshur County, WV) circa 1982.
Fanchon died in or around Dayton, Rockingham County, VA on March 27, 1998.
~ Daughter Mary Lee (Shomaker) Shockey ~
Daughter Mary Lee Shomaker ( ? - ? ) was born in (?).
She married Elbert Shockey ( ? - ? ).
They lived in Dayton, Rockingham County, VA circa 1982.
Their son John was an automobile dealer; son and daughter in law David and Mary Jane were educators; and daughter Fanchon married Rev. Don Williams.
Copyright © 2006, 2009, 2016, 2019 Mark A. Miner