Mary Alice (Fawcett)
Turnley Walls
(1865-1951)

Mary Alice
Mary Alice "Allie" (Fawcett) Turnley Walls was born on March 23, 1865, just a few weeks before the end of the Civil War, in Kingwood, Preston County, WV, the daughter of William M. and Naomi (Fortney) Fawcett.
Her first husband was Robert "Lee" Turnley (1862-1890), the son of James Madison and Matilda B. (Thorn) Turnley of Newburg, Preston County.
The newlyweds resided in Independence, Preston County, and had two children -- Frank Clifford Turnley and Bertha McClung.
They were members of the Independence Baptist Church. Lee was "employed by the B. & O. R.R. Company at Newburg," said the 1913 book, A History of Preston County, by H.S. Whetsell.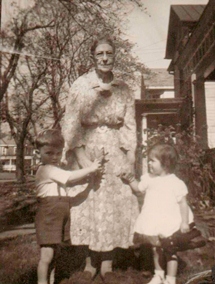 Mary Alice with great- grandchildren Richard Sherman and Linda Gipe
Tragically, while in Newburg, Robert "contracted a deep cold early in January, 1890, which developed into typhoid," said the Preston County history. He died on Fri., Jan. 24, 1890, at the age of 30. In a short obituary, the Preston County Journal said that "he leaves a wife and two children."
He was laid to rest in what is now the Damon Cemetery in Newburg. The obituary in the Journal noted that Allie's brothers, Charles W. Fawcett and Daniel F. Fawcett of Kingwood "did not receive word of the death, owing to delay in the mail, till Monday."
Shattered by the loss, Mary had to begin rebuilding her life. She later married David Jerome Walls (1859-1934). He was the son of John M. and Rachel (Orr) Walls of Gladesville, Preston County.
Jerome is believed to have been a notary public circa February 1900, when he witnessed a legal document signed by his mother in law.
The Wallses moved to Keyser, Mineral County, WV, where they made their home at 163 Argyle Street. Jerome worked in Keyser as a foreman with a manufacturing company. He retired from the position.
During the 1910s, a cancerous growth began to form on Mary's left cheek. She endured the illness for approximately four decades, until her eventual passing.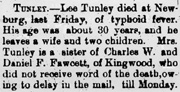 Obituary, 1890
Mary's brother Daniel F. Fawcett, a Civil War veteran who was receiving a pension for his wartime disabilities, died in Pennsylvania in 1920. At that time, Mary, who was living in Morgantown, Monongalia County, WV, signed an affidavit so that Daniel's widow would begin receiving the pension payments. The original signed document is on file today at the National Archives in Washington, DC.
In 1933, Jerome began to suffer with cancer, and did not live long.
On Feb. 3, 1934, at the age of 74, he passed away from the illness. He was buried at the Knights of Pythias Cemetery (Damon Cemetery) in Newburg, Preston County.

Early bird's eye panorama view of Keyser

Obituary, 1951
Compounding the heartache, married daughter Bertha McClung died at some point while Mary Alice was still alive. The details are not known.
Circa 1942, after nine years as a second-time widow, Mary moved into the home of her son Frank in Grafton, Taylor County, WV.
She died from the effects of her facial cancer at the age of 86 on the Fourth of July 1951. She was buried at the Damon Cemetery in Newburg, beside her second husband.
Lee Turnley, whose relationship to the Wallses is unknown, was the informant for both of their certificates of death.
At the time of her passing, she was survived by two granddaughters, Ruth Sherman and Mary Gipe, who resided in Cumberland, Allegany County, MD. She also had four great grandchildren.
~ Son Frank Clifford Turnley ~
Son Frank Clifford Turnley (1886-1957) was born on Sept. 7, 1886 in Newburg. As a young man, he was tall and slender, with brown eyes and black hair.
Frank followed in his father's career path as a railroader. He joined the Baltimore and Ohio Railroad on March 18, 1904, and remained there for a remarkable 44 years, in posts in West Virginia and Maryland.
During World War I, Frank was required to register for the military draft, and did so in June 1917. Later he joined the U.S. Army. On his draft registration card, he listed his age as 30, his occupation as locomotive engineer and his place of employment as Hardman, WV. Upon his discharge, he returned home and lived in Independence, near Newburg.
At the age of 33, on June 4, 1919, he married 27-year-old Gertrude Amelia Frazier (1892-1981), daughter of George M. and Anna E. Frazier. The ceremony was held in Gertrude's hometown of Clarksburg, Harrison County, WV. Rev. W. Ray Hashinger, of the Lutheran Church, performed the nuptials.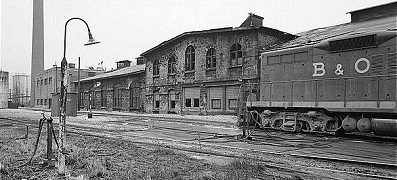 B&O Railroad machine shops in Grafton
The Turnleys had two daughters, Ruth Eleanor Sherman and Mary Margaret Gipe.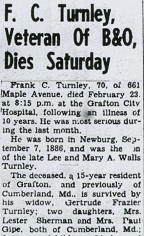 Frank's obituary in the Mountain Statesman

In addition to Newburg, the family also lived in Cumberland, Allegany County, MD and for 15 years in Grafton, from 1942 to 1957. Their home in Grafton circa 1957 was at 661 Maple Avenue.

Said the Grafton Mountain Statesman: "He had held the following positions: fireman, engineer, fuel economy instructor, air brake instructor, assistant road foreman of engines, assistant trainmaster and road foreman of engines at Cumberland." He retired in 1948 as supervisor of locomotive operation.

Active in the social life of his community, Frank was a member of the Aurora Lodge of the Masons and St. Paul's Lutheran Church of Grafton. He also was a member of the American Legion, Yusef-Khan Grotto of Akron, OH and the Brotherhood of Locomotive Firemen and Enginemen.

Frank passed away at the age of 70, on Feb. 23, 1957, at Grafton City Hospital. The cause was an acute cerebral hemorrhage from a 10-year battle with hyper-tension and hardening of the arteries. He was laid to rest in the Woodsdale Memorial Park near Grafton, following a funeral led by Rev. Harold L. Hann of Fairmont, Marion County, WV. A lengthy obituary was published in the Mountain Statesman.

Daughter Ruth Eleanor Turnley married Lester Sherman. They resided in Cumberland and had two children -- Richard Abraham Sherman and Gail Sherman.

Daughter Mary Margaret Turnley (1922- ? ) was born in 1922. She married Paul Gipe, and circa 1957 they made their home in Cumberland. Their children were Linda Gipe and Gordon Gipe.

~ Daughter Bertha May (Turnley) McClung ~

Daughter Bertha May Turnley (1889- ? ) was born in 1889.

She married (?) McClung.

She moved to California at a young age.

Circa 1913, the McClungs resided in Los Angeles, Los Angeles County, CA.

B&O photo courtesy the Library of Congress American Memory Project

Copyright © 2006, 2008-2009, 2011-2012, 2021 Mark A. Miner