Anna Margaretha (Gaumer) Wetzel
(1786-1866)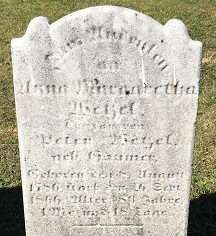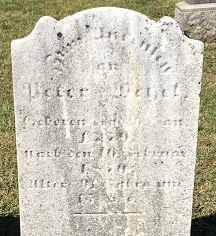 Anna's (left) and Peter's graves, in German, Longswamp Church
Anna Margaretha (Gaumer) Wetzel was born on Aug. 8, 1786, the daughter of Johann Heinrich and Anna Margaretha (Meitzler) Gaumer.
She was united in matrimony with Johan "Peter" Wetzel (Jan. 26, 1779-1870), son of John Wetzel of Berks and Lehigh Counties.
They were the parents of Lydia Heimbach, Johan "George" Wetzel, Sarah "Sally" Heimbach and Marietta Conrad. Whether there were other offspring is unknown.

1876 Atlas of Berks County showing Peter's farms (circled) north of Red Lion
Peter was profiled in the book Genealogical and Biographical Annals of Northumberland County, Pennsylvania, published by J.L. Floyd & Co., Chicago. The entry reads:
Peter Wetzel ... was born in 1778 and died in 1870, in his ninety-second year. He owned a thirty acre tract of land near Red Lion, in Longswamp township, on which he lived. He was a carpenter and coffin maker, being an excellent mechanic and an expert wood worker. In his day he made many coffins. It was then the custom to place the dead on a large covered wagon, to which usually were hitched fourteen horses. The seats were arranged along the two sides of the wagon, and occupied by the bereaved, the coffin being placed in the middle between the two rows of mourners. They now proceeded to the church. "Old Peter" Wetzel, as he was known, was a popular man, personally, and well known in his line. He held many funerals, and taught many the carpenter's trade. His wife, Anna Margaret Gaumer, died when past eighty years of age.
The Wetzels' farm was north of Red Lion Station of the Catasauqua and Fogelsville Railroad, a line used to transport ore from Lehigh and Berks County iron mines to mills along the Lehigh River. The family were members of the Reformed congregation of the Longswamp church in Berks County.
Anna Margaretha passed into eternity on Sept. 26, 1866, at the age of 80 years. Burial was in Longswamp Union Cemetery in Mertztown, Berks County. [Find-a-Grave]
Johan Peter survived his bride by four years. He succumbed at the age of 91 on Feb. 10, 1870.
Upright markers were placed at both of their graves, side-by-side, inscribed completely in the old German script. Across the top of each, on a curved line, is the phrase "Zum Undenten An," which in English means "For the moment" and reflects the Wetzels' belief in the Christian Resurrection.
Anna Margaretha's epitaph also spells out her maiden name, a German practice of acknowledging her own family origins..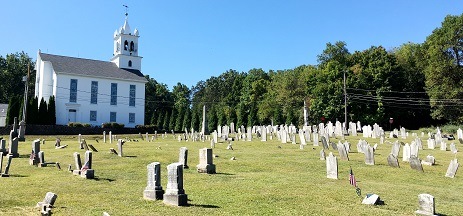 Longswamp United Church of Christ, Sept. 2019
Copyright © 2018-2019 Mark A. Miner