Home

Anna 'Maria' (Gaumer) Jacobs
(1835-1924)
Anna "Maria" (Gaumer) Jacobs was born on June 18, 1835 in Macungie, Lehigh County, PA, the daughter of Johann "Adam" and Christiana (Wesco) Gaumer.
At the age of 18, on March 2, 1854, Maria was joined in matrimony with 25-year-old Aaron P. Jacobs (Dec. 30, 1828-1905), son of Abraham Jacobs of Whitehall Township, Lehigh County. The wedding ceremony was held in the parsonage of Rev. Hinterleitner in Kutztown, Berks County. Recalled the Allentown Morning Call many years later, "There were no railways or trolleys in those days and the bride and bridegroom drove to Kutztown from the bride's home, eight miles distant. They were unattended.
Maria and Aaron had two known children -- Clement A. Jacobs, Jennie Gross and William H. Jacobs.
They dwelled in Hanover Township (East Allentown) Lehigh County circa 1857. Aaron gave up farming to pursue a career as a flour miller. Circa 1883, their home was near Illick's Mill, later converted to Monocacy Park in Allentown.
Aaron Jacobs' employer for two decades, Saeger Milling Company
Circa 1886, they relocated into South Bethlehem where they stayed for good. Said the Allentown Morning Call, Aaron "was a miller at Schantz's Spring for a number of years and with the Saeger Milling Co. for almost 20 years. He was an expert stone cutter. When D.O. Saylor went into the cement business Mr. Jacobs fixed the stones and ground the first cement."
The Jacobses celebrated their golden wedding anniversary with a party at their home on New Street in March 1904. In reporting on the celebration, the Morning Call said that "No one enjoyed the occasion more than the bride and bridegroom of fifty years ago. All of Mr. and Mrs. Jacobs' children are living and were present. Many were the events recalled of long ago. Elaborate refreshments were served." In addition to their three adult children and spouses, those who attended the party were grandchildren Katie Jacobs, Nellie M. Jacobs, D. Estella Jacobs, Jennie B. Jacobs, Charles Gross, William H. Jacobs, Gernerd Jacobs, William H. Jacobs, George A. Jacobs, John S. Jacobs and Frank A. Jacobs; and friends Mrs. C.A. Jacobs, A.H. Gross, Madison Gross, Rev. and Mrs. J.O. Leibensperger, Addie Bachman, Mr. and Mrs. William Gross, Mr. and Mrs. John Stetler and Mr. and Mrs. William Reichard.
Aaron died the day after Christmas 1905, just four days shy of his 77th birthday. Funeral services were conducted in St. Peter's Lutheran Church of South Bethlehem. An obituary in the Morning Call noted that "A.J. and O.P. Schlosser, of this city, are nephews."
The widowed Maria lived in South Bethlehem, Northampton County, PA in 1908-1912. She was named in the Oct. 1912 Allentown Democrat obituary of her brother Joseph.
As her health declined from hardening of the arteries, she was admitted as a patient to Allentown State Hospital. She succumbed there at the age of 89 on Sept. 30, 1924. Funeral services were held in the home of her son Clement in Bethlehem. Interment was in Nisky Hill Beth Cemetery.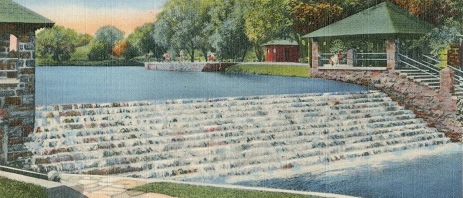 Monocacy Park dam, a site where the Jacobses lived in the 1880s
~ Son Clement A. Jacobs ~
Son Clement A. Jacobs (1857-1937) was born on Feb. 4, 1857 in Hanover Township (East Allentown), Lehigh County.
At the age of 27, in 1884, he was united in wedlock with Sarah "Alice" Bergstresser (April 11, 1861-1911), daughter of J. Philip and Catherine (Reichard) Bergstresser.
Their offspring were John S. Jacobs, William Jacobs, George A. Jacobs, Frank A. Jacobs, Kate M. Pritz, Dorcas Isabelle Gale, Genevieve B. Mack and Nellie Oliver.
As a young man, he learned the craft of tinsmithing. The family resided in Pittsburgh in 1895 but eventually returned to Lehigh County. For 53 years, Clement worked for Sheriff Milton Laufer and his son Howard Laufer as manager of the Laufer Hardware Company on Wyandotte Street in Bethlehem. He was an active member of the First Reformed Church, as a teacher of the Mizpah Bible class for two decades. He also was a member of the Odd Fellows, Knights of Malta and Valley Forge Chapter of the Sons of the American Revolution. Their home in 1911 was at 230 West Third Street in South Bethlehem.
Suffering from heart disease, Alice was felled by a stroke of apoplexy at age 50 and died on Dec. 3, 1911, ending their union of 27 years.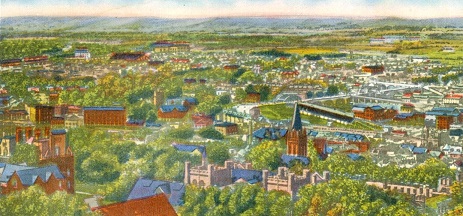 Bird's-eye view of Bethlehem, Pennsylvania
He outlived her by more than a quarter of a century. During that time, he dwelled at 230 West Third Street in Bethlehem. When he celebrated his 74th birthday in 1931, the Allentown Morning Call published an article about his life and career. He died in St. Luke's Hospital at the age of 80 on March 11, 1937. In an obituary, the Morning Call said he was "one of Bethlehem's outstanding citizens.... He never held public office but was very much interested at all times in the civic betterment and development of the community." His remains were interred in Hellertown Cemetery.
Son John S. Jacobs (1895-1977) was born on Feb. 10, 1895 in Pittsburgh. His first wife was Nettia A. Koehler ( ? -1952). Circa 1930-1937, they lived in Bethlehem, PA. They are known to have traveled to southwestern Pennsylvania in July 1930 to visit John's brother George in Pittsburgh and Frank in New Kensington. Later, in 1938, they moved to Waverly, NY, where John accepted a position as an accountant with the Lehigh Valley Railroad office in Sayre, PA. Their address in the early 1950s was 471 Pennsylvania Avenue. Nettie passed into eternity on July 17, 1952, with a death notice appearing in the Allentown Morning Call. John outlived her by a quarter of a century. On June 1, 1957, he was united in matrimony with widow Elizabeth H. Cary ( ? - ? ). Their nuptials were held in the Lake Street Presbyterian Church, with Rev. Barnett S. Eby officiating. Elizabeth's first husband was Dr. B.F. Cary, a physician at Tioga General Hospital. John and Elizabeth did not reproduce. They were members of the Waverly Presbyterian Church, and he belonged to the Waverly Lodge of the Masons. Their address in the 1970s was 100 Cadwell Avenue. Sadly, at the age of 82, John died in their home on June 10, 1977. His pastor Rev. Lyal McLaury preached the funeral sermon, with burial in Altonah Cemetery in Bethlehem. An obituary was published in the Sayre Evening Times.
Son William Jacobs relocated to Burlington, CO.
Son George A. Jacobs made his home in 1937 in Pittsburgh.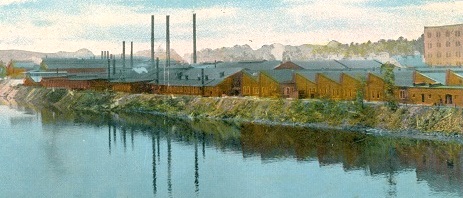 Frank Jacobs' workplace, the Alcoa plant in New Kensington, PA
Son Frank A. Jacobs (1898-1973) was born on Nov. 8, 1898, a twin with his sister Genevieve Mack. He graduated from Lehigh University in June 1922 with a chemical engineering degree. He obtained employment with the Aluminum Company of Amereica (Alcoa) and was first assigned to Phoenix, AZ. After a time, by 1930, he was transferred to Alcoa's plant in New Kensington, Westmoreland County, PA. On Nov. 15, 1946, he was assigned to Alcoa's Cressona Works as chief metallurgist. He retired on Jan. 1, 1963, less than two months after his 6th birthday. Over the years, he was active in the Masons lodge in Pottsville and held the positions of high priest of the Mountain City Royal Arch in Pottsville, commander of the Constantine Cammandery, also in Pottsville, and Sovereign Master of Regal Council. He was "well-known throughout the Eastern United States for his Masonic work," said the Pottsville Republican. He also held roles with the Red Cross of Constantine of St. Mary's Conclave of Allentown, the allied Masonic Orders of Harrisburg, the Anthracite Joshua Association of Pottsville, the York Cross of Honor in Harrisburg, and the Zembo Shrine of Harrisburg. He was a member of the Church of Christian Science. In retirement, he moved to Pottsville, PA and made a home at 532 Jefferson Street. He was united in wedlock with Nellie W. (Waterson) Quay ( ? -1964). She had been married before and brought two children to the union -- Genevieve Quay and B. Richard Quay. Sadly, Nellie passed away in 1964. Frank outlived her by nine years. While on vacation in Venice, FL in November 1973, he died in the Sunset Motel on West Venice Avenue. His obituary in the Pottsville Republican included his photograph. Burial was in Schuylkill Memorial Park, with funeral services officiated by Mrs. Donald Watkins, of the Christian Scientist Church.
Daughter Genevieve B. "Jennie" Jacobs (1899-1982) was born on Nov. 8, 1898, a twin with her brother Frank. She was joined in wedlock with Harry C. Mack ( ? -1968), a native of Mack's Mills, Susquehanna County and the son of Capt. Henry A. and Adelaide (Sweet) Mack. He had been married before and brought two children to the second union, Bernard F. Mack and Hawthorne A. Mack. The couple may have produced three children of their own -- Edwin L. Mack, Grace N. Mack and Arline H. Lackey. The Macks' home in 1937 was in Allentown. Genevieve was a member and chaplain of the Anjne Penn Allen chapter, Order of Eastern Star. Harry was named president in 1941 of the Allentown Bobbin Works. He also was a talented musician, playing as solo cornetist with the Allentown Band, having joined the band when it formed in 1902. He also was director of the Arion Band in Lehighton. He belonged to the Mink Pond Fishing Club, Asbury Methodist Church of Allentown, Masons lodge and Knights Templar, and the Rajah Temple of Reading. After a lengthy illness, Harry died at the age of 93 on July 18, 1968. The Allentown Morning Call published his photograph with an obituary. In 1982, her addess was 44 North West Street in Allentown. While walking in Allentown at the age of 83 on April 7, 1982, she was stricken near Hamilton and 16th Streets and was rushed to Allentown Hospital, where she was pronounced dead on arrival. An obituary in the Morning Call said that interment was in Greenwood Cemetery in Allentown.
Stepson

Bernard F. Mack

resided in Allentown in 1982.
Stepdaughter Hawthorne A. Mack

dwelled in 1982 in Allentown.
Son/stepson Edwin L. Mack
Daughter/stepdaughter Grace N. Mack
Daughter Arline H. Mack wedded Irad Lackey. Their home in 1982 was in Pittsburgh.
Daughter Kate M. Jacobs ( ? - ? ). In Aug. 1908, she married Rudolph E. Pritz ( ? - ? ) at the home of her parents in South Bethlehem. Rev. D.B. Clark led the nuptials. Their attendants were William Pritz and his wife of Jersey City, with Edith Shaner playing the wedding march. Reported the Allentown Leader, "A reception and dinner followed, at which there were guests from the Bethlehems, Hellertown and Allentown." They resided in 1937 in Chicago.
Daughter Dorcas Isabelle Jacobs ( ? - ? ) was born in (?). Circa 1922, she made her home in New York City. She wedded Frank Gale ( ? - ? ). They lived in New York in 1937. By 1977, she had married again to (?) Galucci and relocated to Charleston, SC.
Daughter Nellie Jacobs ( ? - ? ) was born in (?). Prior to marriage, she was employed as a bookkeeper with the Rice Company in Bethlehem and enjoyed singing in the choir of the First Reformed Church. On June 14, 1922, she was united in matrimony with carpenter and World War I veteran Herbert N. Oliver ( ? - ? ). The nuptials were held in Nellie's church by the hand of Rev. D.B. Clark, and the news was reported in the Allentown Morning Call. Herbert served in the submarine service during the First World War and had been a political candidate in 1921 for the office of register of wills. They dwelled in Nanticoke, PA in 1937 and in Washington, PA (or DC) in 1977-1982.
~ Jennie A. (Jacobs) Gross ~
Daughter Jennie A. Jacobs (1863-1960) was born in 1863 in Hanover Township (East Allentown), Lehigh County.
On Sept. 1, 1883, at the age of about 20, she wedded 20-year-old Abner H. Gross (May 9, 1863-1947), a native of Hazleton and the son of well known Allentown photographer W.H.S. Gross and his wife Louisa Fry. The nuptials were held at the home of her father, near Bethlehem, Northampton County, and a story in the Allentown Democrat reported that "There was a large company present."
The couple produced one son, Charles Gross.
Abner began his working career manufacturing cigars on East Fourth Street in Allentown, having purchased the business from W.H. Jacobs. Early in their marriage, Jennie and Abner endured the blizzard of 1888, a three-day snowfalls which was one of the heaviest in recorded memory. "Telegraph lines were down and no mail or New York trains came to Bethlehem until the following Thursday," said the Allentown Morning Call. Albert wore a pair of hip boots as he helped clear snow, and he kept the boots for 50 years afterward.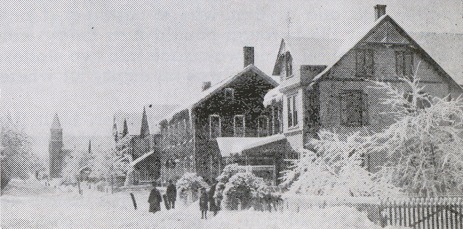 Blizzard of 1888, in nearby Macungie, with Solomon's Church in the distance.

Courtesy 100 Years: Macungie, Pennsylvania, 1857-1957
In March 1896, he was one of a number of local citizens who was refused a liquor license by order of Judge Scott of the court in Easton. That same year, in December, he was elected as first vice president of the Democrats of South Bethlehem's first and Second Wards. Abner and Jennie helped host elected and public officials with a specially made cake in December 1897 to mark the opening of the Hellertown and South Bethlehem Street Railway. The cake was decorated with "the figure of a trolley car, wire and posts and at the end of the line were American flags," the Morning Call noted.
Circa 1900, Abner was employed as a traveling salesman for the H.G. Tombler Grocery Company of Easton. He was a member of the Knights Templar, and the couple traveled to Louisville, KY for a Knights convention in 1901. He also belonged to the Rotary Club and Odd Fellows lodge, and they of the Central Moravian Church of Bethlehem. Continuing his interest in civic affairs, Abner served for 19 years on the South Bethlehem Borough Council, including eight years as president. He also was acting burgess of the borough and held the position of president of the Wilbur Building and Loan Association. They enjoyed summer vacations in Atlantic City.
Moravian Church, Bethlehem, PA
The Morning Call reported in August 1918 that the Grosses had sold their home of 25 years, located at 109 West Fourth Street, in the South Side of Bethlehem, and had purchased a new residence at 18 North Seventh Avenue. Later in life, Abner left the confectionary business and started selling flour. The couple celebrated their golden wedding anniversary on Sept. 1, 1933, "receiving the felicitations of their legion of friends," said the Morning Call. In 1938, the aged but tireless husband-and-wife team is known to have made a 2,000-mile driving tour over 10 days, covering New England and Canada and coming back home via the Bear Mountain Bridge. They marked their 60th wedding anniversary in 1943.
Sadness enveloped their lives when their only son, Charles, died in 1946.
Albert passed away on Nov. 29, 1947 at the age of 84, with interment in Memorial Park Cemetery in Bethlehem.
Jennie survived her husband by a baker's dozen of years. Suffering from hardening of the arteries, she was admitted to the Moravian King's Daughters Home in 1955. She died there after five years on Feb. 11, 1960. Anna Laubach of 44 West Church Street provided vital information for the death certificate.
Son Charles Gross (1885-1946) was born in 1885. He was married and had a son, E. Kennard Gross. Charles made a home in Montclair, NJ. Sadly, Charles died in 1946 at the age of 61. His remains were shipped home to Bethelem to be placed into rest in Memorial Park Cemetery, later to be joined there by his parents.
~ Son William H. Jacobs ~
Son William H. Jacobs (1859-1927) was born on Feb. 26, 1859 in Allentown.
He wedded Emma Foltz (May 9, 1860-1950), daughter of Isaac and Matilda (Fulmer) Foltz of Springfield Township.
They had one son, who sadly died in infancy.
Circa 1902, William and two other investors opened a hosiery knitting and manufacturing mill on Birch (later renamed Adams) Street in Bethlehem, Northampton County, PA. Said the Allentown Morning Call, "It was also at that time that Mr. Jacobs built the spacious stone residence at Fourth and Adams streets, now the property of Dr. William A. Finady. After the partnership was dissolved, Mr. Jacobs went into the electric light business with local capitalists under the name Halcyon Electric Light company. Later the late Robert Heysham Sayre, of Third and Wyandotte streets, purchased the building and Mr. Jacobs and the late A.C. Graham, of West Fourth and Cherokee streets, began the operation of the Halcyon mill" on the site of their former knitting business. "Upon leaving the knitting mill Mr. Jacobs went to Chambersburg where, for a time, he was superintendent of a hosiery mill. From Chambersburg he returned to Bethlehem upon the solicitation of William E. Martin, president of the Bethlehem Silk company, to act as foreman and take care of the machinery, which position Mr. Jacobs held for more than ten years. During the past three or four years [1927] he worked as machinist in several local garages."
William was a member of the Bethany Reformed Church. He also belonged to the H. Stanley Goodwin lodge of the Masons, the Red Cross of Constantine consistory of the Masons, the Ontario Tribe of the International Order of Red Men, the Hobah Lodge of the Knights of Pythias and the Wreath of Friendship Lodge of the International Order of Odd Fellows.
He lived in South Bethlehem in 1904 and at 706 Seventh Avenue in Bethlehem in 1927.
At the age of 68, suffering from acute heart disease, William died on Oct. 9, 1927. Burial was in the Jacobs family plot at Nisky Hill Cemetery. The Morning Call printed a long obituary.
The widowed Emma survived her husband by 23 years and was a member of the First Evangelical and Reformed Church of Bethlehem. In about 1947, she became a resident of the Phoebe Home in Allentown.
Copyright © 2018-2019 Mark A. Miner