Catharine (Gaumer) Fögle
('Fegely')
(1776-1846)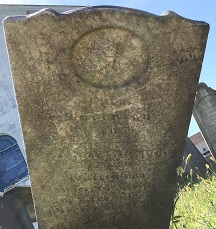 Catherine's grave, St. Pauls, Mertztown
Catharine Gaumer was born on Aug. 9, 1776, the daughter of Johann Heinrich and Anna Margaretha (Meitzler) Gaumer.

She was united in holy matrimony with Heinrich Fögle (April 19, 1774-1871), also spelled "Fegely" or "Feglie."
He was the son of Christian and Anna Maria (Drescher) Fögle.

The couple produced these known offspring -- Christina Pilgert, Henry Harrison Fegely and George Fegley.

Sadness blanketed the family when Catharine died at the age of 70 on Sept. 15, 1846. Burial was in St. Pauls Union Cemetery in Mertztown, Berks County. [Find-a-Grave]
Heinrich survived his wife by a quarter of a century. He made his home in 1860-1870, during the Civil War years, with his married son Henry and family in Longswamp Township, Berks County.
He succumbed at the age of 97 on May 13, 1871. He rests near his wife.
A search was made for her and his grave markers in Sept. 2019 by the founder of this website. Hers' was hall-fallen over, and in heavy shadow, making photography difficult. His could not be located.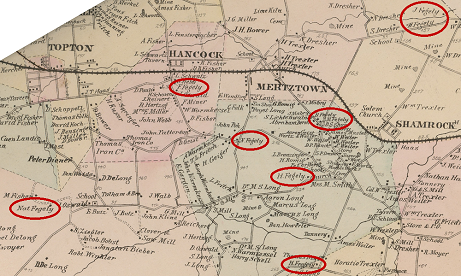 Fegely farms scattered throughout Longswamp.
1876 Atlas of Berks County
Copyright © 2018-2019 Mark A. Miner