Heinrich 'Henry' Gaumer
(1780-1846)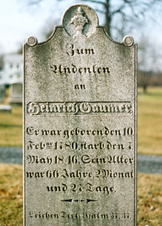 German-text inscription
on Henrich's grave
Heinrich "Henry" Gaumer was born on Feb. 10, 1780, the son of Johann "Heinrich" and Anna Margaretha (Meitzler) Gaumer.
Henry was baptized in infancy on April 16, 1780, and his sponsors were his aunt Gertraud Gaumer and her future husband, Heinrich Meitzler.
He was joined in holy wedlock with Susanna Mory (1793-1878). The date of their marriage is unknown.

The Gaumers lived in or near Alburtis, Lehigh County, PA.
They were the parents of one known son, Aaron Gaumer.

Henry passed away on May 7, 1846 at the age of 66. [Find-a-Grave]
His funeral sermon was based on the scripture verse Psalm 37:37 -- "Mark the perfect man, and behold the upright: for the end of that man is peace." (King James Version)
Henry's remains were lowered into eternal repose in the Zions Evangelical Lutheran Cemetery, among generations of Gaumers, near Alburtis. A marker was erected at his grave, inscribed in German. At the top is written "Zum Undenten an Heinrich Gaumer," which in English means "For the moment," reflecting the family's Christian belief in the future resurrection. At the bottom was the reference to the biblical verse upon which his funeral sermon was preached -- "Leichen Text Psalm 37:37," with the word "Leichen" translating to "corpse" or "dead body."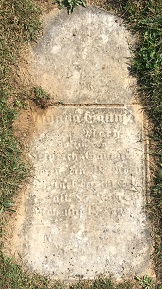 Susanna's grave, 2019
The firm of Eisenbraun of Allentown is also inscribed at the lower right hand corner of Henry's marker, suggesting that it had been the vendor/contractor for the stone and carving.
Susanna outlived her husband by more than three decades.
When the 1850-1860-1870 federal census enumerations were made, she lived in the farm home of her son Aaron in Lower Macungie Township, Lehigh County.
In addition to Susanna, age 56, those in the Aaron Gaumer household in 1850 were 22-year-old laborer Peter Shiffert, 14-year-old Nathan Quillman Bidding and 18-year-old Maria Mertz.

The Grim Reaper swept her away at the age of 85 on Sept. 30, 1878. Her interment also was held at the Zion Lehigh burying ground.

Heinrich's well-preserved gravestone was photographed in the 1990s by cousin-researcher Eugene F. Podraza.
Susanna's marker was photographed in 2019 by the founder of this website. It is resting flat in the ground, apparently having fallen off of its base at some point in time. Grass and dirt had to be removed from the edges so that the text could be seen.
In her work The Gaumer Family and Allied Lines, Myrtle Knepper Weniger writes that "This may be the Henry Gaumer, wagon maker, who at one time lived in Urbana, Ohio. He had a son and two daughters. A son was living near Greenville, Ohio in 1867."
Copyright © 2000, 2009, 2017-2020 Mark A. Miner