Jonas F. Gaumer
(1829-1886)
Jonas F. Gaumer was born in about 1829 in Macungie Township, Lehigh County, PA, the son of Johann "Adam" and Christiana (Wesco) Gaumer.
He was married to Ettillia C. "Tillie" Sieger (1827-1900).
The couple bore one known son, William "George" Adam Gaumer.
When the 1870 federal census was taken, the Gaumers resided on a farm in Upper Macungie. The 1894 book Portrait and Biographical Record of Lehigh, Northampton and Carbon Counties, Pennsylvania said that Jonas "was an agriculturalist of much influence in his vicinity" and that he was "a Lutheran in religion, and in politics always cast a Republican vote."
Jonas died in the fall of 1886.
Tillie outlived her spouse by 14 years. She was named in the 1894 Portrait book, stating that she "still survives, and is living in Orefield, this state, [and] has passed her sixth-fifth birthday." Her home in 1900 remained in Orefield, Lehigh County.
She died at home at the age of 73 on Sept. 23, 1900. An obituary in the Allentown Morning Call reported that she "had been ill with dropsy for eight months." Her deceased and surviving siblings were listed as Owen Sieger, Frank G. Sieger, William H. Sieger, Ephraim Sieger, Nathan Sieger, Mrs. Eli Metzgar and Mrs. Josiah Kern. Rev. H.E. Semmel officiated at the funeral service, with burial following in Jordan Lutheran Church, today known as Greenwood Cemetery. Among those traveling to attend the funeral were Tillie's nephew, Rev. P.G. Sieger of Lancaster, and Mrs. Willis Benner of Doylestown.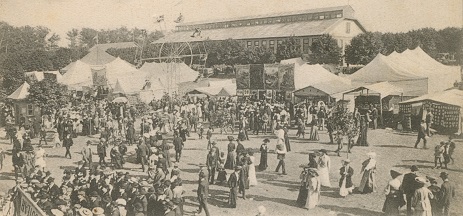 Allentown County Fair, early 1900s
~ Son William "George" Adam Gaumer ~
Son William "George" Adam Gaumer (1857-1919) was born on Aug. 10, 1857 in Macungie. He received a common school education when not working on the home farm, and watched during his growing-up years as the region developed and improved into more robust prosperity.
At the age of 18, circa 1875, he is known to have left home to learn the trade of flour milling. As such, he worked in the field for a baker's dozen years.
Then on Nov. 11, 1888 (or 1886), at the age of 31, he married 32-year-old Ellen Louisa Jane Bastian (March 15, 1856-1949), daughter of Daniel H. and Abigail (Steininger) Bastian. She also was educated in local schools and as a young lady attended classes in Allentown.
The couple did not reproduce.
Portrait and Biographical Record of Lehigh, Northampton and Carbon Counties
, 1894
The Gaumers made a home in South Whitehall Township, Lehigh County, where in 1891 George acquired a hotel known as the Half-way House.
In the community, George belonged to a number of local organizations, among them the Masons, Odd Fellows and its encampment in Fogelsville, Lehigh Lodge, Lowhill Mutual Aid Associations of Trexlertown and Fogelsville and and Order of Independent Americans lodge at New Smithville. They were members of the Lutheran Church.
George was profiled in the 1894 book Portrait and Biographical Record of Lehigh, Northampton and Carbon Counties, Pennsylvania. The entry referred to him in such glowing terms as "genial" and "popular hotel man" and said the work brought him "a comfortable income.... He is a man whose pleasant, genial nature makes him friends, and in all the relations of life he has borne himself as a kind husband, father and true friend should, as well as an honest man of business." It went on to say that he "has been prominently connected with many important measures looking toward the progress of this community" and was a staunch Republican.
At the age of 61, in the spring of 1919, he caught a deadly case of influenza, which led to enlargement of the heart and lungs. He succumbed on April 30, 1919. In an obituary, the Allentown Morning Call said "He had been ailing for two weeks but was not thought to be seriously ill.... There are no surviving brothers or sisters and no children." Interment was in Jordan Lutheran Church Cemetery, known today as Greenwood Cemetery, with Edgar E. Gaumer of Allentown signing the death certificate. As he had done with George's mother 19 years earlier, Rev. H.E. Semmel preached and presided over the funeral service.
Ellen lived for another three decades. Her final years were spent at 329 North 10th Street in Allentown. Burdened with chronic heart disease, senility and pneumonia, she passed into eternity on March 18, 1949, just three days after her 93rd birthday. She sleeps aside her husband in Greenwood Cemetery.
Copyright © 2000, 2009, 2017-2020 Mark A. Miner