Rachel (Gaumer) Shultzman
(1818-1866)
Rachel (Gaumer) Shultzman was born in 1818 in Southampton Township, Somerset County, PA, the daughter of Johannes Jacob "John" and Susannah (Leydig) Gaumer.
She was joined in wedlock with William Shultzman Sr. (1805-1876), a German immigrant from Darmstadt, Hesse. The groom was 13 years older than the bride, and is said to have been married previously.
He brought a son and daughter to his marriage with our Rachel -- Sarah "Louisa" Remington and William Shultsman Jr.
The children born to Rachel and William Sr. were Mary Shultzman, Lewis Shultzman, Amanda Shultzman, Porter Shultzman and Ellen Shultzman.
The family moved to Ohio. They resided in Tiverton, Coshocton County, where William toiled as a farmer. When the 1850 federal census was taken, the widowed William headed a household with children Louisa and William in the home.
By 1860, Rachel and William had married and were together in the same home with their five mixture of offspring.
Rachel reputedly died in 1866 at the age of about 48.
The details of William's fate are not yet known.
~ Stepdaughter Sarah "Louisa" (Shultzman) Remington ~
Stepdaughter Sarah "Louisa" Shultzman (1837-1909) was born on May 4, 1837 or 1838. Unmarried at the age of 22 in 1860, she lived on a farm with her father and stepmother in Tiverton and performed housekeeping.
She was united in holy wedlock with Lyman W. Remington (Dec. 30, 1832-1910), son of Oliver N. and Sally (Humphry) Remington,.
Their known children included Mary Remington, Lydia May Remington, Lucy Barnes and Hally E. Remington.
The Remingtons have not yet been located in the federal census of 1860. After Sarah's ailing brother William came home from the Civil War, with an enlarged and painful testicle, Lyman is known to have seen it. Lyman later testified to this fact in an affidavit in support of William's application for a military pension.
When the census enumeration was made in 1870, they lived in Richland Township, Holmes County, with Lyman laboring as a farmer. In 1880, census records show them in Richland Township, Holmes County, OH, with Lyman having no occupation, and his daughter Mary teaching school.
Lyman continued to farm during the last two decades of the century as shown in the 1900 census. Their married daughter Lucy Barnes resided beside them in 1900.
Their residence in 1909 was near Tiverton, Richland Township.
The couple died just a few months apart. Having contracted kidney failure which led to an infection of uremia, she passed into eternity at the age of 70 on Feb. 13, 1909. L.W. Remington of Killbuck, OH signed the certificate of death, and interment was in Union Center, OH.
Lyman only survived his wife by 13 months. Tragically, he slipped on some ice in March 1910 and fell, fracturing and dislocating his femur. After three days of suffering, he succumbed at the age of 82 on March 20, 1910.
Daughter Mary Remington (1858- ? ) was born in about 1858 in Ohio. At the age of 22, in 1880, she was employed in Richland Township as a school teacher.
Daughter Lydia May Remington (1864- ? ) was born in about 1864 in Ohio and grew up in Richland Township.
Daughter Lucy Remington (1866-1941) was born on July 3, 1866. On April 29, 1888, at the age of 21, she was united in wedlock with John A. Barnes (June 1867- ? ). They bore a son, Walter Barnes. The family's home was in Richland Township, Holmes County, and they belonged to the Union Grove Christian Church. At the age of 75, she suffered a heart attack at home and died on Nov. 10, 1941. With Rev. Hugh Wayt and Rev. Hubert Smith co-officiating at the funeral, interment was in Union Grove Cemetery. An obituary appeared in the Coshocton Tribune.
Grandson Walter Barnes (1889- ? ) was born in Feb. 1889. He grew up in Richland Township, Holmes County, OH.
Daughter Hally E. Remington (1873- ? ) was born in about 1873.
~ Stepson William Shultsman Jr. ~
Stepson William Shultsman Jr. (1845-1922) -- originally spelled "Shultzman" -- was born on Aug. 7, 1845 in Knox County, OH. He stood 5 feet, 9 inches tall, weighed 180 lbs. and had a dark complexion, grey eyes and brown hair.
As a young man, living in Yankee Ridge, Knox County, he joined the Disciples of Christ Church at Tiverton Center and remained a member for the rest of his life. He was considered by friends to be of sound health.
During the final months of the Civil War, on Feb. 22, 1865, the 19-year-old William traveled to Wooster, OH to enlist in the Union Army for the term of one year. From there he was ordered to Camp Chase, OH. He was assigned to the 186th Ohio Volunteer Infantry, Company B, commanded by Capt. John Elder. The Army spelled his name "Shultsman" which he appears to have used thereafter although his sons went by the original spelling. Said the Coshocton Tribune, "he served during the entire period of the war."
While on picket duty at Cleveland, TN in the period of June 10-15, 1865, he contracted a cold while lying on damp ground. The cold settled in his right testicle, which became enlarged and painful and plagued him for the rest of his life. He compared the size of the swelling to a small orange. Comrade Uriah Swain is known to have accompanied him to see Dr. Hargrave, the regimental surgeon, seeking care. Soldiers John L. Smith and Andrew Wortman also were aware of the ailment.
Then in July 1865, when guarding an officer's tent near Chattanooga, TN, a nearby arsenal caughter fire and blew up, a fragment of a shell grazed William near his right temple. The wound led to a loss of hearing and was treated by the regiment's assistant surgeon. Fellow soldiers Lafayette Sandles and Martin Nyhart had knowledge of the incident.
William was honorably discharged at Nashville on Sept. 18, 1865 and returned to Holmes County, OH, where he lived for about two years. Then in 1867, he relocated to Mt. Vernon, Knox County. He is believed to have undergone testicular surgery about that time by the hand of Dr. John W. Russell, also of Mt. Vernon.
On Feb. 6, 1868, when he was 22 years of age, he married Sarah Neal (Jan. 18, 1851- ? ), a native of New Castle, OH. The wedding was held at the county courthouse in Coshocton, OH, and performed by justice of the peace Luther L. Cantrell. A written record of the marriage was placed inside the family Bible.
The Shultsmans were the parents of Edgar E. Shultzman and Charles Oden Shultsman.
They were longtime farmers. Circa 1870, the couple dwelled in Richland Township, Holmes County, boarding in the home of widow Mariah Kemp and next door to his parents.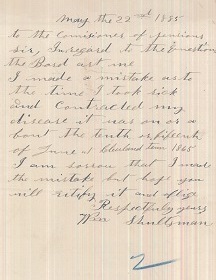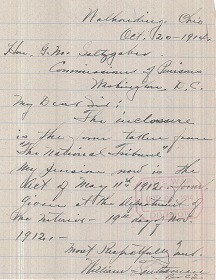 Letters from William to the U.S. Pension Commissioner, 1885 (left) and 1914

National Archives
In 1871, they migrated to a farm near Walhonding, New Castle Township, Coshocton County, OH, a region in which they dwelled for more than four decades. Their post office in 1884 was Yankee Ridge. Among those who worked alongside William during those years were French W. Cochran and L.W. Swigart. Wrote Cochran: "I see him about once a week and he tels me he is hardly able to do any manual labor at all and I would think from the looks of him that he is not able to perform labor more than half his time."
William applied for a military pension which was awarded as compensation for wartime injuries. [Invalid App. #377.649 - Cert. #368.562] In seeking support for his application, he wrote to Dr. W.H. Matchett, his former regimental surgeon: "I write to you concerning sickness I had in the army and to see whether you have any recolection of it or not. I think we were at Camp at Chattanooga at the time. I was sick if you Remember. You caled it Orketis ["orchitis"] and you gave me medicine for the disease. If you remember any thing about it please let me know." In turn, Matchett replied that "It is not possible to call to mind individual cases after so long." He tried to locate other commissioned officers of his regiment, but did not know where any of them lived and admitted in a letter that "I have not herd of the whereabouts of any of my Officers since the Regiment was mustered out of service."
Circa 1887, they shared a residence, perhaps in a boarding house, with Dr. A.E. Welker, their family physician. Welker once wrote of William that "I have treated [him] for nervous prostration and consequent functional heart trouble... [It] will continue to grow as long as he is compeled to follow the vocation of a laborer."
When the Centennial History of Coshocton County, Ohio was published in 1909, William was listed in a roster of local Civil War veterans.
Suffering from blindness, heart valve and kidney disease, the Grim Reaper carried him away in death on April 14, 1922, at the age of 76. Following funeral services held at his church, the remains were lowered into repose in Walhonding. An obituary in the Tribune said he was survived by eight grandchildren and two great-grandchildren.
The widowed Sarah, in providing details of his life for the Ohio death certificate, could not furnish the name of her husband's mother. She then began to receive her husband's pension payments. [Widow App. #1.191.137 - Cert. #918.091] Sarah survived her husband by a decade. She died at the home of her son Edgar in New Castle, OH on June 8, 1932. An obituary was printed in the Tribune.
Son Edgar Ellsworth Shultzman (1869-1959) -- sometimes known as "Edward" -- was born on May 11, 1869. At the age of about 24, in 1893, he married 21-year-old Alma Kent (1872-1950). They were the parents of seven: Eva Hagans, Nellie Lucille Williams, Florence Cummins McCormick, William M. Shultzman, Charles L. Shultzman, Bessie M. Shultzman and Annabelle Lee Fox. The family lived in Walhonding, OH in 1922 and in New Castle in 1932. Circa 1930, Edgar was named guardian for his mother as she aged, and he received her monthly pension checks on her behalf. Alma is known to have attended the Shultzman family reunion in August 1937 at Coshcton Lake Park. Edgar passed into eternity at the age of 89, in Coshocton, on April 15, 1959. An obituary was published in the Coshocton Tribune.
Granddaughter

Eva

Shultzman

(1894-1989) was born in 1894. In about May 1920, at age 25, she married 21-year-old farmer Charles Hagans of New Castle, OH. News of their marriage license was published in the

Coshocton Tribune

.
Granddaughter Nellie Lucille

Shultsman

(1896-1970) wedded Glenn Williams. They resided in Coshocton circa 1933 and are believed to have been the parents of Eloise Williams, Betty Williams and Lawrence Williams.
Granddaughter

Florence

Shultsman

(1901-1989) was born in 1901. As a young single woman, she taught school in the Coshocton area. Then at the age of 19, on Nov. 24, 1920, she was joined in marriage with local barber Harry B. Cummins ( ? - ? ), a resident of Bladensburg, OH. The ceremony was performed by Rev. C.H. Hood on Chestnut Street, with no attendants. In reporting on the wedding, the

Coshocton Tribune

said that the couple would make its home in Bladensburg, where Harry had his own shop. Then in 1933, they resided in Mt. Vernon, Knox County. Later, she married (?) McCormick.
Grandson William M.

Shultsman
Grandson Charles L.

Shultsman

(-1905-) died in infancy in 1905.
Granddaughter

Bessie M.

Shultsman ( ? - ? ) made her home in Coshocton in 1933.
Granddaughter

Annabelle Lee Shultsman

(1914-2009) was united in wedlock with (?) Fox.
Son Charles Otis Shultsman (1874-1935) was born on April 27, 1874. He wedded Eva Cholmondeley ( ? - ? ). They bore an only daughter, Thelma Rudd, in 1896. The Shultzmans resided in 1922 in Athens, Athens County, OH and in 1932 in Walhonding. Sadly, Charles died in 1935. Eva's fate will be reported here once learned.
Granddaughter Thelma Shultsman married Vannis Roma Rudd in 1915. The Rudds produced a daughter, Clelia Margaret Partridge (1916-1995) who married Francis Laverne Partridge in 1937 and had a son, Gary Jan Partridge (1939-2006).
~ Daughter Mary Shultzman ~
Daughter Mary Shultzman (1855- ? ) was born in about 1855 in Tiverton.
~ Son Lewis Shultzman ~
Son Lewis Shultzman (1856-1937) was born on May 1, 1856 in Tiverton, Coshocton County.
He grew up on the family farm and, as shown in the 1880 census, when he was 24, was employed as a farm laborer in the household of John and Mary Utterback in Tiverton.
He wedded Margaret Jane Hunter (Dec. 23, 1851-1930), daughter of James and Lydia (Strouse) Hunter. They earned a living as farmers over the years.
After retirement, they dwelled on North Main Street in Orrville, Wayne County.
Heartache enveloped the family when Margaret suffered a stroke in late November 1930. She lingered for a few days but succumbed on Dec. 4, 1930, just 19 days before her 79th birthday. The informant for the Ohio death certificate was Mrs. C.E. Snyder of Orville.
Circa 1937, the widowed Lewis made a home in Orrville. He died on Feb. 12, 1937, after having suffered a stroke a few days earlier at the age of 80. Mrs. Charles E. Gayda (?) of Orrville was the informant for the official death certificate. Interment was in Crown Hill Cemetery.
~ Daughter Amanda Shultzman ~
Daughter Amanda Shultzman (1858- ? ) was born in about 1858 in Tiverton.
~ Son Porter Shultzman ~
Son Porter Shultzman (1861-1925) was born on June 18, 1861 in Ohio.
He was wed twice. His first spouse was Sarah M. "Sadie" Remington (1862-1884), daughter of John and Almera (Sayles) Remington. The marriage was cleaved apart by death when Sadie was only 22 years old in 1884. Burial was in Remington Pioneer Cemetery in Holmes County, OH.
Within a few years, he was united in matrimony with his second bride, Deborah L. Spencer (July 23, 1859-1923) of Millersburg, OH, the daughter of John and Louisa (Sands) Spencer.
They bore at three known children, Rodney Garth Shultzman, Walker Irwin Shultzman and Gladys P. Shultzman.
Deborah died from the effects of chronic heart disease and dementia on July 16, 1923, just a week before her 64th birthday.
Now twice-widowed, Porter only lived for another two years and remained in his home in the Rear of 1423 St. Elmo Street Northeast in Canton. At the age of 63, stricken with liver cancer of a year's duration, he passed away in Canton, Stark County, OH on April 28, 1925. His remains were transported to Wayne County, OH for interment with Deborah in Crown Hill Cemetery in Orrville. [Find-a-Grave] Walker Shultzman of the home was the informant for the death certificate.


Rodney and Edna Shultzman
Courtesy Carlton Greve
Son Rodney Garth Shultzman (1888-1962) was born on Feb. 2, 1887 or 1888 in Glenmont, Holmes County. As an adult, he was tall and slender, with dark brown hair and grey eyes. On July 10, 1907, at the age of about 19, he married Edna Claire Long (1887-1959), daughter of William and Emma Long of Orrville, OH. This couple produced 11 children -- William Dean Shultzman, Eleanor Ruth Shultzman, Marion Duane Shultzman, Paul Ronald Shultzman, Lamont Hilton Shultzman, Richard Garth Shultzman, Clair Walker Shultzman, James Morris Shultzman, Don Mark Shultzman, Catherine Elaine Shultzman and Jean Eloise Shultzman. Circa 1917, he worked as an agent for Standard Oil Company at its facility in Shreve, OH. During World War II, they lived at 253 East Henry Street in Wooster, Wayne County, OH, with Rodney now employed by Fred M. Perkins. Sadly, Edna died on July 24, 1959. Rodney outlived her by three years and succumbed in 1962. Burial was in Crown Hill Cemetery in Orrville.
Grandson William Dean Shultzman (1907-1938) was born on Oct. 17, 1907 in Barberton, Summit County, OH. He never married. As an adult, he made a residence in Green Township, Wayne County, OH, and worked as a laborer. Burdened with heart valve disease and asthma, William passed into eternity at the age of 30 on Jan. 19, 1938. His remains were lowered into eternal repose in Crown Hill Cemetery in Orrville.
Grandson Lamont Hilton Shultzman (1905-1985) was born on July 27, 1905. He wedded Katherine L. (Feb. 17, 1915-1996). He died on July 28, 1985, a day before his 80th bithday, with burial in Crown Hill Cemetery in Orrville, Wayne County.
Granddaughter Jean "Eloise" Shultzman (1928-2004) was born on Aug. 11, 1928. She married (?) Sauers ( ? - ? ). She died n Feb. 2, 2004. .
Son Walker Irwin Shultzman (1890-1956) was born on May 9, 1890 in Millersburg, OH. He passed away in Crawford, OH on June 7, 1956.
Daughter Gladys P. Shultzman (1892-1985) was born on April 9, 1892 in Holmes County, OH. She succumbed in Massillon Community Hospital in Stark County, OH on Dec. 18, 1985.
~ Daughter Ellen Shultzman ~
Daughter Ellen Shultzman ( ? - ? ) was born in (?).
Copyright © 2000, 2017-2019 Mark A. Miner
Carlton Greve graciously has furnished substantial material for this biography.