Samuel Gaumer
(1803-1859)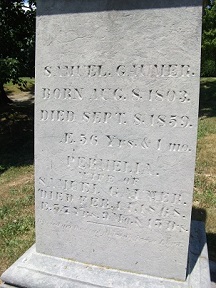 Canoga Cemetery, Seneca Falls, NY

Courtesy Diane LM, Find-a-Grave
Samuel Gaumer was born on Aug. 8, 1803 in Macungie Township, Lehigh County, PA the son of Johann Dietrich "Dieter" and Anna Elizabeth (Heinly) Gaumer.
As a young man, Samuel migrated to New York State in or before 1835.
He wedded Permelia Carven (1816-1868), a New York native. Her first name also has been given in official New York county court records as "Helmina."
The couple produced these five known offspring -- Caroline Gaumer, Susan Gaumer, James Gaumer, Reuben "Henry" Gaumer and William Gaumer, all born in New York State.
When named in the 1850 federal census, they lived on a farm in Fayette, Seneca County. In a special agricultural census also made in 1850, Samuel was shown as owning 254 acres of land, of which 184 had been cleared and improved, with six horses, four milch cows and two other cattle. As well, he owned 22 sheep, which generated 80 lbs. of wool, and 17 swine. That year, the farm produced 1,125 bushels of wheat, no rye and 150 bushels of Indian corn. The special census taker also recorded that the farm generated 400 lbs. of butter, 20 tons of hay
Sadly, suffering from an infection of his skin ("erysipelas"), leading to extensive rashing, Samuel died in Fayette at the age of 56 on Sept. 8, 1859. His remains were placed into repose in Canoga Cemetery in Seneca Falls, Seneca County. [Find-a-Grave]
As a widow, Permelia continued on for another 18 years and remained in the town of Fayette. As her husband died intestate, meaning without having left a last will, she was assigned as the executrix of the estate. She petitioned the Seneca County court in November 1859, asking that David Sell be appointed as co-executor.
The United States Census of 1860 lists her as heading a household in Fayette with all five of her children, ranging in age from 14 to 26. That year, she received her mail through the Canoga post office.
She died on Feb. 1, 1868, at the age of 57 years, three months and 15 days. She rests for eternity beside her spouse.
~ Daughter Caroline Gaumer ~
Daughter Caroline Gaumer (1835- ? ) was born in about 1835 in New York. Unmarried at the age of 26, in 1860, she lived with her widowed mother and younger siblings in Fayette, Seneca County.
~ Daughter Susan Gaumer ~
Daughter Susan Gaumer (1836- ? ) was born in about 1836 in New York. She was single at the age of 22 and dwelled at home.
~ Son James S. Gaumer ~
Son James S. Gaumer (1837- ? ) was born in about 1837 or 1839 in New York. He worked as a meat peddler in 1860, in Fayette, Seneca County, NY at the age of 21.
Evidence suggests that he married Eliza "Louisa" Bocher (1834-1924), also spelled "Bocker."
They bore a family including Carrie A. Steele, Dora L. Elliotto, Ella Grace Gaumer, Elmer Bocker Gaumer, Laura B. Gaumer, Frederick Gaumer and Lewis/Louis Adam Gaumer. Sadly, their daughter Ella Grace died at the age of one year on June 23, 1868.
With the nation aflame in the midst of Civil War in June 1863, James registered for the military draft. There is no evidence that he actually served in the Army.
The United States Census of 1870 lists the family in Tyre, Seneca County.
James died sometime prior to 1920.
Louise made her home as a widow at 27 Elizabeth Street. She was gathered in by the Angel of Death, at age 90, on Dec. 4, 1924.
Daughter Carrie A. Gaumer (1863- ? ) was born in Feb. 1863 in Seneca County, NY. In 1896, she wedded Frank Melville Steele (Jan. 1872-1940). He was nine or 10 years younger than his wife. The couple established a home in Auburn, Cayuga County, NY, where in 1900 he worked as what appears to be "building mover."
Daughter Dora L. Gaumer (1865-1918) was born in June 1865 in Seneca County, NY. In 1884, when she was age 19, she married Charles Fernandez Elliotto (May 1858-1938). They were the parents of three sons -- Walter Frederick "Fred" Elliotto, Earl C. Elliotto and Archie A. Elliotto. Sadly, son Earl died as a boy. Circa 1900, they lived in Seneca Falls, Seneca County, with Charles earning a living as a machinist. She died there on Sept. 13, 1918. Charles outlived Dora by two decades. He endured the death of son Archie in 1926 and joined them in death in 1938.
Son Elmer Bocher Gaumer (1868-1935) was born on June 23, 1868, in Seneca Falls, Seneca County, NY, a twin with his sister Ella Grace. The sister died in infancy. Elmer was married twice. The first wife was Mary ( ? - ? ). They tied the knot in Seneca on Jan. 11, 1889 and then relocated to Ohio, making a home in or near Dayton, Montgomery County. A child was born to this couple. After nine years of marriage, in 1898, Elmer sued for divorce, alleging habitual drunkenness and adultery, and asked for custody of their child. The divorce was granted in early January 1900, with Elmer given exclusive custody of their child, with Mary ordered not to see the child until further court order was made. Elmer was a tool maker and by the early 1900s relocated to Cleveland, Cuyahoga County, OH. On Oct. 21, 1903, at the age of 31, he was joined in holy wedlock with his second bride, Jeanette Annable (1879- ? ). She was the daughter of Levias and Jeannette (McCracken) Annable and, at the time of marriage, lived at 403 Gordon Avenue in Cleveland. Rev. J.W. Malcolm officiated at their wedding. The couple dwelled in Cleveland, at the address of 13839 Clifton Boulevard. Elmer continued his work as a laborer for a machinery company. Burdened with hardening of the arteries, Elmer suffered a heart attack the day before his 67th birthday. He only lived for another five days and died on June 27, 1935. Burial was in Lakewood Cemetery. On his death certificate, signed by Jeanette, the birthplace of both of his parents was listed as "Germany," a testament to how much the family had held onto their German traditions and beliefs over 200 years and six generations in America.
Daughter Laura B. Gaumer (1871- ? ) was born in July 1871 in Seneca County, NY. Little about her is known. She was united in wedlock with John J. Hughes (1871- ? ). More will be added when learned.
Son Frederick Gaumer (1873- ? ) was born in 1873 in Seneca County, NY. He has yet to be found in the 1900 U.S. Census.
Son Lewis/Louis Adam Gaumer (1875-1935) was born on Dec. 12, 1875 in Seneca County, NY. He married Helen "Nellie" ( ? -1942), and they lived in Auburn, Cayuga County, NY at 36 Burt Avenue. His work circa 1920-1926 was as a driver for Bowen Products Corporation. Death swept him away on March 11, 1935. His remains are in repose in Fort Hill Cemetery in Auburn. Nellie survived him by seven years. She died in Oct. 1942.
~ Son Reuben Henry Gaumer ~
Son Reuben "Henry" Gaumer (1842- ? ) was born on Feb. 26, 1842 (or 1840) in Fayette, Seneca County, NY. When he was age 18, in 1860, he worked as a day laborer in Fayette to help the family generate income.
After the outbreak of the Civil War, Henry in August 1862 joined the 148th New York Infantry as a member of Company A. His term was set at three years' duration.
The war ended in 1865, followed by the death of Henry's mother in 1868. He then made the decision to migrate to Michigan, establishing a home in Saline, Washtenaw County, MI.
On Sept. 19, 1872, he was united in holy matrimony with Elizabeth Bush (Sept. 8, 1850-1925), also of Saline, the daughter of Andrew and Elizabeth (Hearson?) Bush. Their nuptials were held in Ann Arbor.
The couple did not reproduce. They were farmers for many years. The federal census enumeration of 1880 shows the Gaumers on a farm in Saline, with Elizabeth's 70-year-old widowed mother and 40-year-old unmarried sister Frances in the household.
In April 1886, Henry was awarded a military pension for his wartime service. [Invalid App. #571.557 - Cert. 346.602] He thus received monthly pension checks for the balance of his life.
Just two weeks after his 60th birthday, Henry suffered a stroke of apoplexy and died in the village of Saline, Washtenaw County on March 9, 1900. Burial was in Oakwood Cemetery.
Elizabeth survived her husband by a number of years. She immediately began receiving her late spouse's pension. [Widow App. #716.315 - Cert. #505.073] The 1910 U.S. Census shows her living alone in Saline, with her occupation listed as "own income," likely meaning her pension.
In March 1925, her bowels became blocked, and she began to suffer from acute colitis. She began taking a patent medicine known as "Allen Rhu," but it only contributed to her problem. After suffering for 23 days, she died at the age of 74, in Saline, on April 8, 1925. J.L. Bush, of North Locust Street in Adrian, MI, was the informant for the death certificate.
~ Son William Gaumer ~
Son William Gaumer (1847- ? ) was born in about 1847 in New York.
Copyright © 2000, 2015, 2016, 2018-2019 Mark A. Miner
Many thanks to Paula (Gaumer) Tooke, Stan Garmer and Dr. Phyllis M. Correa for so graciously sharing their research discoveries for this biography.