William Edward Geiger
(1886-1955)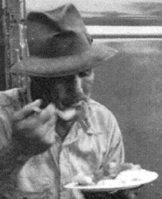 William E. Geiger
William Edward Geiger was born on Oct. 12, 1886 in Johnstown, Cambria County, PA, the son of George and Emma J. (Minerd) Geiger.
In about 1909, at the age of 23, William moved to Charleston, Kanawha County, WV. He was a member of the Catholic Church.
William married Goldie (?) (1900- ? ). He was 14 years older than his bride. They are not believed to have reproduced.
The census of 1920 shows William and Goldie making their home with his widowed mother on Charleston's Washington Street. Following his late father's trade, William worked that year as a cement molder. Three others boarded under the Geiger roof in 1920 -- Ivan E. and Martha V. Dodd and William McLaughlin, all natives of West Virginia.
By the year 1930, they were divorced.
When the federal census was taken in 1930, William and his 19-year-old married niece Elizabeth Minerd (Vickers) Johnson resided as lodgers in the Washington Street household of Walter and Lula Jones in Charleston. At the time, he was employed at Laidley Field.
William was well known in the Charleston area. From 1927 to 1948, he worked as custodian of a local football stadium, Laidley Field, where Charleston and Stonewall Jackson High Schools, and Morris Harvey College (now part of the University of Charleston), played their games Tall, strapping and good looking, William poses in two photograph seen here, both taken at Laidley. The dates of these photos are not yet known.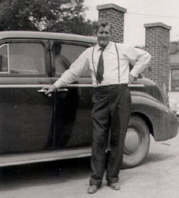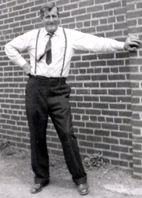 William at Geiger Field, Charleston, WV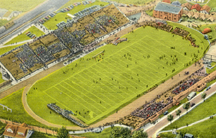 Laidley Field in Charleston
For many years afterward, once Elizabeth remarried, William resided in her home, in Charleston, WV. Information about him is recorded in her family Bible.
After leaving his job at Laidley in 1948, he was a maintenance employee for the Charleston Board of Education.
Family records show that William died in the Hales' home in Charleston on July 5, 1955. He is buried in the Geiger family plot in Springhill Cemetery in Charleston, along with a nephew (his sister Ardella's son George Cabot Vickers) and others in the family.
No other details of his life are known, but will be added when known.
Copyright © 2004-2005, 2009, 2017 Mark A. Miner