Lola Ann (Gribble) Jeffries
(1866-1929)
Lola Ann (Gribble) Jeffries was born on Aug. 26, 1866 in Redstone Township near Uniontown, Fayette County, PA, the daughter of James and Susan (Murdock) Gribble.
On Nov. 25, 1886, when she was age 20, Lola married 24-year-old John W. Jeffries (1862-1938), the son of Christopher and Charity Jeffries of Menallen Township, Fayette County. The ceremony was performed by Rev. W.H. Gladden, after Lola's father signed his consent to the union since she was underage. At the time of marriage, John worked as a laborer.
They bore one daughter together, Ruth Langley.
The Jeffries family made their home in Redstone Township, Fayette County, in 1894, when their daughter was born.

Mill Street in New Salem near Uniontown, PA
The 1910 census shows the Jeffries family living on New Salem Road near the Stony Point Schoolhouse in Menallen Township, Fayette County. That year, John worked as a farmer on his own farm, and his 73-year-old, widowed father Christopher and 11-year-old niece Ethel Jeffries lived under their roof, as did servant Grover Hughes.
In 1920, the census shows John continuing his labors as a farmer, and residing with Lola and niece Ethel along the New Salem Road. Their next-door neighbors in 1920 were married daughter Ruth Langley and her husband and young son.
Sadly, although Lola recovered from a serious case of influenza in the winter of 1929, a side effect was that her heart valves began to fail. She died at the age of 62 on May 27, 1929. Said the Uniontown Morning Herald, "Virtually all of her life was spent in the vicinity of New Salem." She was laid to rest in Church Hill Cemetery in McClellandtown.
By 1930, her widowed husband John lived next door to their daughter and son in law in Menallen Township, continuing his longtime occupation as a farmer.
John passed away on April 25, 1938, at the age of 76, at the Langley Home. The Morning Herald reported that he "was well-known in Menallen township, where he had been engaged in farming until about nine months ago when ill health forced him to retire." The funeral was led by Rev. Harry W. Kilgore, of New Salem Presbyterian Church, and Rev. James C. Clark, of Second Presbyterian Church in Uniontown. He rests for eternity beside his wife.
His daughter Ruth and her husband Aaron Langley served as executors of the estate.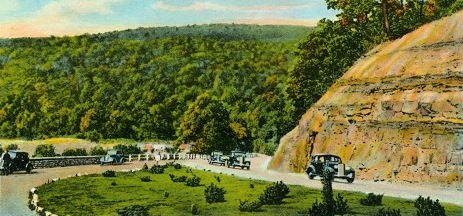 Uniontown's famed "Point Lookout" where automobiles stop for a rest during their slow climb up the steep National Road (U.S. Route 40) in the mountains.
~ Daughter Ruth (Jeffries) Langley ~
Daughter Ruth Jeffries (1894-1944) was born on Aug. 29, 1894.
She married Aaron J. Langley (1893-1976), the son of Alex E. and Ada (Frost) Langley.
They were the parents of one son, Glenn H. Langley.
The Langleys resided along the New Salem Road in Menallen Township near Uniontown, Fayette County, and were members of the New Salem Presbyterian Church and the Menallen Grange 1091.
The family were farmers and lived next to Ruth's parents in 1920 when the census was taken of Menallen Township, Fayette County. The 1930 census shows the family living along the "cement road to New Salem" and as next-door neighbors to Ruth's widowed father, 68-year-old John W. Jeffries. That year, Aaron was employed as a coal mine laborer.
The Langleys were active in the Menallen Grange No. 1091.
During World War II, son Glenn was a sergeant with the U.S. Army, serving overseas in Europe.
Ruth was afflicted with the same ailment that carried away her mother -- disease of the heart valves ("mitral insufficiency"). She passed away at home at the age of 49 on March 19, 1944. Following a funeral at home, led by Dr. William B. Hindman of the First Presbyterian Church of Uniontown, she was laid to rest in Church Hill Cemetery in McClellandtown. Pallbearers were Harry Rishel, H. Earl Holland, Paul Swartz, Edward Vail, Edwin Smeal and Robert E. McBurney.
Aaron outlived his wife by more than three decades. He married again, to Ruby (Rist) Martin ( ? - ? ). She brought two sons to the marriage, William Glenn Martin and Thomas W. Martin.
They endured the untimely death of Aaron's only son in 1971. Then in 1974, he gave away his granddaughter Marsha in marriage to Anthony Henry Regula.
Aaron died in Uniontown Hospital, at the age of 83, on July 11, 1976. A story in the Uniontown Morning Herald said that the framed Grange charter would be draped in his memory at future meetings in recognition of his 50 years of membership.
Son Glenn H. Langley ( ? - ? ). He joined the U.S. Army during World War II. He held the rank of sergeant and was deployed overseas to Europe. He also served in the armed forces during the Korean War. He was joined in marriage with Helen Cook ( ? - ? ). The known offspring born to their union were Allen D. Langley and Marsha Lynne Regula. Glenn earned a living as a salesman for S.E. Williams Supply Company in Uniontown. The family dwelled on New Salem Road and belonged to St. Paul's Lutheran Church. Glenn served a term as president of the Old Trails Lions Club and held memberships in the Menallen Grange and Uniontown post of the Veterans of Foreign Wars. Sadly, at the age of 52, Glenn died in Uniontown Hospital on May 29, 1971. Funeral services were held in the Edward E. Minerd Funeral Home, led by Rev. G.C. Waldkoenig, with interment following in LaFayette Memorial Park. An obituary was printed in the Uniontown Evening Standard.
Grandson Allen D. Langley ( ? - ? ) graduated from South Laurel Highlands High School in 1968. He then attended the Fayette Institute of Commerce and Technology in Uniontown. In June 1971, he was united in the bonds of wedlock with Donna Jean Wontroba ( ? - ? ), daughter of Leonard Wontroba of Uniontown. Their ceremony was held at St. Joseph's Roman Catholic Church, officiated by Rev. John Kacmarczyk. The

Uniontown Evening Standard

reported that she was attired in "a floor length gown of white silk organza and imported Chantilly lace with fitted bodice, high neckline and full bishop sleeves adorned with lace. The skirt featured a train falling into a chapel sweep. Her bouffant veil of silk illusion was attached to a cluster of petals adorned with tiny seed pearls." Donna was a 1970 alumna of South Laurel Highlands and at the time of marriage was a sophomore at California State College. The couple made a home in Chalk Hill, near Uniontown. They were the parents of Heather Dawn Langley.
Granddaughter Marsha Lynne Langley ( ? - ? ) was a 1969 graduate of Laurel Highlands High School and in 1971 received an associate degree in business from Penn State University. She went on to earn a bachelor of science degree in home economics education in 1974, also from Penn State. In Dec. 1974, she entered into holy matrimony with Anthony Henry "Tony" Regula ( ? - ? ), son of Anthony H. Regula of Brownfield, Fayette County. Their nuptials were held at St. Paul's Evangelical Church of Uniontown, presided over by Rev. G.C. Waldkoenig. In announcing the marriage, the Uniontown Morning Herald said that the bride "wore a floor length gown of candlelight maracaine. The empire bodice was adorned with crystal and pearls and featured a high neckline and long tapered sleeves. The neckline and cuffs were trimmed with pearls and crystals." Anthony was a 1966 alumnus of South Union High School and in 1971 had been awarded a bachelor of science in animal science degree from Delaware Valley College. At the time of marriage, he was employed by North Fayette Area Vocational Technical School as an agriculture instructor. Together, the couple bore several children, among the known names Megan Regula, Anthony Regula and (?). Marsha has spent her career in public education in Uniontown and the Penn State Agricultural Extension Office. They also were active volunteers over the years at the annual Fayette County Fair, an event made famous in the song Cigarette by The Clarks. In 2005, Marsha was noted in the Pittsburgh Post-Gazette for entering one of her apple pies in the Fair competition, made from a Pennsylvania Dutch recipe featuring egg, vinegar and pre-cooked filling. The family's address over the years has been in Brownfield.
Great-granddaughter Megan Regula studied at Washington and Jefferson College and then Penn State University, focusing on animal science. She also was active with 4-H. In July 2001, she was named Queen of the annual Fayette County Fair.
Great-grandson Anthony Regula Jr.
Copyright © 2007, 2009, 2012, 2019, 2021 Mark A. Miner