Garrett "Hobart" Harbaugh
(1896-1970)
Garrett "Hobart" Harbaugh was born on Aug. 12, 1896 in Maple Summit, Fayette County, PA, the son of Robert B. and Elizabeth (Long) Harbaugh Sr. He stood five feet, nine inches tall, and weighed 175 lbs.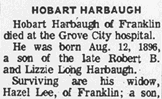 The day after Christmas, on Dec. 26, 1923, when he was age 27, Hobart married 18-year-old Irene Burnsworth (1905- ? ), daughter of Russell Burnsworth. There was a nine-year difference in their ages.
They had three children - Edward "Lee" Harbaugh, Alvin Hobart Harbaugh and Audrey Harbaugh.
Circa 1938, Hobart resided in Grove City, Mercer County, PA.
At some point, Hobart and Irene separated. During World War II, when he registered for the military draft, he stated that his residence was Irwin Township, Venango County, PA, while Irene's was R.D. 3, Grove City, Mercer County. At the time, Hobart was age 45, and he was employed by Cooper Bessemer Inc. of Grove City. He did not have a telephone in his home.
They later divorced, and she is said to have moved to Baltimore, MD.
Later, Hobart married Hazel Lee ( ? - ? ).
In 1949, when the Harbaugh History book was published, Hobart and Hazel were residing at R.F.D. 3, Grove City, where he worked as a machinist. Later, he moved to Franklin, PA.
The Harbaugh History states that "Both boys were in [World] War II, Lee in the Air Forces, and Alvin in the Merchant Marine... All are members of the Church of God."
Hobart passed away in Grove City Hospital in December 1970. He was laid to rest in Grove City. He and Hazel are buried together in Grove City.
Son Lee Harbaugh ( ? - ? ) resided in Franklin.
Copyright © 2003-2004, 2008, 2011 Mark A. Miner