Bessie (Holmes) Iden
(1873-1958)


Bessie and Oliver Iden
Bessie E. (Holmes) Iden was born on May 22, 1873 in Brownsville, Licking County, OH, the daughter of Lemuel and Emily (Minor) Holmes.
Her husband was an early physician in our family, serving for a half-century in the medical field.
Bessie grew up in Brownsville. There, at the age of 26, she married Oliver L. Iden, M.D. ( ? - ? ). The ceremony was held on May 1, 1899.
Their wedding took place within a very short time after Oliver's 1899 graduation from the Eclectic Medical Institute in Cincinnati. His preceptor during his medical education was a relative, Dr. J.F. Iden. The Eclectic Medical Gleaner publication in September 1899 reported that Oliver "has permanently located at Somerset, O. He will have no trouble to do business."
Eclectic Medical Institute,
Cincinnati
The couple moved to nearby Somerset, Perry County, OH, where Oliver practiced medicine for 15 years. Circa 1902, Oliver served as Ohio health officer for Somerset, receiving a small salary of $25 per year. The population of Somerset at the time was 1,200. In his report for 1902, published by the State Board of Health, Oliver noted the following:
...numerous reports of dead animals; canning factory. All dead animals removed; canning factory garbage removed only in part. Families who keep hogs collect garbage in their respective neighborhoods. Cases of infectious diseases reported: Diphtheria, 7; membranous croup, 2; typhoid fever, 4; whooping cough, 1. Total number of infectious diseases, 14.
While in Somerset, the couple had two sons: Oliver "Holmes" Iden and Lemuel "Lloyd" Iden.
Prior to marriage, sometime in the early 1890s, Oliver spent time in New Mexico and Arizona working on the railroads to earn income for his medical education. He was ill with tuberculosis at the time, and as he saw his mother and sister die of the disease, he feared he too would succumb unless he moved to a dry, warm climate. He kept a diary of his southwestern travels.
In 1914, the Idens relocated again to Chillicothe, Ross County, OH, where Oliver maintained his medical practice for another 35 years, until his death. Bessie was a member of the Walnut Street Methodist Church and the Order of the Eastern Star. Their home was located at 37 South Hickory Street.
Bessie only stood five feet tall, while Oliver was six feet in height. Even in her 70s and 80s, recalled a granddaughter, she was a pretty woman whose complexion did not wrinkle. Her most outstanding characteristic was the deep blue eye color.
The Idens are said to have been influenced by the prevalent attitudes during the Civil War, where Oliver's father had served as a Union Army soldier and fought at Gettysburg. They believed in the teachings of the church ("The purpose of life is to know God and to enjoy Him forever.") and in providing duty, honor and service to mankind. They made these ideas the cornerstones of their lives and taught them to their children and grandchildren.
While in college, Oliver had studied the "newer" philosophies and rejected them for his own life. Therefore, time was to be spent wisely, either on one's education or to make things better for others. They occasionally allowed themselves diversions such as card playing, golfing, movies, parties and vacations, but did not drink alcoholic beverages. When they reached the end of their lives, they had every reason to look back with pride -- they had done their best.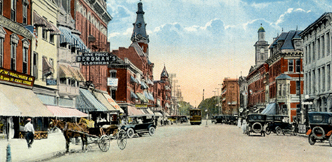 Chillicothe's Paint Street circa when the Idens moved there
In Bessie's day, no proper married lady had a "career," but she helped her husband by answering the telephone, scheduling appointments and keeping the books, especially in the early days of the practice. Even in the 1940s, when she was in her 70s, she would always answer the phone if the secretary was unable, and tell the patient exactly what time the doctor would return. If necessary, she would try to ease the pain or fear of the patient (or oftentimes the patient's mother). Both Bessie and "Ol" valued all people equally, and encouraged all others to prepare for and seek to fulfill whatever life dreams they had.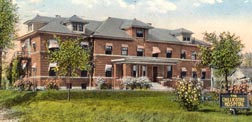 Chillicothe Hospital
Bessie and Oliver had a piano in their home, but never sang or played, as they were always busy running the medical practice. Their sons, however, learned a love of music while on summer vacations at their grandparents' home in Brownsville, a value passed down in the generations.
Oliver at one point served as president of the Ross County Medical Society. In his later years, he became almost obsessed with the idea of building a fine new, modern hospital in Chillicothe to replace the one seen at right. He wanted rural families to receive "big city" care that would save many lives. He had a life-long idea that if one wanted something badly, but had no funding for it, one began immediately to raise the money, little by little. He and his colleagues went to all of the service clubs in Chillicothe sharing his vision, and gave generously to the fund. While Oliver never saw the fulfillment of his dream, the new hospital became reality more than a decade after his death, with the establishment of the Adena Health System serving a wide range of residents from Columbus south to the Ohio River.
Oliver passed away on Feb. 6, 1949. When his estate was valued for probate purposes, it was announced as more than $195,000.
Bessie outlived Oliver by nine years. At age 85, she died on Oct. 7, 1958. They are interred together in a mausoleum adjacent to Grandview Cemetery in Chillicothe.
~ Son Oliver "Holmes" Iden ~
Son Oliver "Holmes" Iden (1904-1982) was born on Jan. 4, 1904 in Somerset, Perry County.
When he graduated from Chillicothe High School in 1924, he announced his intention to attend Ohio State University but changed plans and enrolled in Ohio Wesleyan University in Delaware. He eventually transferred to Ohio University in Athens. Upon graduation in 1929, he joined his father's medical practice as "business manager."
At the age of 30, on June 7, 1934, Holmes married Eugenia Noble ( ? -1976), daughter of Charles J. and Mary C. (Bitzer) Noble of Chillicothe. News of the wedding was printed in the Chillicothe Gazette, which said that a "beautiful summer wedding was solemnized in quiet simplicity" at the Idens' country home, led by Rev. A.K. Wilson of the Washington Court House Methodist Episcopal Church. "The fire place in the living room made of roses and ferns was the improvised altar.... A gown of white mousseline de soi was chosen by the bride for her wedding attire. The dress of colonial style was made floor length over whie taffeta and her flowers like her gown were colonial, made of forget-me-nots, delphinium and roses. The bride's accessories were white."
Eugenia was a 1930 graduate of Oberlin College and a onetime Blume High School teacher in Wapakoneta, OH.
The couple produced two sons -- John Holmes Iden and Frank Noble Iden.
Eugenia liked to play bridge and often hosted card parties in their home on 53½ East Second Street in Chillicothe. She also was active with the Young Women's Missionary Society of the First Presbyterian Church and the New Century Club. Her name -- "Mrs. Holmes Iden" -- often was in the gossip columns of the Gazette. In February 1938, the Gazette trumpeted the news that she was chairing "one of Chillicothe's greatest literary and cultural projects... -- a public series of reviews of six current books by Mrs. Depew Head, of Columbus." Among the books discussed were Northwest Passage by Kenneth Roberts, American Dream by Michael Foster, Journalist's Wife by Lillian T. Mowrer and The Lost Colony by Paul Green. In 1944, she was elected president of the Chillicothe Child Study Club, and in 1949 was president of the Parent-Teacher Association Council. She was involved with the Alcoa Scholarship program circa 1954 and pictured in a related story in the Gazette.
Sadly, Eugenia died in Medical Center Hospital at the age of 71 on April 23, 1976. Rev. J.W. Grove officiated at the funeral service, followed by interment in Grandview Cemetery. The Gazette printed an obituary.
Holmes lived for another six years as a widower. The Angel of Death carried away Holmes at the age of 77 on Oct. 25, 1982. In a Gazette obituary, the family asked that any memorial donations be made to the Ross County Branch of the American Cancer Society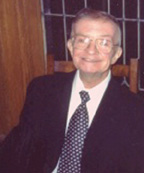 Famed pianist John Iden
Son John Holmes Iden (1938-2003) was born in 1938. At the age of 14, in 1952, he was a student at Greenbrier Military Academy in Lewisburg, WV. Upon matriculation, he then enrolled in the College Conservatory of Music in Cincinnati where he majored in piano. He reached world fame as the company pianist with the Cincinnati Ballet, where he spent more than four decades. Said the New York Times, John had a "unique style and quick wit" and "played with many of the ballet world's greatest -- including Dame Alicia Markova, C.B.E., O.B.E., Sir Anton Dolin, Alexander Danilova, Tatiana Grantzeba, Frederick Franklin, Gelsey Kirkland, Suzanne Farrell and Sulamith Messerer of the Bolshoi Ballet, Moscow." Added the Cincinnati Enquirer:
For 25 years, he also accompanied dancers in regional auditions for Joffrey Ballet and Harid Conservatory... He received the Vaganova medal from the Leningrad Kirov Ballet Company and also earned a medal from the British Ballet Organization, given by former Cincinnati Ballet Artistic Director Nigel Burgoine. He was also the Lorrence and Barbara Kellar Chair recipient for the Cincinnati Ballet.
Son Frank Noble Iden (1939- ? ) was born on Sept. 21, 1939 in Chillicothe. News of his birth was printed on the pages of his mother's college journal, the Oberlin Alumni Magazine. As the son of high-profile parents in the Chillicothe community, Frank made news as a boy for such seemingly incidental activities as contracting strep throat. In August 1957, he enlisted in the U.S. Navy and learned the military occupational specialty of fire control and in 1959 was stationed on the U.S.S. Saulley which patrolled the Caribbean Ocean. After his three-year term ended, he returned home and enrolled in Ohio State University with a focus on electrical engineering. He transferred to Ohio University to study accounting and business administration. Once graduating, he joined General Electric and was assigned to its Evandale plant in Cincinnati. On Aug. 22, 1964, he was united in wedlock with Mary "Jacqueline" Monca ( ? - ? ), daughter of John A. Monce of Chillicothe. The nuptials were held in St. Peter's Church, with Very Rev. Msgr. Julius Klinec officiating, and Jacqueline's bridal photograph appearing in the Chillicothe Gazette. Prior to marriage, she had attended Ohio University, receiving a bachelor's degree in education. The couple resided in Cincinnati.
~ Son Lemuel "Lloyd" "Doc" Iden ~
Son Lemuel "Lloyd" Iden (1905-1951) -- nicknamed "Doc" -- was born on July 28, 1905 in Chillicothe, Ross County, OH.
On June 9, 1932, he wedded 23-year-old Grace Elizabeth Warner (March 12, 1909-1994), daughter of Flick and Lela May (Bowers) Warner. The wedding, held in the Warners' home, was "Charming in its simplicity and informality," reported the Chillicothe Gazette. Officiating was Rev. B.R. Stevens, of the Greenfield Methodist Episcopal Church. The bride "wore a white crepe bridal gown fashioned alone princess lines with long sleeves. Her Juliet cap was of lace, tulle and beads. She wore white kid slippers and a pearl necklace which had belonged to Mrs. Iden, mother of the bridegroom. She carried an arm bouquet of Johanna Hill roses and lilies of the valley."
The couple's three children were Elizabeth Cory, Oliver Lloyd Iden and George Robert Iden.
Their home in the early 1950s was on Dublin Road near Bloomingburg, Fayette County, PA. Lloyd earned a living over the years as a farmer. Active in the community, he was elder of the Presbyterian Church and master of the local Masons lodge. He also belonged to the Eastern Star and Lions Clubs in Bloomington and was a member of the Bloomingburg District School Board.
Lloyd became seriously ill in September 1951. After suffering for three months, he died two days before Christmas in 1951. Burial was in Bloomingburg, with the Gazette printing an obituary.
Grace outlived her spouse by 43 years. She succumbed in 1994.
Daughter Elizabeth Iden (1934-living) was born in about 1934. She studied at Ohio Wesleyan University in Delaware. On Sept. 5, 1954, Elizabeth married Jerold S. Cory (June 21, 1931-2018), a native of Jackson, OH and the son of Ray and Alice (Scott) Cory. The children born to this marriage were Janice Adams and Alan Cory. During the Korean War, Jerold served in the U.S. Army and was posted to Hawaii and Japan as well as "on the battle line" in Korea. After the war's end, he received an education and social studies degree from Ohio Wesleyan University, followed by a masters degree in education administration at Wittenberg University. Their home for many years was in Delaware, OH. Jerold went on to teach and then was promoted to principal at Parkway High School School in Rockford, OH. From there he was named assistant principal at Willis Middle School. Jerold enjoyed studying history and sociology and raising flowers. As a bass, he sung in the Bloomingburg Presbyterian Church choir and held the office of elder. On June 27, 2018, Jerold passed away at the age of 87. Rev. Patricia Stout officiated at his funeral, with burial at Bloomingburg Cemetery.
Granddaughter

Janice Cory married Jeffrey Adams. They live in Orlando, FL

.
Grandson Alan Cory

resides in Radnor, OH.
Son Oliver Lloyd Iden (1935- ? ) was born in about 1935. He was united in marriage with Clara. He dwelled in Bloomingburg, OH in 2018.
Son George Robert Iden (1939- ? ) was born in about 1939. He was in Bethesda, MD circa 2018.
Copyright © 2004-2006, 2009, 2019 Mark A. Miner
Elizabeth (Iden) Cory has contributed content and images for this biography.