John 'Clyde' Hyatt
(1888-1923)
John "Clyde" Hyatt was born on Sept. 10, 1888 in or near Ohio Pyle, Fayette County, PA, the son of David Ross and Minnie (Castle) Hyatt. As a very young boy, he was taken into the home of John K. and Lucinda (Minerd) Hall and raised there.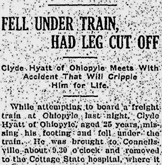 Clyde married Blanche S. McNeer (1892- ? ), the daughter of C.H. McNeer of Confluence, Somerset County, PA. They had three children -- Dorothy L. Hyatt, Carl R. Hyatt and Mary Elizabeth Hyatt.
At the age of 22, Clyde was employed by the Ohiopyle Lumber Company. At the Ohiopyle railroad station, on the evening of Sept. 30, 1910, he suffered a crippling injury "while attempting to board a freight train," said the Connellsville Daily Courier. "Missing his footing... [he] fell under the train. He was brought to Connellsville about 9:30 o'clock and removed to the Cottage State hospital, where it was found that his right leg was so badly mashed that amputation below the knee was necessary."
Circa 1917, Clyde and his family resided in Charleroi, Washington County, PA, where he was employed as a "scale man" for the Pittsburgh Steel Products Company.
In 1917, John registered for the military draft during World War I. The registrar wrote that John was of medium build and height, and had blue eyes and brown hair, and had "Right leg off."
The federal census of 1920 shows the family in North Charleroi Borough, with Clyde employed as a "gauger" in a steel mill. Harry W. McNair, a steel mill laborer, boarded in their home that year. In 1923, they made their home at the corner of 7th and Conrad Avenue in Lock Four, Allenwood, in North Charleroi.
Busy Lock #4 on the Monongahela River near the Hyatt home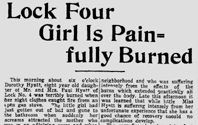 The Angel of Death, "hovering over the Hyatt family for some time," claimed five victims in the early months of 1923, including Clyde himself.
On the morning of Jan. 25, 1923, nine-year-old daughter Dorothy (1914-1923) awoke and got out of bed to get dressed. While walking past an open gas stove, her clothes ignited. "Suddenly her screams attracted the mother who was in an adjoining room," said the Monessen Daily Independent, "and when the parent arrived on the scene the child was a mass of flames and it was with great presence of mind and composure on the part of the parent that the child was not burned to death and the home set on fire. By wrapping the unfortunate victim in a blanket the mother smothered the flames and called a physician." The Independent added that while Dorothy "is suffering intensely from her unfortunate experience... she has a good chance of recovery should no complications develop." But the girl was not able to overcome the shock of the burns, and after suffering for about a month, died at home. Her scorched remains were taken to Confluence for burial.
While attending the funeral, Blanche's father became seriously ill with pneumonia, and he remained at the Hyatt home. Said the Independent, "His relatives from Confluence have been summoned here." Fortunately, he recovered, and after six weeks' convalescence was able to return home. Three other relatives also passed away during the first few months of 1923, but their individual stories are not known.

Pittsburgh Steel's sprawling plant in Monessen
Then, while at work at Pittsburgh Steel Products on April 22, 1923, Clyde "was taken suddenly ill ... and he was removed to his home," reported the Monessen Daily Independent. He had been stricken with cerebral meningitis thanks to an infection in his frontal sinuses. "His wife who had been called to Confluence by the serious illness of relatives, returned immediately and when the husband took a sudden turn for the worse early yesterday it was decided an operation would be the last hope and he was rushed to the Charleroi-Monessen hospital, but his death occurred a few minutes after he had been admitted to the institution." His death was on April 26, 1923.
After a funeral led by Rev. Greenlee of the Charleroi Methodist Church, Clyde's remains were returned to Confluence for burial at Johnson's Chapel. After the funeral, Blanche remained in Confluence with her aged father and other relatives. Within a few weeks, she moved back to Confluence with her children.
Blanche's fate after that is not yet known.
~ Son Carl R. Hyatt ~
Son Carl R. Hyatt (1917- ? ) has faded from our view.
~ Daughter Mary Elizabeth Hyatt ~
Daughter Mary Elizabeth Hyatt (1923- ? ) was a baby at the time of her father's tragic death.
Copyright © 2010 Mark A. Miner
Clyde and Dorothy Hyatt obituaries courtesy of Ancestry.com