Edwin Jay Jewell
(1885-1945)
Edwin Jay Jewell was born on Jan. 4, 1885 in Center Twp., Wood County, OH, the son of William L. and Pera (Minerd) Jewell.
On Dec. 23, 1911, Edwin married Nellie Mae Rockwell (1888-1919). She was the daughter of Meyern and Ellen (Edson) Rockwell, both natives of Ohio.
They had three sons -- Lawrence Rockwell Jewell, Cleo Clinton Jewell and Edward Jay Jewell.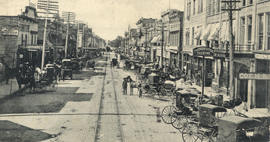 Seen at right is a rare old photographic postcard view of Bowling Green, the seat of Wood County near Tontogany. Note the horses and buggies parked along the street, a contrast with the modern telephone poles and wires along each block.
When Edwin registered for the military draft during World War I, he stated that he was a welder at Bunting Brass. He had grey eyes and black hair.
Tragedy struck the family when Nellie Mae came down with a case of pneumonia in the winter of 1919. She went to stay with her parents in their home at 829 National Avenue in Toledo, Lucas County. She was unable to recover, and died on March 22, 1919, at the tender age of 30 years, five months. She was buried in her parents' lot in Wauseon, Fulton County, OH.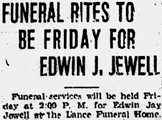 Edwin outlived his wife by more than a quarter of a century. He died at age 60 on Christmas Eve 1945. He was buried at Union Hill Cemetery near Tontogany, Wood County.
The Jewells are mentioned in the excellent 1996 book by Ivan Stearns, The History/Genealogy of John and Nancy McCullough Jewell. The volume is available for sale through the Wood County Chapter of the Ohio Genealogical Society.
Son Lawrence Rockwell Jewell ( ? -1986) married Myrtle Nancy Hammersmith ( ? -2000). They had six daughters and resided in Stony Ridge, Wood County. He worked for the Kenosha Trucking Company, retiring in 1973. Lawrence passed away in 1986, and Myrtle in 2000, and they rest together in Troy Township Cemetery, Luckey, Wood County.
Copyright © 2002-2003, 2005-2007, 2010 Mark A. Miner