Myra Josephine (Jewell) Caldwell
(1879-1914)
Myra Josephine (Jewell) Caldwell was born on Nov. 16, 1879 in Wood County, OH, the daughter of William L. and Pera (Minerd) Jewell.
On Dec. 23, 1897, Myra married Clarence William Caldwell (1872-1953), the son of George F. and Mary (Thompson) Caldwell.
They together produced six known children -- Helen Mary Osgood, Mary Aileen Caldwell, Kenneth Deyo Caldwell, Maxwell Cloyd Caldwell, Rose Maxine Wallace and Lillian Adelade Caldwell.
Circa 1909, the Caldwells resided in Bowling Green, Wood County.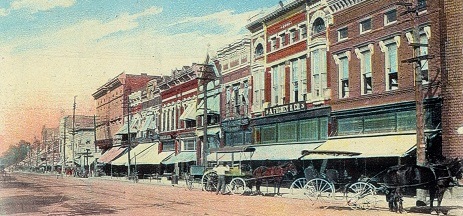 Main Street in Bowling Green

The family address wast 801 North Main Street in Bowling Green.
William was an automobile mechanic but also worked in the fields of carpentry, oil field machinery and sheet metal. He is said to have "established one of the first automobile garages in the area," according to the excellent 1996 book by Ivan Stearns, The History/Genealogy of John and Nancy McCullough Jewell.
The Jewell History/Genealogy reports that Clarence once constructed a special automobile that had a revolutionary steering wheel. However, Clarence's customer, a local oil entrepreneur, "wasn't impressed so didn't finance Clarence in developing his machine into an auto company. Thus Bowling Green lost its chance to become an auto manufacturing center."
Sadly Myra died on June 4, 1914, of a pulmonary abscess, with tuberculosis as a contributing factor. She was just 35 years, six months of age, and was laid to rest at Union Hill Cemetery near Tontogany.
Six years later, in 1920, Clarence married Verlie Sevey (1891-1973). They resided at 1204 East Wooster Street in Bowling Green. He continued his work as a mechanic until retirement.
Clarence passed away of a cerebral thrombosis on April 7, 1953, at the age of 81. He was laid to rest in the Portage Cemetery.
~ Daughter Helen (Caldwell) Marken ~
Daughter Helen Caldwell (1901-1953) married Bert Osgood Marken (1901-1968) in 1920 in Michigan. They had two children -- Harold Eugene Marken and Robert C. Marken.
Bert passed away in Florida in 1968. He may be in eternal rest in Portage Township Cemetery in Wood County.
Son Robert C. Marken (1924-2009) was born on Jan. 25, 1924. He resided in Michigan. He died on Nov. 28, 2009, at the age of 85.
Son Harold Eugene Marken (1927-2005) was born on Jan. 8, 1927. He also lived in Michigan, in South Lyon, Oakland County. He passed away on May 26, 2005, at age 77.
~ Son Kenneth Deyo Caldwell ~
Son Kenneth Deyo Caldwell (1903-1927) died of tuberculosis at the age of 24, in 1927. He is buried at Union Hill Cemetery in Tontogany.
~ Daughter Rose Maxine (Caldwell) Wallace ~
Daughter Rose "Maxine" Caldwell (1908-1997) was born in about 1908.
She married Franklin S. Wallace (1905-1986) three days before Christmas 1925, when she was age 17 and he 20.
They had five children -- Joseph William Wallace, Betty Irene Mabus, Murry Louis Wallace, James Allan Wallace and Kathleen A. Wallace.
Frank passed away in 1986 in Mesa, AZ.
Maxine died in 1997, and also is buried in Mesa, AZ.
Daughter Betty Irene Wallace ( ? -1986) wed Lawrence "Larry" Mabus, son of Martin and Bertha Regina (Kehn) Mabus Jr. The ceremony took place on June 3, 1950. They had two children, Stephen Michael Mabus and Lynne Marie Mabus. Betty passed away in 1986 and rests for eternity in St. Wendelin Cemetery in Fostoria, OH. Some of her offspring still live in Ohio.
Son Joseph William Wallace (1926-2007) was born on Aug. 7, 1926. He resided in Richmond, Henrico County, VA. He died in Richmond at the age of 81 on Nov. 18, 2007.
Son Murry Louis Wallace (1930-2011) was born on March 7, 1930. He passed away in Sun City, Maricopa County, AZ on Oct, 12, 2011, at the age of 81.
The Jewell History/Genealogy is available for sale through the Wood County Chapter of the Ohio Genealogical Society.
Copyright © 2002, 2005, 2008, 2012-2014 Mark A. Miner