Anna May (Laughery) Thompson
(1901-1971)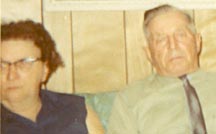 Anna May (Laughery) Thompson was born on Sept. 4, 1901 in Dunbar or Vanderbilt, Fayette County, PA, the daughter of David Leander and Martha Jane "Mattie" (Harbaugh) Laughery. She also went by the spelling of "Anna Mae."
She grew up in Vanderbilt, where her father served as United States postmaster. As a nine-year-old, in about 1910, Anna May and her parents and siblings moved to the state of Delaware, where they settled on a farm in Kent County. Anna May remained in Delaware for the rest of her life.
Anna May married Charles Dewey Thompson (1898-1972). They made their home on a farm in Harrington, Kent County.
The Thompsons had four children -- Charles Henry Thompson, Albert Leon Thompson, Alvin "Buck" Thompson and Hazel Davis.
Tragically, only two of their children survived into adulthood. Son Albert died of loose bowels at age two on Oct. 3, 1924. Son Charles, a schoolboy of age 14, was felled by "acute cardilation" and rheumatic fever on July 17, 1935, after having eaten green grapes that were somehow poisonous.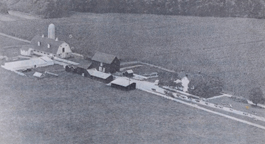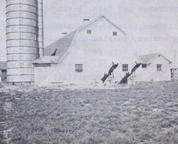 The Thompson farm near Harrington, Delaware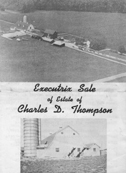 Charles and Anna May owned a 122-acre farm in south Kent County, three miles southwest of Harrington, and five minutes from the Harrington Raceway. They raised dairy cattle on the acreage. Photographs of the farm are shown here on the front of a flyer used to sell the farm after their deaths. A description of the property said that:
This farm consists of approximately 122 acres, 90 perches. One hundred acres clear land with 22 acres woodland. Block and frame barns, 45-foot silo; James Way barn cleaner; closed in equipment shed. Two-story framed constructed dwelling with white aluminum siding, with all modern conveniences. Three bedrooms and bath, living-room, dining room, kitchen, closed side porch, utility room, heating system, paneled and wall-to-wall carpet... Block barn has 26 stanchions with barn cleaner, water cups, attached silo and milk house, loft has 7500-bale capacity. Soil is very good for hay and pasture.
Sometime in the late 1950s or early '60s, Anna May and her adult siblings traveled "back home" to the mountains of Western Pennsylvania to attend a reunion of their mother's family, the Harbaughs. They are pictured in a small group portrait taken that day, held at the Odd Fellows Grove in Kingwood, Somerset County.
Anna May passed away at the age of 69 on March 30, 1971. She was laid to rest in the Hollywood Cemetery near Harrington.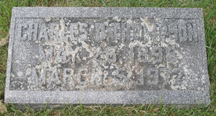 Charles suffered from emphysema and is remembered for "coughing a lot." He only outlived his wife by a little less than a year. He died on March 5, 1972, at the age of 74. Their grave markers are seen here -- Anna May's at left, and Charles' at right.
Daughter Hazel Davis served as executrix of her parents' estate. She arranged for the 122-acre farm to be sold at auction on April 29, 1972. A flyer printed for the sale said that the land was "nicely located with lots of possibilities. Could be made into a grade A dairy [or] ... easily be converted to a horse farm." The sale was conducted by auctioneers Frank F. Quillen and Associates.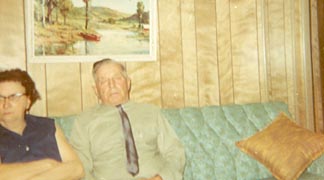 Anna May and Charles, 1950s
~ Son Alvin "Buck" Thompson ~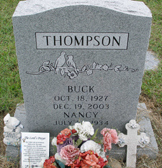 Son Alvin "Buck" Thompson (1927-2003) was born in 1927.
He married Nancy. They lived in Milford and Harrington, where he worked for many years at General Foods. They also had their own floral shop in Harrington called "Country Flowers," which they finally sold to an employee in 1993.
They had five children -- JoAnn Moore, Robert Thompson, Susan Thompson, Barry Thompson and Jerry Thompson.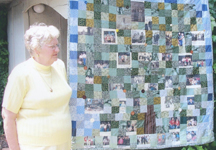 Over the years, the Thompsons were very active with the annual Laughery Reunions and hosted the event at their home circa 1978 and 1985. At the reunion in 1976, Nancy announced that a family tree begun the previous year was now almost completed with all of the lines brought up to date to the present day. A talented seamstress, Nancy also designed and created a family tree quilt with family photographs printed onto fabric and arranged in their respective lineage lines. Seen at right, Nancy stands with her creation at a Laughery reunion. (Click to see an enlarged, more detailed view of this unique creation on our Online Quilt Museum.)
The Thompsons later moved to Felton, Kent County, DE.
Buck passed away at the age of 81 on Dec. 19, 2003. He was laid to rest at Hollywood Cemetery.
Nancy continues to attend Laughery Reunions. In 2010, during a visit by the founder of this website, she graciously provided family history information and a driving tour to the old Thompson farm and to the Hollywood Cemetery.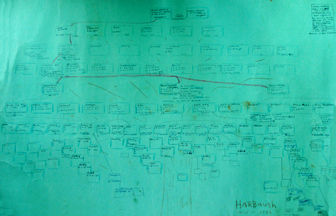 Harbaugh family tree, as drawn by Nancy Thompson in 1975, and displayed at the Laughery Reunion in 2010
~ Daughter Hazel (Thompson) Davis ~
Daughter Hazel Thompson (1929- ? ) was born in 1929.
She married Louis Davis ( ? - ? ).
They had two children -- Betty Jane Davis and Richard Davis.
Copyright © 2009-2010 Mark A. Miner