Willis Harbaugh Laughery
(1909-1985)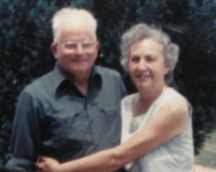 Willis and Dorothy Laughery

Willis Harbaugh Laughery (pronounced "loff-ree") was born in 1909 in Vanderbilt, Fayette County, PA, the youngest son of David Leander and Martha Jane "Mattie" (Harbaugh) Laughery. He and his wife were the founders of the Laughery Reunion in the early 1960s which continue today.
As a one-year-old boy, in about 1910, Willis moved with his parents from Vanderbilt, Fayette County -- where his father had been United States postmaster -- to the state of Delaware, settling on a farm in Farmington, Kent County.
In 1930, when the federal census was taken, the 21-year-old Willis made his home with his widowed mother on the family farm near Farmington. After his mother's death in 1933, Willis became owner of the farm, and lived there himself until his death.
Willis married Dorothy Hamilton (1911-1989), the daughter of Abe and Ida B. (Walls?) Hamilton. The date of their nuptials was Dec. 14, 1932, at Harrington, Kent County, DE, when Willis was age 23 and Dorothy 21.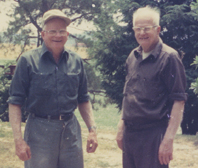 Willis and brother Arthur

They had no children, but provided much love and attention to their nieces and nephews. One niece called them a "magnet for family." He is said to have been "very quiet and kind, easy going, not pushy." Three of Dorothy's nieces and nephews were raised in their home.

The Laugherys raised soybeans, corn and turkeys on their farm. He also drove a milk truck and a school bus to make ends meet. He was a charter member of the Farmington Volunteer Fire Department.

Willis' eldest sister Kathleen Martin was the only one of the siblings not to move to Delaware. She remained in Connellsville, Fayette County, where she and her husband raised their family. The Martins traveled to Farmington to visit during the summers, and stayed with Willis and Dorothy.

In fact, when the Martins or other of his extended family would visit, "Uncle Willie" and "Aunt Dorothy" would load up his truck with a picnic lunch of chicken, tuna fish sandwiches, fruit and ice tea and lead a caravan of vehicles in a 28-mile drive to Keybox Road Beach, his favorite ocean spot near Rehoboth Beach. Removing the large tarpaulin covering the food, he would set up the tarp like an umbrella on the beach for those who preferred shade, and would spend the entire day. In 1953, when the Martins left for one such visit in Delaware, Willis was mentioned in a Connellsville (PA) Daily Courier article about the impending visit.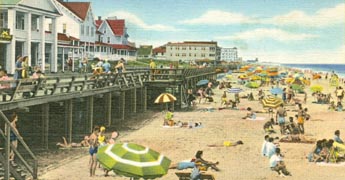 Rehoboth Beach, Delaware, near Willis' favorite beach spot where he took his nieces and nephews for daylong outings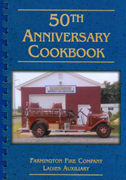 Cookbook naming Dorothy

Understanding the importance of mutual interdependence that the local rural community faced in protecting against fire, Willis was a charter member of the Farmington Fire Company. Accordingly, Dorothy belonged to the fire company's Ladies Auxiliary. In 2005, many years after her death, Dorothy was named on a list of deceased members in a special cookbook published by the Ladies' Auxiliary, entitled 50th Anniversary Cookbook. An original copy today is preserved in our research library.

In 1958, wishing to reconnect with his Harbaugh cousins "back home" in the mountains, Willis traveled 340 miles from Farmington to attend the annual Harbaugh Reunion in Kingwood, Somerset County. That year, he received the "Furthest Traveled" award, and his name was inscribed in the official minutes (which are posted in full text on our website). It is unknown whether he and Dorothy made any future trips to the Harbaugh gathering in Western Pennsylvania.

About five years after attending the Harbaugh Reunion, in 1963, desiring to bring the growing, sprawling extended Delaware Laughery clan together, he and Dorothy held a picnic for the clan on their farm. The event was so successful that another one was held the following year. It became what today is known as the Laughery Reunion.

In 2010, the founder of this website attended the 46th Laughery Reunion, held at the VFW Hall in Greenwood.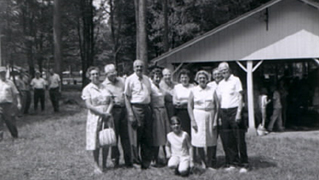 Willis and Dorothy (far left) at a Harbaugh Reunion at Kingwood in Somerset County, PA -- just a few miles from where their great-great grandparents, Jacob and Maria Minerd Sr., settled in 1791.

Obituary, 1985

Willis retired in 1965. He and Dorothy spent the next 20 years of his life in relatively quiet retirement on their beloved farm.

In the 1970s, a small airport was build directly across the road from the Laughery homeplace, used for spraying crops. It is known as the Chorman Airport and continues to operate today.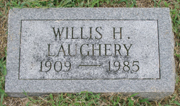 Hollywood Cemetery

Suffering from diabetes, Willis died of a heart attack in Milford Memorial Hospital in March 1985, at the age of 74.

Dorothy outlived him by four years and struggled with the debilitating effects of Alzheimer's disease.

She passed away at the age of 78 on Oct. 14, 1989.

They are buried together in Hollywood Cemetery.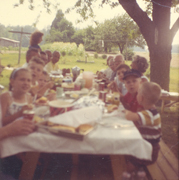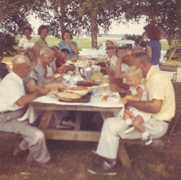 First Laughery Reunion in 1963, on picnic tables in the front yard of Willis and Dorothy's home
Copyright © 2009-2010, 2022 Mark A. Miner