Emma (Lowry) Cramer Agona
(1898-1986)

Emma B. (Lowry) Cramer Agona was born on Aug. 30, 1898 in Dunbar, Fayette County, PA, the daughter of Gipson and Anna (Minerd) Lowry. Little is known of her life.
Emma may have been raised in and around the coal mining patch town of Fairbanks, near Uniontown, Fayette County.
Emma's first husband was John A. Cramer (1893- ? ). They were married on July 28, 1915, when Emma was age 17 and John 22. At the time, John earned a living as a laborer and lived in Harrison City, Westmoreland County. Rev. Robert M. Zimmerman officiated.
The couple resided in Penn Township, Westmoreland County, PA.
Together, they bore one daughter, Anna Mae Niemiec.
How the marriage ended is unknown.
Later, on June 9, 1926, Emma married her second husband, Anthony Agona (1895- ? ). His parents were Italian immigrants.
The marriage produced another daughter, Jeannette Evelyn Franklin.
Anthony and Emma also lived in Penn Township, when the federal census was taken in 1930. He was listed as a "merchant - proprietor"'
Three years later, in May 1933, at the death of her father, Emma was residing in Jeannette, Westmoreland County. The Agonas are known to have attended an event at the home of Mr. and Mrs. Grant Tressler in Uniontown along with Mr. and Mrs. Andrew Doyle of Hollidaysburg, PA, Mr. and Mrs. John Doyle of Dunbar, and Mrs. Gertrude Johnson and son Eugene of Dunbar, as noted in the gossip columns of the Uniontown Morning Herald.
When Emma's mother died in 1947, Anthony signed the death certificate as the official informant of details about her life.
Emma is believed to have passed away in Jeannette in March 1986.
Any other details of their lives are unknown.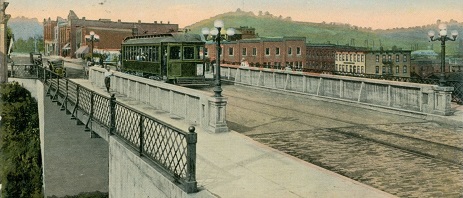 Second Street Bridge in Jeannette
~ Daughter Anna Mae (Cramer) Niemiec ~
Daughter Anna Mae Cramer (1918-2003) was born on Jan. 6, 1918.
On Nov. 22, 1941, at the age of 23, she married 30-year-old Casimir N. Niemiec (March 2, 1911-1993).
Their home was at 1801 Harrison Avenue in Penn Township.
Sadly, Casimir succumbed on Jan. 25, 1993 at the age of about 82. Interment was in St. Boniface Cemetery in Westmoreland County.
Anna Mae lived for another decade. She passed away on June 2, 2003. Her remains were placed into repose beside her husband's. [Find-a-Grave]
~ Daughter Jeannette Evelyn (Agona) Franklin ~
Daughter Jeannette Evelyn Agona (1925-2010) was born on May 15, 1925 in Penn Township.
At the age of 20, on Sept. 6, 1945, she was joined in matrimony with Merle Franklin (June 20, 1922-2003). He was the son of Raymond and Emma (Tangelinger) Franklin of Jeannette, and a twin with his sister Marie DeMickle. The couple was together for 58 years until the separation of death.
They produced a daughter, Emma Lou Modar.
Merle served as a corporal in the U.S. Army Air Corps during World War II. During his working career, he was a self-employed roofing contractor and owned a Dari-Land Ice Cream store. He like to hunt and fish.
They were members of the Holy Trinity Lutheran Church of Jeannette. Jeannette earned her own income working at Langs store in the Greengate Mall.
Sadly, Merle died in Mercy Jeannette Hospital at the age of 81 on Oct. 10, 2003. In an obituary in the Greensburg Tribune-Review, the family asked that any memorial donations be made to the American Cancer Society.
Jeannette survived her husband by seven years. She succumbed in Excela Health Westmoreland Hospice in Jeannette at the age of 85 on Sept. 25, 2010. Rev. Daniel R. Defassio officiated at the funeral, with burial in Brush Creek Cemetery in Hempfield Township.
Daughter Emma Lou Franklin ( ? - ? ) was born in (?). She married Lawrence J. "Larry" Modar ( ? - ? ). They were the parents of Annette Holder and Marcy Zeyzus. Their home in 2010 was in Jeannette.
Granddaughter Marcy Modar wedded Michael Zeyzus. They dwell in Export, Westmoreland County and have a son, Michael Zeyzus Jr.
Copyright © 2001-2004, 2008, 2014 Mark A. Miner