Louise Alice (Martin) Liston
(1872-1938)
Louise Alice "Lyde" (Martin) Liston was born on Aug. 4, 1872 in Preston County, WV, the daughter of James K. and Margaret (Minerd) Martin.
Louisa married John Anderson Liston (1865-1939), the son of John G.J. and Elizabeth (Miller) Liston.
The Listons had at least five children -- Earl D. Liston, Mrs. John Morrison, Dorsey R. Liston, Ocie Christopher and Charles Liston. The family resided in Hudson, Preston County.
Louisa was a housewife, and John labored as a flour miller. In 1935, she was mentioned by name in the Clarksburg Exponent obituary of her sister Kate Skinner.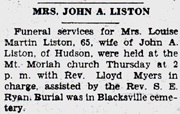 At the age of 65, on July 5, 1938, Louisa died of the effects of heart disease, of which she had suffered for five years. She was laid to rest at the Miller Cemetery (also referred to as "Blacksville Cemetery") in Brandonville, Preston County, following a funeral service at Mt. Moriah Church led by Rev. Lloyd Meyes, assisted by Rev. S.E. Ryan. The Preston County Journal said that:
Those attending the services from a distance were, Everett P. Liston, Baltimore; Mr. and Mrs. Claude Hollar and Mrs. Sam Hollar of Uniontown, Mr. and Mrs. John Morrison, son Paul, Earl Liston, daughters Bettie and Maxine, Mrs. Chas. Boyce, Mr. and Mrs. Wm. Skinner, Mr. and Mrs. Oakey Osburn, Oatha, Fred, Gilford and Edward Skinner, Mrs. Nena Skinner, Mrs. Minnie Skinner of Clarksburg, Mr. and Mrs. D.R. Liston, son Melvin of Ruthvell.... Those from Pisgah who attended ... were Mr. and Mrs. Dayton Christopher and son Wilton, Mrs. Mildred Gwynn and daughter, Mrs. Gervis Benson, Omer Walls, Mrs. George Walls, Mrs. I.B. Smith, Mrs. Hary Smith, Mrs. Marion Darnell and John Royce.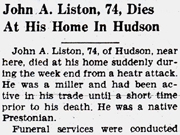 A year later, on Sept. 8, 1939, John passed away suddenly, at home, of a heart attack at the age of 74. He was buried beside his wife at Blacksville Cemetery. The Journal noted that "He was a miller and had been active in his trade until a short time prior to his death. He was a native Prestonian."
~ Son Dorsey Liston ~
Son Dorsey Liston resided in Valley Point, Preston County.
He was the informant for his mother's certificate of death in 1938.
~ Son Earl Liston ~
Son Earl Liston lived in the Mansyka section of Clarksburg, Harrison County, WV in the 1920s and 1930s.
He is thought to have married Eva Spencer ( ? - ? ).
Their one known son, Earl Liston Jr., died in childbirth of a "weak heart" on April 19, 1922, and was laid to rest in Greenlawn Cemetery in Clarksburg.
The fates of Earl and Eva are unknown.
~ Daughter Mrs. John Morrison ~
One of their daughters married John Morrison, and in 1939 resided in Clarksburg.
~ Son Charles Liston ~
Son Charles Liston lived in Valley Point, Preston County, in the late 1930s.
~ Daughter Ocie (Liston) Christopher ~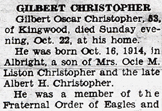 Daughter Ocie Liston ( ? - ? ) married Albert Hall Christopher ( ? - ? ).
They made their home at Albright, and had four children -- Gilbert Oscar Christopher, Carlus Christopher, Edward Christopher and Mildred Rodeheaver.
Grandson Gilbert Oscar Christopher (1914-1967) married Virginia Pearl Metheny, the granddaughter of Alpheus and Nancy Ann (Martin) Metheny. They resided in Kingwood, Preston County. Gilbert "was a member of the Fraternal Order of Eagles and an employe of the Monongahela Power Co.," said the Preston County Journal. Gilbert died at age 53 on Oct. 22, 1967, and was buried at Sugar Valley Cemetery.
Copyright © 2006, 2014 Mark A. Miner