Mary Ellen (Martin) Martin
(1857-1938)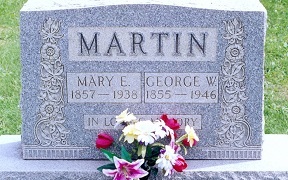 Mt. Moriah Cemetery

Mary Ellen (Martin) Martin was born on Dec. 17, 1857 in Preston County, WV, the daughter of James K. and Margaret (Minerd) Martin.
In about 1876, at the age of 19, Mary Ellen entered into the rites of marriage with 21-year-old George William Martin (1855-1946). It is not known if Mary Ellen and George were closely related.
They together produced a family of four sons -- Luther "Frank" Martin, John "Cloyd" Martin, James "Bruce" Martin and Isaac N. Martin.
The Martins were farmers, and resided near Albright, Preston County.
Heartache rocked the family in the winter of 1877 when son Isaac, three months old, came down with the croup. He died on March 12, 1877.
Federal census enumeration records for 1910 show the Martins residing on a farm in or near Valley Point in the Pleasant District of Preston County. All three of their sons were in the household that year.
In 1935, Mary Ellen was mentioned by name in the Clarksburg Exponent obituary of her sister Kate Skinner.
Mary Ellen passed away on Christmas Day 1938, just eight days after her 81st birthday. She was laid to rest in the Mt. Moriah Cemetery near Valley Point, Preston County.
George outlived her by eight years. He died in 1946, of causes unknown, and was buried beside his wife.
~ Son Luther "Frank" Martin ~
Son Luther A.T. "Frank" Martin (1879- ? ) was born on Dec. 11, 1879 or on Jan. 11, 1880 in Valley Point, Preston County.
He was a bachelor and farm laborer circa 1900-1920, residing with his parents in or near Valley Point.
At the age of 46, Frank surrendered his bachelorhood and was united in marriage with 25-year-old Clara Hardesty (1901-2002), daughter of Thornton P. and Emma Jane (Reckart) Hardesty. They tied the knot on March 10, 1926, by the hand of Rev. S.E. Ryan of the Methodist Episcopal Church. Their wedding ceremony was held at the home of Okey Fortney in Preston County.
Frank may have gotten to know his future bride through his brother Bruce who had married Clara's sister Melinda just a few months earlier.
The pair did not reproduce. The United States Census of 1930 shows husband-and-wife residing with his parents on their farm at Valley Point. After Frank's mother died in 1938, they remained in the household with the widowed father as of 1940.
Frank, Clara and brother Cloyd dwelled together at Valley Point, next door to their brother Bruce and family, as indicated in the 1950 federal census enumeration.
Circa 1957-1958, the Martins remained near Albright.
For the last two decades of his life, Frank suffered from hardening of the arteries. At the end, he contracted cysts on his urinary bladder and developed acute congestive failure. Death swept him away at the age of 78 on Aug. 23, 1958. Interment was in Mt. Moriah Cemetery.
Clara outlived her spouse by 44 years. She passed away on Dec. 3, 2002 at the age of 101.
~ Son John "Cloyd" Martin ~
Son John "Cloyd" Martin (1885-1973) was born on Aug. 12, 1885. His birth was recorded in the family Bible.
When the United States Census was taken in 1910-1930, Cloyd lived under his parents' roof on a farm in or near Valley Point, Preston County. He made his living as a farm laborer.
Cloyd resided in Albright in 1957.
He succumbed to the spectre of death at the age of 87 on March 12, 1973. His remains sleep for all time in Mt. Moriah Cemetery.
~ Son James "Bruce" Martin ~

Mt. Moriah Cemetery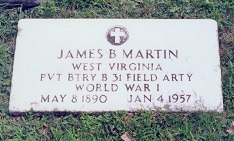 Mt. Moriah Cemetery

Son James "Bruce" Martin (1890-1957) was born on May 8, 1890 at Valley Point, Preston County, WV.

Evidence in the form of West Virginia Argus newspaper stories suggest that he may have pursued a teaching career in young manhood and in 1915 and 1916 attended the Pleasant District Teacher's Institutes held at Kingwood and Valley Point.


In adulthood Bruce stood 5 feet, 7 inches tall and weighed 140 lbs. Bruce served in World War I, joining the Army on July 25, 1918. He held the rank of private and was assigned to Battery B of the 31st Field Artillery. With the close of the war, he was honorably discharged on Dec. 6, 1918.

Upon his return home, as of 1920, he was unmarried and living with his parents in or near Valley Point.

When he was 35 years of age, two days before Christmas 1925, Bruce married 26-year-old Melinda Ellen Hardesty (Feb. 26, 1899-1992), daughter of Thornton P. and Emma Jane (Reckart) Hardesty. Their nuptials were held in Kingwood, led by Rev. J.H. Anderson of the Methodist-Episcopal Church.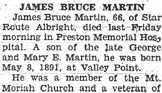 Preston County Journal

The couple became the parents of three children -- Kenneth Ray Martin, Paula Mae Durr and Betty Lou Titchnell.

The federal census counts of 1930, 1940 and 1950 place the Martins in the Valley Point vicinity. Bruce earned a living in those years as a weaver employed by Englehart Woolen Mill Co. of Albright.

Bruce died at age 66 on Jan. 4, 1957, with his obituary published in the Preston County Journal. He was buried at Mt. Moriah.

Melinda outlived her husband by 35 years and remained in Albright. She passed away in November 1992.

Son Kenneth Ray Martin (1927-2006) was born on June 1, 1927 at Valley Point, Preston County. At the age of 18, in 1945, when required to register for the military draft during World War II, he disclosed that he was unemployed. As of 1950, he worked as a truck driver at a local coal mine. Then during the Korean War, he joined the U.S. Army and attained the rank of corporal. On March 29, 1951, Kenneth married Thelma "Jean" Clark (Oct. 10, 1933-2017), a native of Hudson, Preston County and the daughter of Stanley J. and Verna Mae (Forman) Clark. Two children borne by this union were Gerald Ray Martin and Joan Rae Martin. Jean was a 1949 graduate of Kingwood High School, where she performed as a majorette. The Martins made their longtime home at Valley Point. Jean supplemented their income through her work as a Tupperware manager for Success Sales of Clarksburg. They belonged to Mount Moriah United Methodist Church. Sadly, Kenneth died on Nov. 10, 2006. Jean passed away in Kingwood's Preston Memorial Hospital at the age of 83 on Feb. 12, 2017. Funeral services were conducted in the family church, jointly presided over by Pastor Mark Harris and Rev. Vicki D. Sheppard. The remains were lowered into the sacred soil of Mount Moriah Cemetery at Valley Point. She was survived by five grandchildren and 10 great-grandchildren.
Grandson Gerald Ray Martin married Lois Groves ( ? - ? ), daughter of Willis "Pappy Gene" and Doris (Graham) Groves. They have resided at Valley Point.
Granddaughter Joan Rae Martin wed Harold "Eugene" Jenkins Jr. ( ? - ? ), son of Harold Eugene and Betty (Livengood) Jenkins Sr. They planted themselves at Valley Point.
Daughter Paula Mae Martin (1929-2010) was born on Dec. 6, 1929 at Valley Point, Preston County. She was united in wedlock with Herman Durr (Jan. 27, 1926-2007). The couple dwelled at Valley Point in 1950, living next to the residences of her parents and uncles Frank and Cloyd. Herman earned a living in 1950 as a coal loader in the local mines. Herman died on on Nov. 19, 2007, at the age of 81. Death swept her away in Morgantown, at the age of 80, on July 25, 2010. Interment was in Mount Moriah Cemetery. Nothing more about the pair is known.
Daughter Betty Lou Martin (1935- ? ) was born in about 1935. She was joined in matrimony with (?) Titchnell ( ? - ? ). They are believed to be the parents of two -- John Titchnell and Valerie Titchnell. Circa 2010, Betty was in Bruceton Mills.


Copyright © 2006-2007, 2014, 2023 Mark A. Miner