Victoria Belle (Martin)
Falkenstine Miller
(1866-1937)
Victoria "Belle" (Martin) Falkenstine Miller was born on June 15, 1866 in Preston County, WV, the daughter of James K. and Margaret (Minerd) Martin. She apparently was named in honor of the Union Army's "victory" over the Confederacy the year before, and her father's safe return home from military service.
On April 7, 1887, 21-year-old Belle married her first husband, 35-year-old Jerome L. Falkenstine (1852- ? ), a native of Preston County. The wedding occurred at the parsonage of G.W. Risinger. Their marriage license is still on file today at the Preston County Courthouse in Kingwood, WV.
Jerome had been married once before, to Mary E. Martin (1853-1886), and brought several children to the marriage -- Stanley W. Falkenstine, Mattie Davis, Jesse Orval Falkenstine, Marshall J. Falkenstine and W. Harvey Falkenstine.
Belle and Jerome had three children of their own: Blanche Nixon, Russell Falkenstine and Gay Falkenstine.
The Preston County Journal once said of Belle that "She was converted and joined the M.E. church at Mt. Moriah in her young girlhood days and remained a faithful member of the same until her death."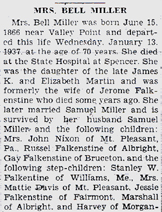 It is believed that Jerome died on April 23, 1898, after 11 years of marriage. He would have been 46 at the time of his death. His burial is recorded at Mt. Moriah Cemetery near Valley Point, Preston County, and he rests beside his first wife, Mary. No record of his death exists in the Preston County courthouse records.
After some years as a widow, Belle married Samuel Miller ( ? -1938). They resided at Valley Point. In 1935, she was mentioned in the Clarksburg Exponent obituary of her sister Kate Skinner.
As she aged, Belle begun to suffer from "senility" and myocarditis. For treatment, she was admitted to the Spencer State Hospital in Spencer, Roane County, WV, a distance of some 170 miles from their home. She died at the hospital at the age of 70 on Jan. 13, 1937. Her remains were returned to Valley Point for burial. She was laid to rest at the Miller Cemetery, about one mile east of Valley Point, following funeral services conducted at her beloved Mt. Moriah Church by Rev. S.E. Ryan, assisted by Rev. Howard Wriston. Her obituary was published in the Preston County Journal.
(Note -- Belle is not to be confused with Victoria Blanche Martin [1867-1947], daughter of Edgar C. and Mary Elizabeth [Gross] Martin, who at the age of 18 married 29-year-old Isaac E. Sypolt [1857- ? ]. The wedding took place on March 29, 1885, at the home of E.C. Martin, and was performed by S.J. Caton. Their marriage license also is on file at the courthouse in Kingwood.)
Samuel outlived Belle by only one year. He died in 1938, and was laid to rest beside Belle.
~ Stepson Marshall Falkenstine ~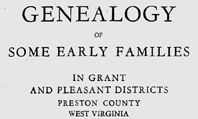 Stepson Marshall Falkenstine (1882-1946) born in 1882.
He was five years old when his widowed father married our Belle. As an adult, Marshall resided in Albright, Preston County.
On Aug. 30, 1900, when he was the age of 18, Marshall married 20-year-old Sarah Frankhouser (1880- ? ). The marriage listing was published in the 1933 book, Genealogy of Some Early Families in Grant and Pleasant Districts, Preston County, West Virginia, authored by Edward Thorp King, of Marshalltown, Iowa.
Marshall's second wife was Alberta Liston (1893-1938), the daughter of Raymond and Belle (Martin) Liston. They had one son, Ray Falkenstine. They were farmers. When in her 40s, Alberta contracted a number of malignant tumors. Despite treatment at Johns Hopkins Hospital, she was unable beat the deadly disease, and passed away at age 45 on Nov. 10, 1938. Her remains were laid to rest at Sugar Valley Cemetery. Marshall may have married a third time. He suffered from hypertension, and died at the age of 63 of bronchio-pneumonia. He was laid to rest near his parents at Mt. Moriah Cemetery. The Morgantown Post noted that he "was a lifelong resident of Preston County and a member of the Methodist Church."
~ Stepson W. Harvey Falkenstine ~
Stepson W. Harvey Falkenstine ( ? - ? ) was born in (?).
He resided in Morgantown, at 458 Morgan Street, where circa 1939 he served as a Councilman of the Fourth Ward of the city.
He married Minnie E. Smith (1890-1939), the daughter of Hadley and Malissa (Street) Smith of Preston County. They were members of the Church of the Brethren of Wiles Hill. They had six sons -- Gerald Falkenstine, Harry R. Falkenstine, Willard Falkenstine, Jerome Falkenstine, Lawrence Falkenstine and Milford Falkenstine.

Son Harry, born with birth defects, sadly died at the age of 15, on April 1, 1929, of epileptic fits and pneumonia.
In her mid-1940s, Minnie suffered from cancer of the uterus. She died of its effects at the age of 48 on Feb. 17, 1939. She was buried beside her son at Mt. Union Cemetery in Morgantown, and her obituary, seen here, was printed in the Morgantown Post.
~ Stepdaughter Mattie (Falkenstine) Davis ~
Stepdaughter Mattie Falkenstine was born in (?).
She married (?) Davis.
In 1944, they lived in Mt. Pleasant, Westmoreland County, PA.
~ Stepson Jesse Falkenstine ~
Stepson Jesse Falkenstine (1880-1944) was born in 1880.
He married Essie Clayton ( ? - ? ) in 1902. They lived at Fairmont, Marion County, WV at least as early as the 1900s and up through the 1930s, if not longer.
He was employed as a salesman, was a member of the First Baptist Church, was a charter member and grand counsellor of the United Commercial Travelers Association and a member of the Masons.
The Falkenstines had three sons, Paul Lewis Falkenstein, Jesse F. Falkenstine and William K. Falkenstine.
Jesse died at age 64 at the Hall Rest Home in Fairmont, on March 17, 1944, from the effects of uremia. His remains were returned to his old home region for burial at Mt. Moriah Cemetery.
Son Paul Lewis Falkenstine (1909-1949) was a bookkeeper and/or salesman with the Howard Colbert wholesale food business in Fairmont, and was not married. At age 39, on April 21, 1949, Paul died after "throwing him self under a freight train on the Gaston Junction Bridge at Fairmont," said the county coroner. The Fairmont Times noted that he was "near the center of the railroad bridge crossing the Monongahela river near the forks of Tygart Valley river and the West Fork river ... commonly known as the Johnstown bridge... There is a walkway through the length of the center of the bridge. The engine crew saw a man standing on the walkway as the engine passed. The man wen tunder the wheels of the train about 10 cars back from the engine and was crushed to death." His mangled remains were laid to rest in the Woodlawn Cemetery. W.K. Falkenstine was the informant on Paul's death certificate. Said the Times, "Many beautiful flowers were about the casket and many friends visited the funeral home while the body rested there." Pallbearers were Edward Clayton, Brooks Clayton Jr., Jack Clayton, John Everhart, Harold Ridings and Paul Creighton. Funeral-goers who traveled from a distance included Mr. and Mrs. Ray Falkenstine of Bruceton Mills, Harvey and Gertrude Falkenstine of Morgantown, and Mr. and Mrs. Paul Creighton of Clarksburg.
Son William K. Falkenstine is believed to have married Dorothy M. (?) and resided in Fairmont. William may have died in October 1978, but this needs to be confirmed. They had one known son, James D. Falkenstine (1943-2011) who was employed for more than three decades in the field of social work with the West Virginia Department of Human Services. James also was president of the Taylor County Council of Social Agencies and was active with the Sistersville Area Jaycees and Preston County Jaycees.
~ Son Russell Falkenstine ~
Son Russell Falkenstine (1891-1978) was born in 1891.
He married Maude Lenhart (1891-1931), the daughter of Frederick A. and Jennie (Graham) Lenhart of Pleasant Valley, Preston County.
They had three children and lived at Albright, and later at Bruceton Mills, Preston County.
Maude passed away at the age of 39, on April 17, 1931, of "heart failure due to intoxication." Her death occurred at the City Hospital in nearby Morgantown, Monongalia County. The Morgantown Post simply said she "had been a patient only a few hours" and that "Death was due to pneumonia." She was laid to rest at the Sugar Valley Cemetery.
Compounding the tragedy, just three years later, their son Donald F. Falkenstine died at age 13, on March 14, 1934, of pneumonia and scarlet fever. He was buried at Sugar Valley.
Russell married his second wife, Bliss Frankhouser Wolfe, sometime before 1934. Russell passed away at Bruceton Mills in April 1978, and is buried at Sugar Valley as well.
~ Daughter Blanche (Falkenstine) Nixon ~
Daughter Blanche Falkenstine ( ? - ? ) married John Nixon.
They resided in Mt. Pleasant, Westmoreland County, PA circa 1944.
Copyright © 2006, 2009-2010 Mark A. Miner