Laura O. (McFarland) Justice Davis Smith
(1854-1933)
Laura O. (McFarland) Justice Davis Smith was born on July 8, 1854 at Mt. Perry, Perry County, OH, the daughter of Alexander and Sarah (Danison) McFarland. She was married three times.
As a 16-year-old, in 1870, Laura resided with her married aunt, Lucy Bowman, in Duncans Falls, Muskingum County, OH. When the Bowmans moved to Hartford City, IN, Laura did not go with them, and made other living arrangements.
She may be the same Laura McFarland who was employed with the family of Charles and Esther Winter, in Carroll, Fairfield County, OH, when the federal census was taken in 1880.
Laura's first husband was Solomon Ross Justice (1858-1926), the son of James R. and Catherine W. (Pletcher) Justice. Solomon was a longtime builder and contractor.
They produced at least one known son, Frank Ross Justice.
The couple separated when their son was young, with Solomon leaving the household. They divorced in about March 1887, with the news of the matter published in the Newark Daily Advocate.
Circa August 1896, Laura became ill with tuberculosis. The Newark (OH) Daily Advocate, in its "Hebron" section, reported that "Mrs. Laura Justice is lying very low with consumption at the home of Mr. George Davis, two miles east of town. Her sister, Mrs. Anna Lattimer, of Van Wert, arrived here Tuesday and will remain several weeks." It's believed that she was separated from her husband at that time, and making her home with her future husband as his housekeeper.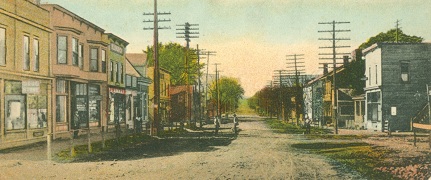 Sleepy Hebron, Ohio, early 1900s
On April 15, 1897, at the age of 45, Laura wed her second spouse, George Davis (1834- ? ). Rev. James M. Lamp, a Christian minister, performed the nuptials in Licking County.
It was George's first marriage, and he was two decades older than his wife. He was the son of James and Susan (Grove) Davis of Virginia, and was a native of Licking County.
They made their home in Licking Township, Licking County, OH. The federal census of 1900 shows Laura and George together, with his nephew Claud L. Davis, and her son Frank Justice, living under the same farmhouse roof.
In 1910, the census enumeration shows Laura and George in the village of Hebron, Licking County. Now age 75, George was retired, and likely earned his own income by renting his farm.
Suffering from diabetes, George died at the age of 76 on Sept. 8, 1911. James P. Davis was the informant on his death certificate. George was interred in Fairmount Cemetery in or near Newark, Licking County. [Find-A-Grave link]
Laura remained widowed for a little more than two years. During that period, she suffered the loss of her only child, Frank Justice, to what most likely was an excruciating death of lung disease.
On Christmas Eve 1913, in Hebron, she married her third husband, widower Philip S. Smith (1848-1915). He was the son of Ambrose B. and Juliana (Burner) Smith, and had been married once before, to Barbara Elizabeth Sutton, who had died in 1909.
The ceremony was performed by Rev. J.F. Kanuth, at the parsonage of the Methodist Episcopal Church, with B.L. Hawke and the pastor's wife serving as witnesses. At the time, Laura was age 59.
The marriage lasted for not quite 14 months, until Philip's death in Hebron on Feb. 19, 1915. His burial took place in the Kirkersville Cemetery in Licking County. [Find-A-Grave link]
Laura remained in Hebron for the rest of her life, as well as can be determined. Her final residence was on Main Street. She suffered from hardening of the arteries in her late 70s, and died from its effects eight days shy of her 79th birthday, on June 29, 1933. Her remains were laid to rest in Fairmount Cemetery. Catherine Justice of Hebron served as informant on the official Ohio death certificate.
In his later years, Laura's first husband Solomon Justice made his home at 254 W. Norrick Street in Columbus, Franklin County, OH. Suffering from locomotor ataxis, a type of muscular dystrophy, he died at the age of 68 on May 30, 1926. He was laid to rest in Union Cemetery in Columbus.
~ Son Frank Ross Justice ~
Son Frank Ross Justice (1881-1912) was born on April 19, 1881 in Perry County. He is believed to have married Dessie Mowery of Hebron on Sept. 28, 1904, when he was age 23. She was the daughter of Jacob and Florence Lowery. They had two children -- Mildred Catherine Cass and J. Henry Ross Justice.
Frank was a sign painter. The federal census of 1910 shows Frank and Dessie living apart, having separated, with Dessie residing with her parents and two young children in Licking County. They divorced about 1911.
He made his home circa 1912 at 454 Wolfel Avenue in Columbus. In the winter of 1912, he was struck with a severe infection of emphysema of both lungs. He also suffered from appendicitis. Exhausted from the strain, he died just a few weeks before his 32nd birthday, on March 29, 1912. His remains were laid to rest in Columbus' prestigious Greenlawn Cemetery. [Find-A-Grave link]
Dessie's fate is unknown.
Daughter Mildred Catherine Justice (1906-1973) was born in 1906 in Licking County. She married Russell Sylvanus Cass (1908-1983). Catherine died in Licking County on April 28, 1973. Russell survived her by a decade, and passed away on Aug. 13, 1983. Burial was in the Kirkersville Cemetery.
Son J. Henry Ross Justice (1908-1980) was born in 1908 in Licking County. He was just four years old when his father died. He married Ruth Elizabeth Reelhorn (1911-2000), daughter of John Shipman and Minnie Florence (Tunison) Reelhorn. Henry died in Hebron on Nov. 4, 1980, at the age of 72. Ruth outlived him by 20 years. She died on Nov. 13, 2000, in Newark. Burial was in Kirkersville Cemetery.
Copyright © 2000, 2008, 2011-2012 Mark A. Miner