She married Robert Turner Latimore (also spelled "Latimer" and "Lattimer") (1851-1941). The ceremony took place on Aug. 31, 1873, in Perry County, when she was age 26, and Robert was 22. B.F. Thomas, a minister of the Gospel, performed the nuptials.
Robert, born on Aug. 14, 1851, was the son of James and Hannah (Henderson) Lattimer of Perry County. He was a farmer.
They had at least five children -- Ella J. Williams, Chauncey (or "Chancie") O. Lattimore, Laura "Mae" Roley, Harriet "Hattie" Randall and Mary Lattimer.
Ann and Robert lived in Hopewell, Perry County when the federal census was taken in 1880. Later, they made their home in Van Wert, Van Wert County, OH.
By 1900, they had migrated again, to Mishawaka, St. Joseph County, IN, where Robert and 22-year-old son Chauncey were employed as day laborers. Their home was on Joseph Street. The census of 1910 shows that the family remained in Mishawaka and that Robert had secured a job as a factory laborer.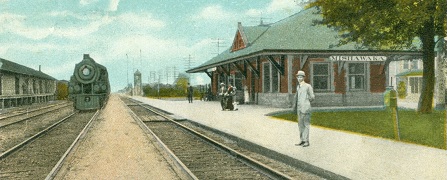 Mishawaka's railroad depot, early 1900s
Tragically during the decade of the 1900s, their eldest daughter Ella Williams died, leaving behind a daughter Lula M. Williams. Young Lula went to live with Ann and Robert in Mishawaka, and was in their home in 1910 when the census was enumerated.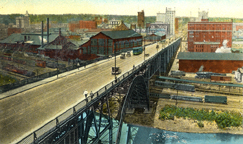 Youngstown, Ohio
Ann died in Mishawaka on March 23, 1919, at the age of 71. She is buried in Mishawaka.
Robert spent his final years as a widower in Youngstown, Mahoning County, OH. When the 1920 federal census was made, he resided with his married daughter and son in law, Harriet and Samuel J. Randall, on Foster Street in Youngstown. Later, he moved to 456 Norwood in Youngstown.
He died in Youngstown at the age of 89 on Jan. 8, 1941. His remains were shipped for burial to Mishawaka, IN. The informant on his death certificate was "Mrs. Rowley" of Youngstown.
~ Daughter Ella Jane (Lattimer) Williams ~
Daughter Ella Jane Lattimer (1874-1907) was born on Sept. 20, 1874 in Perry County.
At the age of 20, on Dec. 16, 1894, she wed James Lawrence Williams in Paulding County, OH.
Their only child was Lula "Mae" Burr.
Heartache rocked the family when Ella died at the untimely age of 33, in Mishawaka, on Jan. 9, 1907.
James' fate has not yet been learned.
Daughter Lula "Mae" Williams (1898-1992) was born on June 13, 1898. She was only age nine when her mother died, and she was taken into the home of her Lattimer grandparents. Lula married Roswell Alexander Burr (1896-1974) on Nov. 28, 1918, when she was age 20, and he was 22. Roswell was a native of Adrian, Lenawee County, MI, and had blue eyes and light hair. Earlier in the year of marriage, on June 5, 1918, he registered for the military draft during World War I, and gave his address as 315 South Madison Street, and his employer as Rochester Clothing Company.
The Burrs had three children: Robert Roswell Burr, M. Jeanne Squyres and Jo Ann Martin. Sadly, son Robert died at birth on July 28, 1920. The Burrs made their home in Adrian over the years. Sadly, Roswell died in March 1974, at the age of 77. Mae outlived him by 18 years. She passed away on Oct. 19, 1992. Many thanks to Jeanne Squyres' daughter Lynda Davis for sharing information for this page.
~ Son Chauncey Owen Lattimer ~
Son Chauncey (or "Chancie") Owen Lattimer (1877-1965) was born on Nov. 20, 1877 (or Oct. 22, 1877) in Ohio. As an adult, he was of medium height and build, with blue eyes and dark hair.
He married Myrta H. Curtis in 1901, likely in Mishawaka. They had at least two sons, Leroy Lattimer and Kenneth Lattimer, born 13 years apart.
The 1910 census shows this family living on Ann Street in Mishawaka, where Chauncey was employed as a machinist in a rubber company. By 1918, when the United States entered World War I, and Chauncey registered for the military draft, they made their residence in South Bend, St. Joseph County, IN. Chauncey's married sister Laura "Mae" Roley also lived in South Bend at the time. His occupation that year was as a machinist for O'Brien Bros. Lathe Works in South Bend, and the draft registrar noted that Chauncey had "no thumb on left hand."
By 1920, they migrated to South Bend, St. Joseph County, with Chauncey now continuing his trade as a machinist in a lathe works.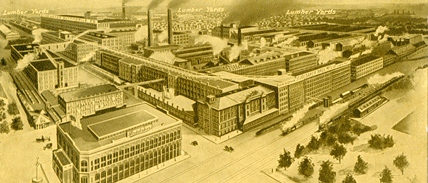 Studebaker automobile factory in South Bend, Indiana, which made 125,000 vehicles annually, and where Chancie Lattimer may have been employed.
They remained in South Bend during the 1920s, and by 1930 Chauncey worked as a machinist in a brake factory, and 28-year-old unmarried son Leroy as a designer in a floral shop.
Chauncey died on July 24, 1965, at the age of 88.
~ Daughter Laura "Mae" (Lattimer) Roley ~
Daughter Laura "Mae" Lattimer (1880- ? ) was born in July 1880 near Glenford, Perry County, OH. For the first two years of her life, she was raised by an aunt, Mrs. George Davis. At about the age of two, she moved with her parents to Indiana.
On March 15, 1902, Mae wed Clarence Edgar Roley (1877-1975), son of Levi W. Roley of Hebron, OH. They had one daughter, Mrs. S. Paul Nunley.
Said the Newark (OH) Advocate:
Mr. Roley was employed at Mishawaka, Ind., at the time of the marriage, and lived there two years, returning to Columbus where he was employed with the electric railway on High Street as a motorman for several years. Going to South Bend, Ind., he was associated with the Clark and Gable chain of restaurants for almost 20 years, living successively at Fort Wayne, Ind., Youngstown, O., and Tulsa, Okla. Because of ill health, the couple returned to Newark in 1941, and lived in Mt. Vernon Road. Mr. Roley was employed with the Owens-Corning Fiberglas Corp. for five years. The Roleys left Newark in 1947 to live near their daughter and her family at Bartlesville, Okla.
Clarence registered for the military draft during World War I, at the age of 40, and at the time they lived in South Bend, St. Joseph Counyy, IN. He gave his employment as a night manager for O.A. Clark in South Bend. Their home was located at 110½ East Washington Street.
In March 1952, Mae and Clarence resided at 127 South Chickasaw Street in Bartlesville, and celebrated their golden wedding anniversary with a family dinner and reception. News of the anniversary was published in the Newark Advocate.
Clarence died in Bartlesville in February 1975, at the age of 97.
~ Daughter Harriet "Hattie" (Lattimer) Randall ~
Daughter Harriet "Hattie" Lattimer (1883-1939) was born on May 20, 1883 in Van Wert County, OH. At the age of 26, she resided in her parents' home in Mishawaka, working as a shoemaker in a rubber company. She married Samuel James Randall (1889- ? ), a native of Louisville, KY. He stood 5 feet, 4½ inches tall, with medium build, blue eyes and light colored hair.
They had no children.
During the 1910s, the Randalls moved to Youngstown, Mahoning County, OH, where Samuel worked as a steel mill machinist, and Hattie's widowed father lived under their roof. He registered for the military draft during World War I, and gave his occupation as machinist for Miller & Smythe of Youngstown.
By 1930, Samuel had been promoted to mechanical foreman in the mill.
Suffering from cancer of the vulva, Hattie died at the age of 56, in North Side Hospital in Youngstown, on Sept. 16, 1939. (On her death certificate, with information provided by her sister Mae Roley, her husband's name is given as "David J. Randell" and her parents' names as "Robert Laterman and Lucy Ann McFarland.") Her remains were placed at rest in Belmont, OH.
~ Daughter Mary Lattimer ~
Daughter Mary Lattimer (1887- ? ) was born in May 1887. Her fate is unknown.
Copyright © 2000, 2008, 2011-2012 Mark A. Miner