Susan (Meinder) Sigfried
(1770s?- ? )
Susan (Meinder) Siegfried was born most likely in the early 1770s in Berks County, PA, the daughter of Friedrich and Catherine (Nein) Meinert Jr., a family name often spelled "Meinder."
On Oct. 7, 1794, Susan married Jacob Sigfrid (or "Sigfried") ( ? - ? ), the son of John "Michael" and Justina Sigfrid and grandson of George Sigfrid of the Oley hills.
With "the banns having been called," their wedding was allowed to move forward. It was a formality in the church that one's minister made a public declaration of a couple'sintention to marry, announced both in the local parish church and in the church where the wedding was to occur.
Performing the ceremony was Rev. N. Delvaux at St. Paul's mission church at Goshenhoppen, Hereford Township, Berks County. Witnesses were Joseph Sigfrid and Susan's brother "Burchard Minder" (Burkhart Meinder). In the priest's old German writing, the location of the church was in "Goschenhoppen, Herefordt Daunschipp Bergs Kaunti." The site of the mission is believed to have been near what today are Barto and Churchville in Washington Township, Berks County.

Above: record of the Sigfrid marriage, Goshenhoppen church register. Below, site of the church in 1876 (circled), marked "R.C. Ch." for "Roman Catholic Church."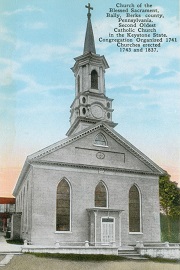 Church of the Blessed Sacrament
The Meinders were not of the Roman Catholic faith. It's possible that St. Paul's mission church was the only opportunity for a licensed minister to perform their wedding. More likely, Jacob's family was Catholic and insisted that Susan convert in order to marry. When Jacob's father died in February 1785, and mother Justina in August 1821, both were laid to rest in the Most Blessed Sacrament Church Cemetery in Bally.
Four years after Susan and Jacob's marriage, his brother George was joined in wedlock with Barbara Felix in nuptials also held in the Goshenhoppen church. Barbara was the daughter of Nicholas Felix, with the parties marked in the records as "Catholics."
Susan and Jacob produced these known offspring -- Magdalen Sigfrid and Joseph Sigfrid and possibly others. The first two babies were baptized in infancy in the Goshenhoppen church. If the Sigfrids produced additional children, they are not recorded in the Goshenhoppen registries.
~ Daughter Magdalen Sigfrid ~
Daughter Magdalen Sigfrid (1795- ? ) was born in the early part of 1795. On May 10, 1795, she was baptized in infancy the Goshenhoppen Church, with a notation made in the church records. Her sponsors were not identified.
Evidence hints that she may have wedded Daniel G. Mohn (1784?- ? ). If so, this opens up a host of fascinating stories and research possibilities. Among the clues are that Daniel may served as a private in the War of 1812 under the command of Capt. George Ritter, with a term lasting from Aug. 28, 1814 to March 5, 1815. His name appears on a list of War of 1812 veterans in the book History of Berks County, Pennsylvania, Vol. 1, by Morton Luther Montgomery. If so, he received a military pension as compensation for his service. His case may have been numbered "1847" but this is conjecture.
Another is that they may have borne two daughters who never married over their long lives -- Hannah Mohn (1829-1917) and Catherine "Kitty" Mohn (1833-1917). When the federal census was taken in 1850, this family group dwelled together in Roscombmanor Township, Berks County, with Daniel earning a living as a farmer. In 1870, census records show Daniel as a carpenter. Daniel and Magdalena reputedly passed away a few years apart, with her dying in about 1880 at the age of 85. After Magdalena died, William Griesemer was named to administer her estate. When both daughters died in 1917, their death certificates both identified their mother as "Magdalena Siegfried."
~ Son Joseph Sigfrid ~
Son Joseph Sigfrid (1798- ? ) was born on March 12, 1798. At the age of a little more than one month, he was baptized in the Goshenhoppen Church, with a notation made in the church records. His father and grandmother Justina Albrecht served as his sponsors at the baptism ceremony.
Could he be the same Joseph Siegfried (May 14, 1796-1877) who served as a private in the 1st Regiment, Pennsylvania Militia during the War of 1812? If so, he died on Nov. 7, 1877, with burial in Hill Church Union Cemetery in Boyertown. Research is underway to try to ascertain whether true or not.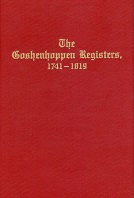 Goshenhoppen Registers
~ More About the Goshenhoppen Church ~
The church is considered the second oldest Catholic congregation in Pennsylvania, organized in 1741, with houses of worship erected in 1743 and 1837. It was located halfway between Allentown and Boyertown. According to the Records book, the name of the church where they were married was changed in 1837 to the Church of the Blessed Sacrament, with the name of the community changed from "Goshenhoppen" to "Churchville" and officially "Bally" in 1883.
In the 1880s, the Goshenhoppen church records were published in Records of the American Catholic Historical Society of Philadelphia, Vol. 8. Then in 1984, almost a century later, they were reprinted in book form, spanning the years 1741-1819, and under a bright red cover, by the Genealogical Publishing Company Inc. of Baltimore.
Copyright © 2013, 2019 Mark A. Miner