Susan (Meinder) Sigfried
(1770s?- ? )
Susan (Meinder) Siegfried was born most likely in the early 1770s in Berks County, PA, the daughter of Friedrich and Catherine (Nein) Meinert Jr., a family name often spelled "Meinder."
On Oct. 7, 1794, Susan entered into marriage with Jacob Sigfrid (or "Sigfried") ( ? - ? ), the son of John "Michael" and Justina Sigfrid and grandson of George Sigfrid of the Oley hills.
With "the banns having been called," their wedding was allowed to move forward. It was a formality in the church that one's minister made a public declaration of a couple'sintention to marry, announced both in the local parish church and in the church where the wedding was to occur.

Above: record of the Sigfrid marriage, Goshenhoppen church register. Below, site of the church in 1876 (circled), marked "R.C. Ch." for "Roman Catholic Church."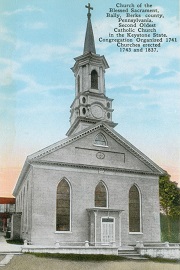 Church of the Blessed Sacrament
Performing the ceremony was Rev. N. Delvaux at St. Paul's mission church at Goshenhoppen, Hereford Township, Berks County. Witnesses were Joseph Sigfrid and Susan's brother "Burchard Minder" (Burkhart Meinder). In the priest's old German writing, the location of the church was in "Goschenhoppen, Herefordt Daunschipp Bergs Kaunti." The site of the mission is believed to have been near what today are Barto and Churchville in Washington Township, Berks County.
The Meinders were not of the Roman Catholic faith. It's possible that St. Paul's mission church was the only opportunity for a licensed minister to perform their wedding. More likely, Jacob's family was Catholic and insisted that Susan convert in order to marry. When Jacob's father died in February 1785, and mother Justina in August 1821, both were laid to rest in the Most Blessed Sacrament Church Cemetery in Bally.
Four years after Susan and Jacob's marriage, his brother George was joined in wedlock with Barbara Felix in nuptials also held in the Goshenhoppen church. Barbara was the daughter of Nicholas Felix, with the parties marked in the records as "Catholics."
Susan and Jacob produced these known offspring -- Magdalen Sigfrid and Joseph Sigfrid and possibly others. The first two babies were baptized in infancy in the Goshenhoppen church. If the Sigfrids produced additional children, they are not recorded in the Goshenhoppen registries.
~ Daughter Mary "Magdalena" (Sigfrid) Mohn ~
Daughter Mary "Magdalena" Sigfrid (1795-1879) -- also spelled "Seigfried" -- was born in the early part of 1795.
On May 10, 1795, she was baptized in infancy by the pastor of the Goshenhoppen Church, with a notation made in the church records. Her sponsors were not identified.
Magdalena could not read or write.
When she was 33 years of age, on Dec. 30, 1828, Magdalena wedded 44-year-old War of 1812 veteran Daniel G. Mohn (1784?- ? ), a resident of Pricetown, Berks County, whose name sometimes was Americanized to "Moon." She was 11 years younger than her husband.
War of 1812 record.
National Archives
The couple is believed to have borne two daughters who never married over their long lives -- Hannah Mohn (1829-1917) and Catherine "Kitty" Mohn (1833-1917).
During the war, Daniel had been drafted into the Pennsylvania Militia. He was placed within the 1st Regiment, 2nd Brigade under the command of Capt. George Ritter and Lt. Col. Jeremiah Shappell. One of his fellow militiamen was Abraham Rupert. His term lasted for 95 days, from Sept. 1, 1814 until Dec. 4, 1814, when he was discharged at York, PA.
His name appears on a list of War of 1812 veterans in the book History of Berks County, Pennsylvania, Vol. 1, by Morton Luther Montgomery.
Some years later, under the bounty land Act of Sept. 28, 1850, he received a 40-acre tract as compensation from the government. It's not known the location, but it was numbered 32.169. Daniel sold the land within a few years.
When the federal census was taken in 1850, Daniel, Magdalena and the two daughters dwelled in Roscombmanor Township, Berks County, with Daniel earning a living as a farmer. Their dwelling-place was "a little log house among the hills in the eastern part of Ruscombmanor township," said the Reading (PA) Times. Built circa 1717, the house stood one-and-a-half stories high, and sat along the road from Pricetown to the Oley Furnace.
The Mohnsremained in the township during the decade of the 1850s and are shown together in the 1860 census enumeration. In 1870, census records show Daniel as a carpenter. That year, the family received their mail through the post office at Kutztown. Their next door neighbors were immigrants from Germany, one family from Baden and another from Hesse.

Daniel's signature.
National Archives
It's known that Daniel received a military pension as compensation for his service, approved in 1872 and administered through an agency in Philadelphia. The amount of his monthly pension payments was $8.
The date and cause of Daniel's death are unknown, but he died before his wife. Once source, the Reading (PA) Times, gave the date of his death as 1860, but in a report of nearly 60 years later, and that cannot be true. Another article in the Times gave his age at death as "96 years," meaning the year more likely was 1880.
The widowed Magdalena suffered a stroke of apoplexy and passed away in Ruscombmanor in December 1879 at the age of 86. Evidence suggests that she was treated in her final illness by Dr. F.K. Spang. After Magdalena's death, William Griesemer was named to administer her estate.
When both daughters died in 1917, their death certificates both identified their mother as "Magdalena Siegfried."

Daniel's affidavit citing marriage to Magdalena Seigfried.
National Archives
Daughter Hannah Mohn (1829-1917) was born in Nov. 1829 in the little log house in Ruscombmanor. She never married. She spent her adult life with her parents and unmarried sister Catherine on their farm near Pricetown, Ruscombmanor, Berks County. She remained there after their deaths, continuing to share a home with her sister. They were members of the Reformed congregation of St. John's Union Church. The federal census enumeration of 1910 noted that while she and her parents had been born in Pennsylvania, it was German and not English that was her native language. Hannah was age 88 when sister died in March 1917. She survived her sibling by six months, "living practically alone, depending upon kind neighbors for the assistance she needed in her personal and household arrangements and in the tilling of the few acres of ground connected with her property," reported the Times.
She was the last of her family.... After the death of her parents, the two daughters for many years tilled the soil of the little farm left them by their father, doing all the work usually performed by men. They seldom ventured farther away from home than the village and store and St. John's Church at Pricetown, a mile away. Eight to ten years ago even their little trips ceased. In their declining days, Henry H. Fry of Friedensburg, former county treasurer, did a great [deed] for their comfort and sustenance. He organized a system of big annual donation parties and gave them sight-seeing trips into the outer world. In 1912, through his kindness, they took an automobile ride and for the first time saw a trolley car, telephone and electric lights.
During her final years, Hannah suffered from acute cystitis and blood in her urine ("hematuria"). In the very same room where she had been born, 88 years earlier, she was gathered away by the Angel of Death on Sept. 13, 1917. Her funeral services were held in the St. John's Union Church.
Daughter Catherine "Kitty" Mohn (1833-1917) was born two days after Christmas 1833 in Berks County. She grew up learning how to read and write, with German as her native tongue. She never married. She resided with her unmarried sister Hannah all of her life, and the two women labored as farmers. The pair often walked from their farm to Reading and back in a single day, totaling 11 miles. They were well-regarded for the many quilts they made "for people for many miles around," said the Reading Times, until they gave up the practice as blindness took away their sight. As elderly women, in the early 1910s, Catherine and Hannah became famous locally "for their rugged philosophy and eccentricities," said the Times. When her sister celebrated her 86th birthday party in November 1913, the Times reported that "Relatives and friends, numbering 1,000, were present from all parts of Berks county. Residing in their quaint frame home, where they have lived all their lives, the Mohn sisters enjoyed their first automobile ride last year, when Henry M. Fry, of Friedensburg, took the aged women for a ride in his car, in recognition of their kindness to him in boyhood. It was then that they first saw a trolley car. They have not been in Reading for 40 years." Stricken with cancer in her upper jaw, Catherine passed into eternity at her now-200-year-old home at the age of 83 on March 6, 1917. Her funeral is believed to have been led by her pastor. Rev. I.S. Stahr. Interment was in Pricetown Cemetery.
~ Son Joseph Sigfrid ~
Son Joseph Sigfrid (1798- ? ) was born on March 12, 1798. At the age of a little more than one month, he was baptized in the Goshenhoppen Church, with a notation made in the church records. His father and grandmother Justina Albrecht served as his sponsors at the baptism ceremony.
Could he be the same Joseph Siegfried (May 14, 1796-1877) who served as a private in the 1st Regiment, Pennsylvania Militia during the War of 1812? If so, he died on Nov. 7, 1877, with burial in Hill Church Union Cemetery in Boyertown. Research is underway to try to ascertain whether true or not.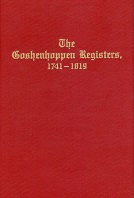 Goshenhoppen Registers
~ More About the Goshenhoppen Church ~
The church is considered the second oldest Catholic congregation in Pennsylvania, organized in 1741, with houses of worship erected in 1743 and 1837. It was located halfway between Allentown and Boyertown. According to the Records book, the name of the church where they were married was changed in 1837 to the Church of the Blessed Sacrament, with the name of the community changed from "Goshenhoppen" to "Churchville" and officially "Bally" in 1883.
In the 1880s, the Goshenhoppen church records were published in Records of the American Catholic Historical Society of Philadelphia, Vol. 8. Then in 1984, almost a century later, they were reprinted in book form, spanning the years 1741-1819, and under a bright red cover, by the Genealogical Publishing Company Inc. of Baltimore.
Copyright © 2013, 2019 Mark A. Miner